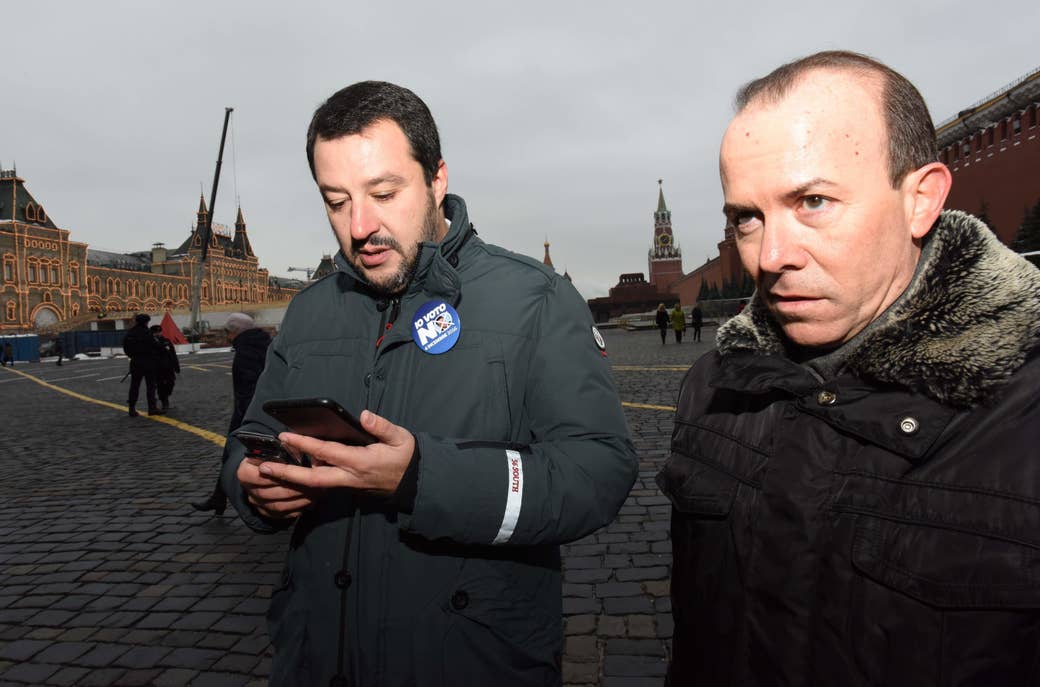 Gianluca Savoini, the political operative at the center of the storm over a secret plan to fund the far-right party of Italy's deputy prime minister with Russian oil money, shuttled back and forth to Moscow on multiple mysterious trips last year that raise fresh questions about his links to Russia and the true purpose of his visits.

A joint investigation by BuzzFeed News, the investigative journalism website Bellingcat, and Russian news site the Insider has established that Savoini, a longtime aide to Deputy Prime Minister Matteo Salvini, flew to Moscow on three separate occasions in the seven weeks running up to the crucial meeting at the Metropol Hotel in October at which the proposed covert oil deal was discussed. He made a further three trips to Russia in the weeks immediately following.

Salvini did not attend the Metropol meeting, which took place Oct. 18, but he was in Moscow at the time. He has consistently refused to answer questions about whether he knew the meeting was taking place or was aware of the proposed oil deal. He has repeatedly insisted that he did not know what Savoini was doing in Moscow.
But BuzzFeed News, Bellingcat, and the Insider can now reveal that a member of Salvini's ministerial staff, Claudio D'Amico, was booked on the same Aeroflot flight as Savoini from Milan to Moscow on Oct. 16 — SU2411 — and on the same return flight — SU2414 — the evening of Oct. 18, following the meeting at the Metropol that morning. D'Amico is Salvini's strategic adviser on international affairs.
The revelation will ratchet up pressure on Salvini to answer questions about what he knew about the Moscow negotiation.

The data comes from analysis of Savoini's and D'Amico's flight booking records, cross-referenced with their social media activity. It reveals that Savoini has made an extraordinary number of trips to Russia over the last five years, with at least 14 visits in 2018 alone and a further three in the first three months of this year. On many occasions, he stayed for no more than a night or two, the records show.
It is not known who paid for the flights, whom Savoini met when he was in Moscow, or whether Salvini knew about the visits.
Savoini has worked with Salvini, the leader of the Lega party and Europe's most powerful far-right leader, for 20 years and has been described as his "sherpa to Moscow."
It can also be revealed that Savoini's dozens of travel entries over the past five years do not appear in Russia's Central Database for the Registration of Foreigners, known as the "migrant database."
This database is maintained by the Russian interior ministry on the basis of mandatory landing cards that must be filled in by any noncitizens arriving in the country. In accordance with Russian law, any visiting foreigner must be registered into the central database, along with their travel data, such as visa number, passport data, port, and time of entry and exit.
The absence of such data for Savioni suggests either that he had a special status awarded upon arrival to individuals who, for example, don't have to go through passport control or that the information was wiped from the database.
Last month, BuzzFeed News published the contents of an explosive recording of the Oct. 18 Metropol meeting in which Savoini and five other men — two other Italians and three Russians — discussed in detail the plan to covertly channel tens of millions of dollars from an oil deal to sustain Lega's European election campaign. BuzzFeed News has also released the entire transcript of the recording.
After the story was published, Italian prosecutors announced that they had been investigating the proposed oil deal since February. According to reports in Italian media, Savoini, who is Salvini's former spokesperson, is under investigation for international corruption along with the two other Italian men — an international lawyer called Gianluca Meranda and Francesco Vannucci, a consultant and banking expert — who came forward after the BuzzFeed News report was published, saying that they'd attended the meeting at the Metropol Hotel with Savoini. They all deny wrongdoing and say a deal was never completed.
Savoini did not respond to a request for comment and a detailed set of questions emailed to him by BuzzFeed News.
Savoini's travel to Russia in 2018–19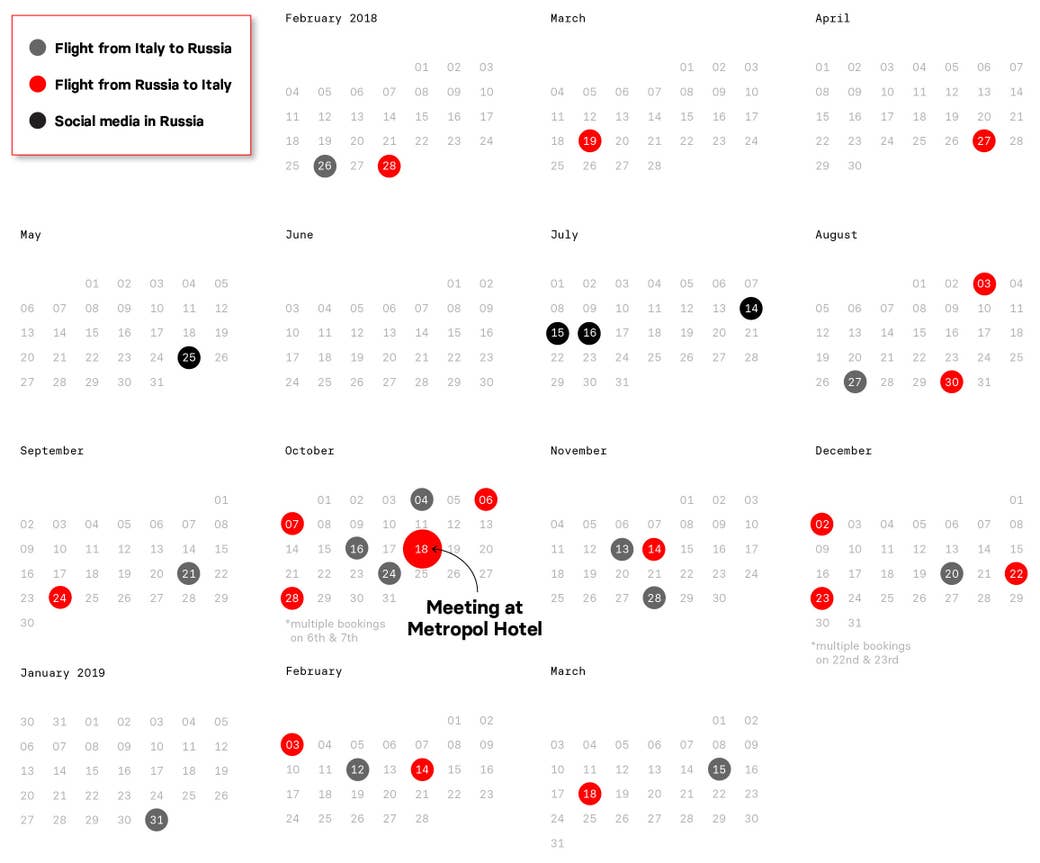 Savoini's travel plans were pieced together in meticulous detail from flight booking records, obtained by Bellingcat via sources with access. The data shows that he was booked on flights between Italy and Russia at least five times in 2015, nine times in 2016, and seven times in 2017.

Italian newspaper Corriere della Sera revealed last month that on the evening before the Metropol meeting, Oct. 17, Salvini had dinner at a Moscow restaurant called Ruski with D'Amico, three other members of his staff, Savoini, and the chiefs of Confindustria Russia, an industry group that hosted an event the Lega leader spoke at earlier that day. Salvini flew back to Italy on the 18th.
The flight records also show that D'Amico was booked on a flight from Milan to Moscow on Oct. 2, just over two weeks before the Metropol meeting, and from the Russian capital to Grozny, in Chechnya, three days later. There is no social media evidence to corroborate whether he made that trip.

It appears to coincide with one of Savoini's trips. The flight records show that he flew from Milan to Moscow on Oct. 4, and a Facebook post places him in Grozny on Oct. 5.

It is not known whether D'Amico knew about the Metropol meeting. He did not respond to a request for comment from BuzzFeed News.
D'Amico has been booked to travel to Russia four times since joining Salvini's team last August; in addition to the October flights, he was also booked to fly in January this year, and again in February.

There is no guarantee that Savoini and D'Amico boarded all the flights they were booked on, but the booking records have been cross-referenced with their abundant social media activity, which confirms they were in Russia, often together, on many of those dates.

There is also the possibility that there may be brief gaps in the data because the two men used different passports.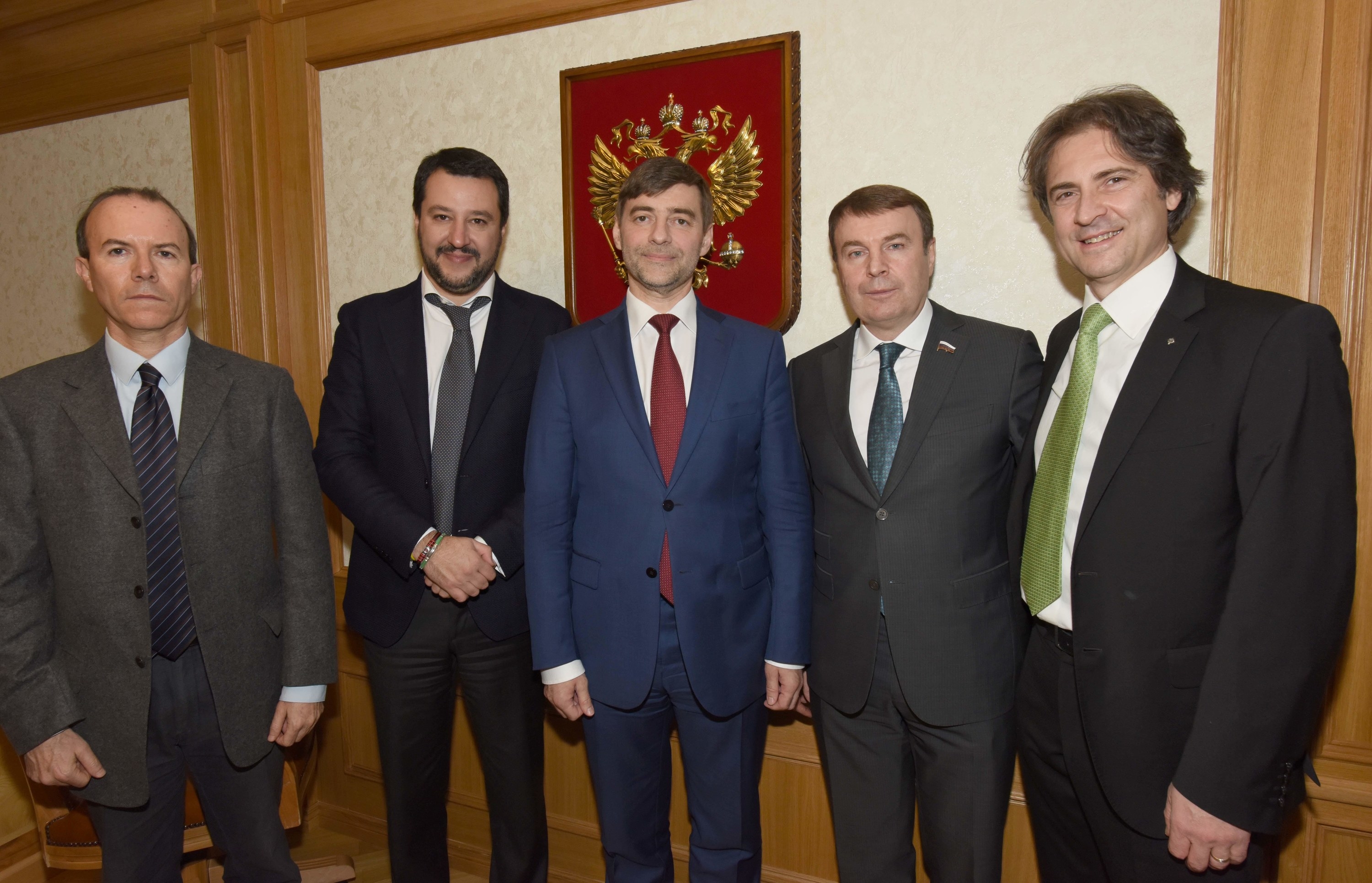 Another Italian newspaper, La Repubblica, reported in July that Savoini met in Rome with Aleksandr Dugin, a high-profile Russian far-right ideologue and political analyst, on Sept. 25 last year. The newspaper claimed that Savoini traveled to the Italian capital from Moscow the previous day. His flight records suggest that he was booked on Aeroflot flight SU2404, from Moscow to Rome, on Sept. 24.

He was also photographed in Moscow with Dugin the day before the Metropol meeting, and in the audio recording of the meeting he can be heard telling the other Italians that "Aleksandr" had described him as the "total connection" between the Italian and Russian sides.
Savoini joined Salvini on several of his journeys to Russia, including three trips in quick succession between October 2014 and February 2015, as well as trips in November 2016 and in March 2017 to sign a partnership agreement with Vladimir Putin's United Russia party, among others. Salvini, Savoini, and D'Amico traveled together to annexed Crimea in 2014 and 2016.
In 2016, Savoini and D'Amico cofounded a company in Russia called Orion, company registration data shows. D'Amico is also listed as the company's director, which is seemingly at odds with a filing of external interests with the local council where he works in Italy. In that document, D'Amico stated he has been the firm's director since 2018.

D'Amico did not respond to specific questions about the discrepancy between these two dates.

He joined Salvini's team as a strategic adviser on international affairs in August of last year, a document dated Jan. 30, 2019, shows. The €65,000-a-year appointment was made through a decree of the deputy prime minister.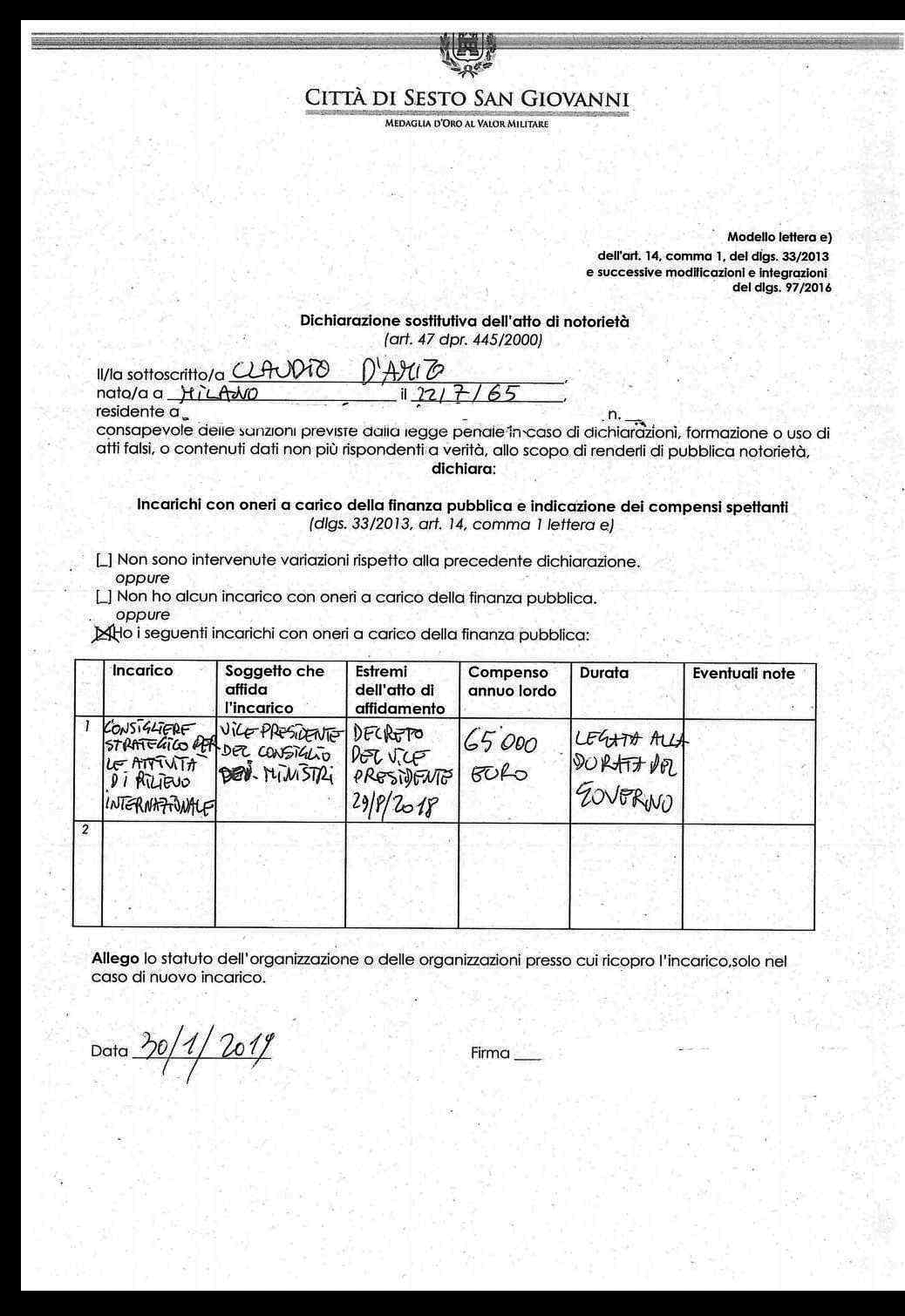 D'Amico is also listed on the team page of the pro-Kremlin organization Lombardy-Russia, headed by Savoini.

Both Savoini and D'Amico sat in on Salvini's official meetings with the Russian interior minister, Vladimir Kolokoltsev, last July — even before D'Amico had officially joined Salvini's staff.

Salvini, who is also Italy's interior minister, has long denied that Savoini was a member of his official delegation to Moscow on that trip. But these denials were directly contradicted by Italian Prime Minister Giuseppe Conte during a parliamentary debate last month after BuzzFeed News revealed the recording of the Metropol meeting. Conte told MPs that Savoini was on Salvini's official delegation to the Russian capital, yet Salvini's transparency filing for last July doesn't disclose any trips, costs, or external participants on his delegation.
Salvini did not respond to a request for comment and a detailed set of questions emailed to his office this week, including whether the government had funded Savoini's or D'Amico's participation in his delegation to Moscow last July. BuzzFeed News also asked Salvini again whether he knew about the Metropol meeting. He ignored that question, too.
The Lega leader has so far refused to address Parliament and answer MPs' and reporters' questions about what he knows of the Metropol negotiation. He has consistently and vehemently denied ever taking any funding from Russian sources. ●