Thousands Of People Are Calling For A Revote Of The Scottish Referendum
Over 27,000 signatures signed the petition in just a few hours.
This petition demanding a revote of the referendum has attracted a huge number of signatures since the result was confirmed.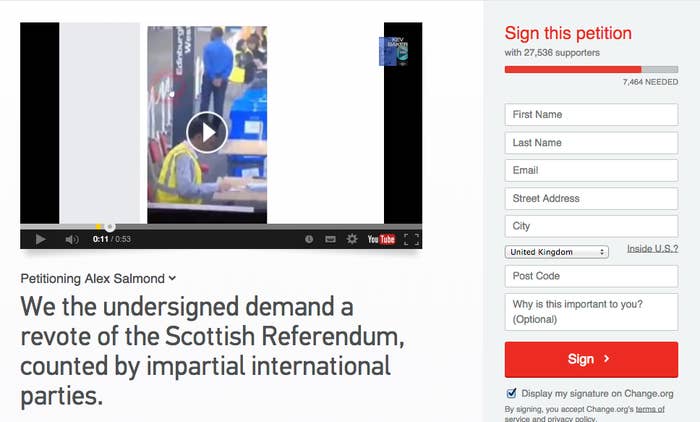 The petition states:
Countless evidences of fraud during the recent Scottish Referendum have come to light, including two counts of votes being moved in bulk into a No pile, Yes votes clearly being seen in no piles and strange occurences with dual fire alarms and clear cut fraud in Glasgow. We demand a revote be taken of said referendum, where each vote shall be counted by two individuals, one of whom should be an international impartial party without a stake in the vote.
It links to one of a number of videos posted online that claim to show evidence of ballot rigging.
It recently emerged that police are investigating allegations of fraud in Glasgow. According to Sky News:
Colin Edgar from Glasgow City Council told Sky's Kay Burley police were called in after evidence emerged of 10 possible incidents of electoral fraud in the city. The allegations appear to centre on attempts at personation at some polling stations.

Mr Edgar said: "We've had a number of suggestions over the course of the day that people have turned up at the polling station to vote and they appear to have voted already.

"This is called personation if it turns out to be what it actually is."
A Glasgow City Council spokeswoman told the broadcaster that the votes would remain part of the count until fraud had been proven to have taken place.
However, the Yes Dundee campaign attempted to allay concerns.