(Left) Protesters in Tehran following executions in Saudi Arabia on 3 January 2016 and (right) Sheikh Nimr al-Nimr lies wounded in the back of a police car, following his arrest on 8 July, 2012.
The government won't confirm that no British weapons were used in the execution of protesters in Saudi Arabia earlier this year, leaving it open to further accusations of enabling human rights abuses through its export policy.
The executions on 2 January of 47 people, including prominent anti-government Shiite cleric cleric Nimr al-Nimr sparked a diplomatic crisis, with Iranian diplomats being given 48 hours to leave the Kingdom and demonstrators taking to the streets of Tehran.
On 4 January, Liberal Democrat MP Tom Brake wrote to David Cameron to raise concerns about the executions. Brake called on the prime minister to confirm "that no weapons or any other materials made in the United Kingdom were used to prepare or carry out the executions".
At the end of the month, he was sent a reply from Foreign Office minister Tobias Ellwood. The letter does not deny that British weapons were used. Instead, Ellwood wrote that the British government is opposed to the death penalty and that it had raised concerns about the executions on 2 January and again on 25 January.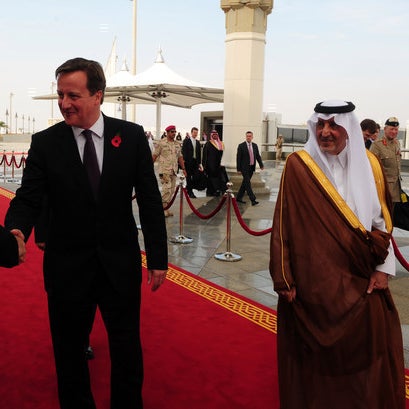 (Left) David Cameron walks with Prince Khalid bin Faisal bin Abdulaziz, (right) Tom Brake MP.
He added that he shared Brake's concern about "the recent escalation in tensions between Saudi Arabia and Iran", and went on to defend the government's policy on arms sales to Saudi Arabia on the grounds that there was "a robust system of licensing and security".
Brake told BuzzFeed News: "Again the government is showing that they believe that it is fine to secure large arms contracts with a nation with an appalling human rights record. What makes this response even more concerning is that our government is unable to confirm that no weapons or any other materials made in the United Kingdom were used to execute 47 prisoners in Saudi Arabia."
A Foreign Office spokesperson told BuzzFeed News: "The British Government is firmly opposed to the death penalty in all circumstances and in every country, including Saudi Arabia. We make our position known very clearly in public and in private." We were also referred to Ellwood's recent parliamentary statement on the UK and Saudi Arabia's relationship.
Brake also wrote to the government to express his misgivings about the way British weapons have been used during Saudi-lead coalition airstrikes on Yemen's Houthi militia and allied army units loyal to the ex-president Ali Abdullah Saleh. Legal experts acting for charities have claimed that Britain is breaking national, EU, and international law by providing the weapons.
In Ellwood's reply to Brake, he said the government was "satisfied that extant licenses for Saudi Arabia are compliant with the UK's export licensing criteria. We have in place a robust system of licensing and scrutiny. Each license application is carefully scrutinised to ensure the exports are compliant with our national and international obligations. Risks around human rights violations are a key part of our assessment against the Consolidated Criteria."
However, last week, the House of Commons international development committee wrote to the international development secretary, Justine Greening, to express "serious concerns" about the UK's sale of weapons.
It recommended the government stop selling arms to Saudi Arabia "until evidence can be provided that the risk of such arms being used in serious violations of international humanitarian law has subsided". The committee said that the Department for International Development's humanitarian assistance for Yemenis was being "severely undermined" by the arms sales.
In January, the government was also criticised by Médecins Sans Frontières (aka Doctors Without Borders). The charity claimed that a number of its health facilities had come under attack from Saudi-led airstrikes in recent months. Vickie Hawkins, executive director of MSF UK, told BuzzFeed News: "Healthcare workers in Yemen must risk their lives just to attend the wounded."
Britain sold Saudi Arabia just over £1 billion worth of bombs between July and September in 2015. It has also overseen the sale of over £5.6 billion of military licences to Saudi Arabia since 2010.