Here's Everything You Need To Know About Hungry Horse's Insane 2,000 Calorie Donut Burger
SPOILER: It *might* be a PR stunt, you know.
What.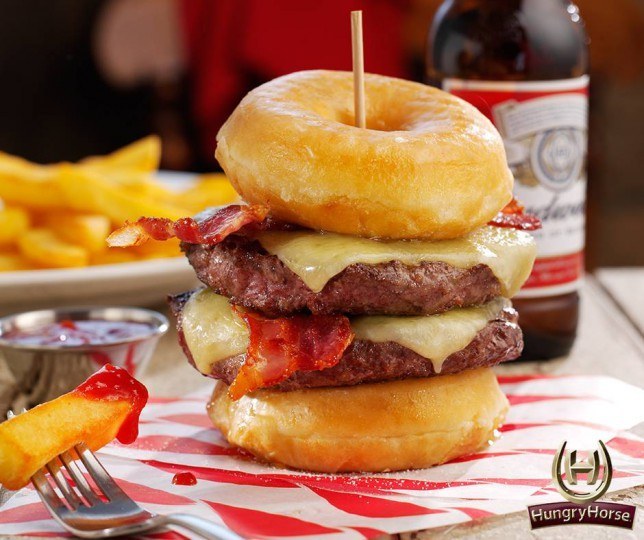 Facts:
1. Here we have two beefburgers with melted cheese, smoked bacon, and BBQ sauce, slammed between two glazed doughnuts.
2. It costs £8.99.
3. It contains 53g of saturated fat and 8.2g of salt. Recommended daily allowances of fat are 20g for women and 30g for men. Adults should also only eat 6g of salt a day.
4. In total it contains 1,966 calories: 98% of a woman's guideline daily amount (women are advised to have 2,000 calories, men 2,500).
5. It has been described as "irresponsible" and "a heart attack on a plate" by Mel Wakeman, senior lecturer in applied physiology at Birmingham City University.
6. However, a spokesman for Hungry Horse has defended the burger, telling MailOnline: "Our popular menu caters for a variety of tastes and appetites and includes everything from lower-calorie options through to the indulgent occasional treat such as our new Double Donut Burger... All the nutritional information for our menu is available on our website and in our pubs."
7. It would be fair to assume the doughnut burger exists more for the purposes of PR than anything else.
8. You heard. While there are plenty of calories to be had on the Hungry Horse menu, the doughnut burger is in something of a class of its own. So why release it? Is there some great customer demand for vomit-inducing double burgers crammed between glazed doughnuts?
9. And while the inevitable media ding-dong over this burger is all well and good, "stunt food" is nothing new. According to Sam Sifton, it "has been a part of restaurant life probably since the first time a chef put a napkin over a customer's head in order to serve him a whole, rare, roasted ortolan".
10. So does it work as a PR strategy? Well, this CNN post suggested that the jury is out on such tricks such as KFC's Double Down Burger and Pizza Hut's cheeseburger pizza crust.
11. The post quoted Emily Bryson York from Ad Age, who, talking about KFC stunts, said: "The series of stunts drove buzz and the introduction of grilled chicken spiked short-term sales, the moves also contributed to a lack of consistent brand positioning and a distraction from KFC's flagship product – both of which have hurt the chain."
12. While BuzzFeed News can't comment on what this monstrosity tastes like, we can confirm the Crispy Hunters Chicken is really quite pleasant, so maybe order that instead and avoid risking a premature cardiac arrest.
Hungry Horse have got in touch to stress this is not a PR stunt. They referred BuzzFeed News to the spokesman's statement above. The 2,000 calorie double donut burger was not, according to them, put on the menu to generate publicity. You read it here first.