French Satellite Images Show Potential Debris In MH370 Search Area
Malaysia says it has received satellite images from France showing potential debris from missing flight MH370 in the southern Indian Ocean.
This is the third set of images of possible debris in the area in a week.
This is the full statement from the Malaysian Ministry of Transport.
1. Search and rescue operational update
a. The search and rescue operation remains an international effort, co-ordinated by Malaysia. A number of countries are leading in their respective search areas and all countries involved are displaying unprecedented levels of co-operation.
b. This morning, Malaysia received new satellite images from the French authorities showing potential objects in the vicinity of the southern corridor. Malaysia immediately relayed these images to the Australian rescue co-ordination centre.
c. Two Chinese Ilyushin IL-76s have arrived in Perth, and will depart for the search and rescue operation tomorrow at 05:00 and 06:00.
d. Two Japanese P3 Orions today left Subang airport for Perth.
e. The Australian rescue co-ordination centre will deploy eight aircraft (four military and four civilian) to the southern corridor today, to conduct visual searching.
f. The Australian Defence Vessel 'Ocean Shield', which has a sub-sea remotely operated vehicle, is currently en route to the southern corridor.
g. As of 2:30pm Malaysia time, Australian officials have informed us that they have not made any new sightings regarding MH370.
h. One Indian Navy P8 Poseidon and one Indian Air Force C130 left Subang airport today to join the search and rescue operation in the northern part of the southern corridor, which is being led by Indonesia.
i. A number of other sorties from Subang airport to the southern corridor were cancelled today due to bad weather caused by tropical cyclone Gillian.
j. Australia, China and France have now released satellite images that show potential objects, which may be related to MH370, in the vicinity of the southern corridor. All this information has been forwarded to Australia, as the lead country in the area of concern.
2. Family briefing
a. The Malaysian high level team started a briefing in Beijing this morning for relatives of those on board MH370. The meeting lasted more than 6 hours. This is the third such meeting that has been held. The team presented information to the relatives and answered questions. The Government wishes to reiterate its commitment and continued engagement with the relatives of those on board MH370.
3. Update on ACARS transmission
a. The last ACARS transmission, sent at 1.07am, showed nothing unusual. The 1.07am transmission showed a normal routing all the way to Beijing.
ENDS
Australia is coordinating the search and earlier said it was investigating sightings of a pallet and other items.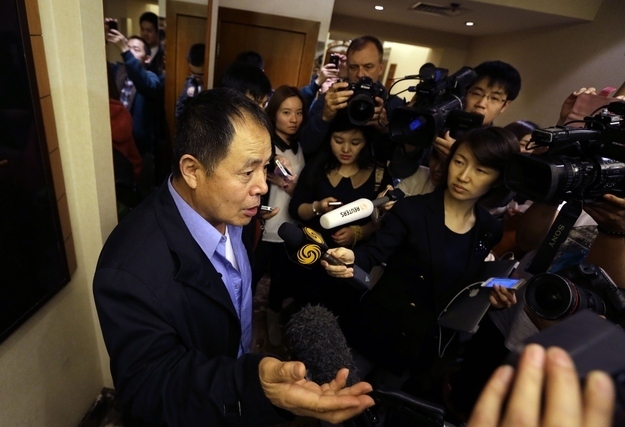 Search teams are scouring a remote stretch of the Indian Ocean 1,500 miles west of Australia, after Australian and Chinese satellites also picked up images of possible debris.
Flight Lieutenant Russ Adams of the Royal Australian Airforce addressed reporters after returning from the area today. He said: "Unfortunately we didn't find anything of interest today. The weather condictions have deteriorated. At times we were completely enclosed in cloud."
Australian PM Tony Abbott said there had been three "significant" developments in the search for flight MH370.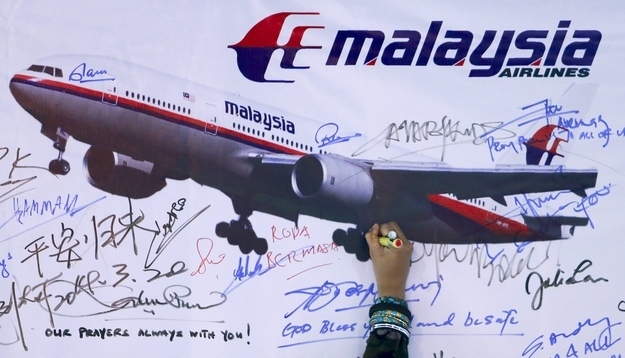 He told reporters in Papua New Guinea, where he is on a visit: "It's still too early to be definite, but obviously we have now had a number of very credible leads and there is increasing hope — no more than hope, no more than hope — that we might be on the road to discovering what happened to this ill-fated aircraft."
The object spotted by the Chinese was 74 feet long by 43 feet wide.
Even if empty fuel tanks inside the wing were filled with air, some experts doubt a fragment of that size could stay afloat for 10 days after the Malaysia Airlines plane vanished.
Malaysia Airlines flight MH370 disappeared on 8 March en route from Kuala Lumpur to Beijing, with 239 people on board.