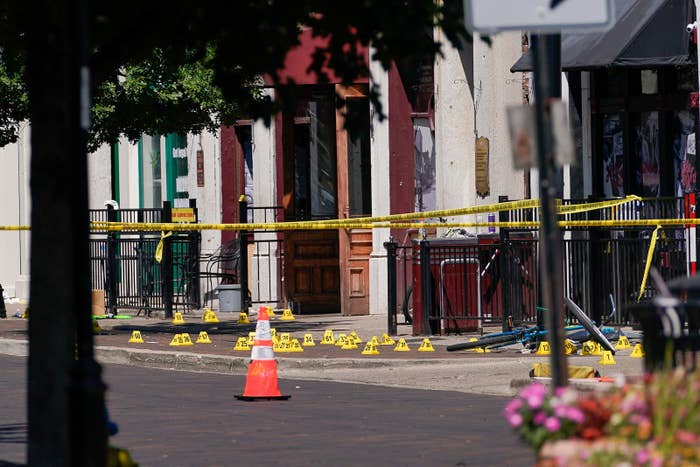 Nine people were killed and 27 others were injured by a gunman who was then shot and killed by police in a popular bar and business district of downtown Dayton, Ohio.
The entire incident lasted less than 30 seconds, and the 24-year-old gunman — armed with a .223-caliber AR-style rifle with a 100-round double drum magazine — was killed as he attempted to follow fleeing crowds into a bar. Had he been able to get in, the number of deaths and injuries would have been "catastrophic," Dayton Police Chief Richard Biehl said on Sunday.
The massacre came hours after a mass shooting in El Paso, Texas, in which at least 22 people were killed. Officials believe the suspected shooter in that case, a 21-year-old white man who surrendered to police, posted an anti-immigrant, white supremacist screed online before he opened fire.
In Dayton, no motive has yet been determined, but there was no immediate indication it was a hate crime or copycat of the El Paso incident, police said. Among the first people killed was the gunman's sister; it's unclear if he was targeting her, Biehl said.
"That's really something we can't tell at this point," he said. "It's a nagging question, and I just don't have the answer."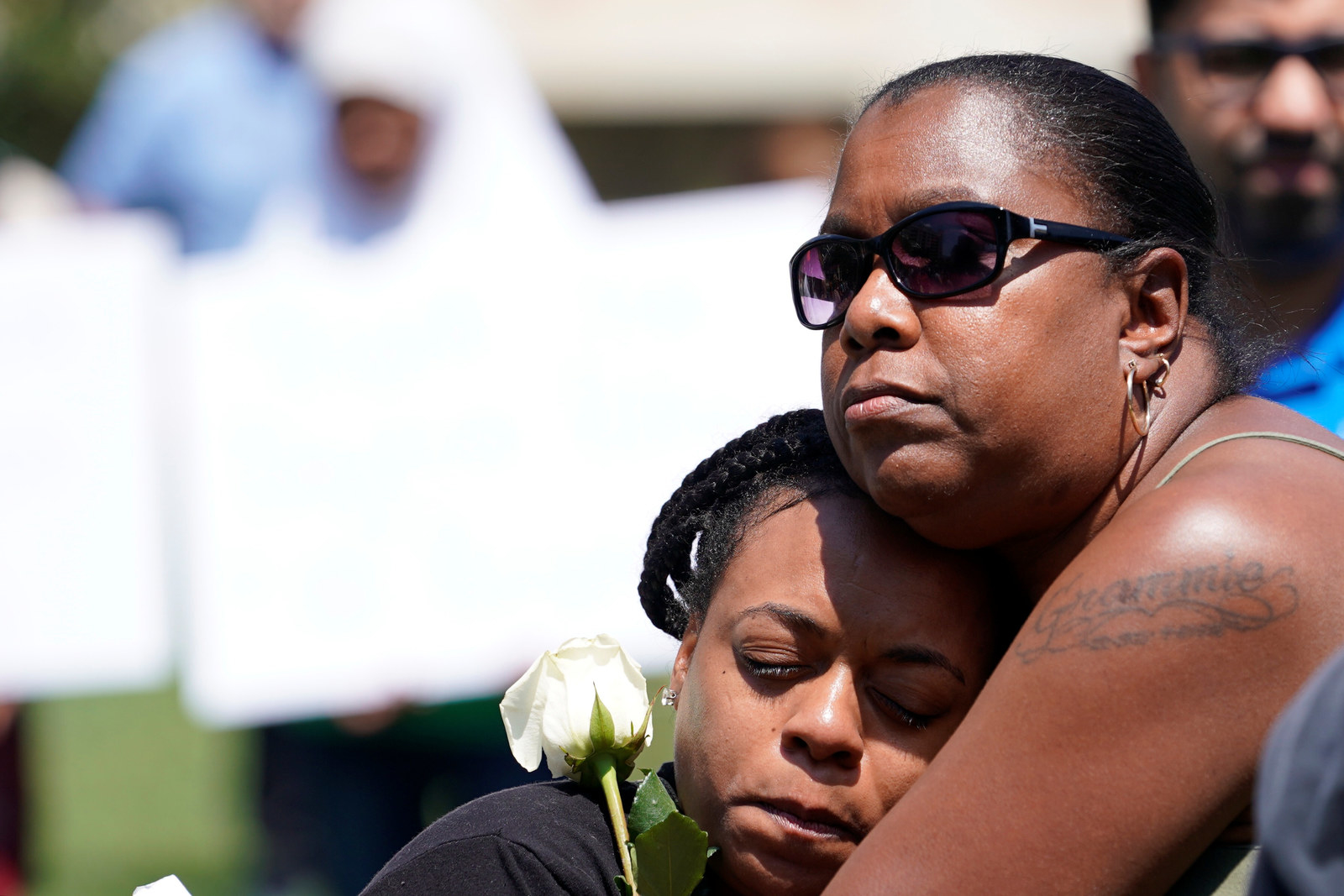 Officers who were on patrol as bars closed in the historic Oregon District first heard shots at 1:05 a.m. Sunday. They ran toward the gunfire, and within 30 seconds, six officers had fired back and the gunman was dead.
Graphic surveillance video shows the gunman, identified as 24-year-old Connor Betts, falling to the ground just outside Ned Peppers Bar on East Fifth Street. He was wearing a bulletproof vest, a mask, and hearing protection at the time of the shooting.
Police identified those killed as: Lois Oglesby, 27; Megan Betts, 22; Saeed Saleh, 38; Derrick Fudge, 57; Logan Turner, 30; Nicholas Cumer, 25; Thomas McNichols, 25; Bearice Warren Curtis, 36; Monica Brickhouse, 39.
"While this is a terribly sad day, I am amazed by the quick response of Dayton police that saved literally hundreds of lives," Dayton Mayor Nan Whaley told reporters at a press conference Sunday morning.

The gunman had driven with his sister and a friend to the Oregon District on Saturday night, but the trio at some point split up, Biehl said. The friend was injured in the shooting, and police had been able to speak with him.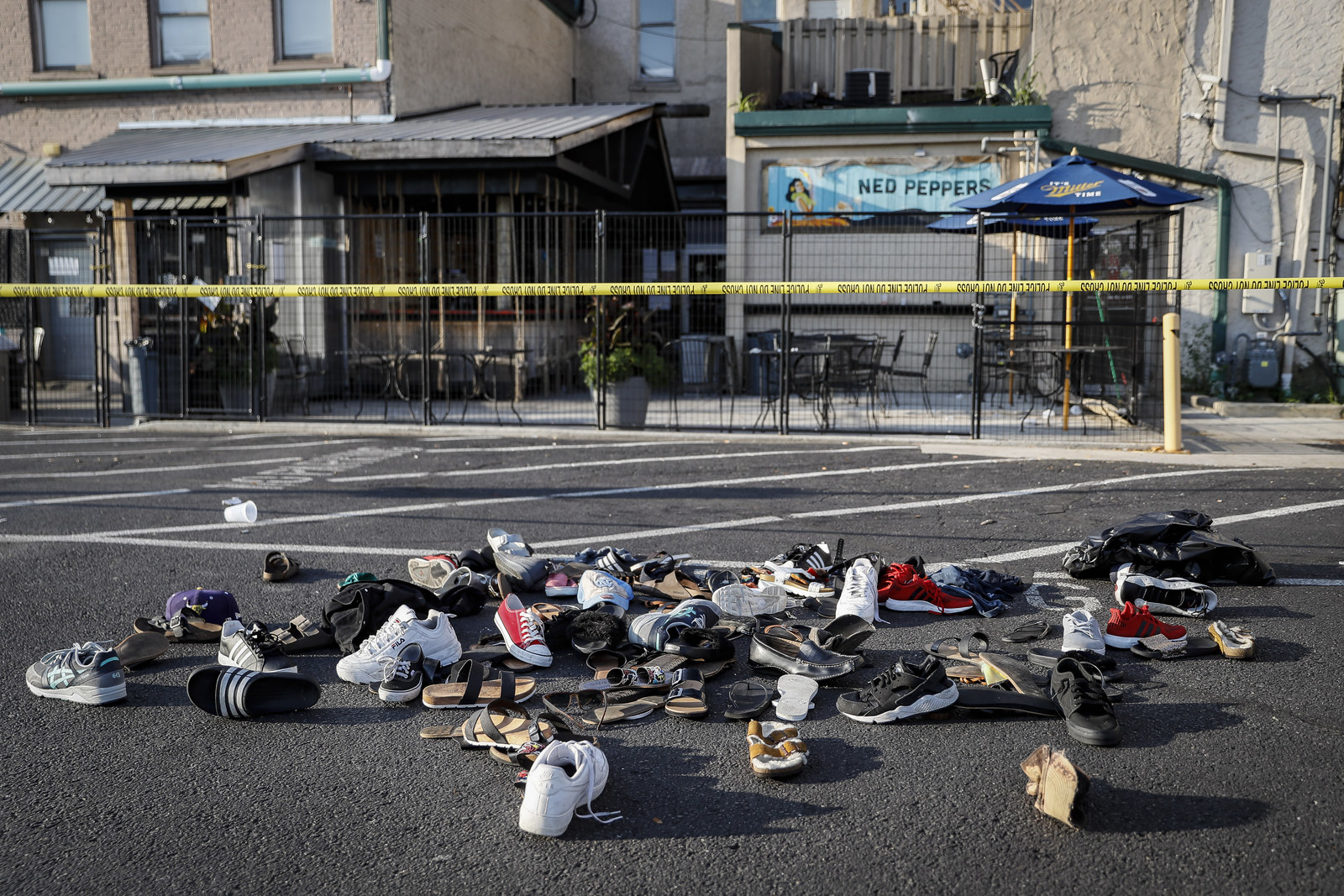 Footage posted to social media showed people running from the shooting and a police cordon being established at the scene. Police said all shots were fired outside the district's businesses, and authorities shared video that revealed the rapid nature of the gunshots.
Authorities also released a 911 call of a person describing the situation as shots began.
A vigil was planned in the district for Sunday night.

Injuries included gunshot wounds as well as lacerations suffered while people were fleeing the scene, some moving so fast they lost shoes. As of Sunday morning, 10 people remained in local hospitals, one of whom was in critical condition.
Authorities estimated thousands of people were in the district, a popular destination on summer Saturday nights. Rep. Mike Turner, who represents Dayton in Congress, said on Twitter that his daughter and a family friend were an Oregon District bar when shooting broke out across the street.
Dayton police were a visible presence in the area before the shooting, they told Turner, and when gunfire broke out, officers ran toward the shooting.
Dayton police said the FBI was on the scene and assisting with the investigation. His criminal record included only traffic tickets, Biehl said. He was therefore able to legally purchase the rifle online from a Texas gun shop, and he also owned a shotgun that had been legally purchased, the chief said.

In the hours after the shooting, police searched the Betts family home in nearby Bellbrook.
Connor Betts had grown up in the community, which is about 15 miles from Dayton.
A former classmate from Bellbrook High School told BuzzFeed News that in 2011 or 2012, Betts made a "hit list" that included mostly girls at the school. When teachers found the list, the school went into lockdown, and Betts was later suspended, the classmate said.
"Kids thought he was just very off and quiet," the classmate said.

Bellbrook High School confirmed that that Betts graduated in 2013 but did not immediately provide more information.
He tended to play threats off as a joke, the classmate added, and no one seemed to take them very seriously.
"When he came back he seemed better, or normal," the classmate said, adding he received counseling in addition to a suspension. "The teachers and staff definitely didn't do much else in terms of helping him with mental health."
Family photographs on Facebook showed he had previously spent time in the Oregon District; in 2018, he celebrated St. Patrick's Day with his mother and sister at the Dublin Pub.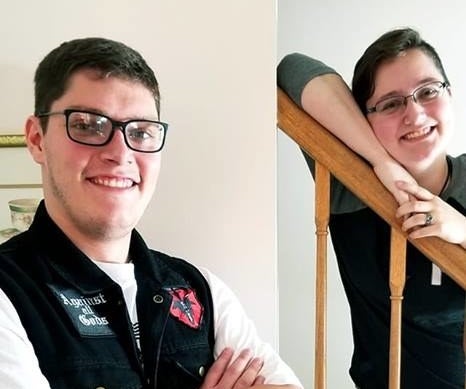 On Sunday, the pub was offering food and water to first responders and media covering the shooting.
Whaley added that she had already heard from mayors of other cities that had experienced mass shootings and noted that it was the 250th to happen in the US this year.
When asked if the Oregon District is safe, she answered that it is — but that nowhere in the country is really safe from mass shootings.
"These senseless acts of violence that occur have been happening anyplace, and I don't mean to scare people, but frankly we're at a situation now in our country that — these are so random, there's no place that you can say, 'Oh I just don't want to ever go anywhere,'" she said. "So as far as the safety of the district, it's one of the safest places in the whole region."

She called for prayers for her community as well as for the victims' friends and families.

"Right now our focus is on the family and friends who went to downtown on a Saturday night and thought that they'd go home safe," she said. "And that didn't happen."
She added that 2019 had already been a tough year for the city after a string of 14 tornadoes hit in May. The shooting was now another tragedy.
"What really goes through my mind is one seems completely preventable," she said. "I just question when is enough enough."