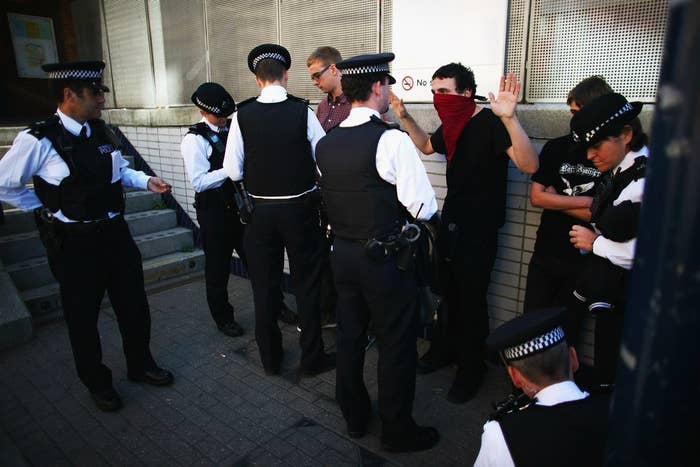 Eight campaigners who were arrested while protesting at a major arms fair in London have been cleared by a district judge who accepted their defence that they were taking action to prevent a crime because of the possibility that illegal weapons were being sold.
The five men and three women chained themselves to gates and lay in the road to block vehicles at the Defence and Security Equipment International (DSEI) arms fair at the ExCeL centre in east London last September. They were charged with wilfully obstructing a highway.
They were acquitted by district judge Angus Hamilton at Stratford magistrates' court on Friday morning, prompting cheers from activists in the public gallery.
Hamilton said: "[There is] clear, credible and largely unchallenged evidence from the expert witnesses of wrongdoing at DSEI and compelling evidence that it took place in 2015," he said.
"It was not appropriately investigated by the authorities. This could be inferred from the responses of the police officers, that they did not take the defendants' allegations seriously."
However, the fair's organisers said compliance regulations were not breached, and that their compliance processes are continually refined.
During the trial, one of the defendants, Thomas Franklin, an academic from York, told the judge he felt protesting was his civic duty, since he believed the fair was being used to sell illegal torture equipment and banned weapons.
Kat Hobbs, of Campaign Against the Arms Trade (CAAT), provided witness testimony in which she said that in the three years prior to the Arab Spring in 2011, UK arms contracts to Bahrain had been worth £4 million, but the contracts had reached £45 million in the years after, suggesting they had been used to suppress protesters demanding greater democracy.
Hobbs also said in her testimony that munitions originally destined for the RAF had been redirected and used in airstrikes that killed civilians during the Saudi Arabia-led coalition's bombing of Yemen.
On Thursday, BuzzFeed News revealed that the British government's claim in an official memorandum that the Saudi-led coalition was not bombing civilian targets was being challenged by campaign groups. David Cameron's governments have overseen the sale of over £5.6 billion of military licences to Saudi Arabia since 2010.
The eight defendants – Isa Al-Aali (from Bahrain), Angela Ditchfield, Lisa Butler, Thomas Franklin, Susannah Mengesha (all from the UK), Javier Gárate Neidhardt (from Chile), Luis Tinoco Torrejon (from Peru), and Bram Vranken (from Belgium) – said in a joint statement: "We were compelled to try to prevent war, repression, torture and genocide and we stand by our actions.
"We do not believe that we should have been on trial this week and denounce the UK government's complicity and actions in supporting the arms trade; and in perpetuating war and repression around the world. We oppose the sale of arms based on corporate greed and profit and seek radical change."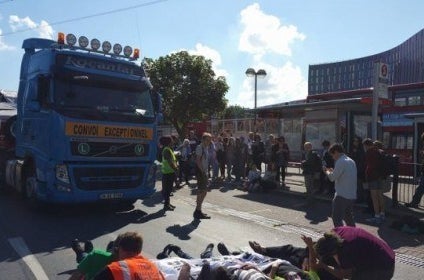 They added: "Over the week, we have put DSEI and the arms trade on trial and we have proven them to be illegitimate. Our only regret is that we didn't succeed in shutting down DSEI.
"Our thoughts are with the people who suffer as a result of the arms trade and the survivors of repressive regimes, torture, war and conflict. We call on more people to join us in our efforts to shut down DSEI 2017 and take collective action to end the arms trade.
"We also express our solidarity with DPRTE Cardiff arms fair defendants who are also currently facing trial. We will continue to actively oppose DSEI and the arms trade."
Andrew Smith of Campaign Against Arms Trade said: "At the same time as the defendants were being arrested for peaceful protest, the arms dealers were working with civil servants to sell even more weapons.
"It should never have been campaigners in the dock this week, not when UK arms are being sold to dictatorships and human rights abusers, and when UK fighter jets and bombs have been so central to the destruction of Yemen. Arms fairs like DSEI can never be right or acceptable, and we all have a role to play in shutting them down for good."
Sayed Alwadaei, director of advocacy at the Bahrain Institute for Rights and Democracy (BIRD), told BuzzFeed News: "It's a day of justice – one defendant suffered torture and unjust imprisonment."