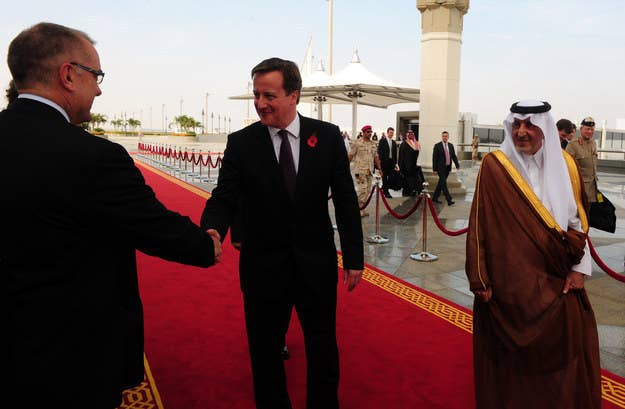 Britain sold Saudi Arabia just over £1 billion worth of bombs between July and September in 2015, more than a hundredfold increase on the previous three-month period, when £9 million worth of bombs were sold.
Some of these weapons have been undoubtedly used by the Saudi-led coalition in Yemen, a campaign that has raised war crime concerns. There have been reports of civilian targets and aid hospitals being targeted.
In December, an analysis of Britain's exports to Saudi Arabia commissioned by Amnesty International and Saferworld found Britain was breaking national, EU, and international law and policy by supplying weapons to Saudi Arabia, because of the kingdom's military intervention and bombing campaign. The UK government, however, insists it is not taking part in the campaign.
The figures are contained in government statistics released by the Department for Business, Innovation and Skills yesterday.
Britain sold £1,066,216,510 in those three months under the ML4 export licence classification, which can include bombs, components for bombs, air-to-air missiles, components for air-to-surface rockets, and components for launching equipment for munitions.
Amnesty and Saferworld's lawyers concluded that "any authorisation by the UK of the transfer of weapons and related items to Saudi Arabia … in circumstances where such weapons are capable of being used in the conflict in Yemen ... would constitute a breach by the UK of its obligations under domestic, European and international law."
They added that "the UK Government can properly be deemed to have 'actual knowledge ... of the use by Saudi Arabia of weapons, including UK-supplied weapons, in attacks directed against civilians and civilians objects, in violation of international law', since at least May 2015."
Yesterday, Médecins Sans Frontières (MSF) claimed people in Yemen had stopped going to hospitals because hospitals were being seen as "targets".
Earlier this month, BuzzFeed News reported that Britain has overseen the sale of over £5.6 billion of military licences to Saudi Arabia since 2010, and noted the high level of integration between the UK and Saudi defence programmes: Around 240 UK Ministry of Defence civil servants and military personnel, paid for by the Saudi government, are working in the UK and Saudi Arabia to support the contracts through programmes paid for by the Saudi government.
Liberal Democrat leader Tim Farron said: "The government is putting profit before everything else, including human rights and regional stability.
"We should be a world leader in human rights and not a world leader in arms sales to unsavoury regimes.
"Britain deserves better. There is strong evidence that these British weapons are being used against civilians in Yemen, which breaks international law. All arms contracts with Saudi Arabia should be suspended until there is firm, open proof that no laws have been broken, and any new contracts should be signed off by the defence secretary for approval."
A government spokesperson told The Guardian: "We operate one of the most rigorous and transparent arms export control regimes in the world with each licence application assessed on a case by case basis, taking account of all relevant information, to ensure compliance with our legal obligations. No licence is issued if it does not meet these requirements.