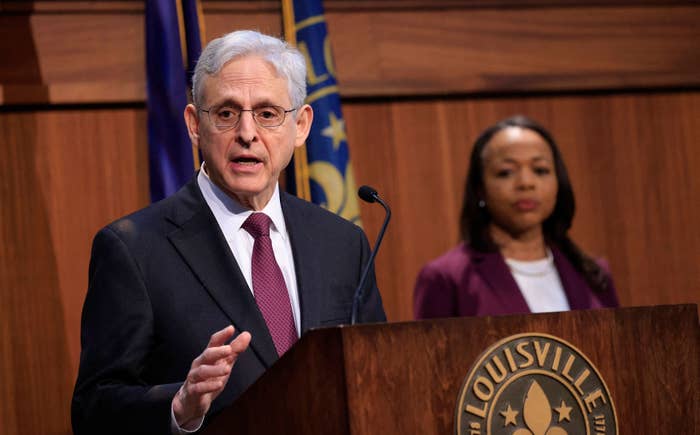 The Department of Justice filed an immediate appeal following a Texas federal judge's shocking decision Friday to pull the Food and Drug Administration's approval of mifepristone, one of two drugs used in medication abortion.
The Justice Department appealed directly to the U.S. Court of Appeals for the Fifth Circuit on Friday night, only a few hours after the initial ruling.
U.S. Attorney General Merrick Garland said in a statement that the DOJ "strongly disagrees with the decision" and "will be appealing the court's decision and seeking a stay pending appeal."
"Today's decision overturns the FDA's expert judgment, rendered over two decades ago, that mifepristone is safe and effective," Garland wrote. "The Department will continue to defend the FDA's decision."
U.S. District Judge Matthew Kacsmaryk ruled that the FDA's approval of mifepristone was unlawful when the drug first went to market in 2000. Kacsmaryk stated in his decision that the FDA "manipulated and misconstrued" certain parts of the drug approval process in order "to greenlight elective chemical abortions on a wide scale."
The decision does not take effect for seven days, allowing the DOJ's appeal to play out.
Alliance Defending Freedom, a conservative Christian legal group, filed the suit in November in a federal court in Amarillo, Texas, arguing that the FDA went beyond its authority 22 years ago and fast-tracked the approval of mifepristone. But medication abortion, the combination of mifepristone and another drug called misoprostol, has a highly safe and effective track record in the 20-plus years it's been FDA-approved. Medication abortion accounts for nearly 60% of all abortion and miscarriage care in the U.S.
A federal judge in Washington state issued a competing ruling also on Friday, which blocks the FDA from pulling mifepristone approval in 17 states and the District of Columbia. The dueling decisions will likely force the U.S. Supreme Court to weigh in quickly, legal scholars speculated.
Garland said in his Friday night statement that the DOJ is also reviewing the Washington state judge's decision.
Although there is much confusion around the Texas judge's ruling and what will happen next, it's safe to say this is a staggering blow to abortion rights around the country.
Vice President Kamala Harris said in a Friday night statement that the ruling is an "unprecedented decision."
"Simply put: this decision undermines the FDA's ability to approve safe and effective medications ― from chemotherapy drugs, to asthma medicine, to blood pressure pills, to insulin ― based on science, not politics," she wrote.
"Each person in our nation should have the right to access safe and effective medication which has been approved by the FDA. In the face of attacks on a woman's right to access an abortion, our Administration will continue to fight to protect reproductive freedom and the ability of all Americans to make health care decisions with their doctors free from political interference."
This is a syndicated version of an article originally published on HuffPost.