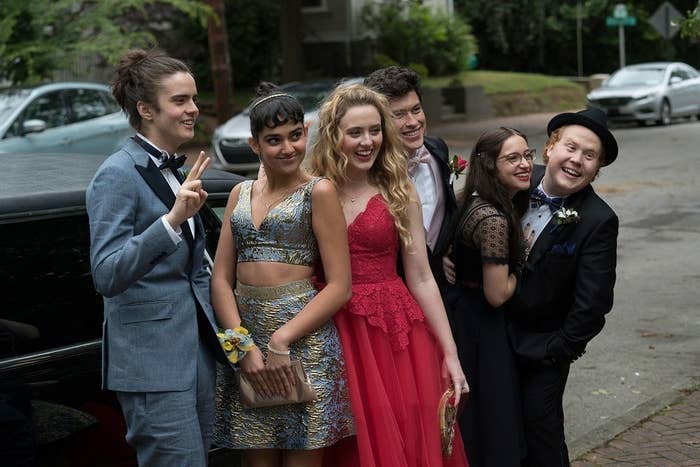 The basic concept of Blockers sounds like typical sex comedy fare with a parental twist. Directed by Pitch Perfect writer Kay Cannon, the film follows three parents (Leslie Mann, John Cena, and Ike Barinholtz) as they perform a series of high jinks to stop their three children (Kathryn Newton, Geraldine Viswanathan, and Gideon Adlon) from going through with a pact to have sex for the first time on prom night. The film's trailers have given a certain impression: This is a broad, sexed-up comedy centered on these three adults as they struggle with the fact that their daughters are sexual beings.
That's a movie that could go in one of two directions — a retrograde morality play hung up on concepts of virginity and purity, or a thoughtful meditation on parenting and the pressure society puts on girls. Luckily for us all, Blockers chooses the latter, with a lot of classic R-rated comedy raunch thrown in.
Yes, this is a film in which Cena chugs beer through his asshole. But Blockers is not only concerned with the parents. The movie is just as centered on their daughters — three young women with very different perspectives and priorities, all committed to maintaining agency over their own lives, identities, and sexualities. And one of them — Sam, portrayed by Adlon — is going through something pretty intense. While her two friends are looking to have sex because, well, they feel like it, Sam enters into the pact out of fear that her bond with her best friends will fade away after high school if she doesn't share this big experience with them. She's not particularly interested in having sex with her date, a fedora-wearing but nice-seeming young man named Chad (Jimmy Bellinger). In fact, Sam is gay. When we first meet her she hasn't figured out how to fully admit that to herself, let alone how to tell anyone else in her life. Her crush on a female classmate goes unspoken, and she funnels her energy into photoshopping herself into photos with Xena the Warrior Princess.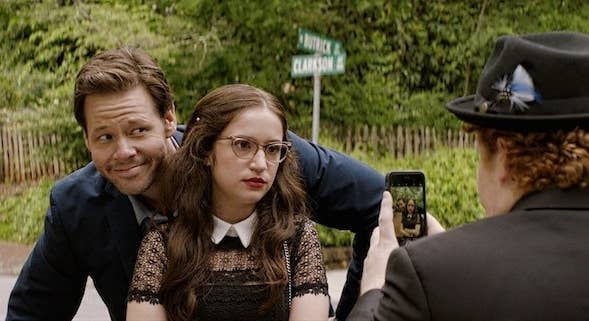 Her dad, though, already knows. Hunter, played by Barinholtz, figured it out through some strong parental instinct long before his daughter told anyone. It's a driving force behind his role in the parental plot. The other two parents are consumed by a desire to preserve their virginal visions of their little girls and control over their daughters' lives. Hunter, on the other hand, just worries that by sleeping with a man, Sam would be having an inauthentic experience. He wants to stop her from running away from who she really is. It's a moving story that cuts through the obscenity that surrounds it. It might even leave you a little teary.
All the evidence you need that queer representation is still scarce in major studio films lies in the fact that a movie like Love, Simon only came out this year. That film was released only a month before Blockers and was the first studio-made teen romantic comedy centered on a gay character. If that's the ground we're still breaking in 2018, then Sam's storyline in Blockers marks a relatively rare occasion.
The genre has been far more likely to mock queerness than to actually portray a central lesbian character.
Historically, raunchy comedies in the vein of Baywatch, Get Hard, The Hangover, CHiPs, and so many more have returned again and again to gay panic jokes. Though the details shift, the basics stay the same: Characters are repulsed by the simple thought that someone else might think they're queer. It's played for laughs time and again, functioning as bait to the anti-gay (and anti-trans) sentiment ingrained in the audience. A same-sex flirt, a kiss, a shared bed, the existence of a penis near another character's penis — these are treated as things to be avoided at all costs. The genre has been far more likely to mock queerness than to actually portray a central lesbian character, let alone one whose journey to self-acceptance is so tenderly rendered.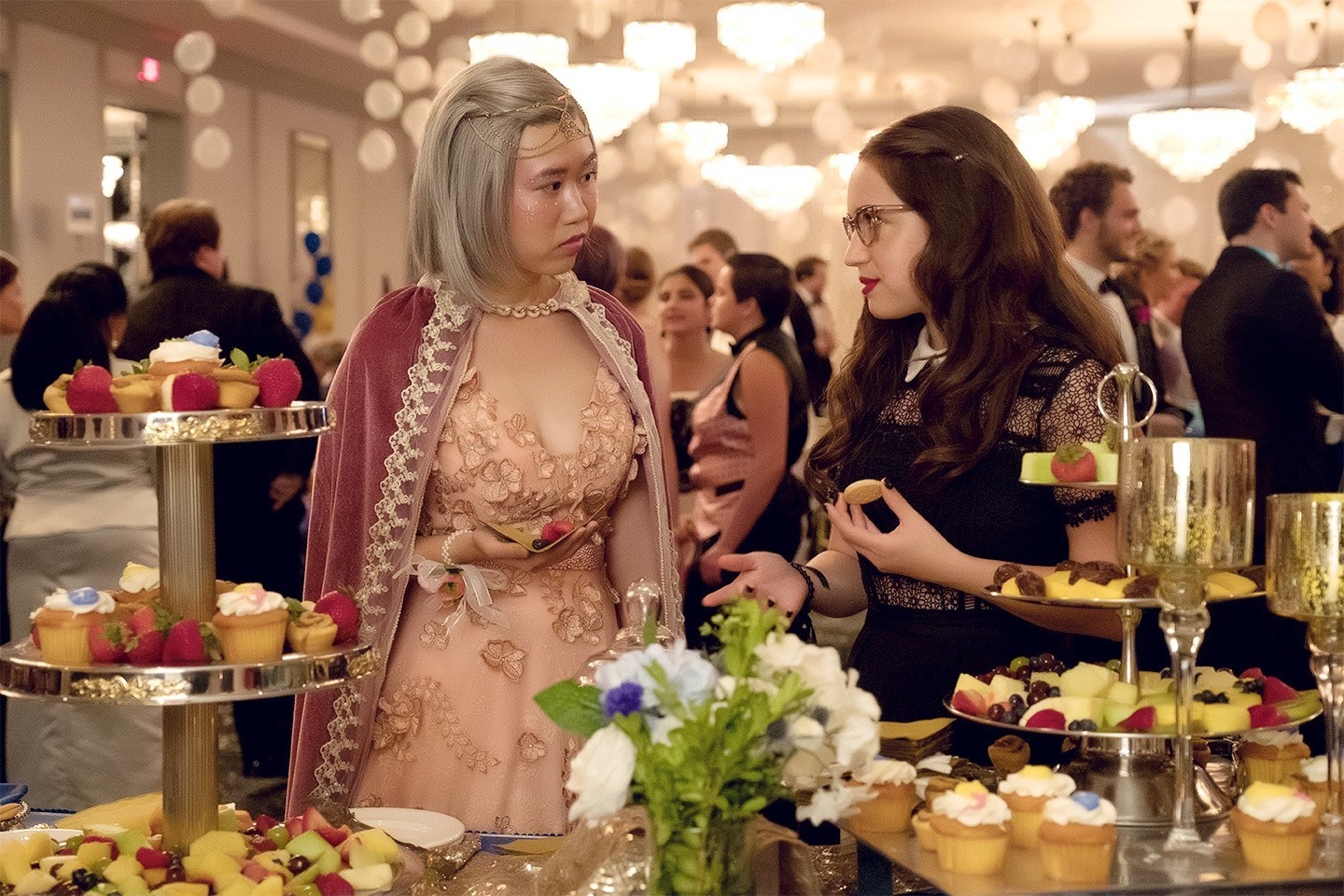 In Blockers, Sam's inner tug-of-war is the film's most compelling conflict. As she and her friends move through prom and a series of afterparties, you feel the tension inherent in her situation. Will she finally make a move on the dreamy drama student she's crushing on, played by Ramona Young (who rocks a pretty great cape)? Will her date be understanding? Will her relationship with her friends change? Sam's story is one of a young woman on the brink of something revelatory, thrilling, and terrifying. Her father spends the majority of the film trying to find his way to her, thoroughly committed to helping her on this journey.
Spoiler alert: Sam eventually does accept her attraction to women. She has a sweet talk with her father, who lets her come out to him without revealing that he knew all along. She tells her friends; she gets the girl. Cannon has made it clear — whether through interviews or tweeted videos of her and her young daughter dancing — that Blockers is an ode both to parenthood and girlhood alike. In the film's two other major storylines, that means accepting your daughter as a complex person who is going to have sex and make her own decisions. It's about these parents building up the courage and perspective to let their kids be who they are going to be.
Hunter needs to let go too, through allowing Sam to figure out on her own exactly how she wants to reveal this part of herself to the people around her. But there's also something else there — this throughline of anxious hope that you've provided your children with all the courage they need to be exactly who they are. So often, emotional resonance gets lost in risqué studio comedies. It's refreshing that this one didn't shy away from feelings or queerness, considering how aggressively heterosexual sex comedies have been in the past. Sam gets her happy ending in finally being able to truly see herself. With Blockers, audiences get one too.