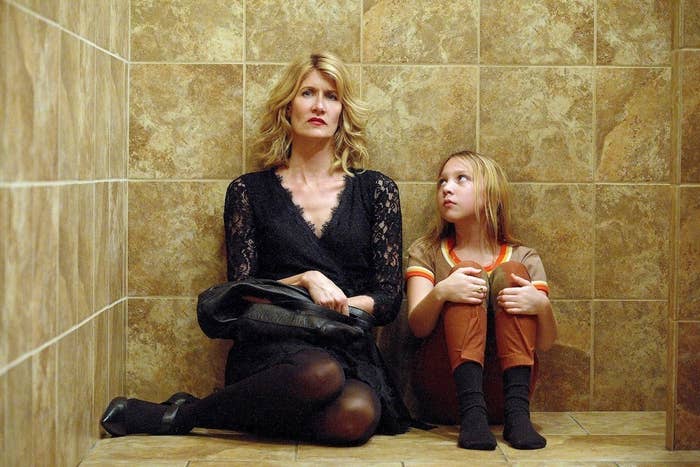 In The Tale, written and directed by acclaimed documentarian Jennifer Fox and based on her own experiences, Laura Dern plays a woman unlocking repressed parts of her past. Specifically, she starts to realize the truth about the sexual abuse she suffered at the hands of two adults at the age of 13. It's a breathtaking autobiographical film that is at once timeless and arrestingly timely in the age of #MeToo.

According to a Q&A that took place right after the film's debut at Sundance, it wasn't until Fox was in her forties — and making a film called Flying: Confessions of a Free Woman — that she decided to tell her own story. "I was talking to women around the world, and I started to hear my story," she said. "And it didn't matter the class, it didn't matter the color, it didn't matter the nationality — anecdotally it was like one in two women had a story like this."
"It just blew my cover," Fox continued, "because this event that I'd always called a relationship wasn't personal, it wasn't individual, it was actually universal. It was then I thought, it's time to make this film — it's time to tell this story."
The Tale has been in the making for six years, according to Fox. Now, it's premiering amid the resurgence of the #MeToo movement and the creation of the Time's Up initiative — both of which characterize large groups of people from Hollywood and other industries coming forward with their own experiences of sexual abuse. It also premiered on the same day as the Women's March took place across the country, shortly after a Respect Rally took place a few blocks away at Sundance, the annual film festival that takes place in Park City, Utah.
The Tale depicts Fox in the present (Dern) and as her 13-year-old-self (Isabelle Nélisse), working through memories she'd repressed of two of her coaches (played by Elizabeth Debicki and Jason Ritter) molesting her. She discovers the truth via a story her mother (Ellen Burstyn) digs up, which the young Fox had written shortly after the events themselves. And as was noted in the Q&A and in a disclaimer during the end credits, the production used adult body doubles in Nélisse's place wherever scenes involved touching.
As a film, The Tale is daring, at once stunning and excruciating to watch. It's a personal reckoning, after all: one woman coming to terms with what happened to her — and how her own brain protected her from the truth of it. "Eventually I realized that it was about memory and how I constructed this story in order to survive," Fox said. "It was only very late that I could face the dark side of the reality."
During the Q&A, Burstyn explicitly brought up the film's connections to the recent news cycles around sexual misconduct. "The exploitation of innocence is a deep criminal crime. And it's time now, now, in this moment in our history, to change it," she said to applause, "And we're doing that."
Burstyn also had a very specific shout-out: "I want to thank Donald Trump for that disgusting tape that he made, that we all heard, that was the final straw that broke the camel's back. We can now at last deal with this problem that has gone on for centuries, all over the world. And this film is giving voice to it."