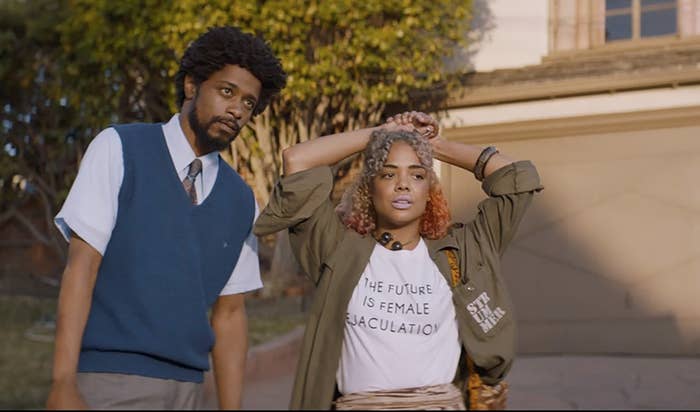 Every frame of Sorry to Bother You is visually stacked. A surrealist epic grounded in the labor struggles of a telemarketing floor, the movie is infused with a bold style that speaks volumes. There's the rainbow, ombré hair of Detroit (Tessa Thompson) and the glitter and bold fonts of her ginormous earrings, plus the patterned sweater-vests of her boyfriend, Cassius (Lakeith Stanfield). Later on, Cassius upgrades to jewel-toned suits as he rises in the ranks at his telemarketing gig and leaves his protesting friends behind. Elsewhere, Steve Lift, the billionaire villain running a massive conspiracy involving slavery and genetic modification, dons a linen skirt.
Sorry to Bother You is a movie fueled by an activist heart, and many of its stylistic choices underline that, both aesthetically and in the surrealism that guides the film through Cassius's descent into capitalist corruption. This is a movie that wants to thrill audiences with big swings. It's also a movie that seeks to radicalize its viewers.
"It's not that often that you have a film that involves a sense of magical realism, suspended reality, or alternate universes that involve people of color and a multicultural kind of visual aesthetic or style of seeing things."
In Sorry to Bother You, Cassius starts a new job as a telemarketer and soon joins forces with Squeeze (Steven Yeun), a man who travels from job to job helping workers unionize. But as Cassius discovers that the key to succeeding in sales is code-switching — using his "white voice," provided by David Cross — he rises in the ranks at the company and begins making massive moral compromises for a bigger paycheck. When Cassius's best friend, Salvador (Jermaine Fowler), and Detroit pick up on the changes in Cassius, the two decide they can't compromise their ideals by continuing to associate with someone who would abandon his own.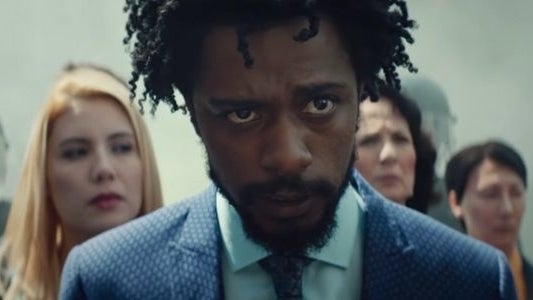 Conceptually, Sorry to Bother You is like if iconic labor film Norma Rae were rendered in vivid Technicolor and had a gleefully loose relationship with the boundaries of reality. The movie's director, Boots Riley, and the rest of the creative team are hoping its originality will help ignite people.
"It's not that often that you have a film that involves a sense of magical realism, suspended reality, or alternate universes that involve people of color and a multicultural kind of visual aesthetic or style of seeing things," costume designer Deirdra Elizabeth Govan told BuzzFeed News. To design the look of the characters in the film, Govan drew from her research into the aesthetic aspects of the Black Lives Matter movement and protest marches around Oakland, where the film is set. She also took into account how neighborhoods look as they are gentrifying, focusing on these shifts particularly as she was designing the aesthetic of Cassius's personal gentrification. "It's about substance and style," she said of the film's mission statement. "I can't emphasize that enough."
Sorry to Bother You uses its flash — and there's plenty of it — to tell a story in which the labor struggle is central. Characters crash through the walls of time and space, speak in voices that are physically not their own, and encounter mythical creatures. It's in service of "an exciting story," as Riley said, but it's also the means through which Riley wants to deliver bigger themes.
"We're in a place and a time where everyone is trying to figure out how to change things."
"We're in a place and a time where everyone is trying to figure out how to change things," he said. "And the truth is that we all know that large amounts of money are part of the equation for having power. ... Yet [too often] when people are trying to change things, they only take to begging those with power to have a change of heart. And that isn't that effective."
His characters do not go the route of appealing to the morality of those in the dominant position. Riley said that it's important to "look to times when people have been more effective in changing things," noting that historically it has been "when they're taking what their place in the economic structure of this society is as a worker, as someone who creates wealth for other people, and withheld it." As such, he made sure his characters — Squeeze, Salvador, and Detroit — use those methods of withholding throughout the film.
Sorry to Bother You's surrealist elements came out of a desire to find new avenues to express the film's blend of emotion and heady socioeconomic questions. "I wanted to find a different way to make people feel [these themes]," Riley said. "That's when I bent reality."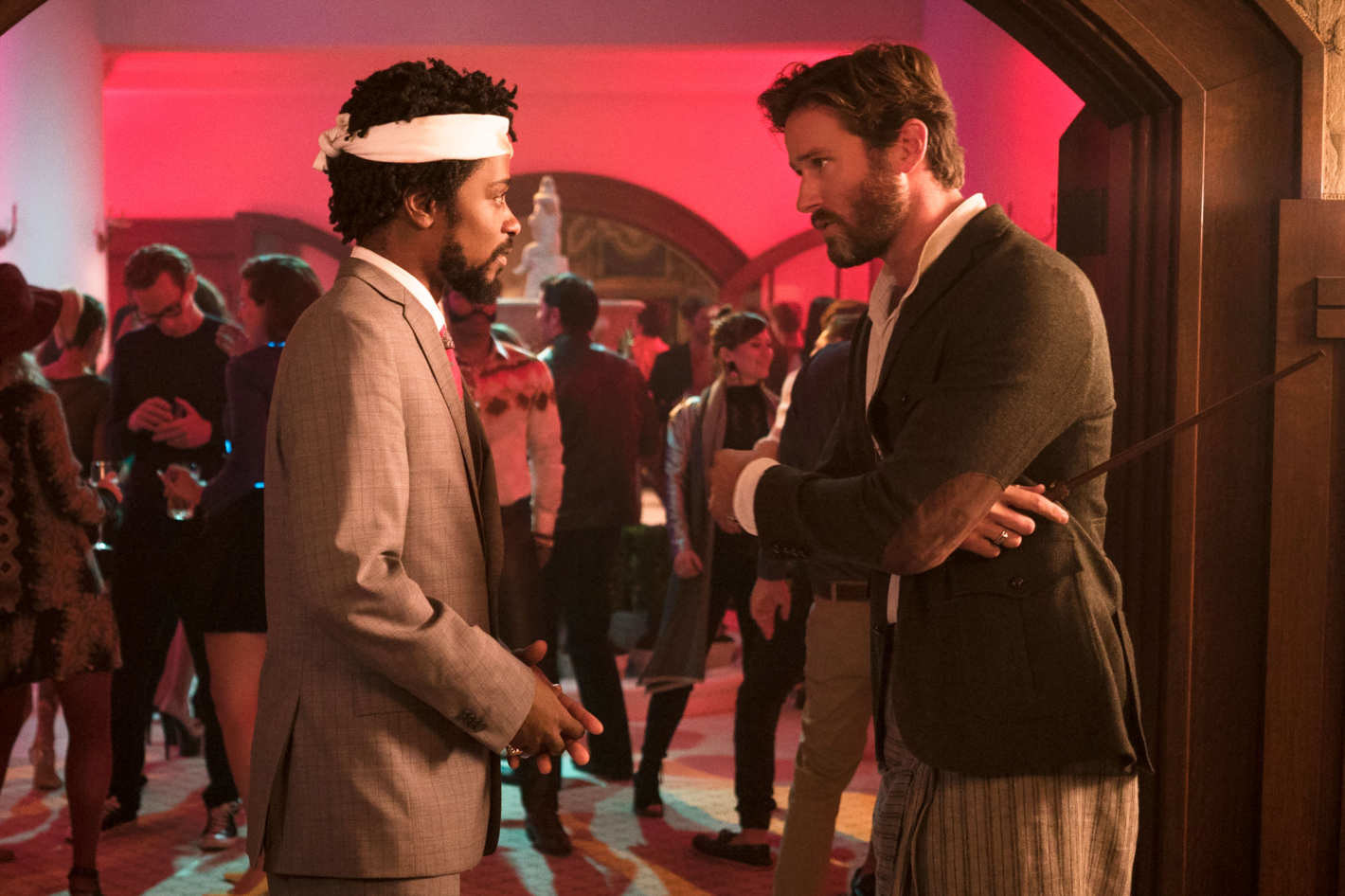 For Govan, layering politics into the film was done character by character. When it came to Armie Hammer's Steve Lift, the costume designer looked to real-life figures like Elon Musk, Steve Jobs, and Julian Assange, sprinkling in a bunch of cultural appropriation for good measure. "He's the one who has the money, who has the wealth, who has the power, who can do good for society scientifically but chooses to go the other way for nefarious means," she said. "With that, he also has the ability to use his entitlement to objectify and co-opt from other cultures without being apologetic at all."
When Cassius meets Steve in the film, Steve is snorting a many-foot-long line of cocaine. Soon after, he demands that Cassius drop his white voice and rap for his pleasure. Govan dressed him in an equestrian jacket, a riding crop, and the aforementioned linen skirt for his one-on-one scenes with Cassius.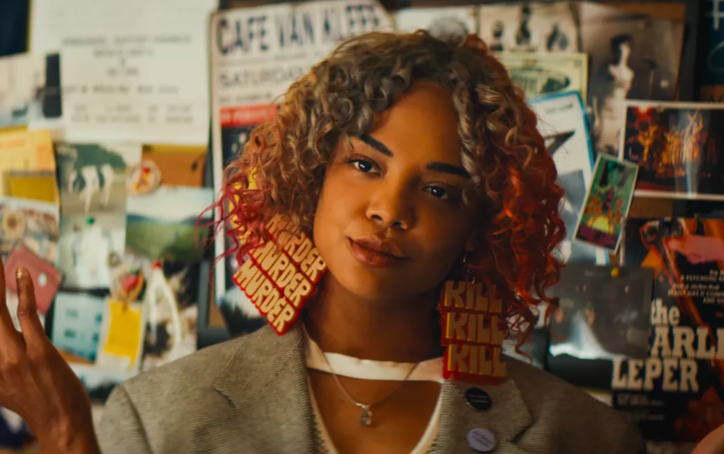 When it came to Detroit — who has the breakout look of the movie — Govan was "very strategic." Detroit's T-shirts specifically, including an already beloved "The Future Is Female Ejaculation" shirt, largely exist in the background of the film. "Those were subliminal messages," Govan said, meant to both telegraph aspects of Detroit as a character and to infuse the film with messages of female empowerment alongside its labor conflict.
Step by step, the crew behind Sorry to Bother You built a film that would stimulate audiences stylistically and politically. Riley hopes that its legacy will be reflective of both those elements, and that the film might even be used as a tool for real-life activists.
"This is a movie that is strange, and weird, and interesting, and people will want to talk about it," Riley said at a Sundance panel in January. "Hopefully, organizers of these movements that are trying to grow and figure out what they can do — they can use movies like this."
And as Riley told BuzzFeed News, "Art has to be relevant." He said that he hopes Sorry to Bother You "inspires people to get involved in things. ... I feel like any good piece of art should make you want to engage with the world more."