If you watched television aimed at young women in the late '90s, chances are you encountered a few witches. Maybe they were the edgy witches of The Craft, marching forward in unison with matching scowls, rosaries, and spiked chokers — or the soulful type, with billowing skirts and wistful looks out onto the horizon, like the witches of Practical Magic. Perhaps you spent your nights with the more lighthearted exuberance of the sitcom Sabrina the Teenage Witch, or falling into the rich emotional worlds of dramas like Charmed or Buffy the Vampire Slayer. Witches were everywhere for a while, pop culture's turn-of-the-century preoccupation with "girl power" made literal.
Then, toward the middle of the '00s, they largely disappeared: Sabrina, Charmed, and Buffy ended their runs. Witches still popped up sometimes — like on The Vampire Diaries, or The Secret Circle — but were largely supporting figures or on shows that were quickly canceled. Pop culture moved on to superheroes and sad, angry male antiheroes.
Both model "girl power" through a 2018 lens.
But now the witches are back. Chilling Adventures of Sabrina hits Netflix Oct. 26, and a reboot of Charmed premieres on the CW Oct. 14. Once again, these shows center on young women learning to champion their powers and, by extension, themselves. Both model "girl power" through a 2018 lens — with the conscious inclusion of a more diverse cast and a connection to the darkness that surrounds modern conversations around feminism.
Both also play directly off the success of their foremothers. Charmed is a reboot of the 1998–2007 WB series of the same name, this time with a different set of "Charmed Ones" fighting the forces of evil. Chilling Adventures of Sabrina is not a direct reboot of Sabrina the Teenage Witch, but rather an adaptation of a newer run of comics — though the Netflix series still owes a lot to how beloved the sitcom was. The show also has deep connections to Riverdale, both through their shared creator, Roberto Aguirre-Sacasa, and years of talks of a Sabrina/Riverdale crossover. But while Charmed and Chilling Adventures of Sabrina share subject matter, they approach the task with such different tones that it feels like the only thing truly binding them together is magic, women, and a grudge against the patriarchy.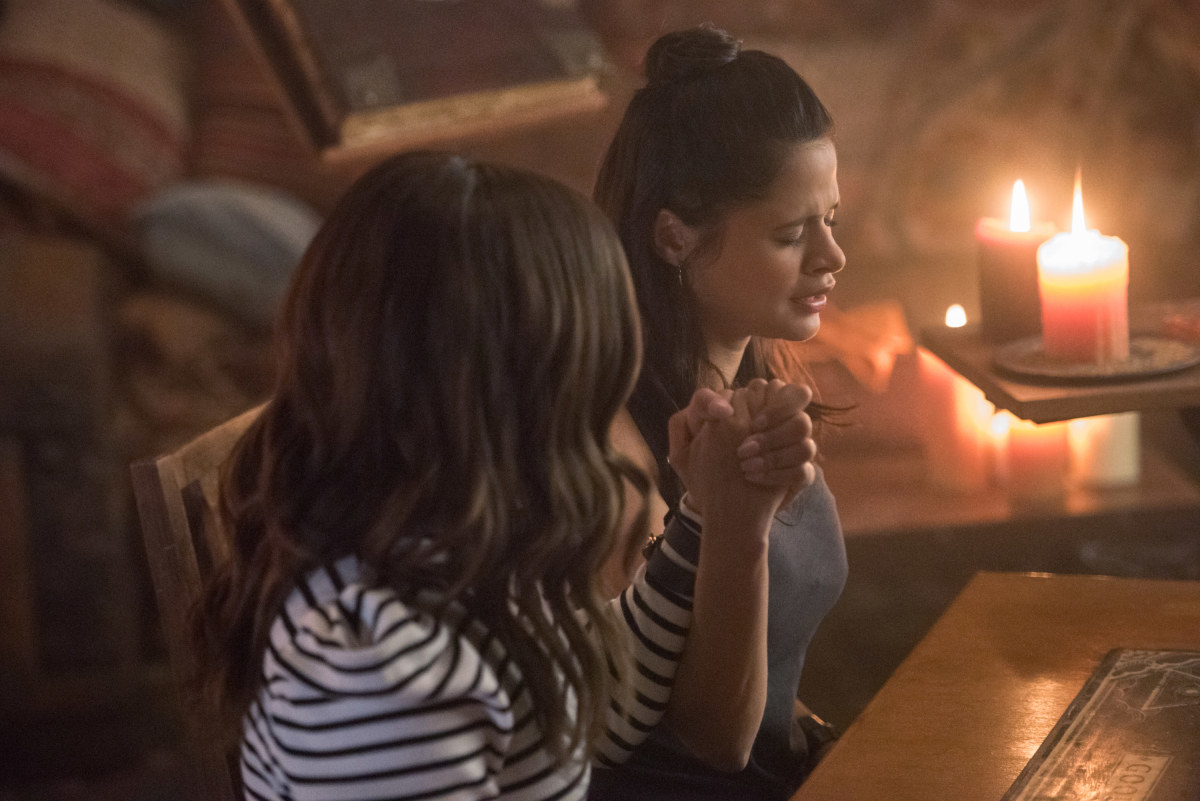 Charmed was brought back to life by Jane the Virgin creator Jennie Urman, who signed onto the project a few years back when CBS was looking for someone to revamp the original. Still busy with Jane, Urman handed control of Charmed to Jessica O'Toole and Amy Rardin, who act as the series' showrunners. Under them, Charmed is earnest, fullhearted, and very politically preoccupied. Originally a prequel series set during the second-wave feminism of the 1970s, it was reshaped by the producers after the 2016 presidential election. Instead, they chose to make it a more modern story set against the backdrop of a college campus, dealing heavily in rape culture and the #MeToo movement. The show centers on three young sisters — Melonie Diaz as Mel Vera, Sarah Jeffery as Maggie Vera, and Madeleine Mantock as Macy Vaughn — all involved in the university in some way. In the series' first episode, the sisters find out they're witches and that one of the men on campus accused of misconduct is an actual demon it's their duty to vanquish.
The original Charmed had its share of dark, weighty storylines throughout the years — but it was also campy, and more interested in landing an emotional moment or making you laugh than it was in scaring the crap out of you. The reboot takes after its predecessor. The show plays with jump scares and walking-in-the-woods-at-night spookiness, but it does so with a light touch. If it didn't, the subject matter might weigh the show down, given how much of the conflict relates to sexual assault and misconduct. Charmed rounds itself out by focusing its emotional energy on the sisters, and their love for each other wraps a warm blanket around the entire endeavor.
"Throughout history, strong women were called witches, and they are! We are! We have to unite, to change the power dynamic, to right the ship, change the course of humanity!"
The show leans in hard to its relationship to feminism. The middle sister, Mel, is a feminist activist with a lot of rage toward the school administration for its refusal to punish a professor for his assault on a student. She writes "hostile" papers on feminist theory, busts into frat parties yelling about consent, and repeats the refrain of her late mother — that what's going on on campus "is not a witch hunt" but "a reckoning." Of the sisters, she's the most excited when the three are revealed to be witches. "It all makes sense," she says, her eyes lit up. "Throughout history, strong women were called witches, and they are! We are! We have to unite, to change the power dynamic, to right the ship, change the course of humanity!"
Her declaration acts as the thesis for the show and is a theme that the producers have repeated many times while doing press. Charmed's goal was to cast a multiracial array of women, to ground the series in the current feminist movement, and to literally empower its main characters to take on the patriarchy.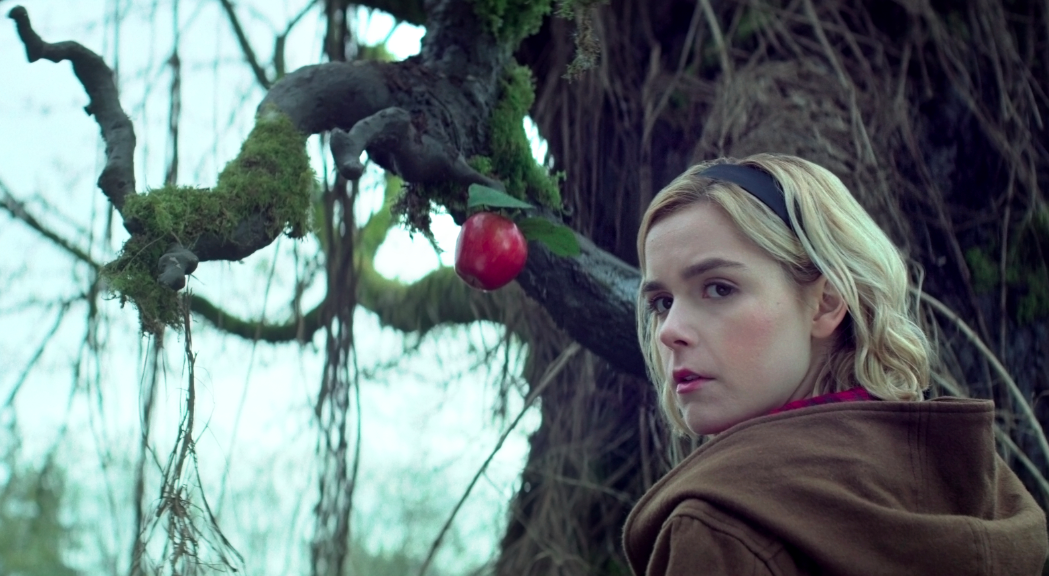 Chilling Adventures of Sabrina, meanwhile, doesn't seem to want to be all that grounded. It gets its thrills through boldness, both visually and in its story choices. Brought to Netflix by Berlanti Productions and Aguirre-Sacasa, Sabrina is purposefully dark. But instead of going for the bleak realism of so many "gritty reboots," Sabrina plays off of the arch melodrama that proved successful in drawing viewers to Riverdale on the CW. Where the Riverdale teens inhabit a soapy noir, the characters of Sabrina are in a gothic supernatural fable.

In Sabrina's first episode, we find the half-witch, half-mortal Sabrina Spellman (Kiernan Shipka) preparing for her 16th birthday and her dark baptism. The ceremony will officially induct her into the witch community and involves pledging fealty to Satan and leaving behind her mortal life, including her boyfriend (Ross Lynch's Harvey) and her two best friends (Jaz Sinclair's Rosalind and Lachlan Watson's Susie). She's torn by the decision, especially as she realizes just how much control Satan would have over her life.
She resists giving herself fully to a patriarchal institution that might one day rob her of her power to make her own decisions.
Aguirre-Sacasa's highly stylized production habits work well here. Sabrina is one of those shows with lighting that sometimes makes you feel like the producers didn't want you to be able to see anything happening onscreen. Luckily, the costumes and production design are rendered in rich-enough colors that they glow through the darkness anyway. The show's visual language eases viewers into a world that's pretty different from Sabrina the Teenage Witch. There are the old standbys from the sitcom, like Salem the cat (who doesn't talk here) and Sabrina's aunts Hilda (Lucy Davis) and Zelda (Miranda Otto) — though this time Zelda has quite a bit more bite to her. But there's also Sabrina's housebound, pansexual cousin Ambrose, played by Chance Perdomo, who, if the world is just, will be a massive breakout of this show. The series also serves up various forces of evil, all bringing about their own versions of creepies and crawlies that Sabrina must get the better of.
Sabrina is not as explicitly inspired by feminist discourse as Charmed is, but issues of choice and women's power are still foundations of the show. In the first episode, Sabrina combats a group of boys bullying Susie by cofounding what Rosalind calls a "club to topple the white patriarchy." She and her friends call it WICCA, which stands for the Women's Intersectional Cultural and Creative Association. As Sabrina grapples with whether to have her dark baptism, her decision comes down to a fight for agency. She feels obligated to go along with her family heritage and her community's wishes for her at the same time that she resists giving herself fully to a patriarchal institution that might one day rob her of her power to make her own decisions.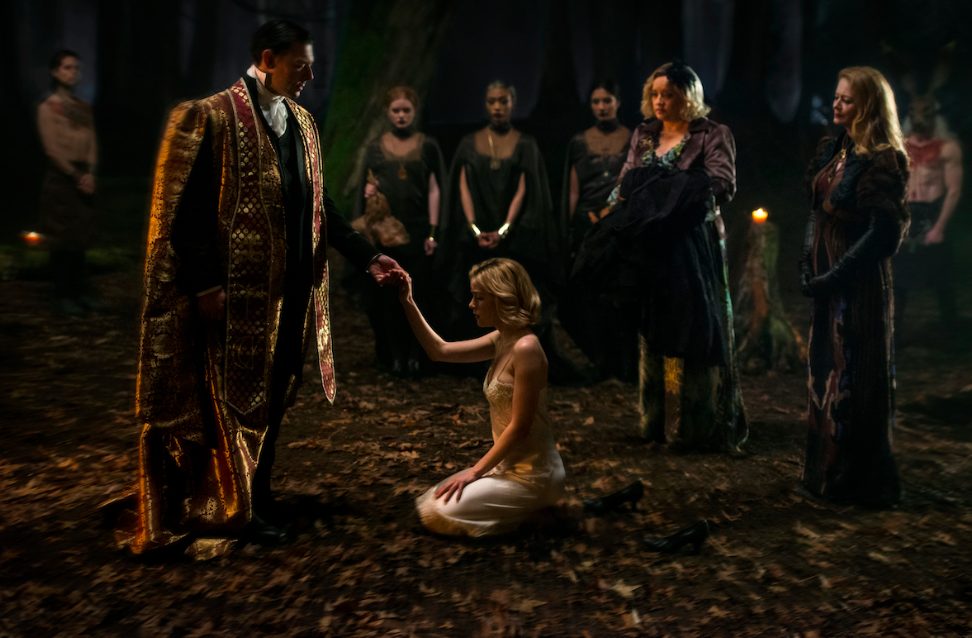 It's when Sabrina embraces this narrative that it really hits its stride. Sabrina's status as a young woman torn between worlds is compelling. Her friendships, relationship with Harvey, and dynamic with her family are layered in ways that are rife with material for future seasons. But without Sabrina's connection to something bigger — her sense that there's a looming system in place working to disenfranchise her and others — the show wouldn't have much of a driving conflict. The base concept of "girl power," much as it's been debated and contested throughout the years, provides a fighting spirit to the stories of TV witches. It gives them something to battle for that's more specific and packs more of a wallop in the cultural conversation than the vague idea of good vs. evil.
The new generation of TV witches has little interest in presenting magic divorced from politics. Magic is power, and power is automatically political. Witches have long been used as symbolism for women's empowerment — for better or for worse — both because of the long and gruesome history of witchcraft as scapegoat in the punishment of women and because images of witches evoke power even in the face of persecution. Sabrina and Charmed both channel this energy, funneling this history and the extended metaphor born from it into TV shows built for catharsis and entertainment.
These shows are presented as alternatives to the recent real-world headlines about "witch hunts," which largely tend to revolve around men, accused of some form of sexual harassment or assault, complaining that people are coming after them. As it was the first time around, "girl power" has its limits. There's only so much dismantling of harmful structures that a handful of TV shows can do.
But did I mention that the witches in Sabrina are cannibals? Sometimes they literally do eat men.
CORRECTION
Chilling Adventures of Sabrina comes out on Netflix Oct. 26. An earlier version of this post misstated the premiere date.