"We gonna be staying up late, drinking, making memories that we can laugh about for the rest of our lives," Regina Hall's character, Ryan, says in this summer's Girls Trip.

That mission statement flows throughout the movie, as the four women at its center — Hall, Queen Latifah, Jada Pinkett Smith, and stellar breakout Tiffany Haddish — dance, drink, and pee on strangers with impressive abandon.
It's also the credo of what has become a steadfast subgenre of movies, the so-called raunchy female friendship comedy. There's a simple recipe: A group of friends, all women, cut loose with booze, sex, and/or drugs, often while on vacation and only sometimes with urine involved.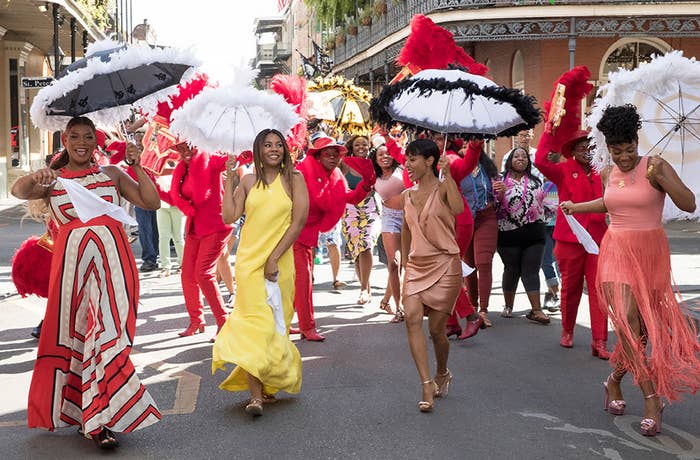 In Girls Trip, for example, the women trip on absinthe, leading Latifah's character to make out with a lamp she thinks is a handsome man. In 2016's Bad Moms, three drunken women (Mila Kunis, Kristen Bell, and Kathryn Hahn) rampage through a pristine grocery store, spraying vodka and chocolate sauce everywhere and kissing strangers to Icona Pop's "I Love It." And in Rough Night, the film's central characters (played by Scarlett Johansson, Jillian Bell, Zoë Kravitz, Ilana Glazer, and Kate McKinnon) do cocaine as a bonding activity and perform a choreographed dance routine to Khia's "My Neck, My Back."
Most of these movies add the liberation of grossness into the mix, like the legendary wildly spewing diarrhea in bridal finery in 2011's Bridesmaids. Many even revel in the bawdy, like back in 2002's The Sweetest Thing, when Selma Blair's character got a penis stuck in the back of her throat (be careful with genital piercings, folks!), only to be released after her friends serenaded her in front of all the firefighters and neighbors who'd gathered to watch.
Bridesmaids has become a marker of sorts for comedies starring and created by women. "I think that there is a before and after Bridesmaids," Misadventures of Awkward Black Girl alum and Girls Trip co-writer Tracy Oliver told BuzzFeed News. "Without that, it's harder to get a movie like Girls Trip greenlit."
"Every time women make a movie, or star in a movie — or god forbid, women make and star in a movie — it seems they have to prove more than other movies."
But, as Bridesmaids, Spy, and 2016 Ghostbusters director Paul Feig told BuzzFeed News: "Every female-led movie still has to go through a giant litmus test. Every time women make a movie, or star in a movie — or god forbid, women make and star in a movie — it seems they have to prove more than other movies."
In the long wake of Bridesmaids' success and amid the ongoing discussion of the lack of opportunities available to women in Hollywood, the raunchy female friendship comedy has drawn a complicated kind of anticipation. The pressure is real, and comparisons are everywhere.
Take this summer's Girls Trip and Rough Night. Neither of their respective creative teams planned for these films to be paired in the cultural conversation. "There's space for them, there's space for us," Girls Trip director Malcolm D. Lee told BuzzFeed News. Though distinct in several key ways — Girls Trip, for example, doesn't include any manslaughter, while Rough Night is a purposefully dark comedy centered around one — both films fall into a category of movie that embodies the never-ending discussion about women in comedy. So together is where they've landed, pitted against each other since before either of them even hit theaters (Rough Night did in June and Girls Trip will on July 21).
Girls Trip, Rough Night, Bridesmaids, The Sweetest Thing, Bad Moms, and their ilk are constantly put under a microscope, held up as the latest examples of where Hollywood stands with women in film, women in comedy, and, frankly, women in general. Women getting rowdy has long been the ground on which we try to prove — or disprove — how far we've come. But as these movies have always shown, progress is rarely so easily measured. The steps forward often come with steps back — as well as hop-skips to the left and slides diagonally across the board.
But no matter their reception, the characters in these movies are rebelling against the pressure on women to act a certain way. The films themselves also face the same pressures externally, in a way movies like The Hangover do not. As a result, the path to the big screen is often as messy as the women the raunchy female friendship comedies feature. It's been that way for decades, and it seems like it could be for many more.
When Bridesmaids came out in 2011, it was, according to Slate, what the comedy the world had been waiting for. Real-life bachelorette parties and Hollywood at large (see: Glee) used the film for inspiration, it was nominated for freaking Oscars, and the conversation about women in comedy boomed. The never-ending "debate" about whether women are funny was reactivated yet again, even just to finally declare that yes, duh, they always have been. Bridesmaids' box office was massive — $288 million worldwide — and Indiewire wasn't alone in its sentiment that the film would be "busting down doors" for future comedies centered on women.

It was also questioned: Was it feminist enough? Funny enough? What did it really mean for the future of comedy? For the future of funny women onscreen? Was the poop scene really necessary? Regardless of the answers to those questions, a moment was born, and six years later, it's still impossible to talk about ensemble female comedies without Bridesmaids coming up. In 2015, multiple outlets even gave the film credit for the existence of four comedies that came out that summer: Trainwreck, Hot Pursuit, Pitch Perfect 2, and Spy. An Entertainment Weekly headline declared it "The Bridesmaids Effect."
At the time, Bridesmaids' success directly affected Bachelorette writer Leslye Headland, who was bringing her play about four female friends gathering for a bachelorette party to the big screen. When she'd started writing the play in 2007, The Hangover, which brought the vision of bachelor party debauchery into modern blockbuster success, hadn't been released. (In 2009, it would become one of the highest-grossing R-rated comedies ever in the United States.) By the time the movie version of Bachelorette had started filming in 2011, Bridesmaids had become a hit. By the time Bachelorette was released in 2012, Bridesmaids had become a full-fledged legend. "I happened to fall ass-backwards into a moment," Headland told BuzzFeed News. "I wrote this thing and then watched everybody else change their minds about this type of film."
While Bachelorette takes on a more acerbic tone than many others in its genre, it still ticks most of the boxes of the raunchy female friendship comedy. "[Studio execs] went, 'Oh, gosh, we really can't have them behaving this way,' and then all of a sudden The Hangover comes out, and they say, 'Oh, of course, the dirtier the better, the hard R [rating] is back — but they're women, so they can't do it.' And then Bridesmaids happened," Headland remembered. "It was so funny, because any pushback I did experience was followed six months to a year later with 'Go more that way.'"
But the effects of a tidal wave like Bridesmaids don't last forever. "Even after Bridesmaids, it's still been a slog," Feig said. "It didn't happen immediately that suddenly there were just a ton of female-led comedies."
"A movie led by four black women — there wasn't an example of that happening."
And when there is one, it's watched with laser focus. While promoting Feig's 2016 all-female remake of Ghostbusters, Wiig, who starred in the film, was asked in an interview with the New York Times if the movie would be treated as a litmus test. "How many litmus tests do we need?" said the actor, who also co-wrote Bridesmaids. "I've been hearing this for five years. Sorry, I'm finished."
As Rough Night director and co-writer Lucia Aniello put it in an interview with BuzzFeed News, "It's interesting, because when Kevin Hart and Will Ferrell have movies coming out, nobody's ever asked to compare those."
The landscape is warped for every female-led comedy, but for movies like Girls Trip especially, a success story like Bridesmaids only goes so far. "If you say, 'Well, Bridesmaids did well,' then the [studio] response is, 'Well, those were mostly white women,'" Oliver said. "For Girls Trip, a movie led by four black women, there wasn't an example of that happening in recent years, so this really will be the first.

"It was really risky for Universal to take this movie on."
If the fan support trickling in on social media is any indication, Girls Trip could certainly be worth the perceived risk. On Twitter, @Blue_Wallflow3r wrote, "I've never been hype for a movie like I am for #GirlsTrip." User @GeeksOfColor tweeted, "it was dope seeing 4 black women be unapologetic af and just doing what they want."
The movie's co-writer Kenya Barris (who also created Black-ish) hopes Girls Trip can change the way studios and audiences alike perceive women — particularly black women — behaving like the ones portrayed in their film. "I think it's time for that social conversation," he told BuzzFeed News. "Hopefully, it'll start to redefine what those conversations look like."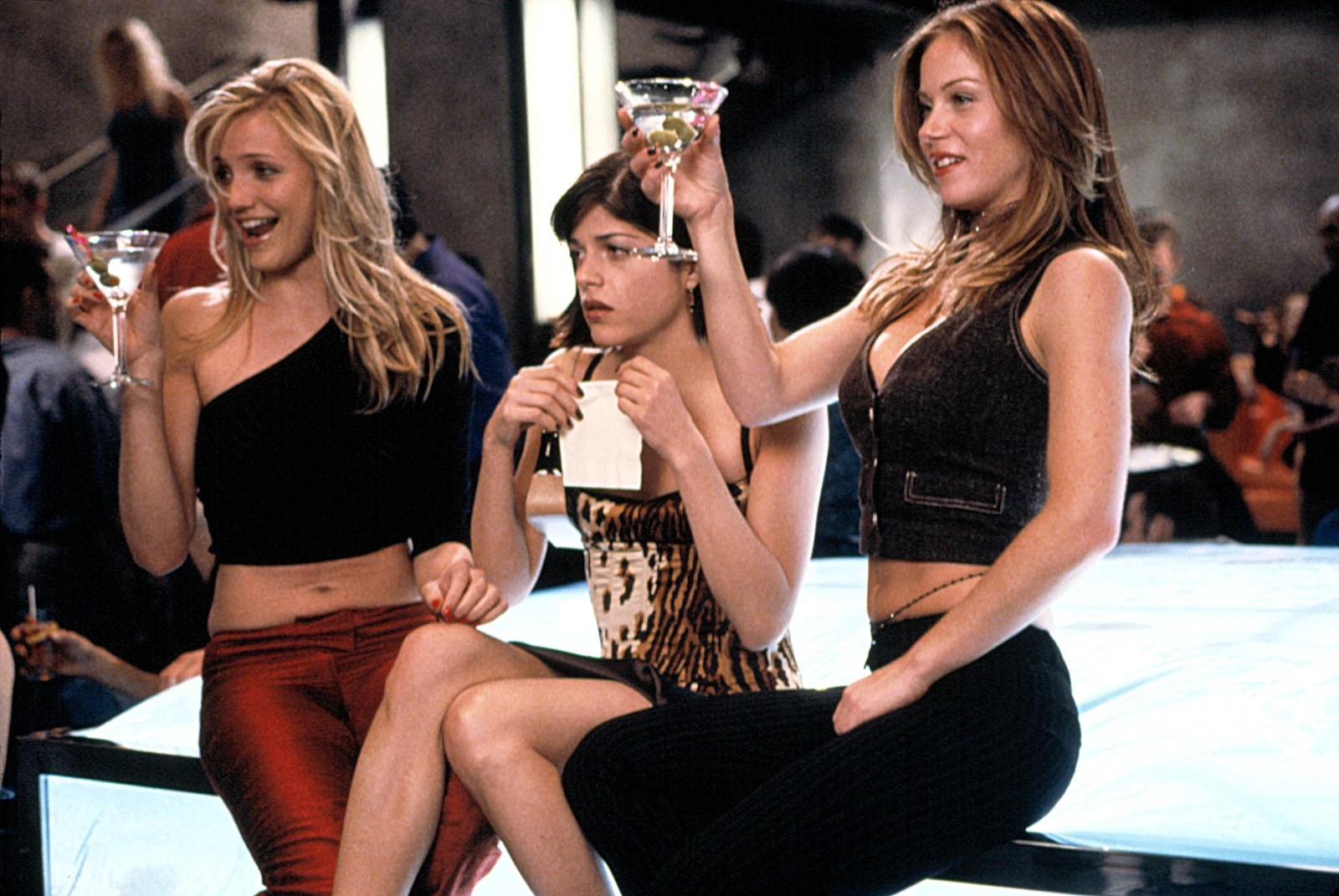 Bridesmaids still stands as a landmark moment for raunchy female friendship comedies and the discussion around them, but it wasn't the first of its kind; it wasn't even the first to have an impact on how studios think about the genre.

Flash back to the turn of the century. Nancy Pimental had just been hired as a writer on South Park, and she was "kind of the party trick around town," she told BuzzFeed News. "Being a woman was just such a novelty back then."
During that period in the late '90s, Pimental took a lot of meetings — including several with Ghostbusters director Ivan Reitman, who wanted her to sign on to remake the wholesome 1959 beach film Gidget. (A representative for Reitman did not respond to BuzzFeed News' request for confirmation.) "I realized that what I was being pitched and what people wanted me to do was so far off from what was interesting to me," Pimental recalled.
"I wanted to show women having more power and control over their sexuality, and their friendships."
What was interesting to her was showcasing the sense of humor she saw in the women she knew — and switching up the power game she was seeing at play in Hollywood. "I wanted to showcase women in a more three-dimensional, real way than I felt was being shown in TV and movies at the time," she said. "It wasn't being shown out there that women talk way worse than guys, and I wanted to show women having more power and control over their sexuality, and their friendships, and what they talked about."
What resulted was 2002's The Sweetest Thing, written by Pimental, directed by Cruel Intentions filmmaker Roger Kumble, and distributed by Sony's Columbia Pictures. "At the time, Sony gave us a lot of freedom to do what we wanted," Pimental said. "I think, because there were so many guy movies doing it, they were like, 'It's payday, women get to do this now, too.'"
The Sweetest Thing follows three women (played by Cameron Diaz, Christina Applegate, and Blair) in their sexual and romantic exploits, leaning heavily on their friendship with one another. In one of the opening scenes, Christina (Diaz) talks on the phone with Courtney (Applegate), the pair trading stories about their work successes while dancing up the San Francisco hills to Macy Gray's "Sexual Revolution." The women spend their evenings in clubs, sleeping with men and then gleefully discarding them. Eventually, they embark on a road trip to track down a man Christina has fallen for (Thomas Jane), though the film spends far more energy on the interactions between the women than it does on the burgeoning romance. Oh, and in one scene Christina is poked in the eye with a penis after mistakenly looking in a glory hole.
The Sweetest Thing was a commercial and critical flop. It made $68.7 million at the box office. "Not everyone can make a movie built on bad taste and succeed," the New York Times' Elvis Mitchell wrote. Meanwhile, Nell Minow noted in Common Sense Media that "the three leads are so bright and even endearing that the fact that they behave like complete skanks doesn't compute."
"For a good 10 years, people said that that [kind of comedy] didn't work, before Bridesmaids."
For years the movie was used by studios to fuel the theory that people wouldn't show up to see women getting rowdy. "When I first went out, people were saying that R-rated comedies don't make money," Headland said. "They were saying, 'You're never going to get this movie made; this is a genre that just does not work. We have decided, in our labs, we've done some experiments. Sweetest Thing didn't work, it's not gonna work.'"
But much of what made Bridesmaids noteworthy — the rejoicing in bodily fluids; women not being forced to choose between being fullhearted and sexually brazen; the friendships remaining front and center — was also at the heart of The Sweetest Thing in 2002. The film has survived as a foremother of the genre, despite its one-time status as a studio scapegoat. Though Pimental thinks it sometimes "tonally missed the mark," she's proud of the legacy it's carried in the long run. "I think it was maybe ahead of its time," she said. "But it has a really, really strong following still to this day, and we're talking 15 years later."
Pimental has continued to work in Hollywood — currently as an executive producer and writer on Shameless — but she hasn't written a feature film since The Sweetest Thing. ("Television is such a juicy medium right now," she said. "I really want to jump back into the movie business, but TV's been so great.")
"Just because that one movie didn't make its money back and didn't get good reviews, for a good 10 years, people said that that [kind of comedy] didn't work, before Bridesmaids," Headland said of The Sweetest Thing. "I just don't think that's fair. We see male-driven stuff that fails all the time, and it doesn't connect. ... That doesn't mean we want [men] to stop trying. To hold women to a standard of 'unless you crack it, you can't continue to do it' is just not fair."
Success in Hollywood is often about existing at the right time, and finding the right audience — all when "right" is defined by Hollywood executives who choose whether or not to accommodate what a filmmaker is attempting. That balancing act is even more complicated when it involves women, and even more so when it centers on women of color.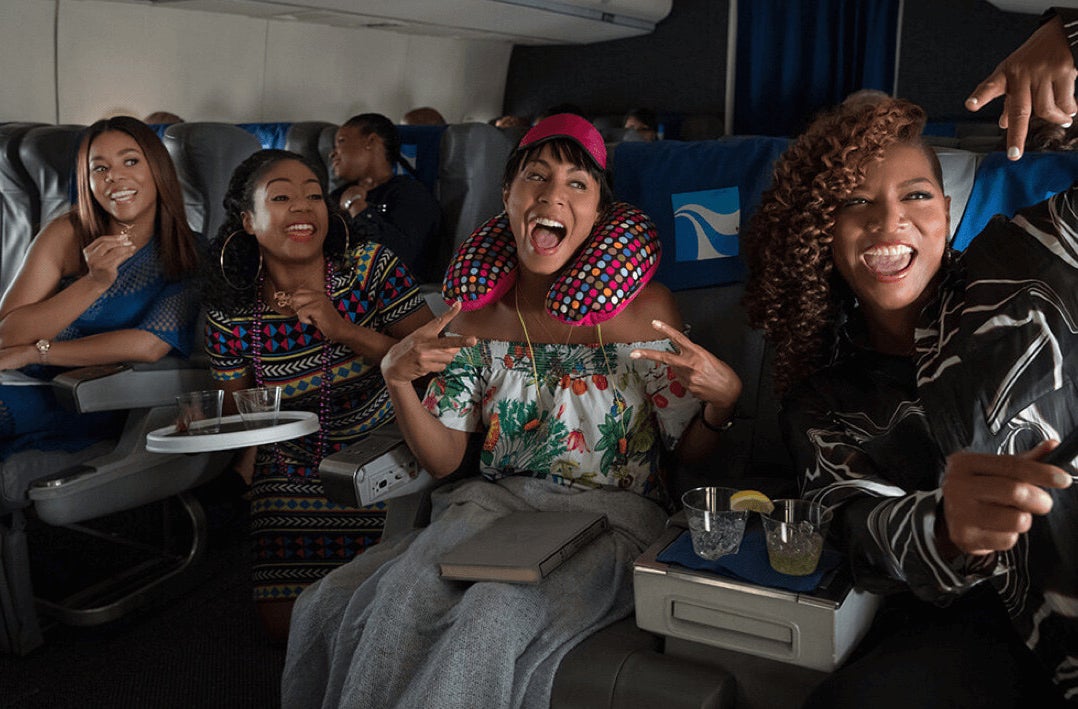 Girls Trip has not only battled Hollywood's complicated relationship with women, but also its intertwined, frustrating history with race. "Every time you pitch something with women and/or people of color, you still have to convince [studios], every time," Oliver said. "And every time there is a setback, if there is a movie featuring women or people of color that doesn't do well, they remember that more than Bridesmaids, or Think Like a Man. They'll still point out the most recent movie that didn't do well."

Needless to say, the stakes are high for the film. "If Girls Trip does open well, it'll make my job easier to be able to push through similarly themed movies, or just movies about women and people of color more often," Oliver said. But Girls Trip will be breaking ground regardless of its box office performance.
"It's rare that black women get to see that in a way that's diverse, and authentic, and heartfelt, and funny."
The movie was born as a friendship comedy centered on black women. "I thought if we were going to do a story about four black women, it should be a love story about four friends," Oliver said. The setting was also crucial: The film takes place at the iconic Essence Festival, an annual pilgrimage for around 500,000 (mostly black and mostly female) people a year. "It just made perfect sense, to have a movie that wanted to celebrate black women and black womanhood, setting it at a festival that also celebrates every aspect of black womanhood," director Lee said.
Lee knew right away the first people he wanted to show Girls Trip to: his wife's book club, "all very smart, accomplished women who like to have fun," he said. "I felt like if they were laughing, I was in the right place." Lee said he and the rest of the Girls Trip team "wanted to make a movie that spoke to black women, but also to everyone. Everyone wants to be represented authentically onscreen, and it's rare that black women get to see that in a way that's diverse, and authentic, and heartfelt, and funny."
These days, speaking to everyone with humor is increasingly difficult. "Comedy is something that a lot of people are nervous about, because one of those things it's hard to get people to agree on is what's funny," Feig said. "There's a million different senses of humor." (And that's clearer than ever this summer, with Rough Night, Snatched, and remakes of Baywatch and CHiPs all disappointing studios at the box office.)
Raunchy female friendship comedy, in particular, hinges on a marriage of relatability and aspiration. "It [speaks] to what [audiences] have done themselves, or wished they could have done," Lee said. In that duality, the genre demands multidimensional characters. Since these movies are often ensembles, the form lends itself to an array of women who will at once clash and complement one another — and who will push the boundaries of what society might expect of them.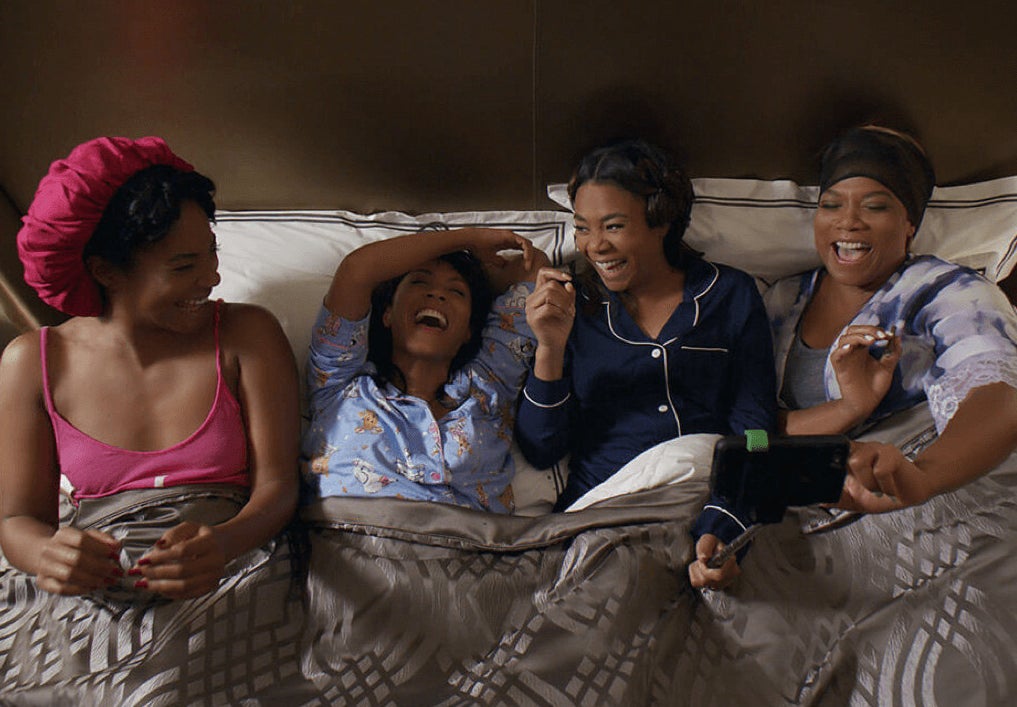 "Oftentimes you have people having to live up to perceptions people have of them, and that becomes their reality," Girls Trip co-writer Barris said. "You become afraid to be something else. These friends aren't going to make each other stick to these notions."
In Girls Trip, Pinkett Smith plays Lisa, a buttoned-up doctor and single mother who at first resists her friends' attempts to get her to step out of her comfort zone. Soon, though, she embraces her weekend away: She drinks, dances, and spends a not insignificant amount of time with her legs wrapped around a younger man (Kofi Siriboe's Malik). There's even a grapefruit involved. In Bad Moms, the story's central women are suburban moms who come together over a shared goal of freeing themselves from the constraints of perfection. Multiple scenes in the film feature the women doing shots, whippits, and destroying property — but it doesn't cheapen who they are in the moments when they're not partying. If anything, it enriches them, a joyful and frustratingly necessary reminder that women are full, complex human beings who exist in more than one mode.
"I think it surprises people, but come on," Lee said. "We're in the 21st century. Get with the program."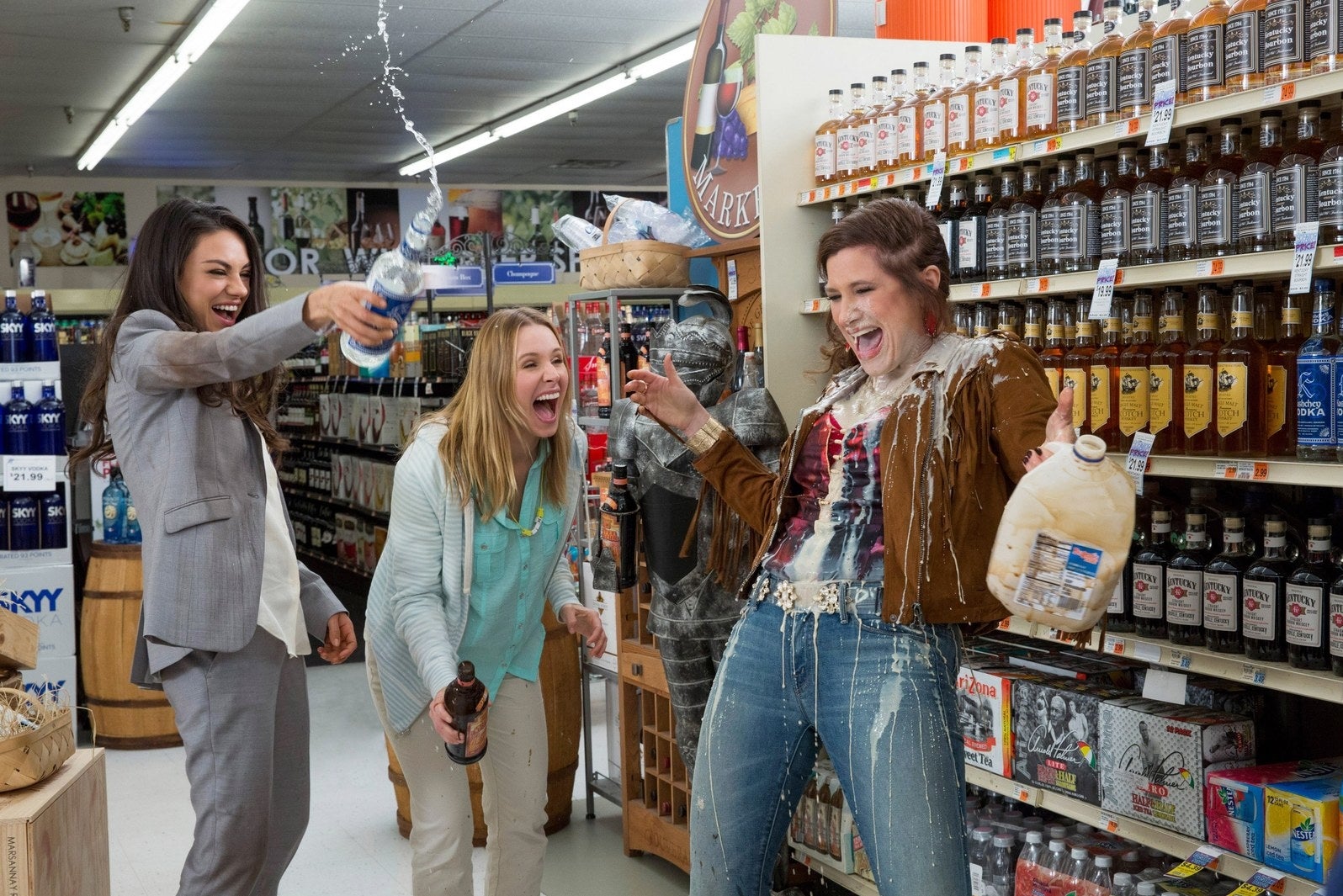 Raunchy female friendship comedies are bound together by the complexities of women — and how their friendships with one another can bring those layers to vivid light. These movies feel lofty in the freedom they achieve, but stay grounded in heart and human relationships. It's no wonder that when they hit, they hit big. And it's also no wonder Hollywood is still churning out variations on the subgenre, as if trying to master some elusive formula.

"We as filmmakers are always trying to figure out why an audience would want to see this," Feig said. "What makes this stand out, what is different about this that puts a new spin on anything — on characters, on a situation, on a story, on a genre."
Sometimes, that's as simple as wanting to flip the script by making a film that's a version of The Hangover but with women, as Kravitz referred to Rough Night in Allure, and as Lee referred to Girls Trip to BuzzFeed News. (It's interesting that though each film was trying to do something different — and the directors and writers of Rough Night and Girls Trip both bristled at the way the films are constantly compared — they both utilized tropes that landed them in a shared arena, one rooted in themes of friendship and debauched, glorious humanity.)
"Hopefully, we'll be mentioned in conversations like Bridesmaids is, for the movies afterwards who want to have black women in the comedic space."
Both also flip the script by adding important developments to the growing canon of the subgenre. In Rough Night, two women in the main ensemble (Kravitz's Blair and Glazer's Frankie) are canonically queer. Where Bridesmaids grazed against a sexual flirtation between Becca (Ellie Kemper) and Rita (Wendi McLendon-Covey), Rough Night features Frankie and Blair as established exes whose flame might not be all the way burned out. It's not a perfect representation — there's a scene in which Blair is pressured into having a threesome with Ty Burrell and Demi Moore's characters, playing into stereotypes of bisexual people — but making two women in the friend group romantically linked was a purposeful step forward. Aniello said she and Rough Night co-writer Paul W. Downs "feel pretty strongly about having queer representation, [and] more representation on screen where the point of the character isn't just that fact about them."
That Frankie and Blair's relationship is featured in a studio film in particular is noteworthy. It was only last year, after all, when Sony — the same studio that produced Rough Night and The Sweetest Thing — would reportedly not allow Kate McKinnon's character in Ghostbusters to be confirmed as queer, despite heavy coding. (A representative for Sony had no comment about that report.) "Especially in studio comedies, when dealing with gay characters, it's often used as gay panic for jokes," Aniello said. "Which is not how I feel about gayness. It was very important to have characters who were three-dimensional characters, who were experiencing what it feels like to get back together [with these friends], no matter what their orientation."
And then there's Girls Trip, which expands the genre of the raunchy female friendship comedy in an even more central way, beyond the mostly white friend groups that have long been the faces of these films. "Hopefully we'll be mentioned in conversations like Bridesmaids is, for the movies afterwards who want to have black women in the comedic space and getting these roles," Oliver said. Often, these comedies will feature only one or two women of color — Rudolph in Bridesmaids, for example, or Kravitz in Rough Night. Pinkett Smith is also in Bad Moms, but she's a secondary character who's not included in the film's core friend group. In Girls Trip, she's one of the stars, with an arc and a hell of a lot to do.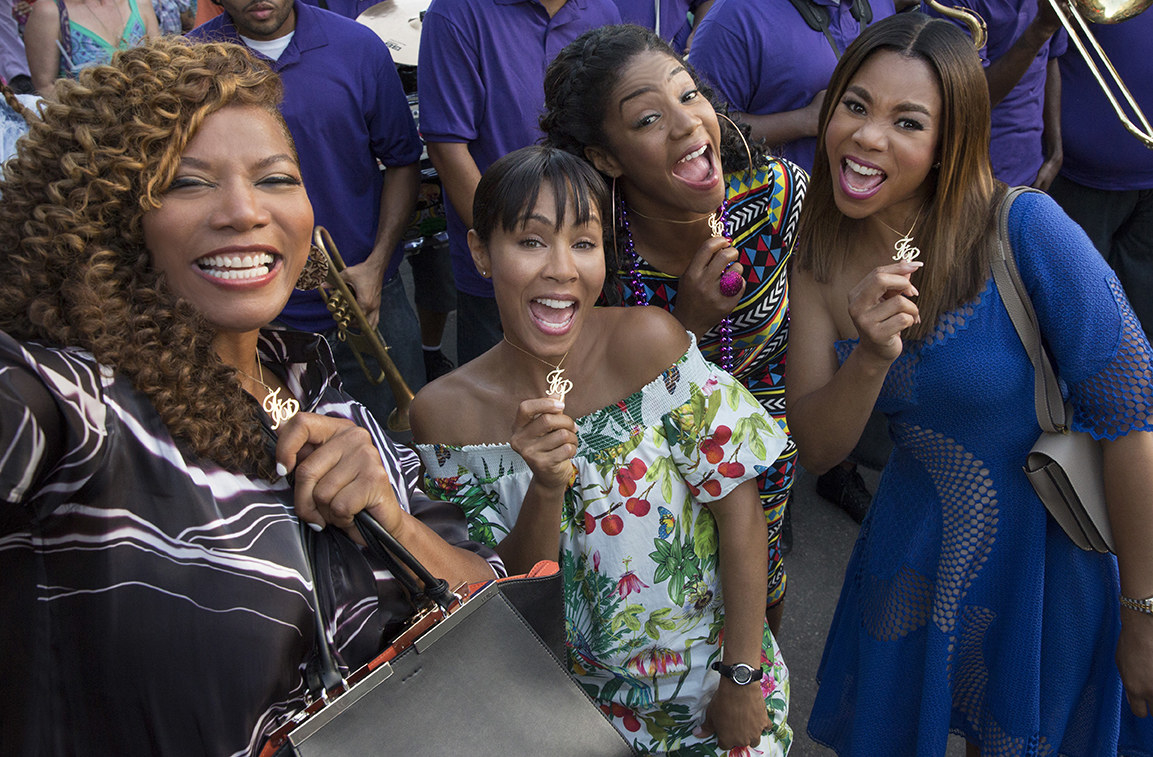 Girls Trip revels in the universality of friendship stories like any in the subgenre — but it also springs to life in the specificities that come with a friend group made up of black women. "I think black women's friendships in particular, we haven't really got a chance to see it like this in a while," Barris said.
Several scenes in Girls Trip feature the women dancing in New Orleans, having the goddamn time of their lives. There are wigs. There is sex. There are fights, and simulated blow jobs. At one point, Haddish's Dina comments that she's "planning on getting white-girl wasted this weekend." We've seen what that looks like, as acted out by white women hundreds of times before. But we rarely, if ever, see it with Haddish and company in a movie entirely their own.
According to Lee, Girls Trip is about "black women's time to do whatever they want and act however they feel like acting." "Nobody can tell them anything different," he said. "They can have all the experiences they want to have, and let their hair down, and throw caution to the wind." It's the credo of the subgenre, spelled out anew. ●