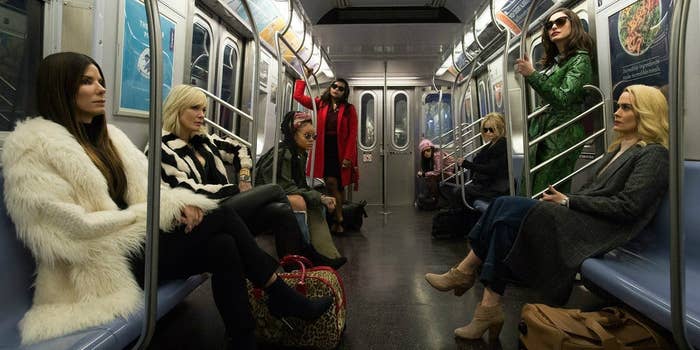 There is something thrilling about the image that has been central to the promotion of Ocean's 8: Eight women sit in an otherwise empty subway car. Sandra Bullock is in the foreground as Debbie Ocean, enveloped in a big white fur coat. Next to her is her motley crew: Lou (Cate Blanchett), Tammy (Sarah Paulson), Daphne (Anne Hathaway), Nine Ball (Rihanna), Rose (Helena Bonham Carter), Amita (Mindy Kaling), and Constance (Awkwafina). They all stare forward, confident and at ease. The well-known premise of the Ocean's franchise — that a group of people with disparate skills get together to perform elaborate heists — lends a nice undercurrent of mischief to the gathering of women. The image served as a boiled-down thesis for the film, an illustration of the elements that made the movie so highly anticipated from the moment the cast was announced in 2016.
That image alone should have made it no surprise that Ocean's 8's opening weekend set a new series best for the entire history of Ocean's movies, raking in $41.6 million and beating Star Wars prequel Solo for the top box office spot.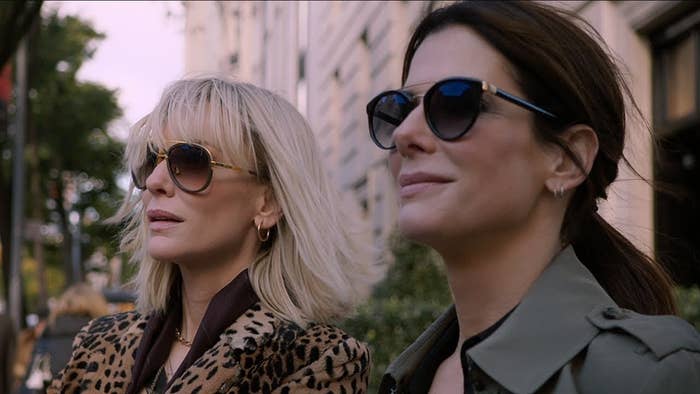 As Hathaway and Bullock both noted during the film's press tour, it's still something of a rarity to see this many women in major roles in a major Hollywood movie. But here they all are in what is hopefully just one of many more women-led ensemble movies that Hollywood will let through the golden gates.
Every time a movie centered on multiple women generates buzz, there are a few bullet points that repeat in the media and fan conversations around them. First comes the scarcity of it all — the very real fact that women remain wildly underrepresented in film. To cite one example, as of a 2016 study by the Annenberg Inclusion Initiative, the ratio of men to women onscreen was still 2.3 to 1. That observation always leads to the follow-up questions: Will Hollywood finally "get it" this time and leave the door open for more movies centered on women? Will they make room for women — and not just white women — to not only appear onscreen in substantial ways, but also to steer their own stories onscreen and from behind the scenes? The answer has always been a dubious, uneven, "maybe, sometimes, eventually."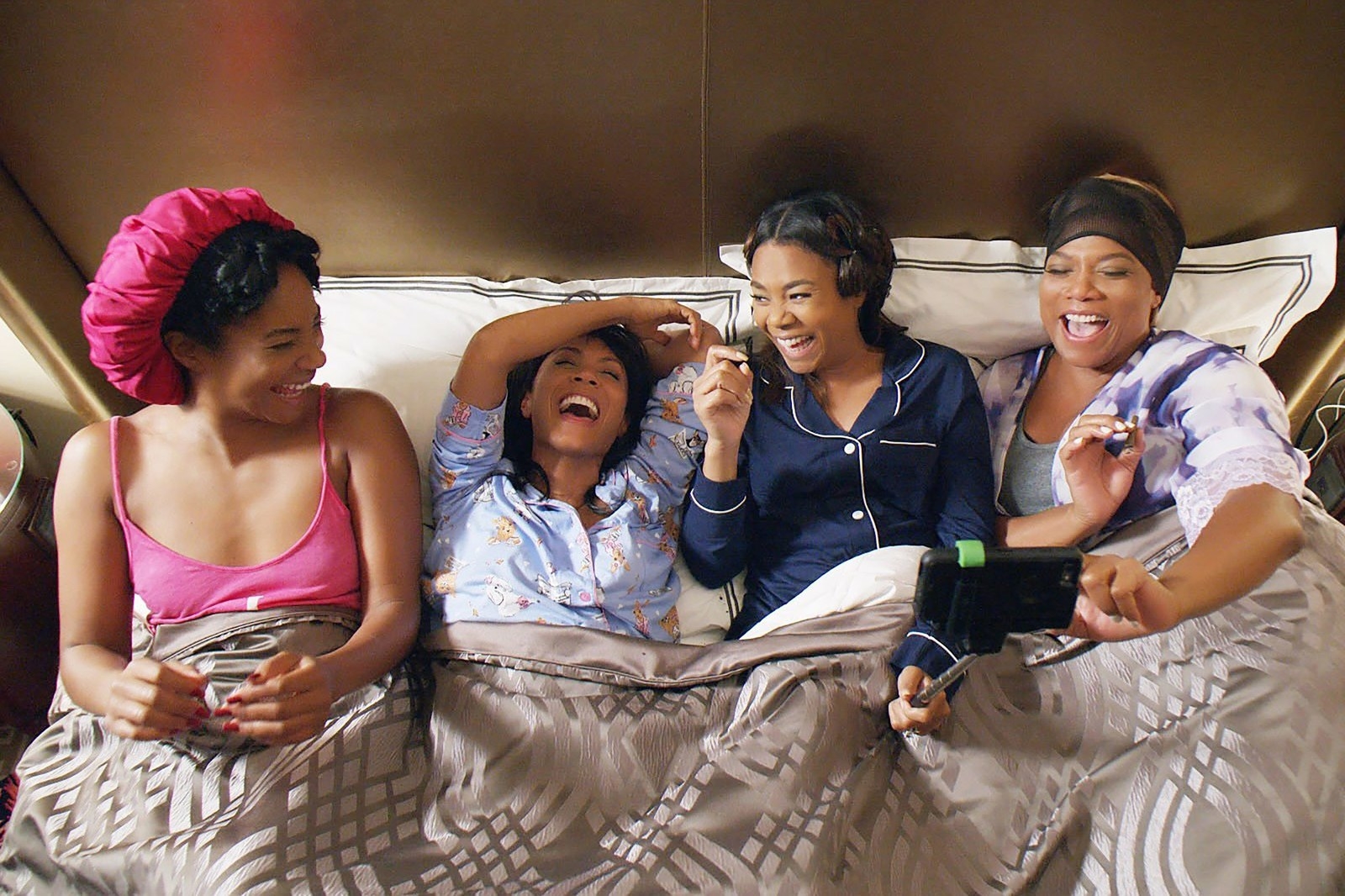 Versions of these conversations have cropped up around nearly every movie centered on ensembles of women, including but not limited to Girls Trip, Pitch Perfect, Ghostbusters, Bridesmaids, and Hidden Figures. And though Ghostbusters was considered lackluster by critics and at the box office, the other four films didn't just succeed financially (and for the most part critically) — they smashed the box office. "What Hollywood should conclude is that women make money too, and they're willing to spend it on a movie that's worth their time," Stephanie Merry wrote in the Washington Post about Pitch Perfect 2 in 2015. "Maybe it's time to stop catering almost exclusively to the supposed gravy-train demographic of young male movie-goers." With Ocean's 8, women accounted for 69% of the audience opening weekend.
Articles frequently ask if Hollywood will learn from the success of these movies. But if Hollywood hasn't already learned that people like to see groups of women palling around onscreen, it just isn't paying attention.
"Every female-led movie still has to go through a giant litmus test," Bridesmaids director Paul Feig told BuzzFeed News in 2016. That same year, the New York Times asked Kristen Wiig about Hollywood executives potentially using Ghostbusters as a test of whether or not audiences will respond to ensembles of women. "How many litmus tests do we need?" she replied. "I've been hearing this for five years. Sorry, I'm finished."
There was nothing to prove in the first place.
Audiences have proven over and over again that the appetite for movies about groups of women is there. In 2017 alone, the Pitch Perfect franchise released its second sequel, Girls Trip made history by crossing $100 million at the box office, and Hidden Figures beat Star Wars movie Rogue One and topped $200 million worldwide. During its first three days, Ocean's 8 made just a little bit less than Ghostbusters did during its opening weekend — but Ocean's 8's budget was only $70 million, less than half of Ghostbusters'. If Ocean's 8 keeps its pace, it'll handily earn back its budget and then some. And even if it doesn't, it need not stand as a "litmus test" to how audiences react to a bunch of women onscreen. We've already had plenty of those.
During a May press conference, Hathaway noted that she's "been able to work with a lot of great women, but there's usually just one or two of us." That experience translates to the audience, who are used to only seeing one or two women main characters in a movie at a time. That's part of what made that subway shot so thrilling: These women were all together. Powerful A-lister women like Bullock and Blanchett, mixed in with women like Awkwafina, who isn't a household name but now has the chance to prove herself alongside women who are.
Hollywood studios may be sluggish to learn that it's worth investing long-term in stories anchored by women. That's on them, and tracking the evolution of Hollywood's relationship to women is a worthy pursuit. But there was nothing to prove in the first place. These stories have always been worth telling, and there have always been audiences craving them.