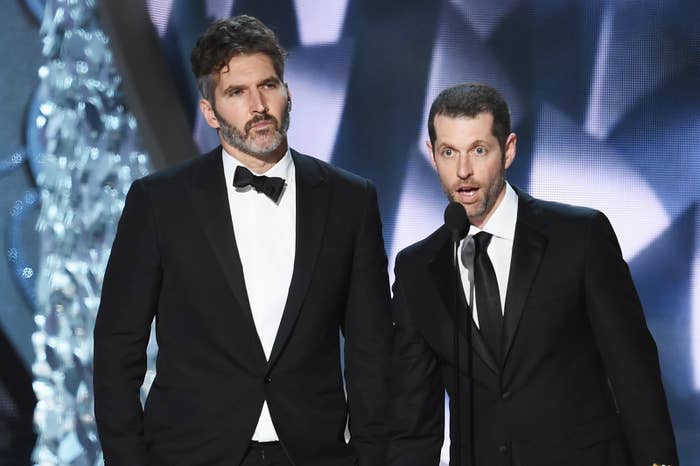 It's been a week since the announcement about and immediate backlash against HBO's upcoming series from Game of Thrones showrunners David Benioff and D.B. Weiss, Confederate, which is set in an alternate timeline where the American South won the Civil War and slavery is still legal. And now, there's a Twitter campaign brewing to get HBO to put a stop to the series.
Five black women who have been active in the conversation about the show — Rebecca Theodore, Jamie Broadnax, Shanelle Little, Lauren Warren, and #OscarsSoWhite creator April Reign — launched a campaign on Friday morning to get people to tweet #NoConfederate during Game Of Thrones on Sunday night. "We know we have the power to make change," Reign tweeted. "Let's show @hbo how many people are against #Confederate."
(Representatives for HBO, Benioff, Weiss, and executive producers Nichelle and Malcolm Spellman did not immediately respond to BuzzFeed News's request for a response to the campaign.)
The announcement about Confederate — which has not yet been outlined, written, or cast — led to widespread criticism, including an op-ed by Roxane Gay for the New York Times entitled, "I Don't Want To Watch Slavery Fan Fiction."
Confederate's executive producers responded last week in an interview with Vulture and said they anticipated the "concern." Malcolm said "what people have to understand is ... We've got black aunties. We've got black nephews, uncles. Black parents and black grandparents. We deal with them every single day." He also said that when Benioff and Weiss first pitched Confederate to him and his wife, Nichelle, he told them, "You're dealing with weapons-grade material here."
Casey Bloys, the president of programming at HBO, responded to the backlash at the Television Critics Association summer press tour on Thursday, saying that HBO also "assumed it would be controversial," but that the series "will rise or fall on the quality of that material. ... It's a risk worth taking." It's a sentiment Benioff shared in the Vulture interview. "You know, we might fuck it up," he said. "But we haven't yet."
But for some, the very concept of Confederate is untenable. "We see nothing good from the commodification of more black pain," Reign told BuzzFeed News, "and that is what this would be."
The goal of the #NoConfederate hashtag, as Reign said, is to get HBO to "scrap the series" — and to show the sheer power of audiences. "What we see with #OscarsSoWhite and #NoConfederate is that when people rise up with a unified voice, change can be made," she said.
The timing of the campaign was also a major consideration, as the show is in its very early stages. "We are very intentionally acting now, before the scripts are written, before the parts are cast," Reign said. "We want to say to HBO: Don't put any additional money into this, because we are not going to go away."
Reign also wants to emphasize that #NoConfederate is not meant to be a wider boycott of HBO or Game of Thrones, which has come under fire for its portrayals of slavery and sexual assault, as well as its lack of diversity. "We want to work with HBO, because there are times when they do great work," she said, citing Issa Rae's Insecure and the network's commitment to adapt 10 August Wilson plays. "This is about Confederate specifically. This particular show should not see the light of day."