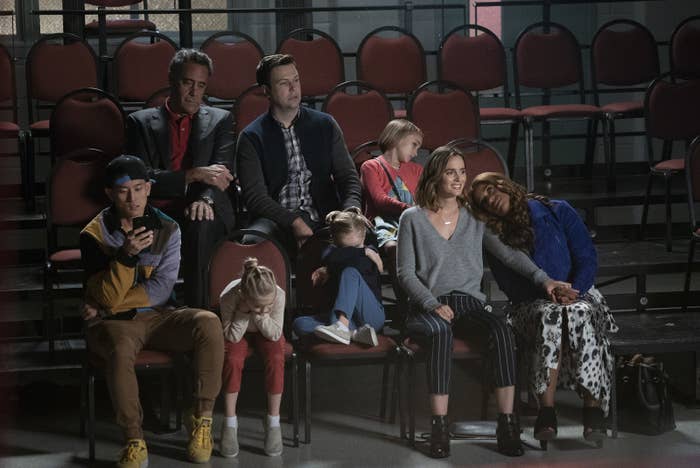 In the pilot episode of Single Parents, a single mom named Angie (Leighton Meester) confronts a single dad named Will (Taran Killam) with a sizable mermaid purse. Yellow yarn makes up the mermaid's hair, with blue and green sequins spread down the tail. The mermaid has a serene smile on her face, and a tiny merbaby nestled in her arms. "I've never seen that before in my life," Will says. Angie has her retort ready: "Dude, your wallet is in here! And a bag of popcorn that's still hot. You've used this today." Will clutches the mermaid to his chest as he explains that the bag used to belong to his ex-wife, and that it's the only thing — besides their daughter, and Will himself — that she left behind when she walked out on him. "Do you think maybe there's a reason — I don't know, just throwing this out there — that this was the bag she didn't take when she left?"
The scene is where the pilot clicks together, marrying the cheery absurdity of its characters' gut impulses with the gentle emotional resonance that balances its quirk. It's a formula Single Parents has relied on throughout its first run of episodes, and it's one that has helped the show become one of the most reliably fun new comedies out there. As the leaves change and fall TV settles into its rhythm, the series critics recommended at the beginning of the season has had a few more episodes to find its groove. Single Parents, created by J.J. Philbin and New Girl creator Liz Meriwether, is one of those shows, and you should absolutely be watching it.
During its glory years, New Girl was equal parts sincere and farcical in the best way. The characters were each unique, and through the seasons the writers' room made sure none of the cast were relegated to the role of "straight men." Every character got their chance to be ridiculous, and the constant churn of platonic and romantic pairings — and off-kilter, life-giving joke writing — allowed the show to keep its spark through its finale this past May. New Girl was a gem, and it is missed. But Single Parents feels like a natural successor to that show, another eccentric gift from the creative team — Philbin was also a producer on New Girl — that is only just starting to show viewers what it's capable of.
Single Parents, true to its title, follows an ensemble of parents without partners who band together to help one another deal with all the weird ins and outs of raising small children alone. The characters chafe at the phrase "it takes a village," but that's still the idea at the core of the show, and the cast that Meriwether, Philbin, and casting director Seth Yanklewitz have assembled for the task is pretty stellar. Killam uses the surplus of energy we saw in him on Saturday Night Live as Will, an earnest try-hard dad who the other parents reluctantly welcome to the friend group. Meester plays Angie, a straight-shooting mom with a very clingy kid, and it's a genuine thrill to see her in a leading role on TV again, post–Gossip Girl. The cast is rounded out by Brad Garrett as conservative, tough-love widower Douglas, Kimrie Lewis as the warm Poppy, and Jake Choi as in-over-his-head 20-year-old dad Miggy.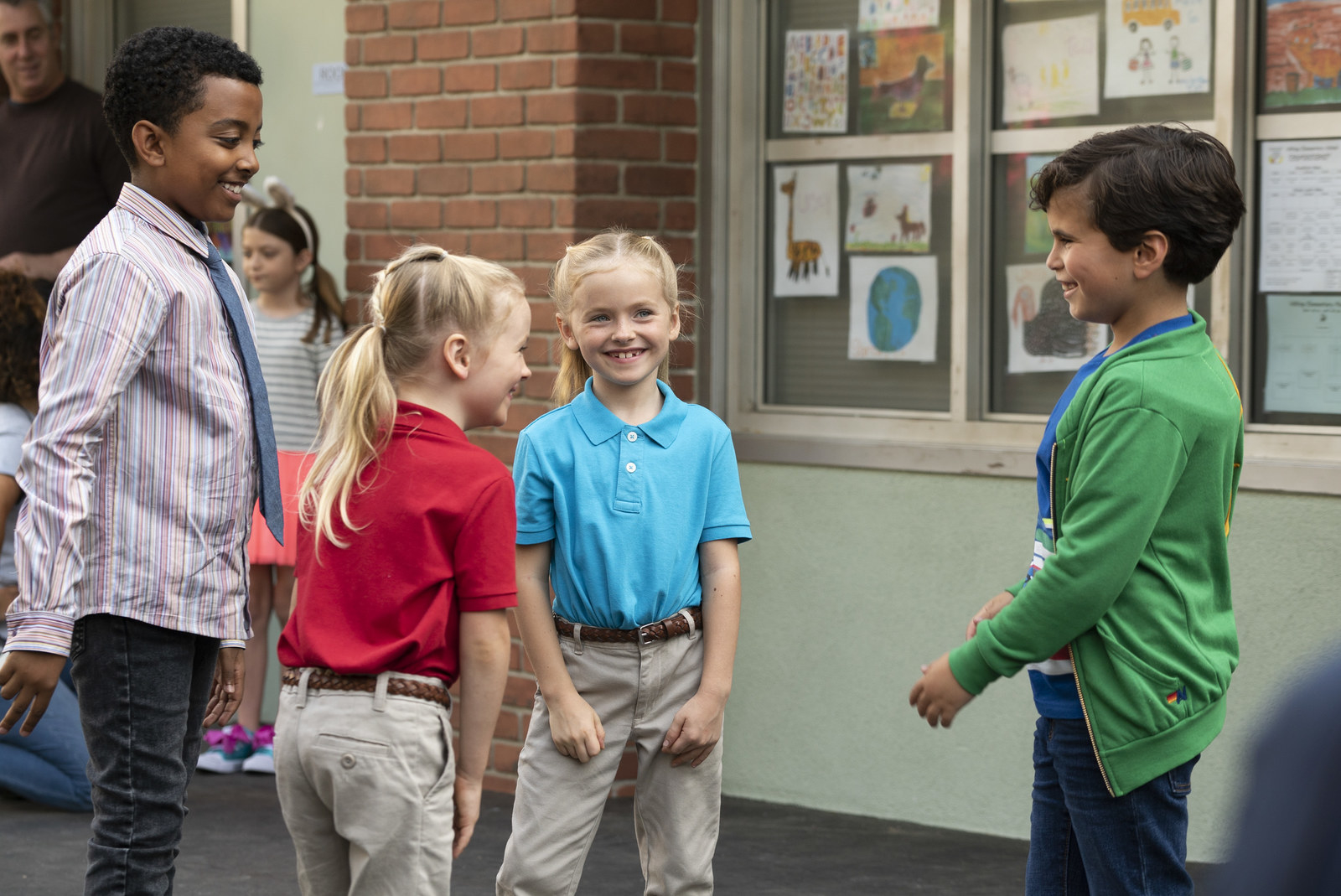 Together these characters are a classic ragtag team. Just like on New Girl, everyone gets their shot at absurdity — even the characters who, on most shows, would be relegated to scoffing at the others' actions from the sidelines. Single Parents also nails another crucial aspect of the family sitcom: The child actors they've cast for the show are as awesome as the adults. Poppy's authoritative and exuberant son Rory (Devin Trey Campbell) is absolutely one of the best new characters on TV this year. Rory already feels like he could anchor his own show all by himself and have it run from now up through his college years without running out of story opportunities. The rest of the kids are great, too: Mia and Ella Allen as Emma and Amy, Douglas's super-intense, capable twins; Marlow Barkley as Sophie, Will's very reasonable daughter, who balances out his mania; Tyler Wladis as Graham, Angie's sensitive son.
Sure, none of these kids act at all like regular children. They're precocious and churn out one-liners that match the show's rapid pace. They also all get space to become memorable, funny characters that are more than the sum of their parts thanks to a charming cast and clever writing. Emma and Amy turn on their father the second they spot weakness in him when he's sick; a stone-faced Graham pulls the fire alarm to avoid getting a shot at the doctor and takes big sniffs of his mom's scarf to get him through rough moments (it smells "like coconuts and safety"). Viewers are bound to see themselves in at least one of these characters.
Single Parents' plotlines range from competitive colonoscopies to teaching kids about death via hamster. The show's found a pretty winning formula: Some parenting conundrum comes up — finding a good pediatrician, worrying that your kid's grown to rely on some other adult more than they do on you, dealing with your anger over an absent former partner — and the characters all tie themselves into knots trying to navigate it. One entire B-plot revolves around Miggy being too intimidated by a new job and the general prospect of adulthood to tell anyone that he doesn't know how to open a wine bottle, and it's so specific that it becomes absurd at the same time as it remains accessible. The show has also subtly laid the groundwork for more emotional storylines going forward. There's a will-they-or-won't-they or two in the works, and the series so far has done a solid job layering in stakes and payoff to the weekly parenting escapades.
Similar as the show is to New Girl, Single Parents also feels like a new, exciting beginning for Meriwether and Philbin as creators. The former show — which was Meriwether's first series — very much embraced its sub-genre as a sitcom about a group of urban single friends. They lived in the same apartment, and their conflicts usually had something to do with their love lives, their friendships, or their jobs. Single Parents — which is Philbin's first at-bat as creator, and a return to the role for Meriwether — is absolutely also a show about friendship, but it feels like a linear follow-up to New Girl, which ended right as its characters were starting their lives as parents. Parenthood is, of course, central to Single Parents, the core of most of the show's hijinks-y conflicts and emotional rewards. Its cast of characters are all friends because they have the same struggle in trying to figure out how to balance everything in their lives and not mess up their kids too much.
What's more, Single Parents feels like it's been built off of what Meriwether and Philbin learned from New Girl, but without coming off as derivative of the beloved show. New Girl was divisive when it began, with some viewers and critics feeling like it focused too much on Zooey Deschanel's character. It took a little while for the writers to eke out the specific weird flavors in all the other characters, and the show grew into its rhythm and its humor over the years as it found those new comedic niches for its characters and deepened the emotional stakes for its romances. But where New Girl stalled at first, Single Parents seems to be exactly where it should be for a show only a few episodes into its run. It's frenetic and fresh, and its characters are already having the time of their lives in their individual comedic nooks and crannies, their weirdness already front and center.
There's also plenty of room to grow, and instead of holding the show back, that feels like the best part of it all. If you're already a fan of comedies like Superstore, The Good Place, or Speechless, Single Parents will fit right into your queue. Getting in now as a viewer feels like being let in on a secret before a full season eventually hits a streaming platform and everyone's wondering why they weren't watching this series from the get-go.