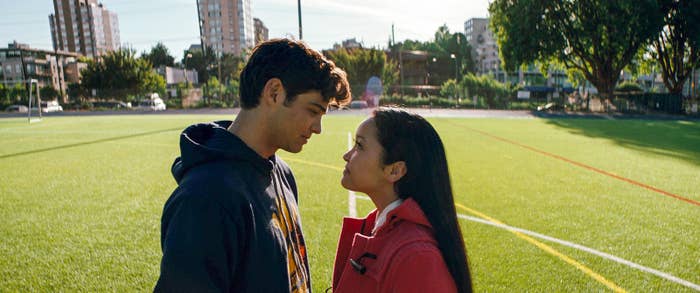 A really good romantic comedy will tie your stomach up in knots. It can harness the power of a simple look, or turn the air between two people into its own tangible substance charged with tension and energy. When a really good rom-com comes along, it can be hard to shake it out of your head — which is why I haven't been able to stop thinking about To All the Boys I've Loved Before since I first saw it in early July. It's the kind of movie that reminds you why rom-coms exist in the first place, and why they can feel so essential.
"This movie gives you a really cozy, homey feeling," Jenny Han, who wrote the novel of the same name that the film is based on, told BuzzFeed News. "[It makes you want to] sit with a crocheted blanket on your couch and have cookies, have some tea, and just be really cozy at home."
To All the Boys I've Loved Before tells the story of Lara Jean Covey (Lana Condor), a reserved teen girl who writes love letters to all of her biggest crushes but never mails them. One of those crushes is Josh (Israel Broussard), the boyfriend of her sister, Margot (Janel Parrish). When someone sends Lara Jean's letters out and they land in the hands of the boys she likes, Lara Jean pretends one of them — Peter, played by Noah Centineo — is her boyfriend, in an attempt to avoid having to deal with her accidental confession to Josh. What follows is a movie that will light your heart right up.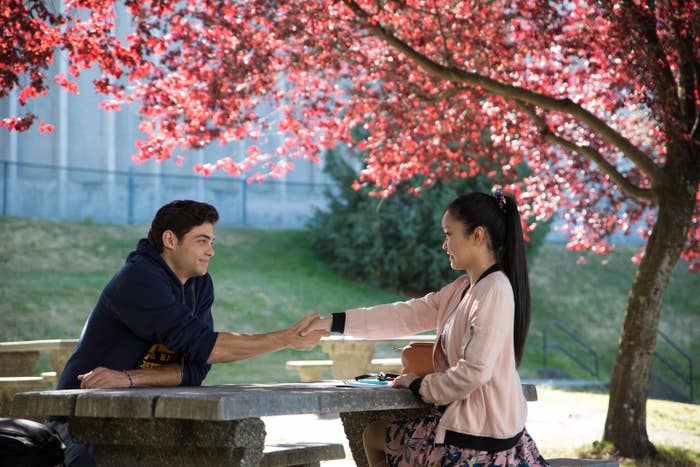 The fake relationship trope has been beloved by connoisseurs of romantic comedies and fanfiction for decades, but To All the Boys I've Loved Before makes it feel fresh. Condor's Lara Jean anchors the entire film in what should be a star-making performance. When conceiving the character for the novel, Han looked to Little Women's Beth March for inspiration. She noted that while Little Women's boisterous Jo March is the character who usually gets all the attention, "people don't think enough about Beth, because Beth just wanted to stay home and play the piano." When writing her own book, Han "thought about who that girl is, and what her world is like," fleshing out that idea into a character who would become Lara Jean. "Lara Jean is bright and optimistic and romantic, but she's also pretty introverted and has a very rich inner life," Han said. Lara Jean lives in fantasy, reading every romance novel she can get her hands on and writing love letters to boys, but blocking herself off from actually experiencing romance in her real life.
Condor's attentive, expressive face helped breathe life into the character. Bringing shy book characters to the screen can often be difficult: In novels authors can write at length directly from the character's inner thoughts, but movies require that a lot be communicated with just a look or a few lines of dialogue. With Condor's Lara Jean, though, "you could see just what she was thinking," the film's director, Susan Johnson, told BuzzFeed News. That helps things along when Lara Jean's love life starts to open up in front of her. Suddenly it's up to Lara Jean whether she wants to continue to play in her own imagination or be active in her own life in a way that could change everything.
To All the Boys I've Loved Before feels destined to become one of those romantic comedies viewers revisit again and again.
Centineo's Peter, meanwhile, is the quintessential rom-com leading man — all dopey charming smiles, floppy hair, and verbal barbs underscored with the sense that he's actually a really good guy who does care about the girl he's maybe-kinda secretly falling for. "Noah's just charming, through and through, and he wears his heart on his sleeve a little bit, which I love, and which is great for Peter," Johnson said, "because Peter can be really reserved and I didn't want him to feel like the jerky jock guy in high school. I wanted him to be vulnerable, and he plays that really well."
Together in their faux romance, Lara Jean and Peter also come with industrial-strength chemistry. Entire scenes in this movie are built off the tension between these two. "For romantic comedies especially, casting is 90% of [success]," Johnson said. "That was very much evident before we started shooting, that Noah and Israel and Lana and even [the actors playing Lara Jean's] sisters all had a common and genuine love for each other that was unique and great. I think that translates on the screen." With a cast like this, and a director who knows the genre, moments of silence between two characters become massive and memorable romantic events. It's like catnip for the rom-com lover's soul.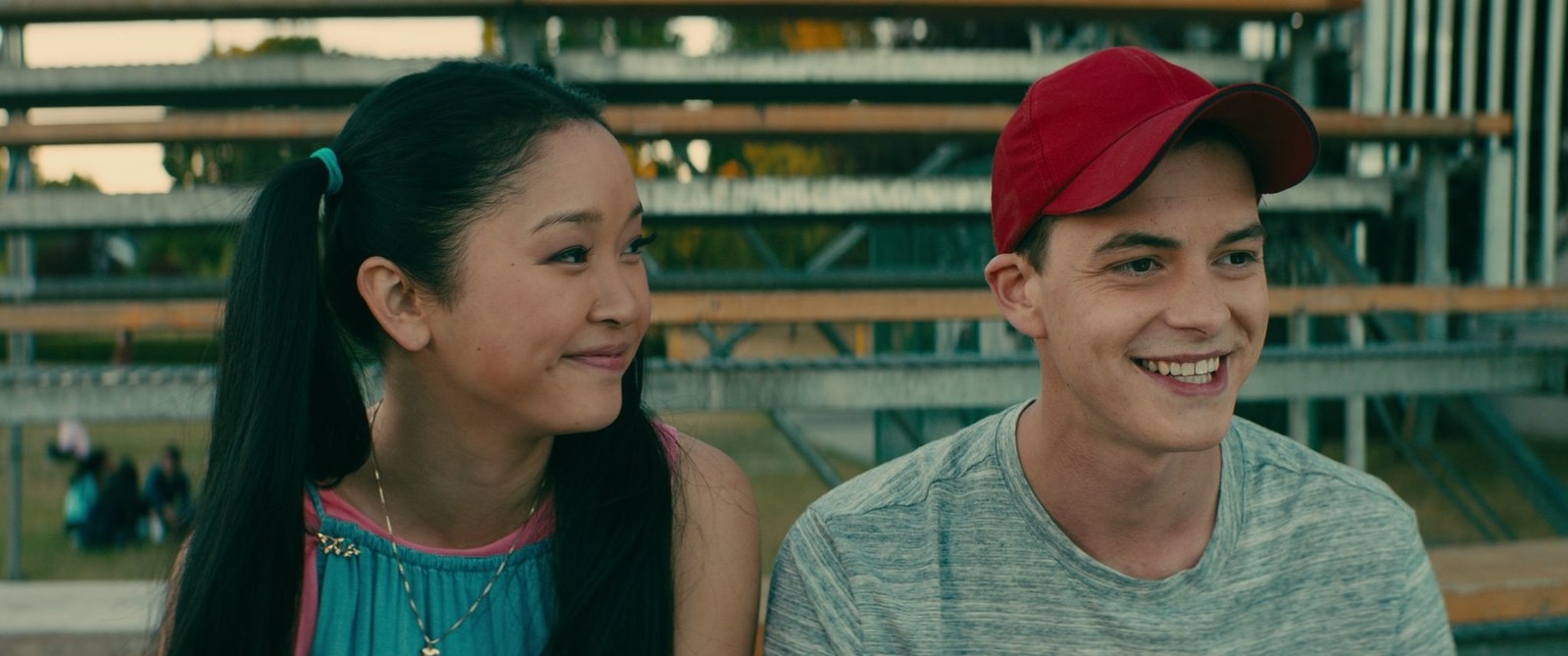 To All the Boys I've Loved Before wraps you in a bear hug. Johnson describes it as "a joyful, kind, put-me-in-a-good-mood [story], which I don't think we get enough of these days." Johnson collaborated with Han throughout the production process to make sure that the film's visual style supported that. Lara Jean's bedroom walls are a bright cerulean blue etched with vines and flowers; her kitchen and living room would be at home in a Nancy Meyers movie. The color palette of the film is all blues, greens, and pinks, with splashes of orange and yellow that make everything around them pop. The effect is colorful and warm and homey, making you want to nestle into the world and make it your own.
To All the Boys I've Loved Before feels destined to become one of those romantic comedies viewers revisit again and again. Feeling sad and need a pick-me-up? Need to remember what it's like to have that warm fuzzy feeling of a new crush? Want to burrow into your couch and forget every single terrible news story you read this week? Press play: To All the Boys I've Loved Before is waiting for you.