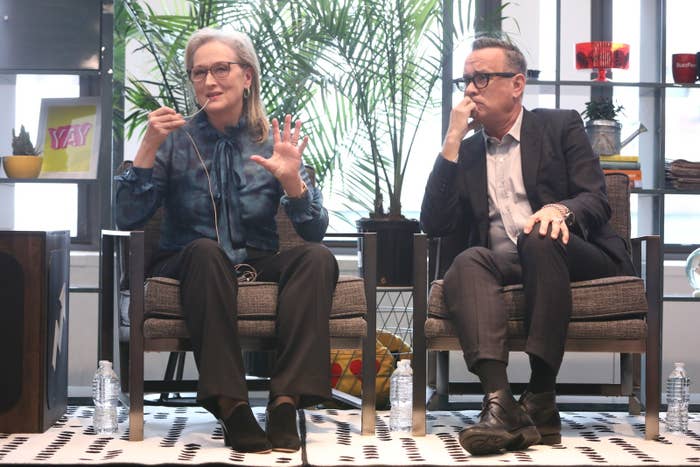 During a conversation with BuzzFeed News Editor-in-Chief Ben Smith about their upcoming film The Post, actors Meryl Streep and Tom Hanks mulled over the question of what to do with art once an artist's reputation has been compromised. The question revolved around the deluge of allegations of sexual misconduct that have recently hit public figures in Hollywood, from Harvey Weinstein and Brett Ratner to Dustin Hoffman and Kevin Spacey. "We still revere Shakespeare," Streep said. "We haven't thrown it out, and there is no question that [The Merchant of Venice] is anti-Semitic. There is no question that The Taming of the Shrew is misogynist. Everybody has their blank spots, but the genius that understands so much else about the human experiment is worth safeguarding, and shouldn't be touched."
"People who are terrible also have terribly clear insights on other subjects, so I don't think you throw the baby out with the bathwater," she continued.

Hanks answered next, emphasizing that the question of the art vs. the artist is one that takes time. "If you threw out every film or television show that was made by an asshole, Netflix would go out of business," the actor said. "The Brady Bunch, I don't know what else. I think you do just have to...you wait. 'Cause this is a long game. Picasso was a womanizer. And this is not excusing anybody — you just have to wait and see how it settles over the long haul."
"This is not a sprint, this is a marathon," he continued. "And I think work does speak for itself. But character does come into the conversation at some point. But I think that lands over time."
UPDATE
A video was added to this post after publication.