On Friday, an alleged quote from Kim Kardashian started circulating on social media: "At first I thought, 'Oh my god, I'm so Hillary [Clinton],' but I had a long political call with Caitlyn [Jenner] last night about why she's voting Trump. I'm on the fence."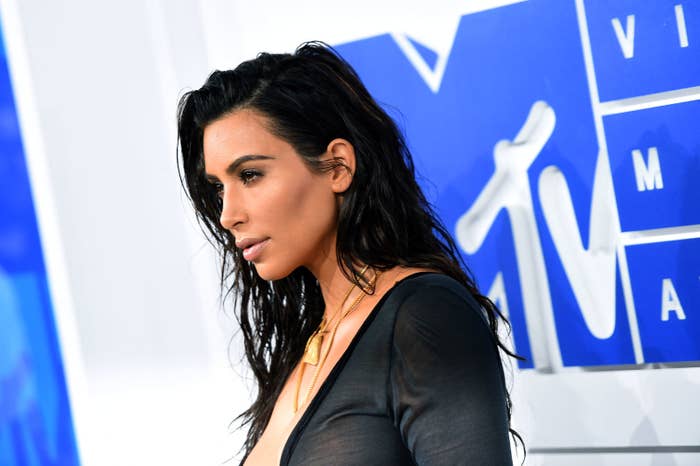 And it definitely raised eyebrows, considering that Kim has been very vocally supportive of Hillary Clinton in the not-so-distant past.
BuzzFeed News noticed, however, that the quote doesn't appear in the online edition of Wonderland's cover story. Or in a PDF version on the author's page.
The quote did, however, appear in a preview version of the article sent to select press, including BuzzFeed UK.
Eve Barlow, the writer of the article, told a Huffington Post reporter that the quote appears in the print version. BuzzFeed News also tried to obtain a physical copy of the magazine, only to be told it hits newsstands tomorrow.
The only mention of Trump in the PDF and online version is this bit about Kanye West's potential bid for president:
Is Kim prepared to be First Lady? She laughs. "Look at all the awful things they're doing to Melania [Trump], putting up the naked photos [of her]… I'll say to Kanye: 'Babe, you know the kind of photos they'd put up of me!' Haha." Who would he be running for? "I don't wanna put words in his mouth, but I'm pretty sure the Democrats. Maybe independent? I don't know how serious he is about it. We'll see…"
Kim also discussed the Black Lives Matter movement, which makes the alleged Trump quote even more puzzling:
"I really want to figure out what is in my heart 100%. I've been speaking out a lot on gun control," she says. Kim wrote a blog in July in response to the murders of Alton Sterling and Philando Castile. Being mother to an African American son in this climate must make her a staunch Black Lives Matter supporter. "Absolutely. But first and foremost, anyone that's compassionate would feel a type of way about that and would want to get involved. Having a black husband, a son, even my daughter… It's a conversation that's always in our household. I wanna raise my kids to not be afraid of people that are supposedly trusted." The police? "Yeah. What a crazy time."
But with the "on the fence" quote making its rounds, people were not pleased:
But on Saturday, Kim released the following statement on her website, making definitively clear she's voting for Clinton:
A "quote" of mine was released yesterday causing my phone to blow up by friends, family and even both candidates' camps, so I want to explain the context in which I said I was "on the fence" about my vote.

There was a point when I wasn't 100% sure I was even going to vote in this election; I didn't want to vote blindly. But I also thought about how not voting would mean that I wasn't making my voice heard, so I decided to talk to my closest friends and family who I love and trust, to have an open conversation about politics.

I believe we owe it to ourselves, and to each other, to ask questions. To do our research so that we vote for the candidate who represents our own beliefs. We should start at a place of openness, receptiveness and honesty, and we should talk to those we love, trust and respect.

I had a long conversation with Caitlyn, who has always been open about her political views, and she encouraged me to do my research before making my decision and then vote for the candidate whose policies aligned with the things that matter most to me. And so that's what I did. I thought about the things that are so important to me that they outweigh everything else, such as gun control and protecting women's rights to safe and legal abortion.

I found that without a doubt, I stand with Hillary. I'm with her. I believe Hillary will best represent our country and is the most qualified for the job. This year, I'm not just voting for myself, but also for my children, and I took that into careful consideration when I made my decision. Now that I have made my choice I want to be clear... I would never judge anyone based on their political or religious beliefs. I believe that both candidates have the intention of making the country a safer and stronger place for every American, they just have different ideas about how we get there.

God bless America for allowing us to even make these decisions – there are so many in this world who are not so privileged.
UPDATE
This post has been updated to include the fact that the quote in question appeared in a preview version of the Wonderland article sent to select press and that BuzzFeed News has contacted a publicist for the publication.
UPDATE
This post has been updated with Kim Kardashian's statement on her website.