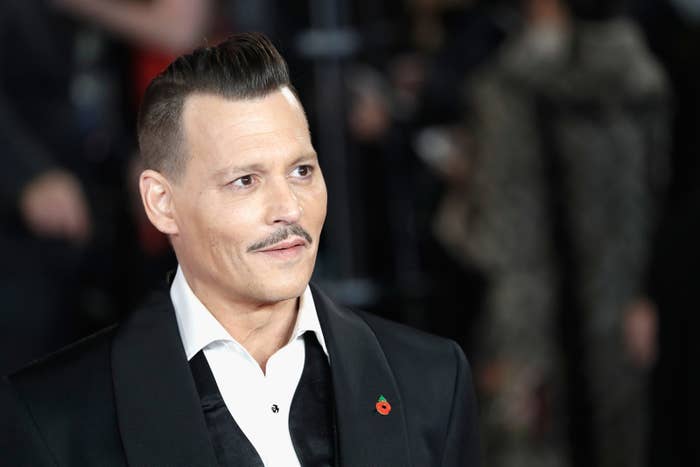 In the ever-widening world of Harry Potter, there is a dark entity known as the Obscurus. Created when a child suppresses their magic, an Obscurus is often brought about by abuse in that child's environment. The parasite uses that pain to take over its host's body, then lashes out to destroy everything in its path. In the first Fantastic Beasts movie, it was the force that pummeled its way through half of Manhattan — forming the film's climactic moments and sending the entire wizarding government into a damage control panic.
When Johnny Depp's casting as Gellert Grindelwald in the Fantastic Beasts franchise was announced, it was Nov. 1, 2016, only a couple of weeks before the first Fantastic Beasts and Where to Find Them film hit theaters in the US and the UK. It was also 11 months before the exposure of Harvey Weinstein's alleged decades of sexual misconduct — an event that would inspire droves of people to come forward with their own abuse stories, landing a growing list of people (primarily men) fired or in the midst of PR disaster. But back in 2016, Depp's alleged verbal and physical abuse against ex-wife Amber Heard was public knowledge, and the once-beloved actor had already fallen from grace.
Fans weren't pleased with the casting from the get-go. "The Harry Potter universe is all about being against the abuse of power and yet you cast a known abuser?" Twitter user @wednesdaydreams tweeted soon after the casting was announced. "What really gets me, is how many victims of abuse have used the Harry Potter franchise as a means to heal," user @holly_bourneYA tweeted. "How must they feel today? How."
In the wake of the Weinstein-inspired floodgates, several industries have been stoked to attention via the resurgence of movements like the Tarana Burke–founded #MeToo. Many are just beginning to reckon with the vast, insidious history of abuses within their ranks. And Depp is still in Fantastic Beasts, gearing up for the release of the series's second installment in November 2018, eerily called The Crimes of Grindelwald. Only, the cultural environment his role exists in has grown even more inhospitable than it already was.
"If Ridley Scott can reshoot an entire movie in two weeks, you can recast Johnny Depp."
"It's galling, and it's heartbreaking, simultaneously," Harry Potter fan Leah Cornish told BuzzFeed News. "It's such a slap in the face to people who love the books," fan Sarah Furniss said. Several longtime fans spoke to BuzzFeed News recently, citing their own experiences with abuse and the ways in which the Harry Potter series historically acted as a balm in their lives. Many also noted Sony's recent decision to replace Kevin Spacey in All the Money in the World as an example of a contentious lead actor who was replaced even when it was inconvenient. In that case, Christopher Plummer stepped into Spacey's former role following sexual assault allegations against Spacey. At the time it was an unprecedented move; now it's publicly, provably possible. "If Ridley Scott can reshoot an entire movie in two weeks, you can recast Johnny Depp," Harry Potter fan Cate Young told BuzzFeed News. (Spacey was also removed from House of Cards, and Danny Masterson was written out of The Ranch following rape allegations.)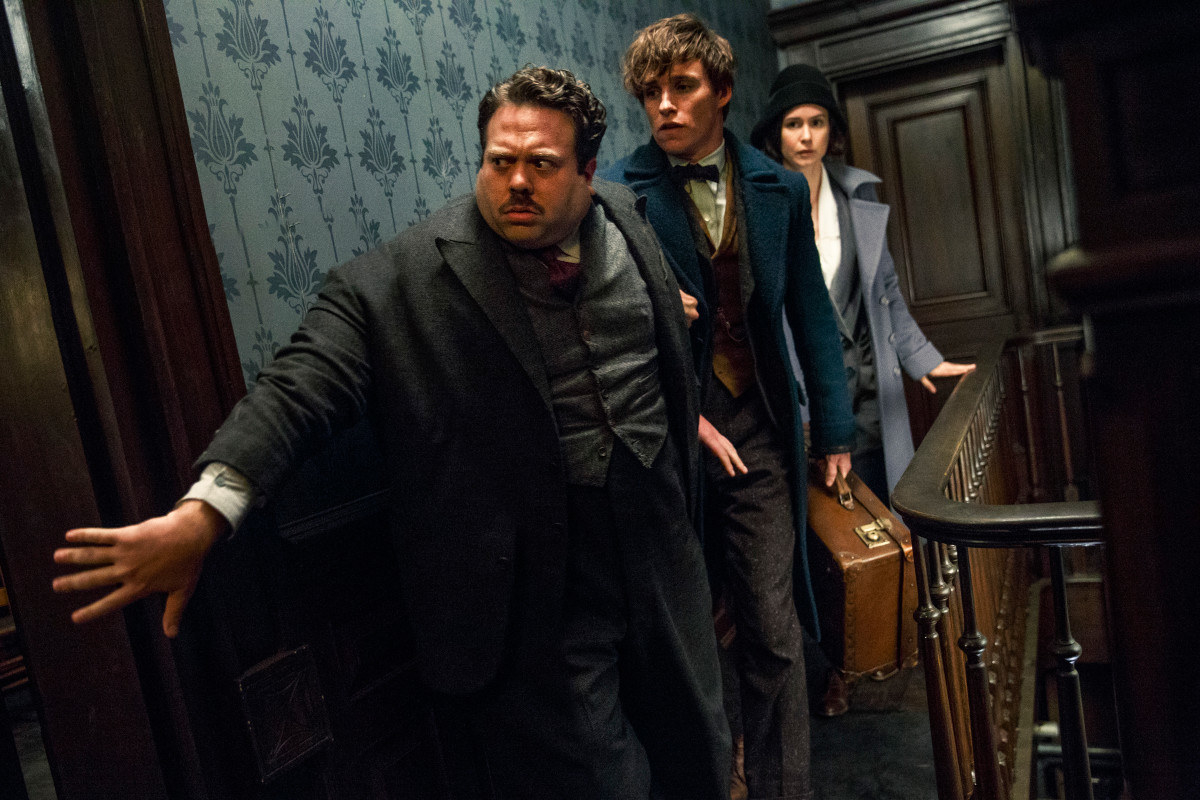 It's glaringly evident that everyone from Potter fans to those responsible for creating Fantastic Beasts are intensely aware that Depp's presence is potentially disastrous. And yet he remains in the role. And as of this week, all the major forces behind the film — director David Yates, Warner Bros., and creator J.K. Rowling — have spoken publicly and supported the decision to keep him employed. "It's put me in a weird place," Ariel Taranski, a former employee of the Harry Potter fansite MuggleNet.com told BuzzFeed News. "I love literally every other actor in these movies. It's disheartening."
Abuse has always been a central theme in the world of Harry Potter. It was the reality of the title character's daily life with the Dursleys: confined to a cupboard, starved, berated daily for merely existing. That was a big part of what made Harry's escape into the wizarding world feel impactful — he was finally granted a reprieve from life with his abusers. Verbal and physical abuse was speckled throughout every story, from the childhoods of Sirius Black, Severus Snape, and Tom Riddle, to the misconduct of school and government officials like professors Snape and Umbridge. It is present, too, in Fantastic Beasts and Cursed Child, and will certainly be a theme in The Crimes of Grindelwald.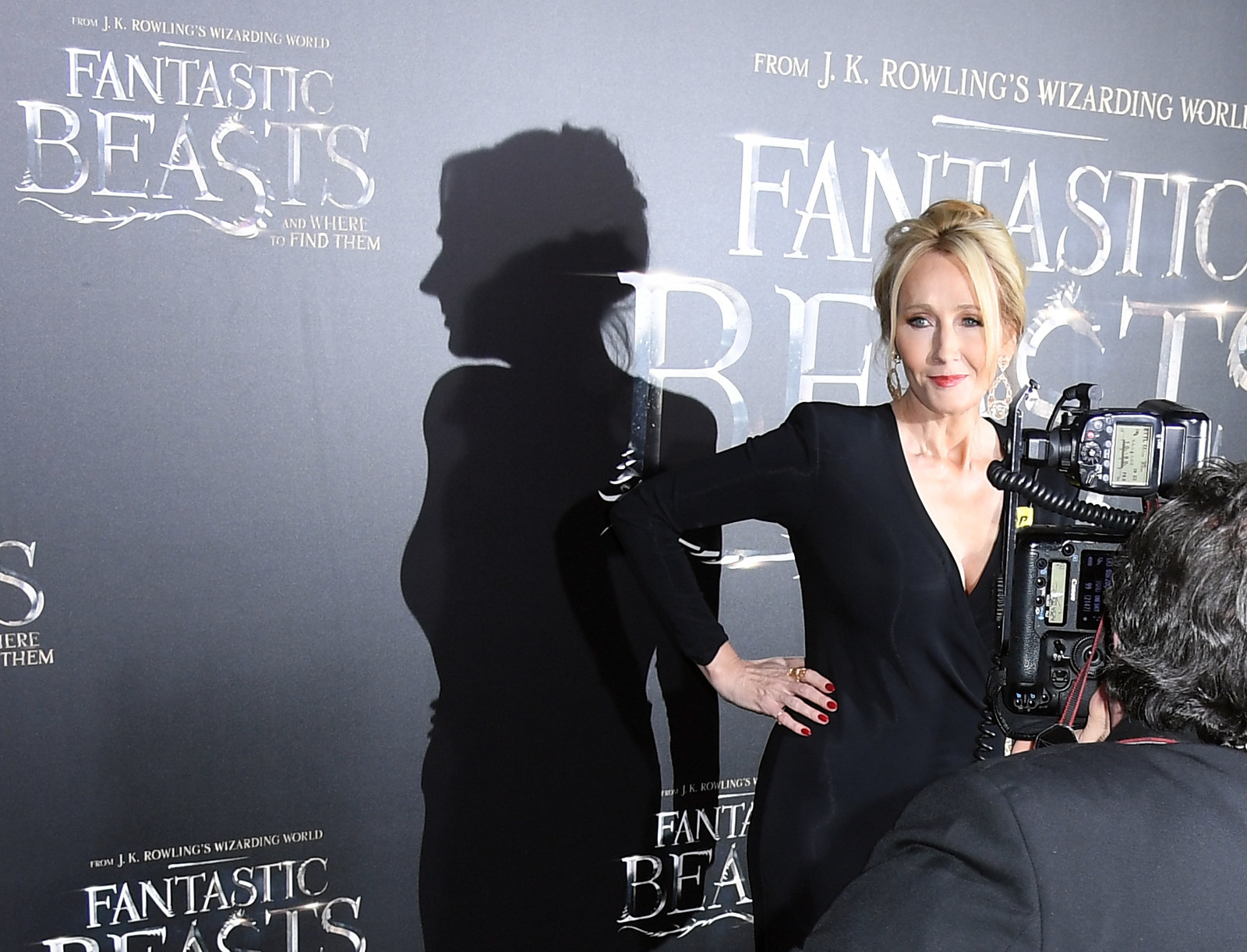 On Thursday, Dec. 7, Rowling released a statement responding to the Depp controversy. It came nine months after Twitter users started claiming that Rowling had been blocking them when they tweeted at her about their displeasure over his role. In Rowling's statement, she called the "questions and concerns" fans had regarding Depp's casting "legitimate," and admitted that producers "naturally considered the possibility of recasting." She continued, though, that, "based on our understanding of the circumstances, the filmmakers and I are not only comfortable sticking with our casting but genuinely happy to have Johnny playing a major character in the movies."
"I accept that there will be those who are not satisfied with our choice of actor in the title role," she wrote in the statement's final paragraph. "However, conscience isn't governable by committee. Within the fictional world and outside it, we all have to do what we believe to be the right thing." Reached for comment, a representative for Rowling told BuzzFeed News that the author "isn't making any further comment and won't be doing interviews."
Warner Bros. also released a statement, writing that they "take seriously the complexity of the issues involved," but that "based on the circumstances and the information available to us, we, along with the filmmakers, continue to support the decision to proceed with Johnny Depp in the role of Grindelwald in this and future films."
Warner Bros.' statement also said that the matter of the abuse allegations had "been jointly addressed by both parties, in a statement in which they said "there was never any intent of physical or emotional harm." This was in reference to a statement released by Heard and Depp in August 2016. Heard seemed to respond to Warner Bros.' use of that line on Twitter, writing, "For the record, this was our FULL joint statement. To pick&choose certain lines & quote them out of context, is not right.Women, stay strong." [sic]
Heard and Depp's full statement read as follows: "Our relationship was intensely passionate and at times volatile, but always bound by love. Neither party has made false accusations for financial gain. There was never any intent of physical or emotional harm. Amber wishes the best for Johnny in the future. Amber will be donating financial proceeds from the divorce to a charity. There will be no further public statements about this matter."

The fans BuzzFeed News spoke to were not happy with the responses from Rowling, Yates, Heyman, or Warner Bros. Neither were many fans on Twitter. As user @leonardoflac wrote, Rowling's "legacy is literally about a boy who has been emotionally and physically abused and the danger in looking the other way bc the truth is inconvenient." But other fans also came to Rowling's — and Depp's — defense, saying that Heard could be lying, or commenting on the intense scrutiny Rowling is under. Still others reminded folks of the People report from June 2017 that claimed Depp's former managers had witnessed Depp being "extremely volatile" with Heard. That report alleges that he had "gotten physical" and "violently kicked" her. Neither Depp's nor Heard's reps responded to request for comment.
After hearing Rowling's statement, Young told BuzzFeed News about her disappointment, "not just because of the themes in the story in general, but also because of her [Rowling's] reputation of being so outspoken and progressive," Young said. "It's just a very bad look to keep him on, because it's just another Lena Dunham situation basically, where [the excuse is] 'Oh, well I know the real reason why it's fine.'" Young was referencing an incident that occurred after actress Aurora Perrineau accused Girls screenwriter Murray Miller of raping her. In response, Dunham and fellow Girls showrunner Jenni Konner released a statement to THR that said that their "insider knowledge of the situation" and working history with Murray led them to side with his version of events. Dunham later apologized after an intense Twitter backlash, writing that "until we are all believed, none of us will be believed."
Rowling's statement echoed that of Yates, whose thoughts on the matter had been published in an interview a week prior. Speaking to Entertainment Weekly, he said that "with Johnny, it seems to me there was one person who took a pop at him and claimed something. I can only tell you about the man I see every day: He's full of decency and kindness, and that's all I see. Whatever accusation was out there doesn't tally with the kind of human being I've been working with."
"Our feelings are valid. [What's happening] feels basically like gaslighting."
Later, in a joint statement from Yates and longtime Harry Potter producer David Heyman, they wrote that "none of us involved in Fantastic Beasts would ever let our appreciation of talent obscure other, far more important considerations. We recognized the magnitude of the issues raised and understood the strength of feeling expressed. We hoped and strived at all times to be sensitive to both parties. We stand by our decision to have Johnny in the films." Reached for comment, Warner Bros. directed BuzzFeed News to the previously released statements.
As it is, fans' relationship with the Harry Potter franchise has been increasingly strained in recent years. As fan Robyn Jordan told BuzzFeed News in 2016, "We have to ask ourselves if they're taking advantage of the audience they have while not meeting the standards that they set." And as Furniss told BuzzFeed News this week, "Our feelings are valid. [What's happening] feels basically like gaslighting."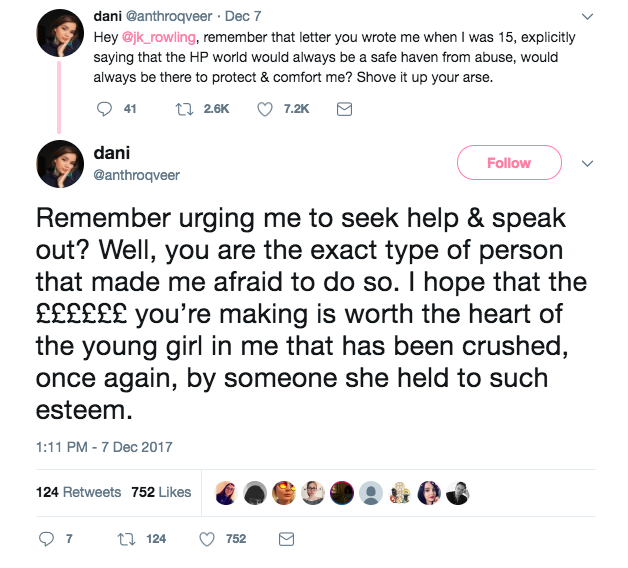 Some themes in a fictional series could never contain the full implications of the massive moment forming around the exposure of abusers in Hollywood. But in the case of Fantastic Beasts and the truly staggering fandom that's congregated around Harry Potter for the past 20 years, it's a relevant facet of a painful situation. The fandom has been fighting Depp's casting since the day it was announced, and Rowling has stayed mostly quiet for the vast majority of that time. For some, the silence itself was an ideological betrayal. It was also hypocritical given the nature of the series and Rowling's public history of progressive rhetoric. Now, the statements from Fantastic Beasts' powers that be are their own troubling entity, and, to some, serve as yet another symbol of the ways in which women's grievances will be disbelieved or dismissed in favor of a charming man.
The question of whether these controversies will affect the box office of The Crimes of Grindelwald are more difficult to predict. The movie doesn't even come out for another 11 months, and Harry Potter is a powerful force. Given the new allegations and Hollywood upheavals happening daily, we don't even know what the industry creating this movie will look like in the coming months. After Crimes of Grindelwald, the plan is to make three more Fantastic Beasts movies, presumably also involving the archvillainy of Grindelwald. What will anything even look like by the time we get to the last one? What will the industry and the culture at large have reckoned with then, and what will continue to escape scrutiny or consequence? As Furniss said, "The problem with this past year is that I can't be super optimistic anymore."