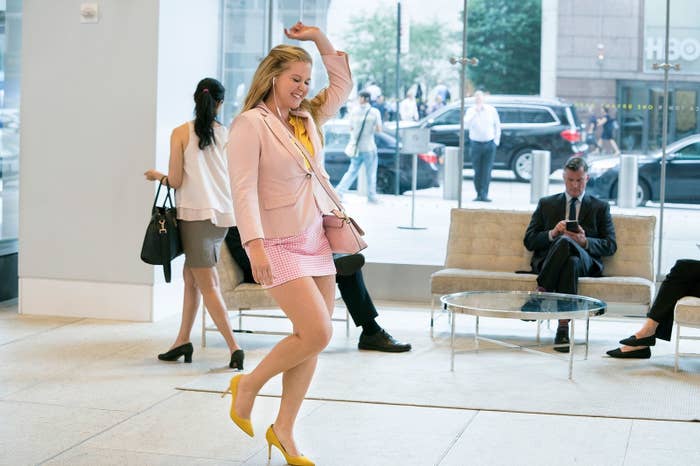 I Feel Pretty is really not that complicated, aside from all of the elements that complicate it.
The basic premise is this: A woman named Renee (Amy Schumer) suffers from low self-esteem. One day, caught up in a SoulCycle class, she falls off a bike and hits her head. When she wakes up, she looks in the mirror and sees her body transformed into the one she's always wanted. The thing is, it's all in her head, and we never see what she sees. Renee goes about her life with newfound confidence, hitting on a guy at the dry cleaners (Rory Scovel) and going out for her dream job as a receptionist at a makeup company. She enters a bikini contest and wows her date; she advances at work; she starts condescending to her two best friends (Aidy Bryant and Busy Philipps) because they remind her of her "former" self. Her whole life transforms, for better and worse, all while nothing about her external appearance has actually changed.
The film's codirectors and cowriters, Abby Kohn and Marc Silverstein, were initially inspired by high-concept comedies like Big and Tootsie. As Silverstein recently told BuzzFeed News, they wanted to do a film in that style, "but where there's no actual change, there's no switcheroo, it's literally all just in someone's mind." For them, the premise matched the ultimate goal: "It fits the message of this movie perfectly," Silverstein said. "It's learning to believe in yourself even if you have low self-esteem. The battle is with your mind, not with the exterior world."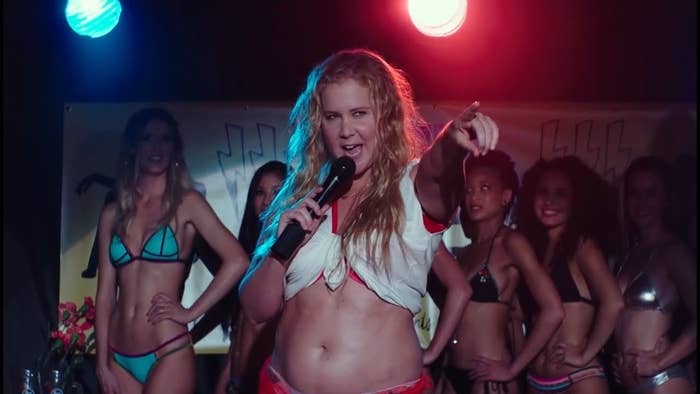 But when the first trailer for the film dropped in February, reactions were dubious. The trailer leans into Renee's relationship with her body, including a moment in which a saleswoman in a clothing store tells her that her size is only available online. In another scene, she asks a woman played by Emily Ratajkowski if she has all the same ribs that Renee has. Lamenting throughout that women have to deal with the world judging their external appearance, Renee says that she's "always wondered what it would be like to be undeniably pretty." Then, through the aforementioned head injury, she suddenly thinks that she is. The trailer culminates with Renee dancing in that bikini contest, finding pride in herself via her delusion.
The trailer's release prompted accusations that the film was anti-fat, with claims it was spreading a negative message about the body that Schumer is already in. "Who is this meant to resonate with?" comedian Sofie Hagen said in a Twitter thread at the time. "Before we can enjoy the premis [sic], surely we have to buy into the fact that she is not pretty. How many of us are bigger than her? Are we supposed to accept that THIS is ugly when it's all we've been taught that we should aim for?" She continued, writing: "How about instead of her 'hitting her head and damaging her brain' in order to become so deluded that she'd think she was ACTUALLY pretty, she read about capitalism and realised that women's low self-esteem is a patriarchal ploy and that she is worthy of self-love?"
Hagen was not alone in her criticisms. While some responded positively to the message they got from the trailer, others objected to what they saw as jokes being made at the expense of Schumer's body. Many also objected to Schumer's role as the star, given the comedian's fraught past relationship with public perception of her size.

Soon, the backlash was driving the film's reputation. Many on Twitter compared the film to Shallow Hal, a 2001 rom-com in which a superficial man (Jack Black) is hypnotized into seeing people's inner beauty. Black's character enters into a relationship with a fat woman while only being able to see her "true inner self," portrayed as the svelte Gwyneth Paltrow. "After the trailer, for whatever reason, people made assumptions based on other Hollywood movies that they may have seen, assuming that this would be somehow tone-deaf to certain issues," Kohn said, noting that in all the test screenings they did for the film, they'd never encountered anyone "who's been confused, who thinks it's somehow body-shaming or negative."
Silverstein said that while the backlash has been frustrating for those involved with the movie, it's not the be-all and end-all of the film's life. "We didn't make a movie for a trailer, we didn't make a movie for people who haven't seen it," he said. "You make a movie for people to see, for people to enjoy when they go see that movie. So in that sense, we've always been confident in the movie, and knew when people actually saw it that they'd understand."
There are many aspects of I Feel Pretty that differ from Shallow Hal, but the biggest is that Kohn and Silverstein were adamant that audiences would never see exactly what the "ideal self" that Renee sees in the mirror looks like. They give us some clues — like in a remark Renee makes about resembling one of the Jenner/Kardashians. But the film relies on the audience's projection of their own beauty ideals and their own insecurities to fuel Renee's relatability.
Schumer responded to the film's backlash in an essay published on Bustle, commenting that people are jumping to conclusions based on scenes not even in the trailer. "People asked on Twitter why my character, Renee, had to see herself as thin to feel beautiful, but that's not quite accurate," Schumer wrote, saying that "when I filmed the scenes where she looks into the mirror, I didn't picture myself any thinner than I am. That's just what they assume I saw." Regardless of what she was picturing, it is worth noting that Jenners and Kardashians do conjure images of thinness, and that there are more clear-cut moments throughout the movie that imply part of Renee's insecurity is tied to her size. Still, her body is not quite as central as that first trailer made it out to be, and the film attempts to balance any focus on it with spotlights on other characters' insecurities — from Michelle Williams' character's shame over her high voice, to Scovel's character's instinct to have sex in the dark just in case Renee doesn't want to look at him naked.

"In someone else's hands they could potentially undermine what we were trying to say."
"One of the reasons that this one was the [film] that we really wanted to direct" was to be able to control the tone of those messages, according to Silverstein. Never explicitly showing what Renee sees in the mirror after her injury was a big part of that. "We felt like in other's people's hands it could go slightly different, tonally. … In someone else's hands they could potentially undermine what we were trying to say."
It was a conversation they had frequently during the process of making the film. "We were very cognizant as we were writing and shooting it that the jokes should always be coming from someone's extreme and comical overconfidence," Silverstein said. "That anyone walking into the room and saying the things that Amy says with that sort of brazen self-confidence is going to elicit laughs." This comes out especially in scenes with her best friends, who are much more secure in themselves but are taken aback by Renee suddenly treating them like she's got it all figured out and they don't.
The positive changes in Renee's life in the film are also fueled by that very confidence. Her love interest is turned on by how secure she is in herself, and sees her as the most beautiful woman in the world. Her bosses respond to her ideas — ideas she starts feeling comfortable sharing once her confidence lands her the receptionist gig she's dreamed of. And by the film's end, I Feel Pretty does do a little — though not all – of what Hagen and other critics asked of it. In the film's final act, Renee delivers a big speech about how people, especially women, are socialized out of loving themselves. She basically tells the crowd to embrace the things they perceive as flaws, because we are all enough.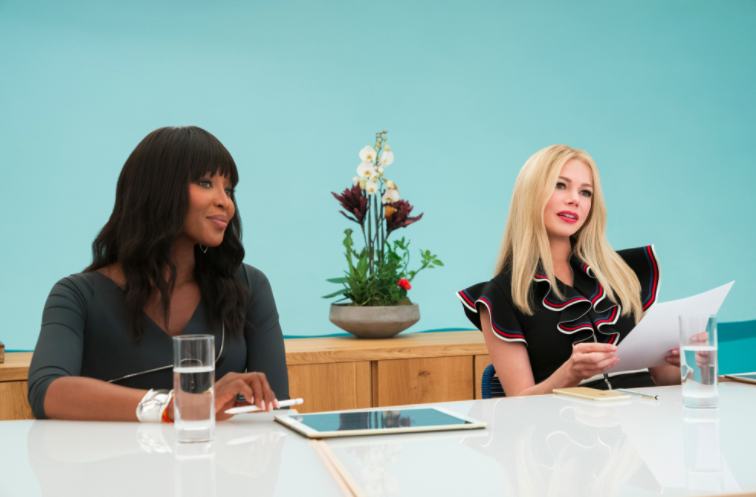 "What I hope we can all take away from it is that she and we don't really have to change anything about ourselves, about how we look and who we are," Kohn said. "We just have to believe in who we are, to get everything that we want in life."
One thing that's clear throughout I Feel Pretty is that Renee's problems do not have as much to do with her appearance as she'd always assumed. Her friends, her boyfriend, the playboy hunk (Tom Hopper) who hits on her — none of them are deterred by her actual appearance. Her bosses are, at first, but it's hard to say how much of that ties into issues of class the film brushes against. Their initial hesitation to hire her plays as a comment on the fashion and beauty industry's reputation for snobbishness, and it is coded — though never explicitly mentioned — as having a lot to do with Renee's appearance and the way she presents herself. But they also breeze right past that: Renee wows them in the interview, she lands the job, and she keeps impressing them every day. They care about her looks, but only for approximately two minutes of the film.
Then there's that already notorious scene at the bikini contest. Renee's date — not even secure in his own body — is at first uncomfortable that she's dragged him to a contest of near-naked women. By the end of the scene, though, he's completely fallen for her, enamored with the way she revels in herself. Remember, he doesn't see the "supermodel" Renee thinks she turned into; he sees her body exactly as it is.
"People will see it, and won't have a question in their minds about where the heart of the movie is."
According to Silverstein, backlash is just part of making movies in the internet age. He notes that his and Kohn's past films, including Never Been Kissed, "probably would have elicited a similar response." That one dealt with external appearance a bit too, and had multiple storylines about adults dating teenagers. It also came out in 1999, pre-Twitter, and is still beloved by many even though Silverstein notes it received negative reviews upon release. He's not too worried about how the public will ultimately respond to I Feel Pretty. "People will see it, and won't have a question in their minds about where the heart of the movie is," he said.
At the end of the day, all I Feel Pretty wants you to be is confident. It's a message worthy of Dove, or Hallmark — classic, supremely basic, and of course complicated by the fact that beauty and body image are always tied up in larger political conversations. There's no way to entirely skirt those conversations, regardless of how pure your intentions are. Even Dove ads are repeatedly marred with controversy, like the "Choose Beautiful" campaign in 2015 that called for women to decide whether to enter a building through doors marked "Average" or "Beautiful." That one was meant to stoke conversations about self-esteem, too. Instead, it wound up caught in a hailstorm of discourse around the ways that brands exploit messages of supposed empowerment — and the warped value we put on beauty in the first place.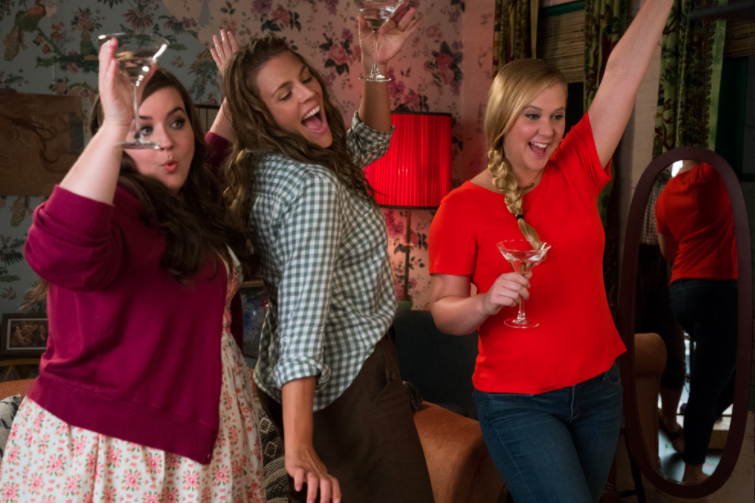 The Dove controversy wasn't far off from a line Philipps's character, Jane, says to Renee toward the end of I Feel Pretty: "Your wildest dream is that you were beautiful? That is so sad."
I Feel Pretty is attempting a pretty benign mission. Whether it will succeed in its goals to the satisfaction of all of its initial critics is yet to be seen, but it's doubtful — everyone wants slightly different things from it. Maybe a few people who were hesitant at first will be won over by the film's earnest efforts to frame Renee's journey around the importance of confidence. Others will probably wish they'd stripped the movie of any reference to her body at all, or that they'd cast a different actress altogether. Films like these don't exist as one thing — they change shape based on the individuals watching them. Silverstein is right, though: They also tend to outlive their bad trailers. And issues of self-esteem and beauty will likely always be emotionally and politically charged, which means the conversations I Feel Pretty is trying to have — and the discourse happening around the movie — will likely outlast this particular moment.