Throughout her first four seasons on Black-ish, Zoey Johnson has more or less known who she is. Played by reigning teen icon Yara Shahidi, the Black-ish incarnation of Zoey has been the cool girl; the stylish girl; the popular kid; the favorite child. She's been the sister who knows how to ground her family members when they stray too far into one of their frequent flights of fancy. She's rocked practically every possible hairstyle. She's been genius, and fabulously frivolous. She's taken part in discussion after discussion about the nuances of black life in America. And she's done it all with confidence, a winning smirk, and an uncommon amount of swagger. But she's also done it from the sidelines.
ABC's Black-ish thrives in its own tried-and-true formula. Its characters are designed to represent a range of perspectives, and each offers a different point of view in America's most relevant cultural conversations.
The show has also always been framed mainly around a middle-aged black man — Dre Johnson, played by Anthony Anderson. And Black-ish has certainly gone to very smart places with Dre in the lead, churning out engaging episodes that examined everything from police brutality to the 2016 election to postpartum depression. But it's also begged the question: What would this show look like if we decentered Dre — if the default perspective were, say, a young black woman instead of her father?
Grown-ish, premiering Jan. 3 on Freeform, is centered on Zoey's first year of college. And it's here to answer that question. With Shahidi in the lead, this new show already glows from the inside out.
This time, it's Zoey's identity at the center of everything. And, as she realizes quickly in the show's Breakfast Club–inspired first episode, it's an identity that's much more in flux than on Black-ish. "The spine of this is Yara Shahidi, is Zoey," Black-ish and Grown-ish creator Kenya Barris told BuzzFeed News in mid-November. "She's the narrative engine."
"You really get the chance to create Zoey," Shahidi told BuzzFeed News of the opportunity a spinoff provides, adding, that "we're watching the creation of a complex character." Shahidi, who is 17 herself, had just completed her own college applications in January 2017 when she learned of Barris's plans to spin her character off. "Kenya would really treat me like a collaborator, especially in the preproduction," she said. "While Black-ish is through Dre's lens, Grown-ish is unabashedly through Zoey's lens."
"I think that this generation has more on its shoulders than any different generation probably since, like, the Vietnam War," Barris said.
That lens is one of a young black woman struggling to figure out what kind of person she wants to be. It's also, by extension of Zoey and her group of friends, one of a younger generation responding to a culture in flux, with an ensemble cast so easily captivating they'd make John Hughes jealous. "I think that this generation has more on its shoulders than any different generation probably since, like, the Vietnam War," Barris said. "And I think all that is at the core of what this show is."
The idea of harnessing "the voice of a generation" has been tainted since the 2012 reaction to the first season of Lena Dunham's HBO show Girls. But that's never meant that a generation doesn't crave voices — plural — and Grown-ish aims to spin the Black-ish formula into a series that acts as one for Generation Z. Black-ish takes on the spirit of black affluence in Generation X through the point of view of a goofy, high-strung dad. Grown-ish, on the other hand, is carving out space to debate the burgeoning cultural essence of Generation Z, as anchored in the point of view of a young, soul-searching black girl. "They really are the generation that kind of is tasked with really making America great again," Barris said, echoing a sentiment he shared in a recent commencement address at Tufts University. "It is kind of a crazy place right now."
With that in mind, having Shahidi in the lead and collaborating in creating her character certainly helps Barris's goal. Since Black-ish premiered in 2014, Shahidi has stood out both on the show and in her offscreen life, becoming an activist and a sort of public teen representative on a variety of issues. "That voice that she gives to youth culture and the people who don't have a voice, I think that probably comes before the show [for her], before school," Barris said. "I think that's something that she thinks is really important. And that comes out sometimes in the show."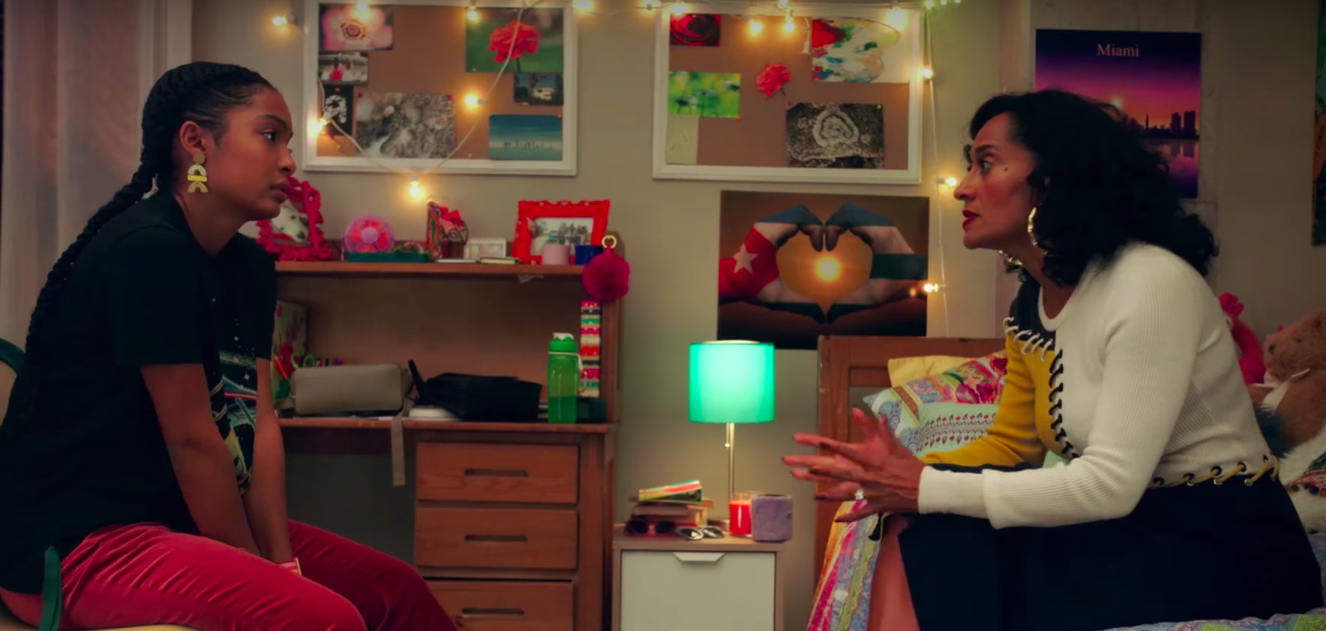 A generation is, of course, a big thing — one that could never be summed up in one TV series. But the black American experience is a vast thing, too; that didn't stop Black-ish from taking it on piece by piece. They did so by acknowledging the sheer diversity of those experiences and offering up an array of perspectives that mirror how people are hashing them out in the larger world.
In the first season of Grown-ish, the show takes on a slew of topics using much the same format. Among the subjects on the table in Season 1 are campus drug use, the intensely subjective definition of the phrase "hook up," and a debate about safe spaces centered around the status of an all-black dorm. There's also an episode discussing "black women and their position in society," according to Barris, inspired by data that shows that black women and Asian men are the demographics most often seen as undesirable on dating apps. That one sparked the biggest debate internally — "the one that almost broke the writers room," Barris said. "It was really this emotional whirlwind that we had in the room talking about it."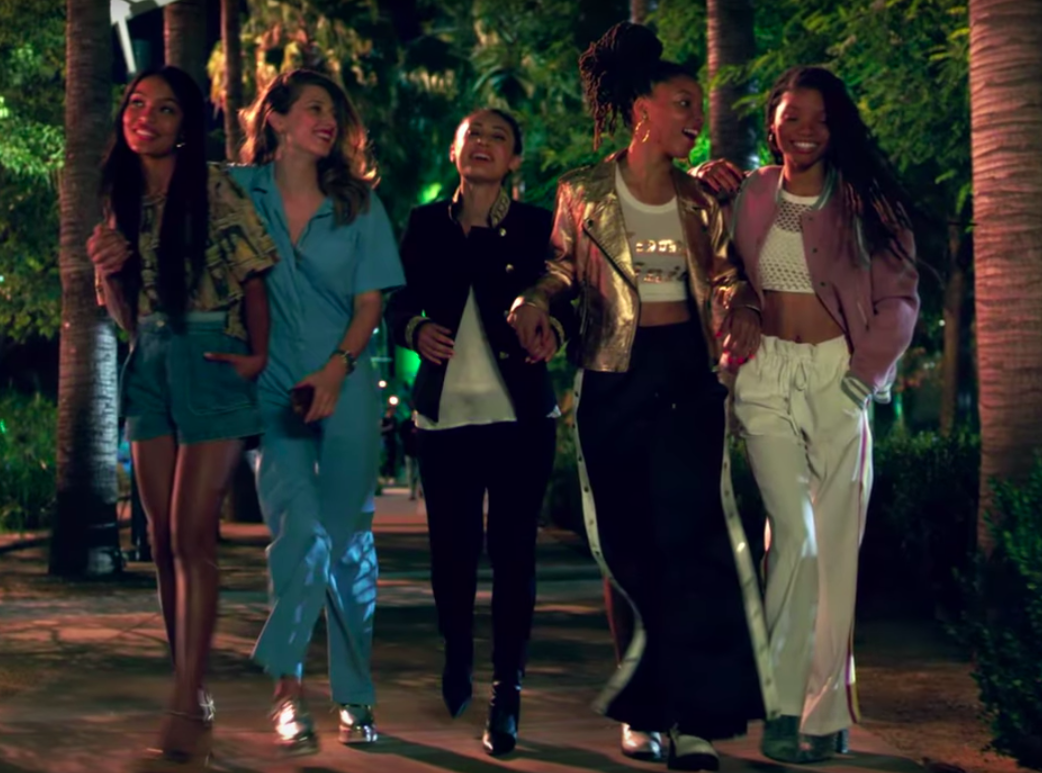 The cultural status of black women is a conversation that absolutely could have happened on Black-ish. As Chloe Bailey — who plays one half of a track star duo on Grown-ish with younger sister Halle Bailey — told BuzzFeed News, Black-ish is "not afraid to talk about any and everything." But it's also a conversation that promises to pack an even bigger wallop on a series actually centered on a black woman. "I want to be part of something that moves culture and really hits the nail on the head," said Trevor Jackson, who plays young activist and Zoey's sometime love interest Aaron, on Grown-ish.
Grown-ish already feels strikingly confident in its first few episodes, anchored by an exciting ensemble and a main character who thrives in the spotlight. "They come together to make this amazing alchemy of people that I don't think we've seen in a really, really long time," Barris said of the ensemble, citing examples like St. Elmo's Fire, Friends, and St. Elsewhere as a reminder of the goal. There's also a healthy helping of A Different World.
Zoey may still be figuring out who she is, but Grown-ish already seems steady in what it wants to be. It's "a little bit looser and gets a little bit wilder" than Black-ish, according to Barris, and that's evident from the season's first three episodes. It's more serialized, more romantic, more character-driven. It's what Zoey is: fresh, and young, and stylish. And it's all hers.