There is a lot of pressure on Crazy Rich Asians. According to an anecdote in the Hollywood Reporter that will surely become legend, when it came time for the team behind the film to choose between a truly massive amount of money from Netflix or a slightly smaller massive pile of money from Warner Bros., author Kevin Kwan and director Jon M. Chu chose Warner Bros. The reason: so that the film would be splashed across the maximum number of silver screens across the world. It would be the first major studio movie since 1993's Joy Luck Club to feature a cast made up predominantly of Asian and Asian American people, and the goal was to have the biggest impact possible. They wanted Hollywood to learn from the film and audiences to benefit from it. For better or worse, and though it is only one movie, Crazy Rich Asians has been positioned to be a major moment in Hollywood history.
That just makes it all the more fortunate that Crazy Rich Asians is, well, good. The film is funny, deftly made, and touching, its mega-rich splendor grounded by a story about family, two people who love each other, and the ways that culture and diaspora can complicate everything. In many ways, it is the perfect film for 2018. The narrative around it is purposely fueled by a deep need for progress — not only by filmmakers who turned down a lot of money, but also by audiences and a media climate that has been clamoring for more representation for years. The pressure to represent is pretty heavy stuff, and a lot of responsibility for any one movie. Somehow, though, Crazy Rich Asians also manages to take the edge off of a rough world. Culturally, we're in a place where political bombshells are a daily occurrence and so many people on the internet are constantly joking about wanting to die. Even if only for two hours, Crazy Rich Asians lets audiences escape without feeling like they've completely abandoned the world outside the theater.
Based on Kwan's novels, Crazy Rich Asians follows Rachel Chu (Constance Wu), a Chinese American professor raised by a single, working-class immigrant mother. When her boyfriend Nick Young (Henry Golding) takes her to Singapore for his best friend's wedding, Rachel encounters his über-wealthy family. She also buts up against the judgments of Nick's peers and of his mother, Eleanor Sung-Young (Michelle Yeoh), who doesn't believe Rachel can live up to the demands of marrying into the family. Throughout the wedding festivities, the film plays with the tension between the idea of being Asian versus being Asian American, as well as between being working class and being so wealthy the 1 percent turns into the .001 percent.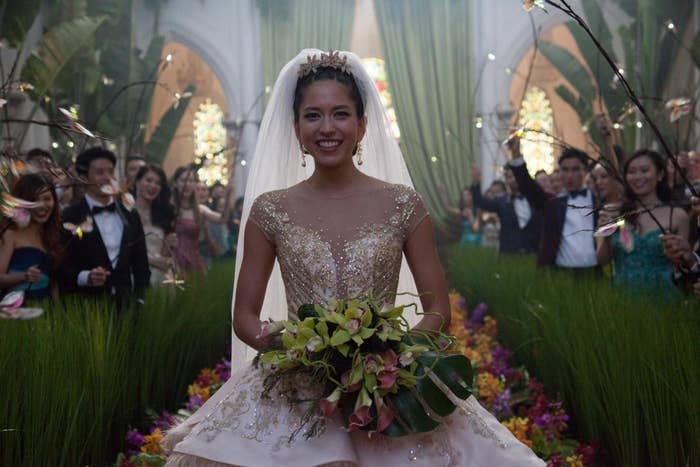 Crazy Rich Asians rejoices in the spectacle of the Young family's wealth. From the massive homes on display to the bonkers production value of the movie's central wedding, Crazy Rich Asians is flashy and epic. There are plenty of reasons movies about rich people can be so enjoyable to watch. There's the otherworldiness of intense luxury, compounded by the fact that the wealth distribution of the world means very few people will ever actually get to experience it. That disparity makes massive wealth dark comedy; it also turns it into fairy tale. Crazy Rich Asians makes use of both, while also reminding audiences that ludicrous amounts of wealth is also just really fun to look at. The film gives audiences permission to indulge in its obscene amount of sparkle.
The romance in the movie also stands out: Wu and Golding embody their characters with such confidence and ease that you don't need to see the whole history of their relationship to feel invested in it. It's clear how much Rachel and Nick love each other, and that provides the necessary padding — and inevitable third-act heartbreak — when the familial elements of the film threaten to tear them apart. This is a movie about diaspora, but it's also a rom-com through and through, and the main pairing delivers. That's the backbone of any good rom-com: two people, their chemistry, and the way your stomach drops at the thought that things might crumble underneath them.
The success of Crazy Rich Asians not just as a film but as a rom-com also comes as a relief. The genre has been largely dead for much of the past decade, at least from the perspective of the major Hollywood studios. The days of When Harry Met Sally, Notting Hill, Love & Basketball, You've Got Mail, Bridget Jones's Diary, Pretty Woman, and others remembered from the genre's turn-of-the-century boom are over. There were exceptions, like 2012's Silver Linings Playbook, or Trainwreck in 2015 — but as studios stepped away from the mid-budget comedy in general, it was rom-coms that took the biggest hit. "Studios are definitely less willing to spend a ton of money on comedy, and when they do sometimes it pays off and sometimes it doesn't. I've experienced that, on both sides of it," director Paul Feig told BuzzFeed News in 2017. "Audiences are just always asking, 'Why?' You know, why should I see this, why is this different from something else that we've seen before?"
A success for Crazy Rich Asians could seal the deal and let Hollywood know it's time for another major rom-com era.
The rom-com has been slowly creeping back, though. In 2017, The Big Sick did well at the box office and nabbed an Oscar nomination for Best Original Screenplay. The film's success marked the beginnings of a revival. As the political climate outside the box office got bleaker and bleaker, people became more vocal about their thirst for stories that are emotionally compelling but not too heavy. On social media throughout 2018, fans have been expressing their love for Netflix original rom-coms like A Christmas Prince, The Kissing Booth, and Set It Up, all throwbacks to different subgenres of the rom-com über-genre. In theaters, Book Club came out in May and has earned a worldwide total of $68.5 million off a reported budget of $10 million. Overboard, which was released around the same time, had a reported budget of $12 million and has earned $91 million worldwide. A success for Crazy Rich Asians could seal the deal and let Hollywood know it's time for another major rom-com era.
Of course, the momentousness of Crazy Rich Asians goes beyond audiences' desire to watch hot people kiss. Fans, producers, writers, and actors alike have been pushing for a more inclusive Hollywood for years. Progress is slow, and even with periodic outcries and promises to do better, the numbers of people from underrepresented groups in the industry haven't actually changed much over the past 10 years. It's a conversation that's cropped up in everything from Oscar ceremonies and film festival credentials to the casting (and box office) for a number of major studio productions.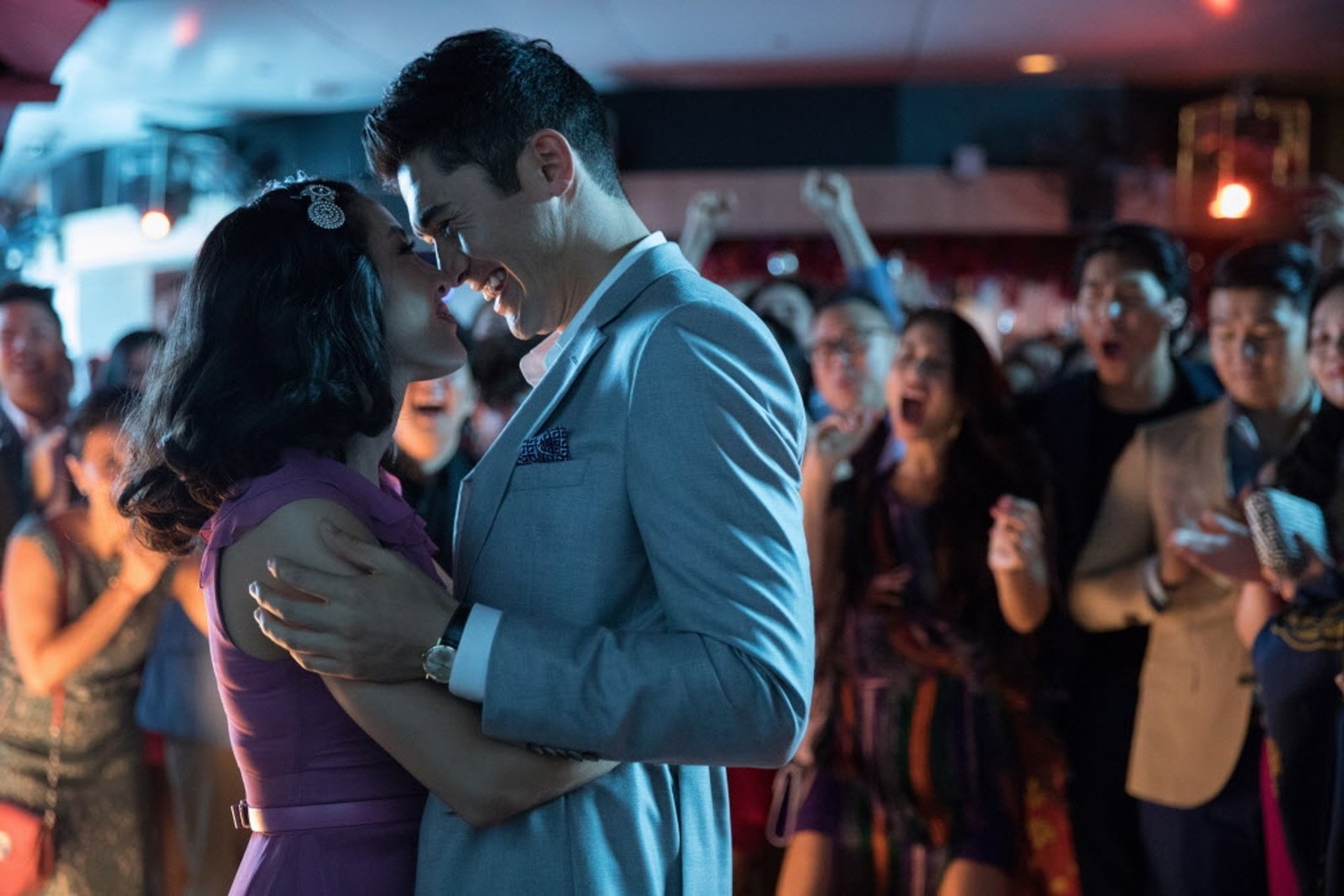 It's also all over the rom-com revival. Many of the romantic comedies attracting attention these days play with old tropes while also revitalizing them via perspectives that were often ignored in the mainstream rom-coms of yore. Love, Simon, which has earned $66 million worldwide, centers on a gay teenager (Nick Robinson) and has a diverse ensemble cast; Book Club, while it has a majority white cast, focuses on women in their sixties and older and features Andy Garcia as a love interest; Set It Up's secondary couple is Lucy Liu and Taye Diggs; The Big Sick, written by Kumail Nanjiani and his wife, Emily V. Gordon, focuses on him and his family of Pakistani immigrants. As Erin Carlson, author of I'll Have What She's Having: How Nora Ephron's Three Iconic Films Saved the Romantic Comedy told the Associated Press, the rom-coms of the turn of the century "didn't reflect the way that society was changing. They were all about white, straight couples." Crazy Rich Asians is absolutely a part of establishing that the new rom-com era will be doing things a little bit differently than the one that came before.
That Crazy Rich Asians would set the tone for more films to come was kind of the point. "You can look at Get Out, you can look at Black Panther — it changes the whole economics of the business when movies like that succeed," Crazy Rich Asians producer Nina Jacobson told the Hollywood Reporter. Jacobson also said that it "meant something" to the production team that the potential success of Crazy Rich Asians could be used as a model to inspire Hollywood to mix things up.
If Hollywood does absorb the lessons of Crazy Rich Asians, it will likely be a few years before we see the results in theaters. In the meantime, we have the film itself. Crazy Rich Asians is the kind of movie that satisfies cravings — for a genre that had been thought dead, and for increased visibility. Hopefully it'll be the kind with a pleasant aftertaste, and one that lasts.