There is a moment during the climax of Ava DuVernay's A Wrinkle in Time where Meg Murray, played by Storm Reid, confronts a physical manifestation of her own insecurities. Meg stands face-to-face with a version of herself she sees as better — a variant with straightened hair who looks an awful lot like the white girl at school (played by Rowan Blanchard) who frequently mocks her. In this scene, Meg must challenge and eventually reject the lies she's been telling herself about who she needs to be in order to be worthy.

"There weren't any Disney heroines who looked like me and Storm when I was a little girl."
"That's an example of taking a little thing from the book and contextualizing it, but also making it speak directly to something that black girls specifically face," DuVernay told BuzzFeed News. In the book, Meg is written as white and complains frequently about her frizzy hair. In the movie, Meg still hates her hair — but this time that hatred is subtly tied to a larger history of how black girls see themselves in the context of European beauty standards. "Those were a lot of the things that we got our hands on and tried to shape. Staying true to the source material, but pushing it a little further into 2018 so more people could see themselves in it." It was a reimagining that reflected the core electricity that DuVernay brought to A Wrinkle in Time: Meg as a young biracial black girl, the undeniable hero of her own story, brought to life by a black woman who was itching to wrap her mind around all the universes Meg would save.
"Storm Reid as Meg Murray is kind of a radical idea," DuVernay said. The same could be claimed about DuVernay as Meg's director.
"I think images are powerful," Gugu Mbatha-Raw, who plays Meg's mom, Dr. Kate Murray, told BuzzFeed News. "There weren't any Disney heroines who looked like me and Storm when I was a little girl."
She's right. Before The Princess and the Frog was released in 2009 there were no black Disney princesses. And until A Wrinkle in Time, there were virtually no young black girls centered in Disney's biggest films, and if they were present at all, they certainly weren't the heroes. Elsewhere, there were glimmers — Brandy Norwood as Cinderella in a made-for-TV movie, for example, and the whole of Raven-Symoné's career on the Disney Channel. But there was nothing quite as monumental as this, with a major budget and a black woman shaping the narrative.
DuVernay signed on to direct Wrinkle in Time for Disney two years ago, in a deal that made both her and the film's main character anomalies: Meg is a young black girl at the center of a major sci-fi/fantasy movie; DuVernay is the first ever black woman to direct a film with a budget of over $100 million. "It's a big swing," DuVernay said. "It's not a slam dunk, and I wanted that." She points to the careers of men like Steven Spielberg, Michael Mann, Ridley Scott, and Ron Howard as examples of the type of space she wanted to carve out for herself and for other women of color in film. "They have the privilege to jump genres," she said. "[Spielberg] can go from E.T. to Schindler's List to BFG to The Post. That's beautiful, that someone can do all those things."

"Is it crazy to want that kind of career?" she continued. "If you want it, you've got to take big swings. So that's what I'm trying to do."
Though there have been notable women of color in sci-fi/fantasy movies throughout the genre's history — think Star Trek, Alien vs. Predator, Serenity, and more recently The Last Jedi, Black Panther, and Annihilation — there has also been a long-running, noticeable scarcity. Most often, women of color have been relegated to supporting roles in the biggest sci-fi fare, if they're involved at all. According to research by USC Annenberg that looked at 300 films released between 2014 and 2016, only nine of those 300 had a woman of color as a lead or co-lead. Zero of those nine examples were in the sci-fi genre.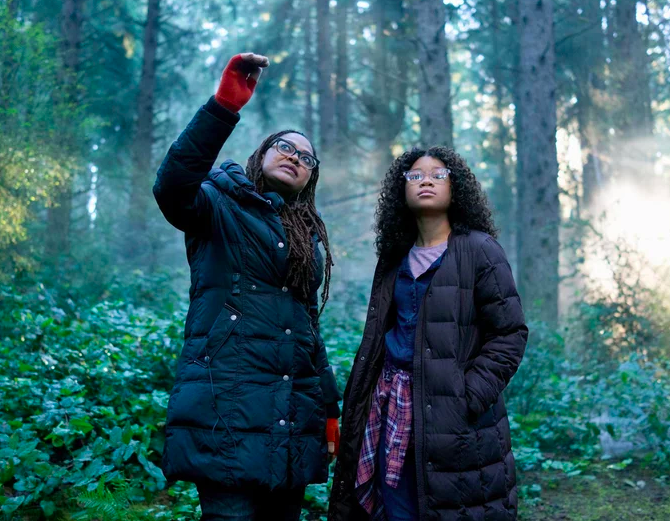 And when women of color are closer to the center of a major sci-fi film, like in 2013's Pacific Rim, they are virtually never "rendered through the gaze of women of color," as DuVernay put it. To use the example of Disney, The Princess and the Frog was directed by Ron Clements and John Musker, two white men. A Wrinkle in Time will be the first major time Disney has given the world a young black girl as imagined by a black woman.
"I felt activated and electrified by the chance to tell a story to 8-to-12-year-olds about some of these ideas, with images like this that have never existed in cinema," DuVernay said. Those images include the magnificent creatures found in Madeleine L'Engle's original story, and brought to vibrant life in DuVernay's Wrinkle in Time. But they also encompass a cast that includes Mindy Kaling, Oprah Winfrey, and Reese Witherspoon as space-bending witches championing Meg on her journey.
DuVernay recalled a recent conversation she says she had with Kaling about the craving to see yourself reflected in movies like these. "She said she's always loved sci-fi, but she said, 'I was a chubby Indian girl who loved sci-fi, and I loved a genre that never loved me back. Because I never ever saw anyone like myself in it,'" DuVernay remembered. "And she said that one of the things that makes her cry in this is that she thinks of herself watching it when she was younger, and how much it would have meant to her."
As she promotes the film now, DuVernay finds herself pondering the big picture of breaking ground in new spaces. "I've really been thinking about this idea of what are women filmmakers and people of color or black filmmakers allowed to do," she said. "Are we allowed to feminize fantasy?" DuVernay calls her vision for Wrinkle "a more maternal feminization of fantasy" that revolves around the ways that she "thinks as a black woman from Compton about these kids and about this world." And as the first black woman to make a movie like this for such a big studio and with such a big budget, she still finds herself relatively alone in her sphere. It's lonely being a pioneer.

"There was no one I could call," DuVernay said when asked about the next black women who may, one day, get the opportunity to make a movie as major as A Wrinkle in Time. "There was no one I could call and ask [for advice]. And I will be there for every single one of them. It gives me chills to think about the fact that there will be more."
As Mbatha-Raw noted, "one of the messages of the film is that who you are is enough." That's true from top to bottom when it comes to DuVernay's Wrinkle in Time. Meg, facing off against her own perceived faults, finds her strength and her worth as she "tessers" between planets. Behind the scenes, DuVernay got to bring Meg to life in the first place, reimagining her to expand the image of who gets to be the young sci-fi hero saving the universe. DuVernay said that "we have to make sure" that there are more black women entering this space — pardon the pun. "We have to make sure that we're doing things that they say we can't do, in genres that they say we shouldn't touch, can't touch," she said. "We know that they can. [More are] coming. I can't wait to meet them all."