Amber Tamblyn knows what she wants. She's a woman of strong convictions, her beliefs couched in the wryness and warmth that she radiates. And if you rub Tamblyn the wrong way— say, by buying into centuries-old misogynistic ideals — she'll confront you, head-on, in her own way. Which is why one of the first things Tamblyn did when Harvey Weinstein's decades of alleged sexual abuses were exposed in early October was call her old friend Quentin Tarantino, and ask him to dinner to talk some things out.
"I very much made a pointed effort," Tamblyn told me on the occasion of our second meeting, in an emptied-out midtown cigar club in early December. After Weinstein's fall, everyone in the producer's circle — directors, actors, agents, board members — found themselves under fire, accused of being complicit in the harassment and/or assault of at least 70 women. Tarantino, for his part, had worked closely with Weinstein since the early '90s; the producer was a complicated father figure to Tarantino's fabled auteur. "I was able to just sit and be a real sounding board for him," she said, adding that Tarantino "understood in that moment how severe the accusations were" but that he "was also really blindsided by it, by the scope of it."
Tamblyn's goal was to listen — but also to guide. "I more or less told him what I would tell any man, which is to own the way in which you were complicit in this," she said. "Own your complacency. Say it." As she wrote on Twitter shortly after their dinner, Tamblyn viewed it as a "come to Jesus conversation." The crux of her stance was the importance of facing one's sins; of speaking out publicly as a crucial step in how the industry moves forward in dealing with toxicity and rape culture. So Tamblyn connected Tarantino with Jodi Kantor, one of the New York Times journalists who reported out the Weinstein story. (Tarantino has confirmed this.)
"I feel like that would be the title of my memoir someday: Helping Them Get There." She paused, then added a subtitle: "The Story of Men."
Tamblyn wanted Tarantino to face the woman who had spoken to Weinstein's alleged victims while reporting the story. "I felt like that was a really important full circle that he needed to come to." As a result of her guidance, Tarantino issued a statement on Weinstein through Tamblyn's social media. He also talked to Kantor for an interview in which he said, among other things, that when it came to Weinstein, he'd known "enough to do more than [he] did."
"It was just sort of about helping him get there," Tamblyn said. "I feel like that would be the title of my memoir someday: Helping Them Get There." She paused, then added a subtitle: "The Story of Men."
An actor, poet, director, and soon-to-be-published novelist, Tamblyn has been a citizen of Hollywood her entire life. The daughter of Peyton's Place, West Side Story, and Twin Peaks actor Russ Tamblyn and singer-songwriter Bonnie Murray Tamblyn, she started working in show business at the age of 11. Tamblyn spent her formative years on the set of General Hospital, followed by a stretch on the set of Joan of Arcadia in her early twenties. Later, through the Sisterhood of the Traveling Pants movies, she harnessed the potent nostalgia of young women who came of age in the '00s. She's published three poetry books and directed a movie (Paint It Black starring Alia Shawkat, which hits Netflix Feb. 1). She's also written extensively on the subject of women's status in politics and Hollywood, and campaigned hard for Hillary Clinton in both 2008 and 2016.
"Obviously we're in this watershed moment, but I don't think that it changes the way that Amber [is speaking out]," comedian Aisha Tyler told me in December. She and Tamblyn bonded four years ago when they were both preparing to direct their first features. "Feminists have been saying the same things for a very long time, and now we're reaching critical mass," Tyler said.
"Even prior to this culminating moment, Amber's always been really fearless, and unrelenting."
Tamblyn also puts a high premium on female anger: Since the election of Donald Trump as president of the United States in 2016, it's the main emotion that has fueled her actions. "I am pro-anger," she told me multiple times when we met in October. "I am anti-passivity."
Author Roxane Gay, who works with Tamblyn on an ongoing reading series called Feminist As Fuck, said she finds Tamblyn "really interesting." "She's really, really warm. She's very funny. And very generous," Gay said. "She's always trying to connect people, and she knows everyone. It's always astounding how many people she knows and how effectively she can just get shit done." One of the things Gay admires about Tamblyn is the way she asserts herself, assessing what she thinks a given situation needs. "She's very smart about when to use her voice, and also how, and where," Gay said.
And when misogyny and sexual abuses in Hollywood took center stage in the national conversation, Tamblyn dove in.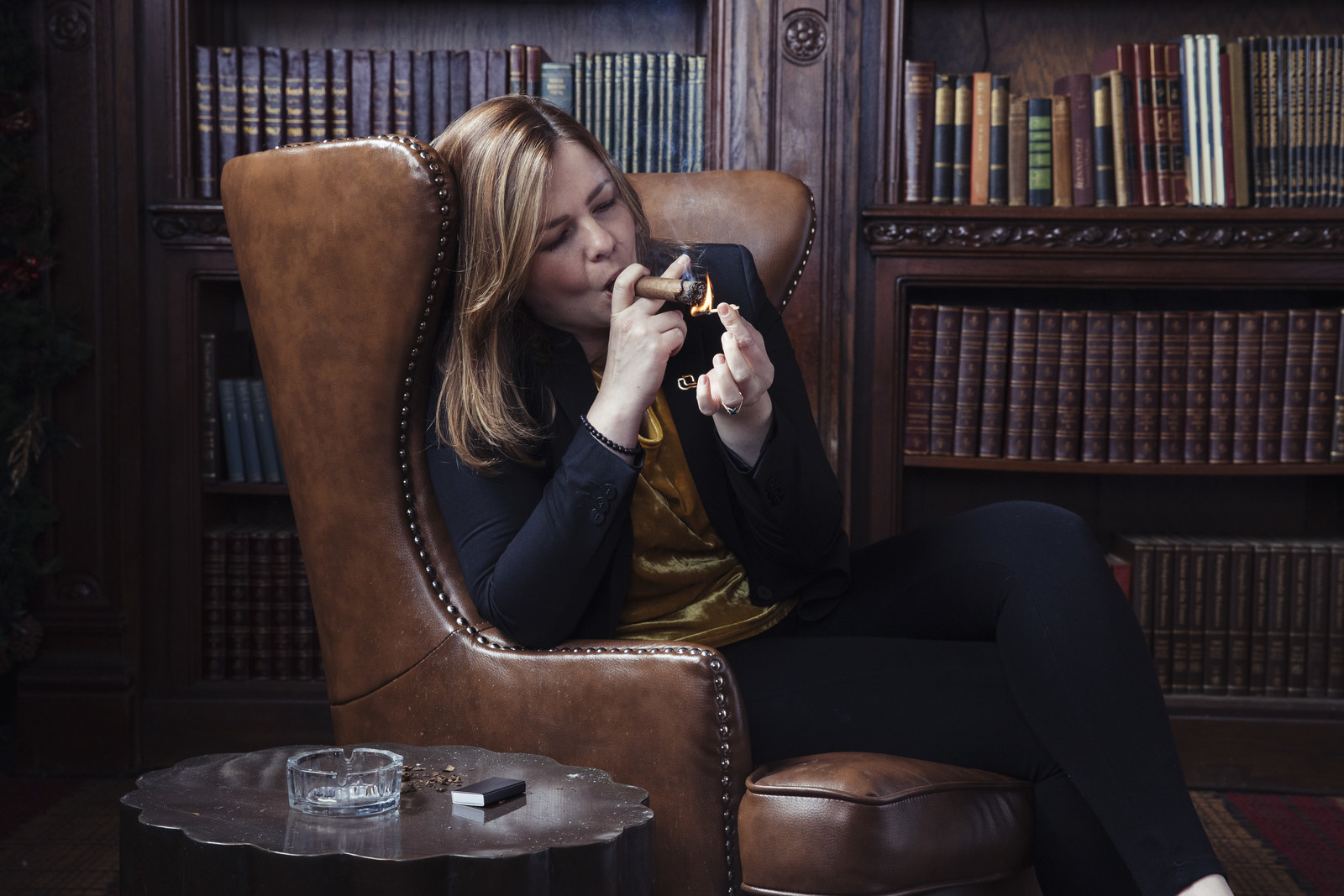 Three weeks before the New York Times' Weinstein story went live, Tamblyn replied to a tweet about the actor James Woods after actor Armie Hammer had gotten into a tiff with him on Twitter. Woods had denounced the age difference in the queer romance Call Me by Your Name and hashtagged the tweet #NAMBLA, in reference to the North American Man/Boy Love Association that works to abolish age of consent laws. Hammer had struck back with reference to Woods' previous relationship with Ashley Madison — who was 19 when she and Woods, then 59, started dating.

Tamblyn knew Hammer from their time filming 2008's Blackout, a horror film about three people trapped in an elevator. She considered him an old friend. So when she saw the quote-tweet on her timeline, she took a peek. "I thought, I know Armie, so I opened it and looked at the chain," Tamblyn told me. "I thought, Oh my god, I remember that guy [Woods], and I tweeted the thing. There was no big intention behind it."
In 138 characters, Tamblyn shared her own experience: "James Woods tried to pick me and my friend up at a restaurant once," she wrote. "He wanted to take us to Vegas. 'I'm 16' I said. 'Even better' he said."
The story blew up, her tweet racking up over 10,000 retweets and over 37,000 likes. On Twitter, Woods called Tamblyn's allegation "a lie." Tamblyn responded with an open letter to Woods published on Teen Vogue and an op-ed in the New York Times titled "I'm Done With Not Being Believed." The op-ed, with its fairly self-explanatory title, concludes with this: "The women I know, myself included, are done ... playing the credentials game. We are learning that the more we open our mouths, the more we become a choir. And the more we are a choir, the more the tune is forced to change." (Woods did not respond to multiple requests for comment.)

Tamblyn didn't plan for the Woods situation to spiral into op-ed territory. "I probably would have just let it go," she said. "But to make a big fuss, and then call me a liar? He just fucked with the wrong one." In the process, Tamblyn and Woods both became the faces of a mini reckoning that happened to take place just before the Weinstein investigations would inspire a much more massive cultural moment and movement.
"He just fucked with the wrong one."
When I first sat down with Tamblyn, it was a month after the Woods incident, in a candle-lit bar near her Clinton Hill home. Roughly two weeks had passed since the New York Times' Weinstein investigation had been published. Gwyneth Paltrow, Angelina Jolie, Ashley Judd, Mira Sorvino, Rose McGowan, Kate Beckinsale, Cara Delevigne, Asia Argento, and many more had come forward to say that they'd been assaulted or harassed by Weinstein. Terry Crews, Ellen Page, Selma Blair, Anthony Rapp, and others followed with allegations about others in Hollywood. Tarana Burke's #MeToo movement had found new life, taking over Facebook timelines and Twitter feeds with stories from people all over the world who'd endured sexual harassment and assault. Roy Price, the head of Amazon Studios, had resigned amid sexual harassment allegations. "I've felt less alone this week than I've ever felt in my entire career," Reese Witherspoon said during a speech that week — one in which she revealed her own assault by a director at the age of 16.
The first time Tamblyn and I met, in mid-October, the air was thick with the kind of energy that's born when pain meets long-awaited catharsis. The topic taking over headlines — of sexual misconduct embedded in some of our most famous institutions — came up naturally. Specifically, it entered the conversation when Tamblyn brought up how poetry sustained her through life as a child star.
"People always ask me how much acting has informed my activism, or my artistry, or my filmmaking, or my writing," she said. "But it is poetry, fundamentally, that has informed those things."
"People always ask me how much acting has informed my activism, or my artistry, or my filmmaking, or my writing," she said. "But it is poetry, fundamentally, that has informed those things. I was able to find myself through my ability to speak towards the things I didn't quite understand yet because I was so young. Things about sexism, and misogyny, about a business that endemically does not care about women."
Free Stallion, her first book of poetry, was published by Simon & Schuster in 2005. It compiled poems Tamblyn had written between the ages of 11 and 21. "It's very raw, and nubile almost," she said, noting that the book is "filled with someone who knows that they're angry about a system but isn't sure why yet."
And that brings us to the current reckoning, propelled by Hollywood and spread across various industries. "This is a big conversation, because we're talking about a lot of very attractive white women who are suddenly getting a [long-existing] narrative to be talked about, and that's difficult," Tamblyn said. "At the same time, these are people who have been forced through a patriarchal system to be part of that system as far as representing what women should or shouldn't be. That's not a thing where you can say, 'Reese, why didn't you fix that?' That's on no woman. That's on no woman."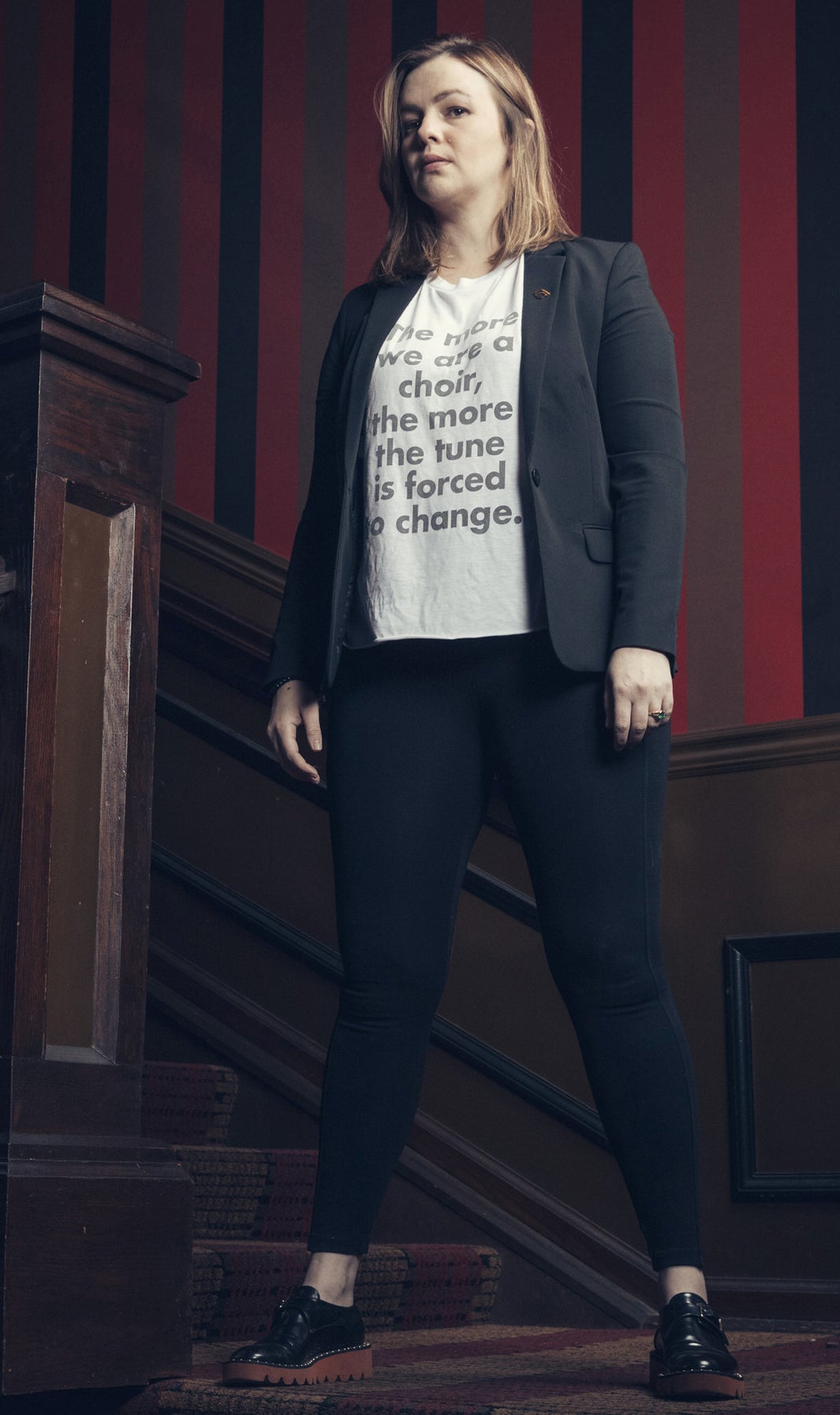 For Tamblyn, the stories of abuse and misogyny in Hollywood brought up memories of her own. As she told me and wrote in a Times op-ed before the Golden Globes, when she was 23 and preparing to star in The Grudge 2, the film's director, Takashi Shimizu, pulled her aside three weeks before production and suggested she lose five pounds. At that point, her weight was somewhere in the 120s. "I'm 5'7"," she told me. "There's a time in which that wasn't funny to me — and now it's funny, because it was so ridiculous." (Shimizu did not respond to requests for comment.)
Tamblyn also wrote about her own assault, posting about it on Instagram during the 2016 election when Trump's comments on grabbing women by the pussy went public. As she describes it, an ex-boyfriend grabbed her by her vagina and forcibly carried her out of a club.
"Women, especially actresses, don't speak about [abuses] because you're trained not to," Tamblyn said. Even Tamblyn, who's long been vocal, had a moment of panic after her allegation against Woods made news. On the phone with her agent, Tamblyn asked: "'Did I just fuck up? Did I just hurt my career?'" Her agent, Nancy Gates at UTA, comforted her. "She adamantly said, 'No, the opposite. Truly the opposite,'" Tamblyn said. "I'm fortunate to have a very powerful, amazing female agent who's not afraid of stuff like that. But I've been around long enough and have been with agents who are."
In 2016, while heavily pregnant, Tamblyn toured from state to state trying her hardest to make the first female president happen. "That was its own morbidity," she said of being pregnant during that time. She even went on Lip Sync Battle with her best friend and fellow activist America Ferrera, dressed as an orange-faced Trump and gyrating to "I Wanna Sex You Up." And when Clinton lost — and Trump won — Tamblyn says it radicalized her. "There's just no other way of putting it," she said. "And part of that radicalization is that I actually now will choose to believe the woman first without evidence. And I actually want to go from that. I want the man to prove he's innocent. And that's a very dangerous stance to take, I understand, but I don't trust the American judicial system to tell us."
"People are tired of hearing them? Great. Keep talking," she said.
It's a stance very much born out of everything she's witnessed. "The elephant has been in the room for so long," Tamblyn said, hands in the air. As she put it, that's not something you can undo in a few weeks — or a few months. But for her, the sheer force of so many people speaking out with their stories and demanding people finally hear them is key to eliciting change. She applauds the bombardment of the airwaves, the social media feeds, the media. "People are tired of hearing them? Great. Keep talking," she said. On the flip side, Tamblyn recalls friends texting her in tears as #MeToo posts took over Facebook — they were learning for the first time what their mothers or other loved ones had endured. "This is fucking painful," Tamblyn said. "And while it's also painful that it's taken a movement like this for this to happen, and it feels late, it's here now. So let's all capitalize on it together, and let's all keep talking about how to keep this dialogue going."
Asked if her tendency to speak her mind has affected her career, Tamblyn said she doesn't really know. "Perhaps it's harmed me, perhaps it hasn't," she said. "It's hard for me to say. I do know that it's definitely a freeing experience, at the very least." These days, it's one that more and more people both in and out of Hollywood are taking part in.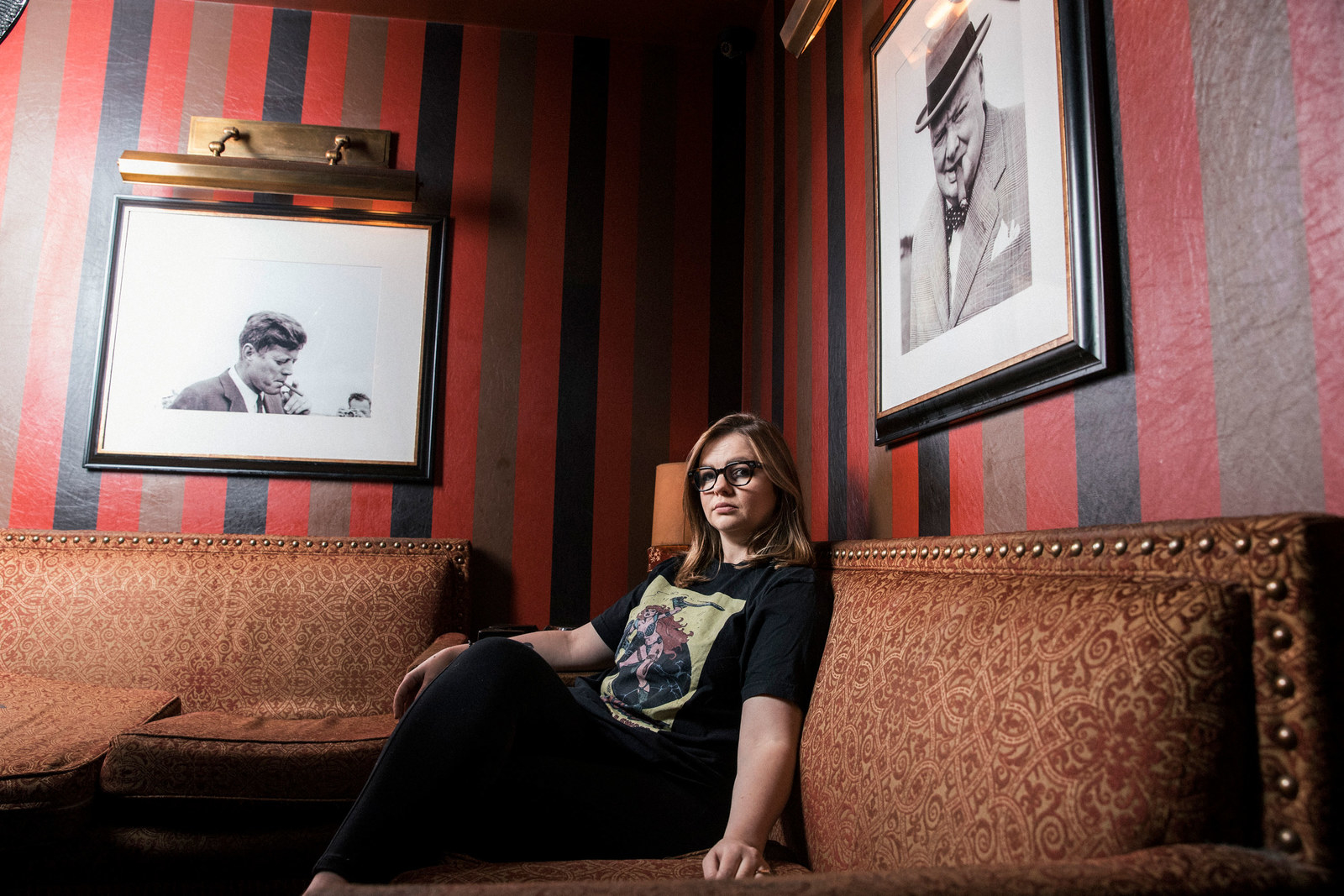 Actress and comedian Charlyne Yi shared her own story in mid-October, also about an incident with a man in a position of power. The man in question was David Cross, Tamblyn's husband of five years. As Yi wrote on Twitter, it all occurred 10 years ago. She met Cross; he made fun of her pants. When she looked at him dumbfounded, he said, 'What's a matter? You don't speak English?? Ching-chong-ching-chong." When she was offended by this, she said, he put on a Southern accent and asked if she was "going to fight with him karate."

The story spread rapidly, occupying a similar space as the experiences of sexual harassment that were populating the news cycle — only this time the allegations involved racial misconduct.
Cross responded to Yi's story on Twitter: "I'm truly sorry if I hurt her, it was never my intention to do that," he wrote. "I reached out to her privately and expressed that and more, including the possibility that we are both misremembering *exactly* what happened that night?" In a follow-up statement the next day, Cross expressed his own theory: that he'd been doing "some asshole redneck racist character" bit that Yi did not pick up on, and that he hadn't realized that Yi was upset.
It wasn't long before Tamblyn's social media followers started pushing her to weigh in on the situation. Tamblyn responded that she'd spoken to Yi herself. "Her feelings/safety are all that matter to me," she wrote. "We're good. I owe you nothing, Twitter. You're lucky to have me." In another tweet, she wrote: "I'll say it again. I spoke to Charlyne. I believe her. I'm about HER feelings/emotional health right now, not Twitter's. That okay with you?"
Some took offense to Tamblyn's response, holding her up as an example of white feminism. Others lauded her public belief in Yi's side of the story as the right way to go — or at least a step up from Cross's response. "I will say this for the last time," Tamblyn wrote in another response. "Do not hold women accountable for the actions, decisions or words of their partners. Don't. Do it." Then she took a break from Twitter for a couple of weeks. "See you soon, you crazy, complex confluence of passion," she wrote as her parting words.
"I'm grateful [for Twitter], but also at the same time, we got a lot of really awful threats," Tamblyn told me. "And my child got threats. That was specifically why I checked out. Because while there are really great parts of, you know, what a collective voice like Twitter can do, people can be really disgusting and awful." Yi also wrote on Twitter that she doesn't support the insults and threats that Tamblyn and Cross had been getting. (Yi declined to comment on this story.)
Tamblyn now feels like she's said all she wants to say about what happened. But in our conversation, she added that "two things can be true at once." As she put it, "David can feel emphatically that what he did was not racist, or a racist gesture, and I believe that's true. … I know that can be true for him. I also know that a joke that he might say to a Zach Galifianakis or a Michael Cera, when you say that to a young Asian-American woman, you have changed the conversation. Context is everything."
"I think we need to sit in anger for a while, and that's OK."
Tamblyn also recalled something that stuck with her from her conversation with Yi. "One of the things she said to me was, 'I've said this before. I told this story about this happening with David, and no one heard me, no one listened. I did not expect for this to happen. This was very intense for me, and I did not expect for this to go the way that it did,'" she said. "And that's one of the great things, is that it did happen." For Tamblyn, it was a sign of what was shifting in the mainstream conversation around women's experiences. Though she's torn about the whole situation and how it affected her family, it also showed her the possibilities of someone taking their story into their own hands and sharing it publicly, without the intermediary of a media outlet. "I hope that more women are able to just tell their stories publicly, and simply," Tamblyn said.
It was all also good practice in Tamblyn's belief that women's anger deserves its time in the sun. "I think we need to sit in anger for a while, and that's OK. I'm of that mind, I really am," she said. "And even when I get called on my own shit, whether it's white feminism, or people asking me to be held responsible for something my husband did, or whatever it is across the board, I accept it."
"The anger has been deep for a long time, and now the volcano is erupting," she continued. "I believe that that's what it should do. ...Whether or not that hurts you, or hurts me that you say it, we need to fucking hear it."
Back in October, she also knew what she wanted the next step to be: "We have to apply action to the anger," she said. As Gay and Tyler both noted, the desire to get shit done runs deep in Tamblyn. "There's a lot of work to be done, but you have to start putting women, and especially women of color, in positions of power and authority immediately. Not in a while, but immediately."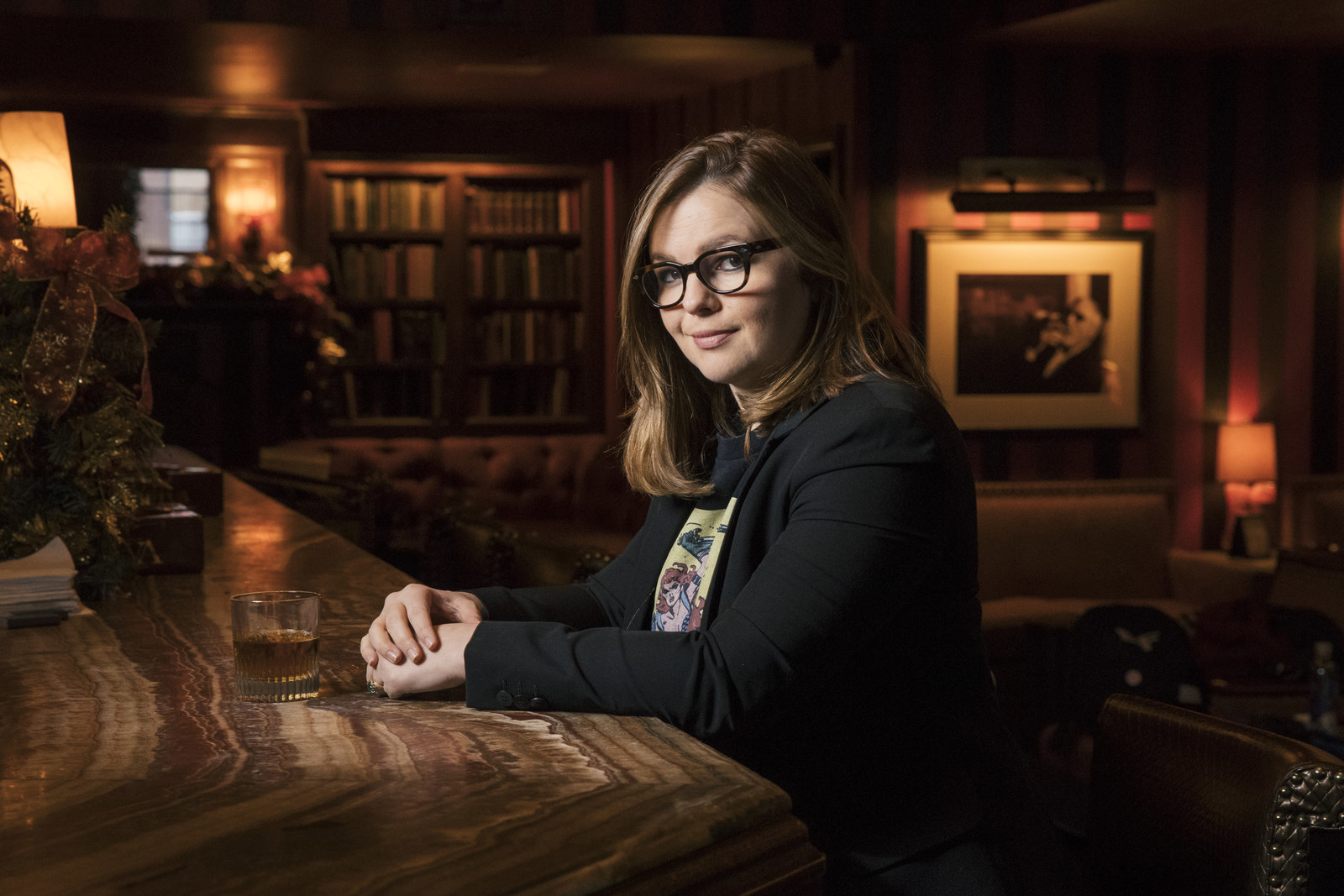 On Jan. 1, 2018, a group of women in Hollywood announced the Time's Up initiative. The announcement came via an open letter signed by 300 women in Hollywood declaring that, well, time was up "on silence," "on waiting," and "on tolerating discrimination, harassment, and abuse." It was an organized effort to eradicate sexual misconduct in the workplace — not just for women in Hollywood, but for women across every industry. According to Tamblyn, she's been a part of the group "since the inception."

"It started with a bunch of meetings," she said. "I am Time's Up, Meryl Streep is Time's Up, Katie McGrath is Time's Up, Shonda Rhimes is Time's Up."
Tamblyn describes the group as a grassroots collective of women "who were just sort of tired of the norms." They met in different cities — New York, Los Angeles, London — and plotted how to disrupt centuries of wrongdoing. They were interested in "not only the abuse of power," according to Tamblyn, "but also the underrepresentation of women, and especially women of color and LGBTQ women and minority women."
One of Time's Up's efforts so far is a legal defense fund created to support women who can't afford the potential fallout of reporting workplace abuse. The fund has raised over $19 million so far. Other goals of the group include reaching gender parity in the leadership of Hollywood's studios and talent agencies by 2020, as well as pushing for stronger legislation around workplace harassment. Time's Up also pressed people to wear black to the Golden Globes as a visual show of solidarity. Additionally, several women involved walked the red carpet with non-Hollywood activists and advocates, turning the usual red carpet promotional interviews into a time for those women to spread their messages.
"I've never seen such hard work and dedication and action, and just understanding of what the greater common goal is. I've never been a part of something like that."
McGowan, who has been instrumental in the movement against Hollywood abusers and whom Tamblyn counts as a friend, has roundly criticized Time's Up. "What people see from the outside when they see the red carpet, I see behind the scenes. I know a lot of things," McGowan said during a Television Critics Association panel in January. "I think a system that's massively broken — that's a Band-Aid to make yourselves feel better for what you've all known about and were silent witnesses to and/or participants in." McGowan has spoken out specifically about the decision to wear black to the Globes — and about the involvement of the agency CAA, which McGowan tweeted "sent so many into the Monster's Lair themselves." Tamblyn responded to the dress code criticism on Twitter, writing, "Our movement is big. And any black dress is just the beginning of the darkness that will be drained from every industry across the country by the time we're finished. That's a promise." Tamblyn also appears in McGowan's upcoming E! show, Citizen Rose. (McGowan declined to comment on this story.)
For Tamblyn, Time's Up has been an affirming experience. "I've never seen anything like it," she said. "I've never seen such hard work and dedication and action, and just understanding of what the greater common goal is. I've never been a part of something like that."
As of publication of this piece, it's now been less than five months since the Weinstein investigations sparked a sort of domino effect. "Everything's changed," Tamblyn told me in December. "We're living in a new world." For her, that new world is defined by what people who are fed up with harmful systems can accomplish. For her, it's something hopeful.
A lot of men have approached Tamblyn with concerns, specifically about the potential consequences of so many public accusations coming out of the reckoning. It makes her ask them, in turn, what they think the solution should be. "They never have an answer, by the way, because they don't know," she said. "And guess what: We don't know, either. We're figuring this out as well. But what we do know is that it can't be the way it was before. That it has to change. And I feel it has to change by any means necessary." ●