Amandla Stenberg's most recent project feels like a full circle moment. In 2012, Stenberg broke out through her supporting role as the ill-fated Rue in The Hunger Games. Now, in 2018, she's playing the starring role of Ruby in The Darkest Minds, another major sci-fi film anchored in an all-too-real political allegory and set in a dystopia where teens take on an oppressive society. As Stenberg told BuzzFeed News, she didn't consciously choose the film for its Hunger Games parallels, but was attracted to it because of the way the movie portrays kids who, because of circumstance, learn "how to utilize their power and organize against a regime that they don't believe in." The role also offered Stenberg the opportunity to play the central character in a major sci-fi film, a space that has historically not been welcoming to black women leads.
"It does feel really special to have begun my career with [The Hunger Games] and to be in a place now where I can be cast in the lead in this sort of thing," Stenberg said. "I don't know that that would have been possible at the time in the same way," she continued, noting that it's only recently that Hollywood and audiences alike have begun to see the effects of big pushes for onscreen diversity.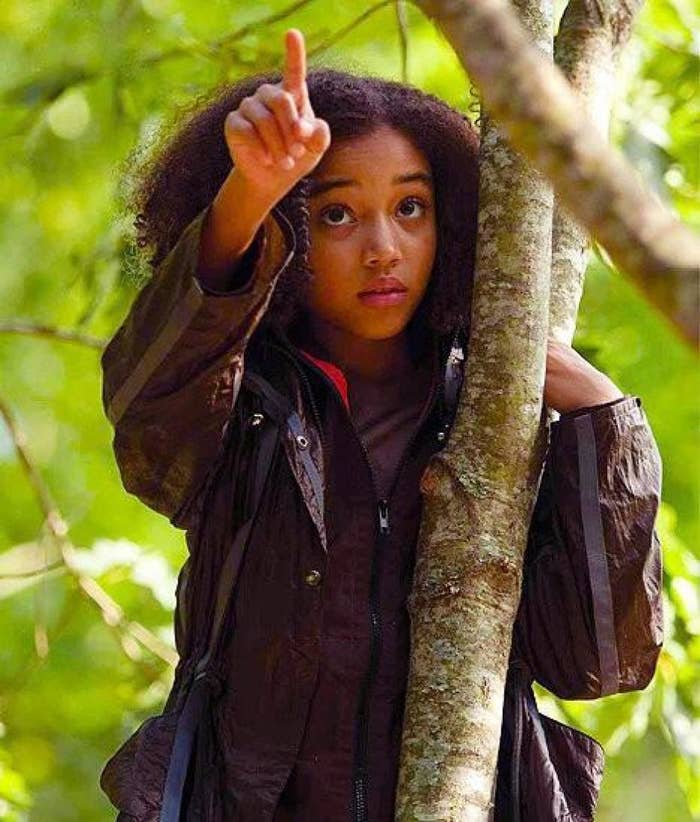 When Stenberg first became a public figure it was through the dual impact of The Hunger Games' mainstream exposure and the baldly racist reactions that exploded around her presence in the film. When Hunger Games hit theaters, hordes of people took to social media to protest the fact that Rue's character is black — despite that being how she was written in the books.
Looking back at the racist backlash now, Stenberg said that the reaction brought up something she was already aware of by then — "that there was resistance to having black girls in films, and that black women are dehumanized and their lives are seen as less valuable than white lives." She remembers that one of the main complaints was that Rue's death became less sad to some viewers when they saw her as a black girl. "While it was hurtful when I was 12, it wasn't shocking," Stenberg said. Even at that point in her career, she was already having trouble finding roles for a young black actor that weren't degrading. "The irony of the whole situation was that Rue was one of the only characters I could find in the content I loved that was literally written as black," she said. The reaction was also a crash course in how to take what people say on the internet with a grain of salt — a necessary skill for someone who's chosen to live their lives as publicly and vocally as Stenberg has.
In the years since her time as Rue, Stenberg has become known in part for being an advocate for marginalized communities, she herself sitting at the intersection of blackness and queerness. Though the major harassment that occurred early in her career doesn't get all the credit for her outspokenness, Stenberg said that the waves it made in the media did have a long-term effect on her life. "I realized that I had a platform that could be impactful if I harnessed it," she said.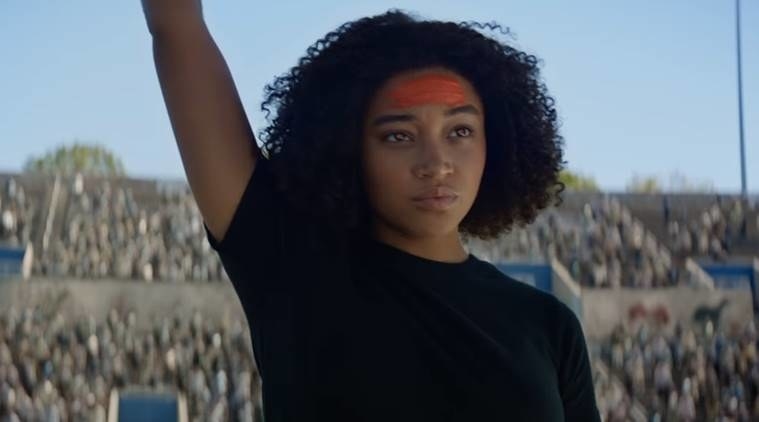 And harness it she has. Stenberg has written about youth activism and has been vocal about police brutality, Black Lives Matter, and sexism. She walked away from a role in Black Panther because she felt it should go to a darker-skinned actor. Last year's Everything, Everything was directed by a black woman, Stella Meghie, and centered on a young black woman played by Stenberg. In October, Stenberg will star in The Hate U Give, an adaptation of Angie Thomas's novel that follows a young woman who witnesses the police murder of her childhood best friend. Her character becomes embroiled in community tensions around race and involved in the Black Lives Matter movement. Stenberg has also been open about her gender identity — she identifies as nonbinary (a representative for Stenberg confirmed to BuzzFeed News she uses she/her pronouns) — and recently came out publicly as gay.

Looking back at where she started, Stenberg said she does think things have changed for the better in the industry. "Now is one of the first times we're getting really good black roles for black women that are leading roles, and projects where black women are at the helm and black people are at the helm," she said. "I think that's really exhilarating, and I feel lucky to come of age at a time when that's really happening." That increase in opportunities comes from many sources within Hollywood, including studios, writers, directors, and producers of varying backgrounds bursting through glass ceilings. But it also comes from people — in and out of Hollywood — using their voices and demanding that representation, which Stenberg has been doing for as long as she's had her platform.
"At the end of the day it pretty much has nothing to do with you."
Even with the upswing in visibility, Stenberg acknowledges that there's still work to do, especially as people like Star Wars actor Kelly Marie Tran and Stranger Things actor Millie Bobby Brown have been forced off of instagram due to more recent deluges of online harassment. Stenberg's advice to them is to live in the knowledge that the harassment is not their fault. "People can make their assumptions and have their judgments and their prejudices, but at the end of the day it pretty much has nothing to do with you," she said. "It has to do with their own internalized biases, and oftentimes their own internalized self-hatred — because if you are discriminating against people, you are harming yourself at the end of the day."
It's advice Stenberg herself has certainly taken to heart. The racist harassment she faced for accurately portraying a black character didn't shut her up — it only made her voice echo further. And where she was a supporting character then, now she is in the starring role. From Everything, Everything to The Darkest Minds, and soon in The Hate U Give, Stenberg is front and center, picking projects that celebrate her blackness and making sure that everybody knows how proud she is of it. She said that even in the face of harassment — whether it is fueled by racism, sexism, anti-gay sentiment, fan entitlement, or all of the above — the best thing you can do is "allow yourself to continue to do you and realize that that is enough."