As all who have allowed joy into their hearts know, the 1992 seminal classic A League Of Their Own follows a group of women who join the All-American Girls Professional Baseball League (AAGPBL) during World War II.
July 1, 2017 marks the 25th anniversary of the film. Which means we have an excuse to talk about the A League of Their Own's most underrated — and intersectional! — moment.
During one game, a baseball falls near the segregated "colored" section of the stadium.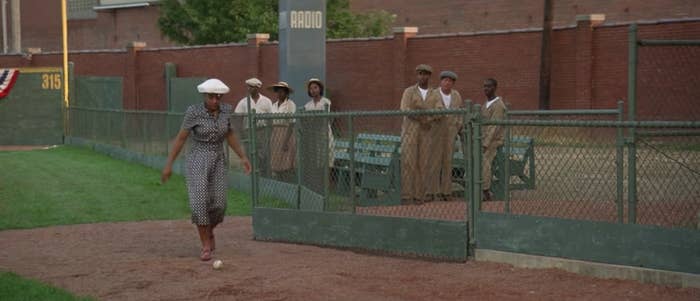 A woman steps forward to pick up the ball, and when she throws it back...
We see that her arm is MIGHTILY IMPRESSIVE.
It's a short moment but an important acknowledgement: This is a movie about an interesting and pivotal time in history for women — but not all women were allowed to participate in it. Many were blocked out simply for factors like race, no matter how talented.
"It did bother us that in order to be historically accurate [about the AAGPBL], we could not have a diverse cast," Lowell Ganz, one of the film's screenwriters, told BuzzFeed News in an email. "We came upon that scene as a way to make the point."
"A lot of people have commented on it over the years," Ganz wrote, "and I'm very glad we included it in the film."