The video depicts a day in the life of a new mom: waking up at night to soothe a crying baby, carrying heavy shopping bags as well as her infant, and jumping out of her bath to comfort her little one. She sits dazed in a messy room.
After these struggles, the video shows the mother becoming tearful when her baby grabs her finger and seems to smile. It ends with a blissful moment of snuggling and the copy: "One day, it will be a precious memory."
And the baby's dad? He appears in only 4 seconds of the 121-second video, and he's basically a non-character.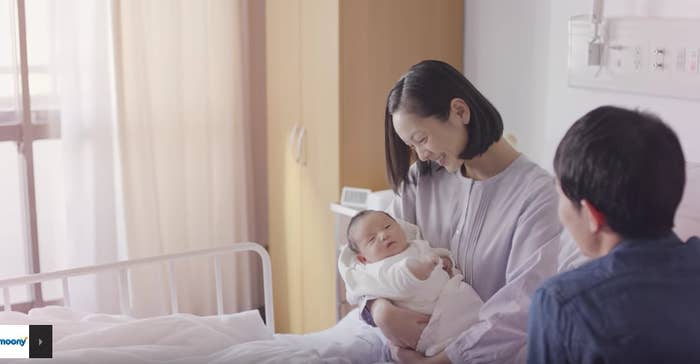 We see a man's back in the hospital room shortly after the baby is born (2.38 seconds) and later catch a glimpse of his face in the taxi looking on anxiously as the mother holds the baby (1.71 seconds). Only the woman is shown caring for the child and doing housework, while the man is offscreen.

Here's the dad's second appearance, barely in the frame on the right: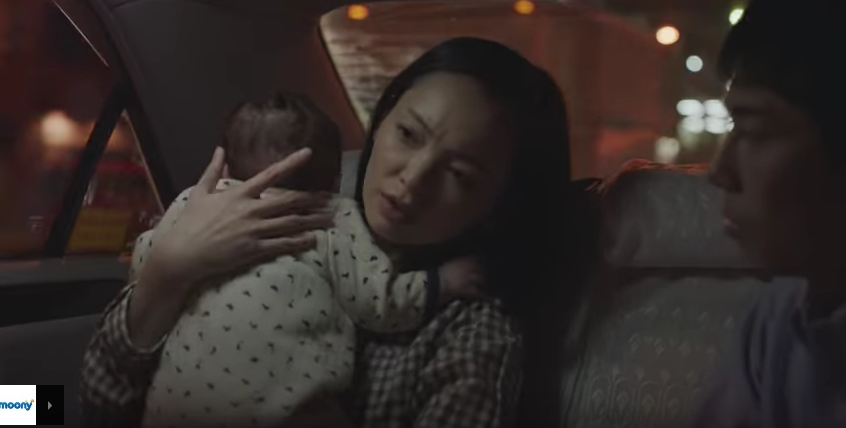 "Don't glorify solo child-raising," wrote Hiroki Komazaki, founder of a nonprofit organization that supports single and working parents.
"There are plenty of moms like this," someone else wrote.
Another said it was "positive and encouraging content for anyone who has to work hard alone."
"Distressing flashback."
"I felt nauseous."
Unicharm, the company that made the diaper ad, also posts "helpful information on child-raising" on its website. In the example "typical day of a new mother," after the "father leaves for work" at 8 a.m., the mom does the housework and changes and feeds the baby every two hours.
The parenting roles presented by Unicharm's ad and website represent reality for many families in Japan.
A 2011 government survey that tracked how much time Japanese parents with kids under 6 spend on housework and child care found that the average husband spent 1 hour and 7 minutes a day on these tasks, while the average wife spent 7 hours and 41 minutes.
The Japanese government aims to increase that measure to two and a half hours by 2020. It also wants to up the number of new dads taking advantage of Japan's generous paid family leave benefits, from 2.3% in 2015 to 13%.

Unicharm's press office told BuzzFeed News that it didn't intend to present an ideal of family roles in its ad, or let fathers off the hook for doing their share.
"It is never recommended for one person to handle all the child care," a company representative said.

"Because there are so many mothers suffering from the difference between ideal child rearing and reality, we wanted to cheer them on by portraying a realistic situation in the video. Our company's wish was to keep cheering the mothers who want their babies to grow up abundantly and heartily.
"We have received various opinions, but we do not plan to delete the video. We want many people to watch the video so more fathers would participate in child care and more mothers would gain support from the people around them."
This post was translated from Japanese.