See Something Say Something is back at it again with the Ramadan features!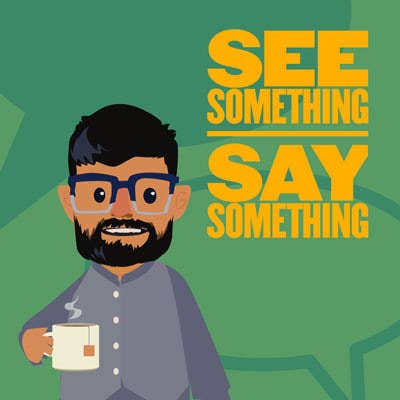 We talked about Ramadan, moving from a refugee camp to Minnesota, being dubbed homecoming queen, modeling, and more.
Here's an excerpt:
I can only be the best version of myself...You know, you can't represent everybody, but I do think I represent a lot of women in the sense of we're striving hard, we're working, we're breaking the glass ceiling. We're all trying to be independent, strong women and on the side, we love fashion — we're girls. We love makeup. We love all these things that other women do. And that's totally cool.
She also talked about making history as the first hijabi woman who made the cover of British Vogue.
And here's how to subscribe to See Something Say Something:
1. If you're on a mobile device, click this link to open in your native podcasting app.
2. Or, search for "See Something Say Something" in your podcast app of choice, like Overcast, Pocket Casts, Stitcher, Google Play, Spotify, Apple Podcasts, and more.
3. Be sure to subscribe, so you never miss a new episode!
If you like the show, please rate and review it on Apple Podcasts. Questions? Comments? Email us at: saysomething@buzzfeed.com.