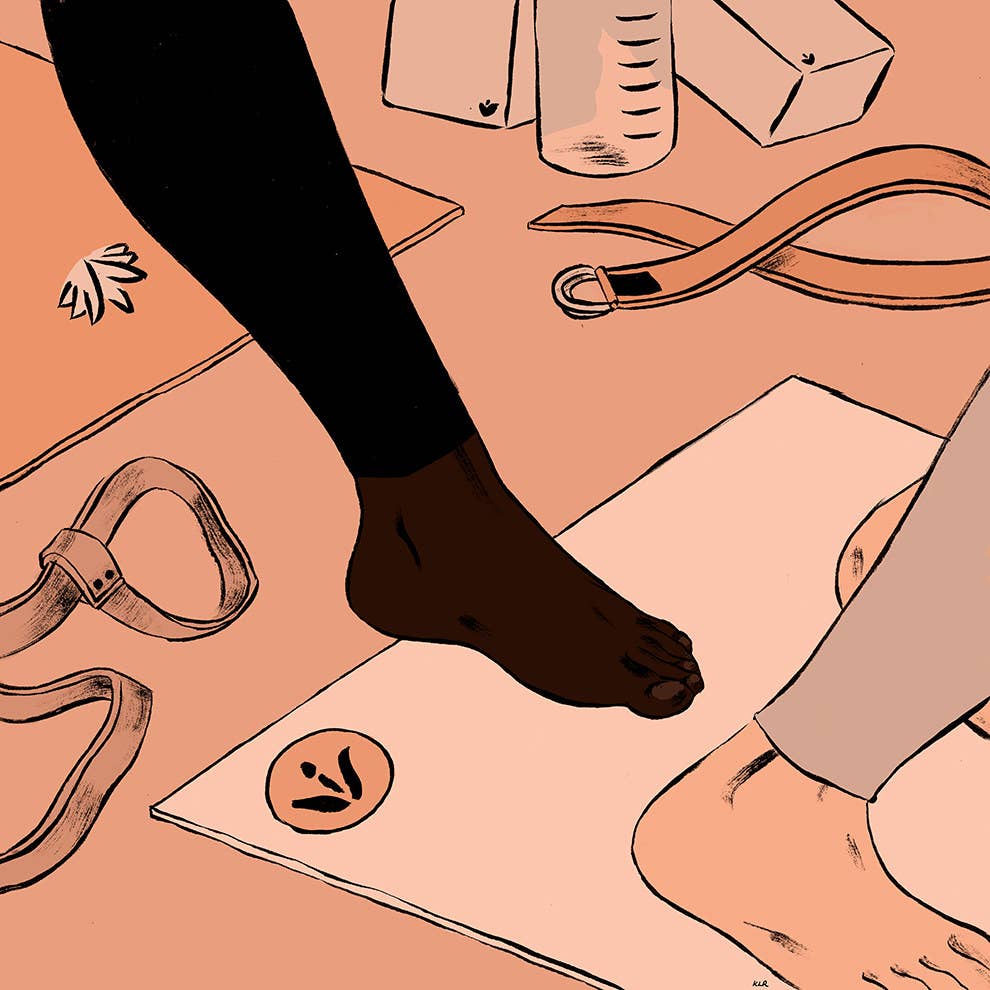 Yesterday I stepped on a white woman's yoga mat by accident and she looked at me like she had woken up to me standing at the foot of her bed, like I had just suggested we murder her husband and run away together. She looked at me like I had escaped from a zoo, like a hippo had found its way into this Brooklyn yoga studio and was casually waiting for the 8 a.m. class to begin. She looked scared, like she had just found out that the world really did end in 2012, and she had been going to yoga three times a week since then for no reason, because she is actually a ghost.
She looked at me like I did not exist in her world; but here I was, and she did not know what to do with me.
Sometimes white women look at the rest of us like they are hungry. These are the kinds of white women who might refer to us as chocolate, or coffee with or without milk, or Princess Jasmine. Common accompanying behaviors include commenting obsessively on our features; asking us to speak languages we have nothing to do with; really trying to take selfies with us; an uncomfortably overblown interest in our lives (especially when they find out we have heritage from Egypt or other suitably palatable brown countries their ancestors have stolen from); and using the brown hand emojis.
They say, "Are you okay?" when they know we are thriving.
Sometimes they look at us with grief and pity, like they're watching a UNICEF ad rather than a person dancing very discreetly to Moby at a bus stop. This look comes from a place of assumption — for example, "It must be hard to be a liberated Muslim woman (let me save you)." And then surprise — for example, "You are so articulate."
Sometimes they look through us with a hard, vacant stare after we have said something funny or clever, or when we look even better than we usually do. This look is also employed when it becomes no longer convenient or safe to be allied with us, and can be turned on very quickly and without warning. They say, "Are you okay?" when they know we are thriving. They say, "Are you okay?" instead of "I feel uncomfortable," because they are not used to feeling uncomfortable and they are happy for us to be the problem instead.
Sometimes, when we defend ourselves, white women look at us with the utmost fragility. They claim access to emotions such as fear and pain without missing a beat, like they were born to do it, before we can even dare to consider that we may be frightened or hurt, too. Their eyes rattle in their sockets, saying, "Why do you punish me for having such a big heart?"
On an East London playground in 1999, the kids are playing kiss-chase. It was a playground game and potential site of trauma for many of us, where boys chased girls and girls chased boys, and if you were caught you were kissed. I didn't play because I didn't want to chase the boys and also I wasn't invited to play because the boys certainly did not want to chase me, but I watched, and I wished I was a boy and I wished my boobs would come quickly. My first crush was either Mary-Kate or Ashley; I don't remember which. I sat in front of the television before school, 9 years old, buck-toothed and wiry headed, lost somewhere in the space between wanting to kiss her and wanting to be her. Looking at her shiny pug nose felt warm, like toast or wetting the bed, and I was happy alone, watching her through the glass.
White women, especially the monied ones, are so dangerous because they are allowed to be so soft. Stroke by stroke, they construct a type of womanhood that viciously negates the fact their bodies still function as agents of white supremacy. They are so gentle with themselves that they simply cannot comprehend that they could be oppressed and yet still oppressive.
White women are innocent until proven innocent until proven innocent.
We are taught to walk home with our keys between our fingers for protection from men in the night, but no one tells us how to defend ourselves from the white women who will try to ravage us from the inside out, with a smile, a comment, a betrayal, a vital inaction, a look. How they will choose comfort over effort, how they will read this and think I am talking about someone else, another pardon. And even if we are told, even if our mothers tuck us into bed with a warning, we won't truly hear it, because white women are innocent until proven innocent until proven innocent.
On the beach last summer, my friend J said, "Think about Islamophobia, transphobia, slavery, prison … Black and brown men experience as much gender discrimination as white women." And within the safety of a nonwhite circle of friends in the sunshine, with no white feelings to protect, no white shock to absorb, we leaned in and considered it: the person who asked J if they are a "rug dealer," the racism and fetishization of feminism, and all of the times I have walked through a room of white women to stand next to a man of color without even thinking about it.
It's funny, because sometimes a white woman is so delicate that I will elicit a full-blown horror reaction from her just by standing too close to her stuff, even though she is a white woman doing yoga and so in fact none of this was ever her stuff at all. It's not funny, because this look becomes a call to the police, becomes another brown person incarcerated in a cell or a psych ward, another black person murdered. Despite having received more love in my life than is reasonable, and despite being told I am beautiful, as an instruction, from the beginning, this look is the reason I have always felt dirty — or at least never quite clean.
The look at the yoga studio felt familiar, like an old relative I had not seen in a while and didn't want to see. As I registered the look, I regressed to the childhood version of myself who did not know why I was being looked at or what I had done wrong, but knew what humiliation felt like and knew what panic felt like and knew what it was like to be a wild animal, a beast or a pet. The depressed version of myself, unable to be looked at by anyone, watching British TV dramas with entirely white casts in the dark and feeling cozy, or some fake version of that. The adolescent version of myself getting hot for Mary-Kate, for Cameron, for Scarlett, waiting for them to notice me, lick my face, touch my hair. Brown people are the greatest time travelers, existing so many places at once and yet definitely also here.
This look is the reason I have always felt dirty — or at least never quite clean.
We eat eggs and I tell Y about how when I was 8 years old, I taught my white friend, B (actually called Becky), how to count to 10 in Urdu. How at school the next day she looked at her feet as she shuffled past me, and the white teacher pulled me aside and asked me why I was bullying Becky, because Becky's mum said I was bullying Becky, and that maybe it would be best if I didn't sit next to her anymore. She suggested this with the kind of half-arsed, sad-eyed, apologetic shrug that white women perform when it is less of a scene to administer psychological warfare against a brown child than it is to challenge your fellow white woman.
I remember well the acute shock and confusion of that day. I had been so damn sure Becky and I were having a good time. I felt so guilty, despite my mother's insistence that Becky's mother was a racist bitch and that I had done nothing wrong. I felt frightened of myself and my potential to hurt innocent white girls without even realizing it.
"It starts so young," Y says, when I stop talking. "How we learn to doubt ourselves, second-guess our intuition, mistrust what we know to be true, and all because white people are meant to teach and not to be taught." Eighteen years later, the affirmation still feels fresh, like it feels godly to tell this story to the person I love and not have to explain the experience of constant emotional contortion, not have to explain why it hurts.
About two years ago, I walked into some art event in downtown Manhattan, realized I was the only person of color there, and immediately walked out. I guess my time being a token was over. In this city where emergency vehicles wail like mothers, like the worst has already happened, I have learned not to live in the shadow of whiteness. I have learned that I am the sun, the object and the shadow. I have learned to bend over, to shake my arse, to put my fingers deep enough inside myself that at the age of 27 I finally put a tampon in right. Cleanliness is overrated, and I have always seen beauty in the city.
I dug my bare foot into the purple yoga mat and held the white woman's gaze.
My first panic attack was on a Northern Line tube carriage in London during the summer of 2011. I didn't know what anxiety was yet, but I had it pretty bad, and I had become obsessed with the fear that I would jump in front of a train or be blown up, should I successfully make it onto one. Despite having no idea how any type of bomb works, I would methodically check everyone's hands to see what they were doing whenever I got on a train or bus. This was my secret, because I was ashamed that I had become the horrified white woman, but the more I tried to suppress her, the more anxious I became.
I did not expect to shout at the white woman with the yoga mat, because I do not shout. I cry, I stay in my bedroom for weeks, I write, I make sly remarks to people I love, I cut myself, and I slap people too hard on the arm when they make me laugh, but I don't shout. Maybe I'll prove them right if I shout: "Look, it speaks."
A couple of years after that panic attack, I was standing in a huge crowd of white people at a music festival, wearing a backpack with some wires inside. I opened it to get something out and I registered a sharp feeling of gratitude that none of them seemed frightened of me. Guilt, even, that I had put them in a situation that could be perceived as a threat. I'm the bomb, I realized, standing there. I am the bomb. I had not become the horrified white woman; rather, her panic, disgust and fear, her grotesque theatre, had found a home inside me, and it had flourished to the point of saturation. I was seeing explosions everywhere because I was finally ready to explode.
"Listen, it was an innocent mistake," I shouted at the horrified yoga woman. You could also call it a generally audible remark, or one tangible thing in a giant sea of mental fuckery. Innocent. I am innocent. I have always been innocent. "So if you could fucking relax I would really appreciate it."
I walked away, waiting for remorse, shame or anxiety to visit, as they usually do after any sort of confrontation I get into in white people's rooms. They did not come, and in the space they usually inhabit I felt something like peace, or at least it was quiet.
Later I ask my friends, "Is this what it feels like to give no fucks? Has my time finally come?"
"Sweet dominion over white emotion," N replies with a slow smile. R the poet says, "I want their bigotry to die in public. I want to kill it enough to become human." Emerging from a cloud of cigarette smoke, P announces, "I think Princess Jasmine was the first brown femme I had a crush on. I mean, she was such a great princess of color until white women ruined it." We look at each other and laugh.
At work last week, my colleague pulled me aside hurriedly and said, "I'm really trying to work through something in therapy, but if I can't, I might have to drop a bomb on you later, okay?" I said, "Okay," but I also could have said, "Why do white people always want to drop bombs?" or "Sorry, this dumping ground is full" or "In 2017, can white women relax?"
I don't know if I liked sleeping with white women because I'm queer or because they all smell so good. Like if I pressed my body against theirs and breathed deeply enough, some of their clean might rub off on me. I just wanted to feel clean. I wanted to smell good. These days I mask my smell with the scent of roses and a Burberry perfume I can't afford and everyone says I smell good but I don't fuck white women anymore. ●