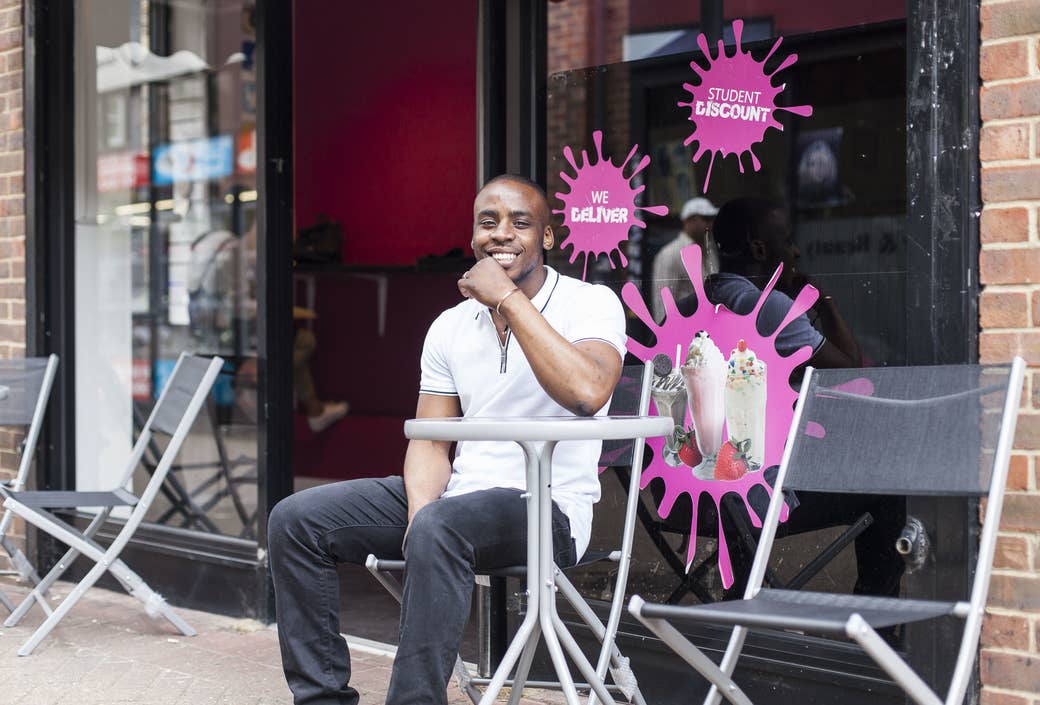 Prince Wasim, 23, is pouring fresh pineapple juice out of a blender and into a clear cup. "Here you go, my dear," he says, handing the cup to a customer over the counter. It's the middle of the afternoon and business is going well for the ex-offender, who opened up Milk Sheikh in Harlesden, northwest London, just two months ago.

Wasim, who's from Queen's Park, is standing behind a bar emblazoned with stickers of the names of the top shakes on offer: the Oreo Atlantis, made with crushed M&Ms on top; The Palm, with a honey-combed base, nuts, and chocolate and topped with cream; the Jumeirah, made with dates; and the Khalifah, a blend of strawberry, chocolate and honey from Dubai. There's certainly a theme, and as the name of Wasim's business suggests, his branding is inspired by Dubai, the luxury shopping destination in the Persian Gulf.
"Well, Milk Sheikh is really just a play on words, and my favourite holiday destination has always been Dubai. And when I go over there, I go to places such as The Palm – so I named majority of the milkshake specials after these places. So I got my brand and that's why I named it Milk Sheikh.

"Plus it will relate to some of the young Muslims as well."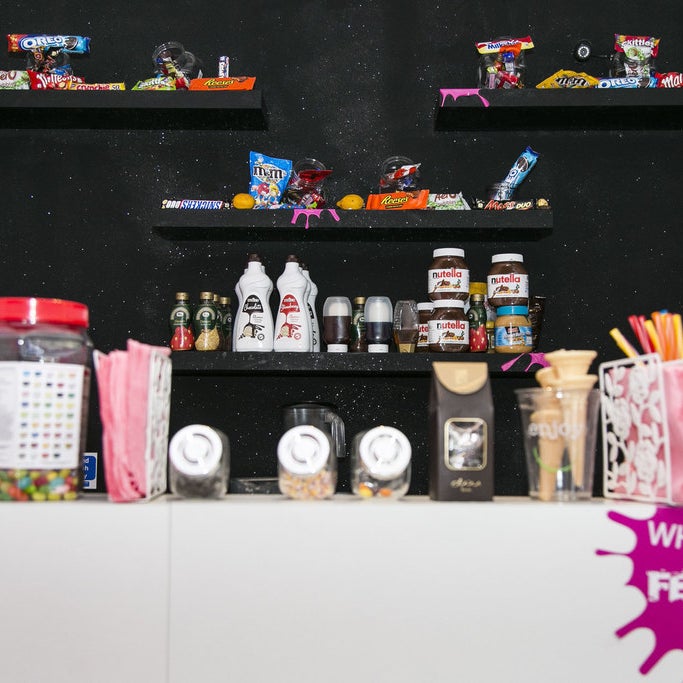 Since February, Wasim has been in his shop every day, overseeing all the decor, seeing all the furnishings put in place, getting his menu together. He gets to his shop early, and it's open from 11:30 to 9:30pm. In Ramadan he opens the shop again after night prayers so he can serve up date milkshakes to hungry customers. This has been the first Ramadan his business has been open, and during the 19-hour fasts he says it's sometimes been a struggle not to lick some of the milkshake he's serving.

BuzzFeed News spoke to Wasim before Eid-ul Fitr, the celebration after the month of fasting, which will be the first day he'll have off in all these months. This year, he said, he planned on celebrating with the community at "Eid in the park", which has a bouncy castle for kids and facepainting, and Wasim will be giving out milkshake and waffle samples to festivalgoers.
The milkshake bar certainly adds some glamour to Harlesden Plaza, tucked in alongside a pub, a hairdresser's, and a catalogue store around a car park. The area comes to life as schoolchildren in uniforms walk through the town centre, stopping by to get a drink.
But on the way down, past Willesden Junction station, there is also a knife bin on the high street for people to depose of their weapons safely. The prospect of young people in this area turning to a life of crime is partly why Wasim wanted to open up a place in the area he grew up in: "There's nothing in Harlesden any more. Or nothing at all for the youth today.
"If there's nothing for the youth to do, of course they're going to get caught up in the wrong stuff. Some youths probably can't even walk through Harlesdon," Wasim says, explaining how it is territorial between some gangs. "They come in here and have a heart to heart with me. They say, 'Wasim how did you do it, how can we get out of it, because the street life is dead.' Yeah, it's deep."
But the young entrepreneur is proud of the place he grew up in, saying: "This area is a very diverse area, Harlesden, it's a lovely, lovely area. We've got blacks, whites, Muslims – everyone comes together. It's nice. But there's not much here – there's fish shops, hair shops, and that's about it.
"So when everybody heard there was a milkshake bar actually opening in northwest [London], in Harlesden, everyone was happy about it. 'Oh yeah, that's our local milkshake place, yeah we'll go there. Thank god we [have] finally got something in our area, and a local person opened it.' So it's more sentimental to them." He adds: "Especially as everyone knows me in the area. It was like, 'Wasim's opened up a milkshake place. That's our local now.'"
And locals do know him. In the time BuzzFeed News spends with him, we see how regular customers know Wasim by name; during s photo shoot outside his shop, an elderly gentleman stops by to say he saw him on TV during the local news bulletin. "Good luck with the business," the man says.
Life now couldn't be any more different to two years ago. Wasim says spending time in prison was a turning point for him, a time when he reassessed life. Convicted at the age of 21 of dangerous driving, he was in prison for 10 months. He had been kicked out of school and sent to a pupil referral unit when he was younger, and talks about how he used to buy, sell, and hire sports cars out, "and that's what sort of led me into prison."

"So we're going back to a year and a bit ago. Did my 22nd birthday in there, which wasn't too good, but I was serving a sentence back then and while in there I was trying to make the most of every minute of being inside there – trying to make a change in my life. So I thought to myself, what could I do to actually change? What could I possibly do?"
He opens up about his spirituality and faith as a Muslim: He was "living every day as it comes, YOLO – you only live once – sort of thing. But now after going [to] prison it made me put everything into perspective. Everything counts. Everything that you do counts."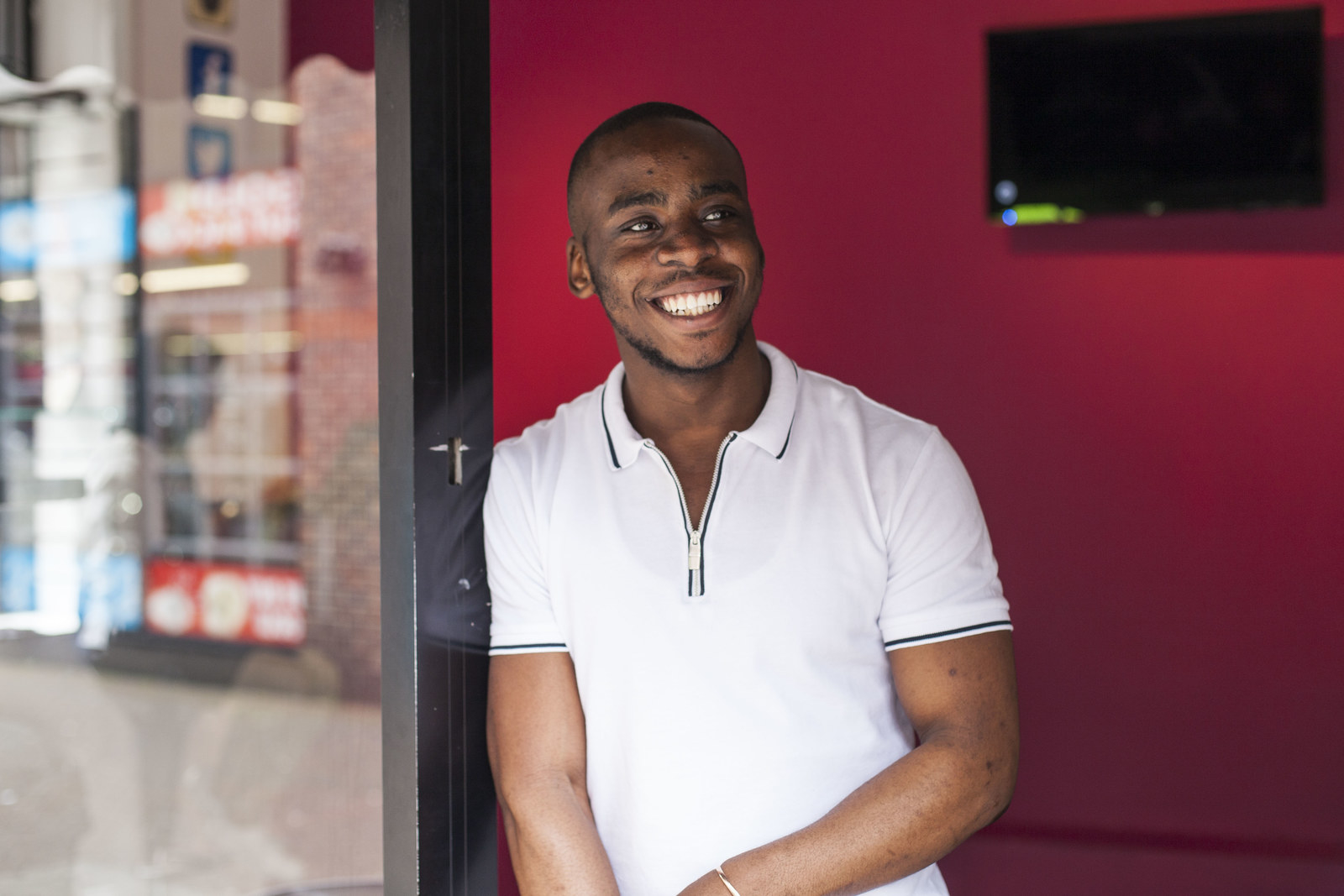 "In the lowest of places you tend to hold your faith close – that's the only thing that you can trust and that's what got me closer, because I'm Muslim, that's what got me closer to Allah and becoming very very faithful, because in the darkest of times he's the one that put light, do you know what I mean?
"When people say, 'Well done Wasim, you've done a great thing,' I think to myself, I haven't done anything, it's all him. It is all him. It is all him."
While in prison, Wasim says, he read the books of British businessmen Sir Richard Branson, the founder of Virgin group, and Lord Sugar, who founded Amstrad. "So I started thinking of many, many ideas: app ideas, I thought of milkshake places, I thought of doing a restaurant, and this and that. But I thought if I do something I have to actually do something that's actually gonna inspire people, where it's easy to relate with young people.

"And the idea of opening up a milkshake bar came to my head, so I started writing it down on a scrap paper, drawing out what my milkshake place would be – and this was while inside prison – just drawing it out, sketching it out, how I wanted it to look, what name I wanted, and stuff like that. So when I came out, it was just sort of a straight vision from there. Wasn't looking back."
But it was a struggle getting this business in the first place. Wasim says no one really wanted to help him. He got together all his savings, spotted an empty unit, and kept asking who had owned it. Wasim waited outside until one evening the owner walked by, "and he then gave me the keys to the place."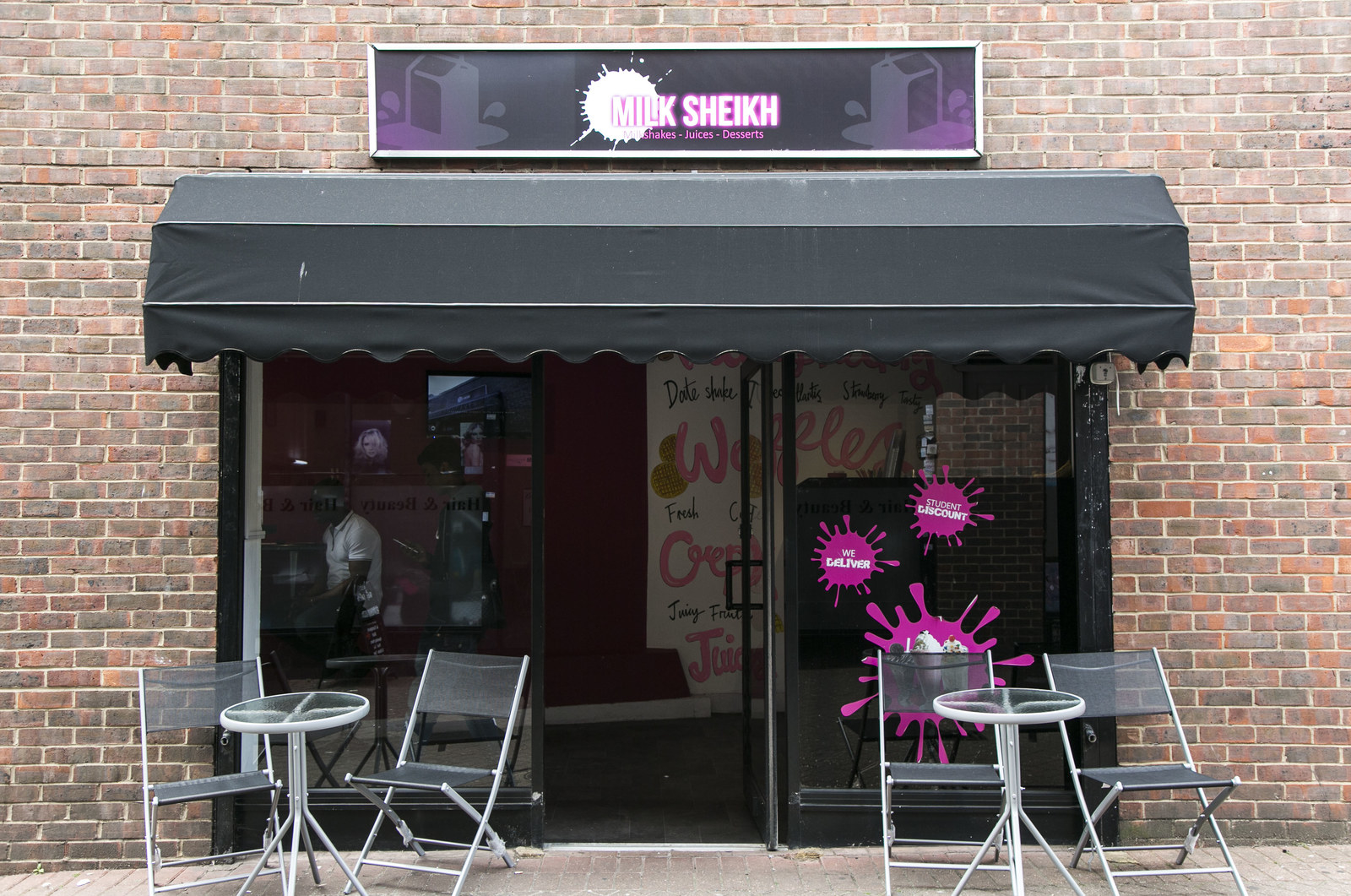 On the first day of business, "A lot of youth were coming in and asking me questions, and on my opening day over like, 250 people were here. There was a mad queue outside. I got a lot of YouTube vlogger friends, so they came down, all their fans came down, and I put it on my Facebook and on my Instagram."

What about some of the challenges he has encountered running his first business? "Some days it's raining. And I have to put it in my mind just because it's raining doesn't mean you're going to close early. The show still goes on. Sometimes it's packed and the schoolkids are making so much noise, and that's why I haven't put out a lot of chairs. When the schoolkids come they just want to chill."
Wasim says he gets asked a lot of questions by inquisitive customers. "They look at the name and they laugh first. Then they ask me, 'Are you Muslim?' Then I'll be like, yeah, and they're like: 'Oh, you don't look it though.'"
What does looking like a Muslim even mean? "I don't know! I don't know what a Muslim looks like. They ask, 'When did you become Muslim? And I'm like, I was born Muslim, [for] my whole life I've been Muslim. Then they start asking me other questions – we start talking about Ramadan and how is it going with fasting and [things] like that."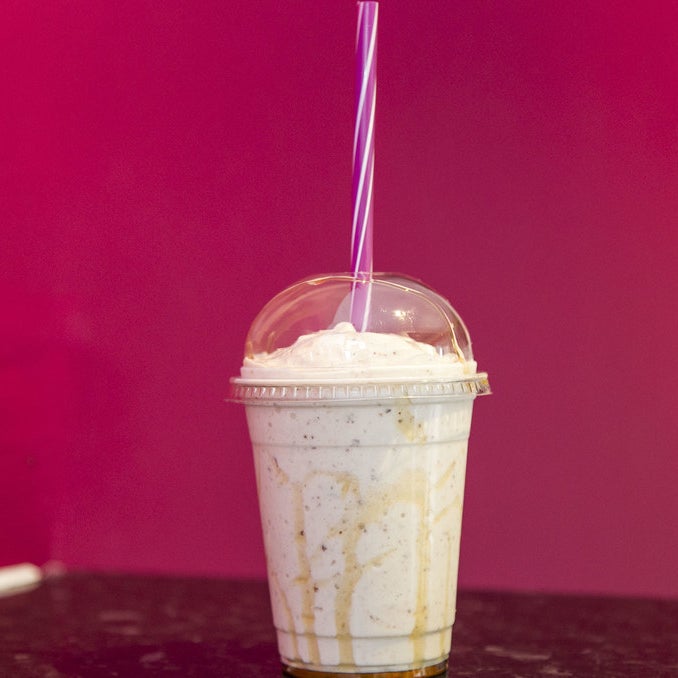 He's an inspiration for many young people in his area, starting a company from scratch with plans on opening the first Milk Sheikh in Dubai. "If you want to do something, you should do it by your own accord and do it by yourself. Ain't nobody gonna do what you wanna do, as good as you wanna do – that's one thing I've definitely learnt. If you wanna do something, you gotta go out and get it."

So much has changed for Wasim in the last year and half. "Wow, it's changed drastically, major, major change. From even the way I used to think to the way I think now, totally different.
"I'm being me. That's the most important thing. A lot of people don't know being you is what actually makes you happy. When you're being someone else or trying to do something for someone else, there's no happiness for that. Putting on a fake smile everyday. But now, in here, I'm happy, I'm building something, I'm building myself as a person. I like the person I'm becoming."