In a college dorm full of Pakistanis lazily singing along to Qawwali, I experience two firsts: one, I see a group of my people getting high for the first time, and two, I learn what a kati roll is, when my friend orders a round of the wraps from Eastern Flame, a popular, new delivery spot off campus. The room erupts with cheers when the doorbell rings, and my peers delight in the true, no bullshit-for-white-people spice levels of the chicken achari roll, and the addictive mouthfeel of a tender mutton chapli roll. Even for a teetotaler, I saw how perfect it was — the desi version of a burrito for when you have the munchies.
Soon after that experience, I became a regular at Eastern Flame, befriending the chef Furrokh Khan, a chilled-out uncle with a long, thin beard and a playful wit. I'd spend late nights studying there, pestering Furrokh Uncle about how he ended up in Ann Arbor, Michigan, with a desi restaurant that more closely resembled a pizza parlor than the turbaned and white-clothed Indian restaurants I was used to. Born in Pakistan and raised in Saudi Arabia, he graduated from the University of Michigan in the '90s with a degree in electrical engineering like his parents wanted him to. But, rather than search for engineering jobs, he opened his first restaurant in Greektown, Detroit, and never looked back. He served college students looking for cheap, delicious halal food and the menu reflected the eclecticness of his life, with everything from falafel and burgers to biryani and chaat.
Soon after I graduated, Eastern Flame shut down. I didn't speak with Furrokh Uncle for many years. But I loved to tell stories of the zany uncle who served spicy sandwiches and grilled meats late into the night.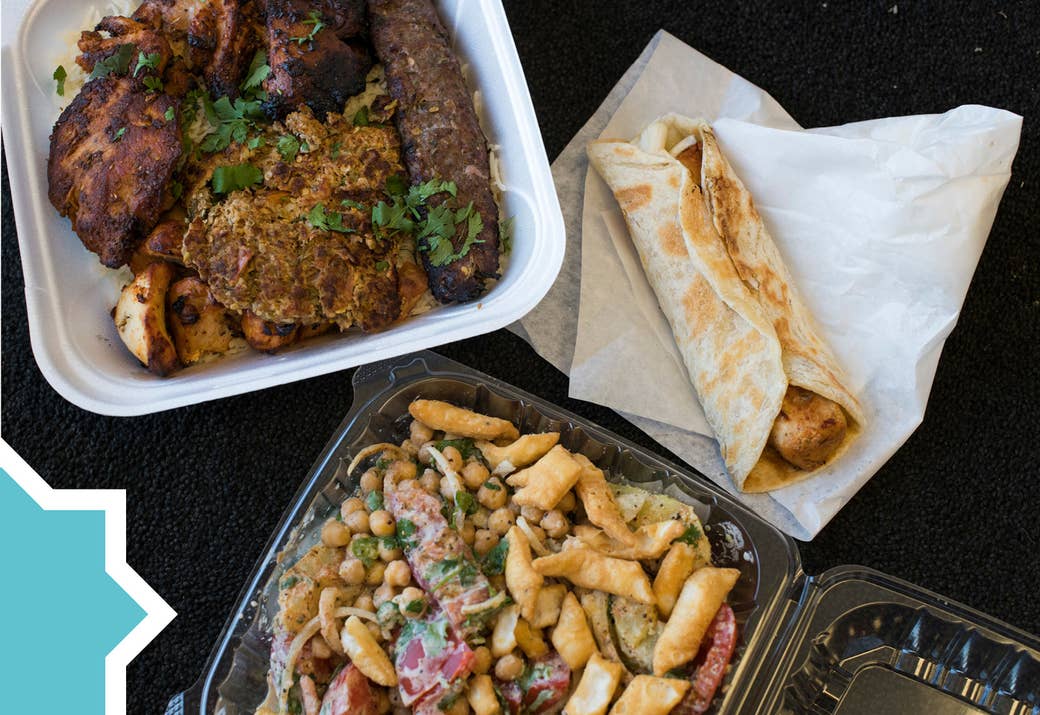 Like many of my peers, I've had to move for each new internship or job or degree. And with each new phase of my life, I've found community in Pakistani halal hole-in-the-wall restaurants, where the service and ambiance are mere functions to the food. As a young Pakistani American, I often find myself battling misconceptions about my Muslim and desi identities; half the time I'm explaining why I'm not quite Indian, and the other half I'm explaining why I'm definitely not Middle Eastern or Arab. So restaurants like Eastern Flame have served for me, over the past decade or so, as havens where I don't have to explain myself, where being Pakistani is the default. This is rare in the American landscape, as Indians so often dominate the conversation around desi food and there are few places to celebrate your Pakistaniness outside of the home or religious functions.
Another reason I ate so often at Eastern Flame — it served good-quality zabiha meat. So when I was back in Ann Arbor in January, looking for some halal food to feed my more observant father and in-laws, I had nowhere to go. Then a friend informed me that Eastern Flame had reopened under a new name — Once Upon a Grill — and I immediately booked my family over. Eastern Flame was never a very attractive place, and OUAG is even smaller, barely a few stools and two countertops. But there, serving as cashier and chef, stood the reason I had come in the first place: Furrokh Uncle. He was the same as I remembered him, irreverent and full of jokes. I asked him why he shut down. He said he had had six (six!) heart attacks. Unable to maintain the same level of business with his failing health, he sold it off and had spent the last few years living lazily as a nawab. Later, I asked him what made him open a new place when his health was at risk.
"Call me crazy, whatever," he told me when I called him up. "Food is a drug. I love to eat. I love to eat new things. ... [My health] is as better as it can be after six heart attacks, you know? It is good. It cannot change the fact that I have a heart disease, you know? And I have to live like any other person... I'm not gonna die before the time, no matter what happens. So I can live either happily or I can live like [I'm]walking on eggshells, you know? So, I decided to live very happily. And I'm very happy."
He was going to serve his food, his weird, delicious food, even if it killed him.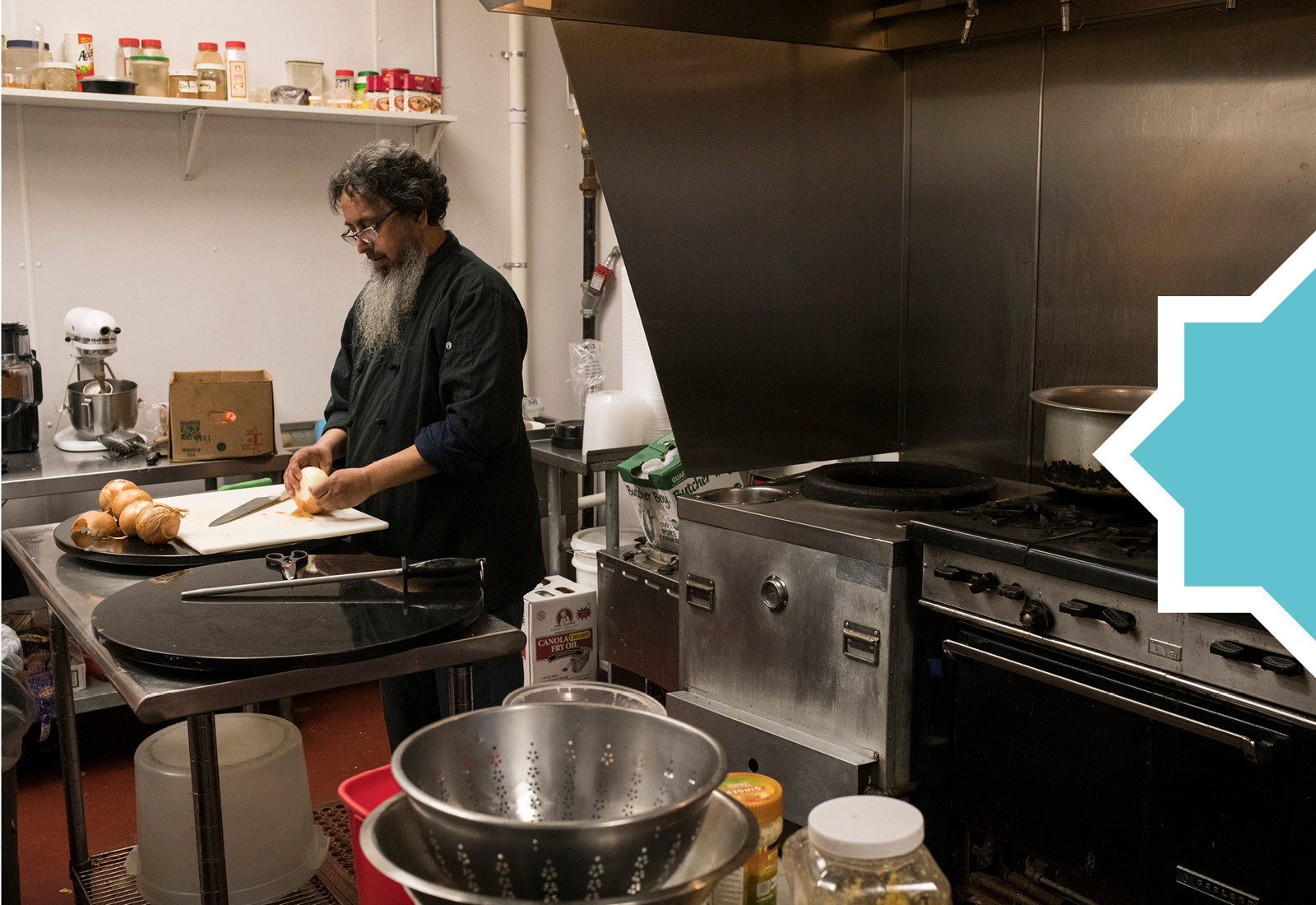 In the months after I visited Furrokh Uncle, I found myself almost obsessively thinking back to his story of mortality and passion. I often recommended non-Pakistani friends eat at restaurants like Eastern Flame, but after that conversation, I realized it wasn't truly the food which attracted me. No, the appeal for me was the connection to people and community serving food they love. I would often find myself a regular — which often meant free chai and some conversations in my stop-and-go Urdu, as well as intimate knowledge of what's good on the menu and what's to be avoided. Subconsciously, I've built a database of places that I understood to be second homes. Soon after calling Furrokh Uncle, I decided to reach out to a few of my favorite Pakistani hole-in-the-walls and ask them about their story, their community, and what it means to serve Pakistani food in the United States.

My most frequented spots are in Manhattan, where I work — there's Chandni and Haandi, the cabbie joints in New York that serve as a quick pick-me-up whenever I need chai or sabzi. In Massachusetts, there's Man-O-Salwa, a dingy Somerville shop that sells decadently buttered naan and Lahori-quality, blazing red chicken tikka furtively in the back of a market. I'd never know whether Man-O-Salwa would be open on any given day, but the food was worth it (the owners, while very kind, were too busy to contribute to this piece). And then there's Mood Cafe and Desi Chaat House, snack-y shops that I visit anytime I'm back in West Philly. The shops are run by a pack of brothers, thick as thieves, and I mostly go to be regaled by wild stories from Hasan, the eldest, about his time in the restaurant industry.
Half the time I'm explaining why I'm not quite Indian, and the other half I'm explaining why I'm definitely not Middle Eastern or Arab.
The food served at these shops represents what is so often missing from most desi restaurants in America — regional particularity and the little touches of seasoning or preparation that comes from a chef's immigration story. In her 1973 cookbook An Invitation to Indian Cooking, Madhur Jaffrey, the queen of American Indian cuisine, writes about how Indian restaurants at the time "serve[d] a generalized Indian food from no specific area whatsoever." Though things have certainly moved forward slightly in this regard for Indian food, with the rise of "hipster Indian" cuisine, Pakistani food is, with some exceptions, generally relegated to humble locations in places with a high concentration of folks from the country, in Texas, New York, Massachusetts, Chicago, the Bay Area, New Jersey, and elsewhere. And even then, as Fatima Ali, a professional chef and Top Chef Season 15 contestant who specializes in "modern, eclectic Pakistani food," told me, there's some hesitancy from restaurant owners to identify as solely as Pakistani. "I think a lot of Pakistani restaurants will disguise themselves as Indian restaurants," she said. "Because they know that's more popular to the general public…you go to a lot of restaurants in New York and [Indian, Pakistani, or Bangladeshi] is what it says on the awning. It's three different cuisines!" If Pakistani food is sought out in the US, it is mostly by the community itself.
I always take my dad to these places when he visits, but I warn him — these aren't super-high-quality sit-down places. And he says, "haanh, it's like a dhaba," using the Urdu/Punjabi word for a highway food stall, where you can expect no-frills, sometimes fantastic food and interesting conversation, but not much else. Ashraf Mohammad of Chandni, a former cab driver, noted that his restaurant, which only closes between 3 and 8 a.m. and serves a mean $1 chai and $12.99 lunch special, is a place with prices and nutritional values that support the budget and lifestyle of "working-class folks" like cab drivers, similar in function to a dhaba. Furrokh Uncle too, said he started Eastern Flame because, as a student, he saw how Ann Arbor of the '90s lacked good, cheap food for people like him.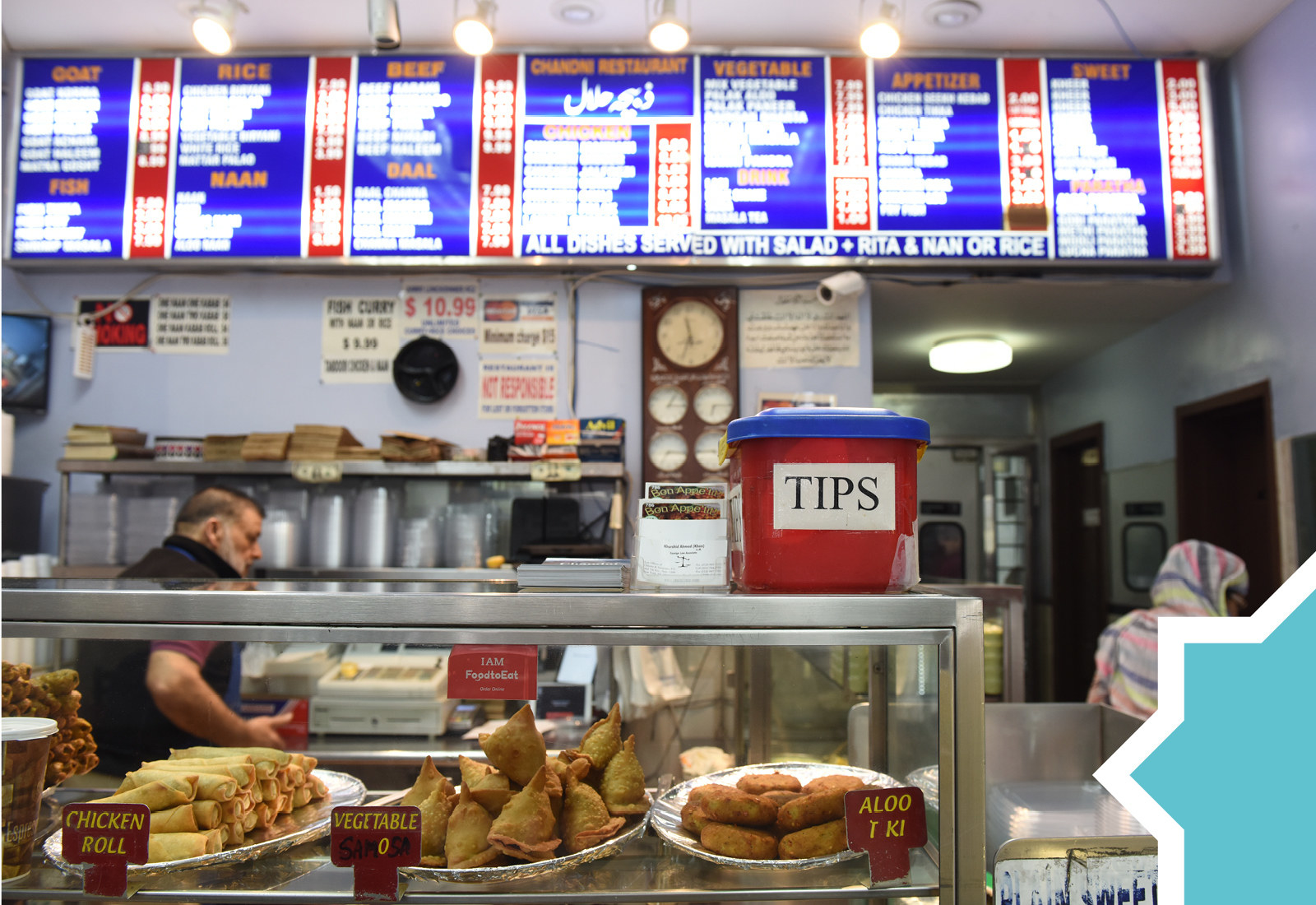 Hearing this, I was reminded of what it's like to visit Pakistani family and friends — making sure someone is well fed, as with many immigrants, is the ultimate demonstration of love in our households. In contrast to the stereotype of service industry desi immigrants as stingy and obsessed with money (think Apu), many of the restaurant owners I interviewed demonstrated generosity as a primary mode of business and a degree of working-class solidarity. I've witnessed, time and time again, proprietors waving off money and bringing out free food for everyone from returning customers to homeless folk. "Whoever comes in here that does not have money, it's no problem," said Ashraf Uncle. "Just give it to them. That food is written for them [from Allah]." Money is certainly part of the business — but ultimately, nourishing a community and building and sharing culture is core as well.

While the quotidian lunch platter of meat, veggie, and carbs is often the core business, every restaurant also had specials only served during certain days of the week. Pakistani food takes an exceptionally long time to prepare and the specials, like the stewed meat shank dish nihari (from the Arabic word for "day"), can take hours to cook. So while kababs, butter chicken, and others are relatively easy to prepare in bulk, if you want the good stuff, you need to know when to come as well. There is something punk rock about that — dishes like nihari, pullao, chapli kabab, or even daal are well loved by Pakistani folks, but rarely attract nondesi or even non-Pakistani clientele. Serving them as specials is a tribute to how much Pakistanis love their cuisine and value the most important foods.
If Pakistani food is sought out in the US, it is mostly by the community itself.

Regional twists are common on menus as well — I learned from Haandi's night shift manager Muhammad Nawaz that they serve chikkar chole, a famous type of Lahori Punjabi chickpea dish served in a rich sauce, which the chef and owner, a Qur'an scholar, had brought over from Pakistan (most chefs I profiled learned their trade in the U.S.). I became a regular at Chandni because of their Friday pullao, which Akbar Uncle, the chef, calls the "the king" of Pakistani food. After Jum'ah prayer, you have to stand in a long line of South Asian, African, Arab, and other Muslim folks to get a taste of the fresh, spicy rice cooked in goat broth with chunks of meat and dried plums. Pullao is my family's most beloved dish, handed down from pre-Partition India, but Chandni's Punjabi version was spicy and a little sour, unlike the aromatic brothiness of the Panipati pullao that I was used to. Chef Fati suggested that the best Pakistani food isn't served in restaurants; it's served in homes and sometimes passed through generations of family recipes. But even eating out, there's something deeply satisfying in consuming something completely new or even a familiar dish that's been transformed by the regional particularities of the chef into a revelatory experience.
In contrast, most American desi restaurants serve what I'd call "Restaurant Indian" — a cookie-cutter set of dishes that seem almost copy-pasted across cities. The biggest red flag for these places is a dish you'll almost never find home-cooked in a desi household: chicken tikka masala, the General Tso's of Restaurant Indian. The dish is suspected to have been invented in the UK by Bengali chefs looking to reuse old chicken tikka pieces. Hena, a serverat Desi Chaat House who recently emigrated from Pakistan, told me she had only ever encountered chicken tikka as grilled meat back home and when she ordered it here for the first time, was surprised by the heavy cream. I accept that this dish can be delicious, but I am frustrated by it: The most palatable interpretation of our food is what comes to dominate the conversation of a massive culinary tradition. I think of the Starbucks chai tea latte as well, which literally translates to "tea tea milk" and rarely resembles the simple black tea and milk that I grew up calling chai. And there's "curry," a word I never encountered growing up, but gets attached to nearly every gravy on most desi menus.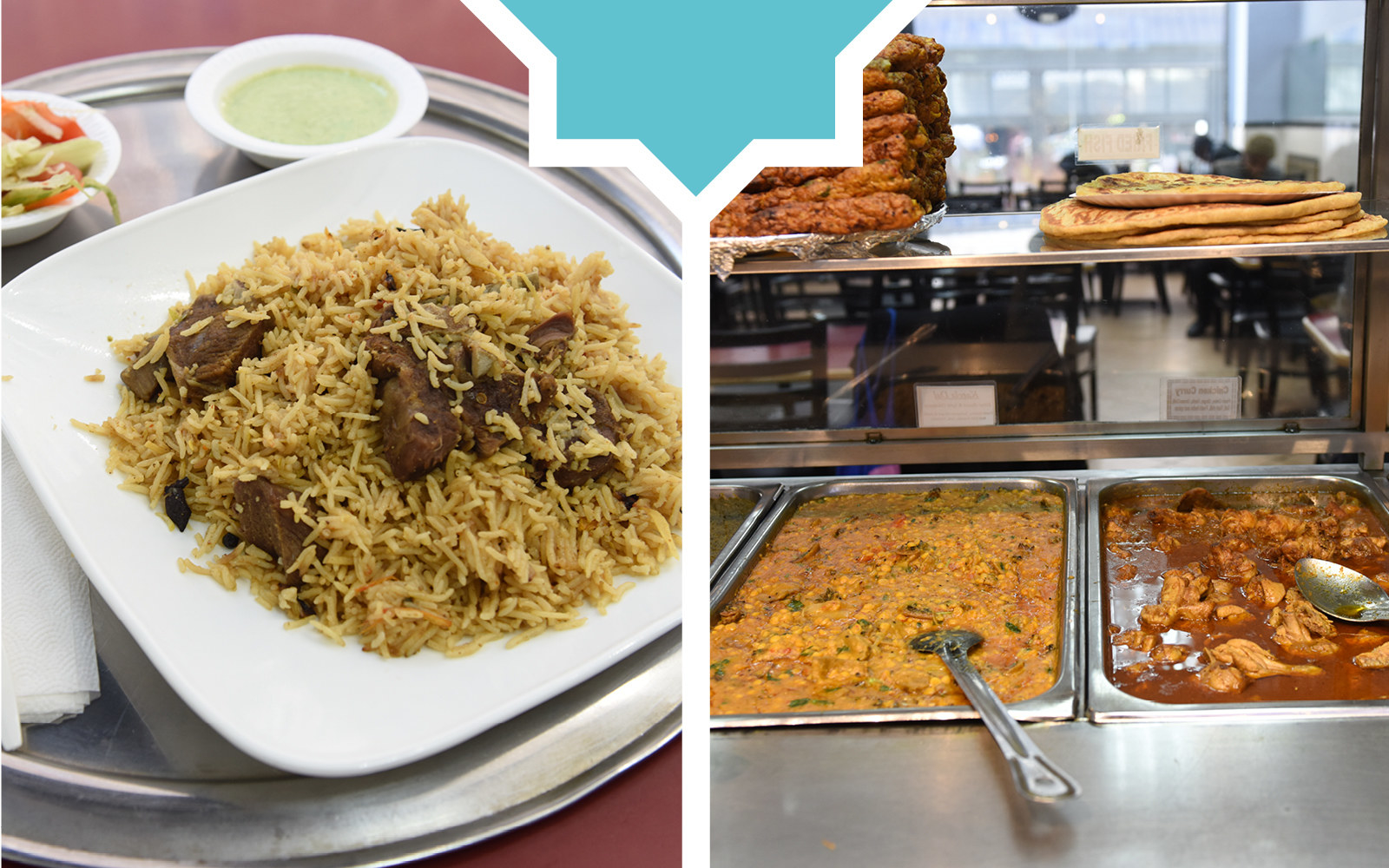 "Restaurant Indian" food has often felt foreign to me, but it was also confusing, because, besides chicken tikka masala, common dishes like bhindi masala sounded much like what I ate at home, but rarely resembled it in taste or texture. I soon learned that there was a reason for that. Hasan Bukhari, co-owner of multiple restaurants in Philadelphia, told me that the food served in most Indian restaurants is "pan-cooked" or "commercialized Indian." These places, which can be run by Indian, Pakistani, Bangladesh, or other desi identity groups, have massive menus of 100 or so dishes made from recombining the same handful of premade sauces with the main ingredient of the dish. Furrokh Uncle and Muhammad Uncle of Haandi also noted that most desi restaurants in the U.S. freeze three main base sauces, boil the meats and vegetables, and, they claim, leave food out for days at a time. While this can be perceived as a criticism, I recognize also there is something genius in modifying the process of such a labor-intensive cuisine in order to provide a large-format, relatively recognizable menu of desi food beloved by people nationwide. But my palate leaves me hungering for something more specific.
In contrast, one of the greatest successes of my favorite Pakistani spots is that they specialize. This is, coincidentally, true of a lot of places abroad as well — you find the best nihari in Lahore by going to a nihari shop, not a "Pakistani" restaurant. BK Jani in Bushwick, for example, has a minimalist menu of four sandwiches and four grilled meats (with three available as wraps) plus drinks. The meat is sourced from Pat Lafreida, a high-end meat supplier which processes a significant amount of its meat in a halal manner. The kebabs are cooked to order and cost between $12 and $18 per entree. Sibte Hasan, the owner and chef, says he's trying to make the term "halal" synonymous with quality, despite the New Yorker perception of halal as overcooked, leathery meat served in Times Square.

The biggest red flag for these places is a dish you'll almost never find home-cooked in a desi household: chicken tikka masala.

Hassan is very particular about the way he serves his food. Prior to the introduction of his new Ye Cheez burger, my friends have complained that he only serves a "hamburger" and will pointedly refuse to serve a cheeseburger or even a burger with ketchup. His version comes with raita and a hunk of charred tomato. Even though burgers in Pakistan have cheese, I respect that he's uncompromising in developing a hamburger with a desi flavor profile. It also goes to show the desire of American consumers, even in-group, that we want our experience of immigrant food to translate evenly across restaurants and especially don't expect innovation or perspective from our takeout, particularly when it comes from a community of color.
The innovation can have an interesting feedback loop though. Hasan Uncle, who has worked in multiple four-star hotels in his native Lahore, had never seen mango lassi until he came to the U.S. — back home in his native Punjab, he claims, only plain sweet and plain salty lassis are widely available. So, seeing that Americans enjoyed fruit in their lassi, he started making lassis with other, nonmango fruits. Stop by his Mood Cafe in West Philly and you'll see a chalkboard with over 100 flavors, like pineapple, lychee, rose, "Salty Queen," and apple, as well as innovative chaats like Mexican and chicken salad chaat. Furrokh Uncle too, says he puts his own twist on it — "Chicken tikka masala biryani — such a thing does not exist on any menu (except my own)." If innovation can go toward simplifying desi food, Bukhari's and Furrokh Uncle's menus seem to say, why can't it also be used toward complicating our notion of it?
I wondered if the general simplification of Indian menus was a result of trying to attract nondesi customers, and Hasan and others like Ashraf Uncle more or less agreed. So did white customers take to the regional dishes of these places? "The white people come to like it," said Ashraf Uncle while we were talking about paya, a stew of trotters and spices. "We make it as is, and they come to appreciate our [Punjabi] flavoring." Furrokh Uncle told me that Eastern Flame's business was not good until he introduced the kati roll — and now, former UMich students visit him whenever they come back to town. "That, my friend, is loyalty," he said.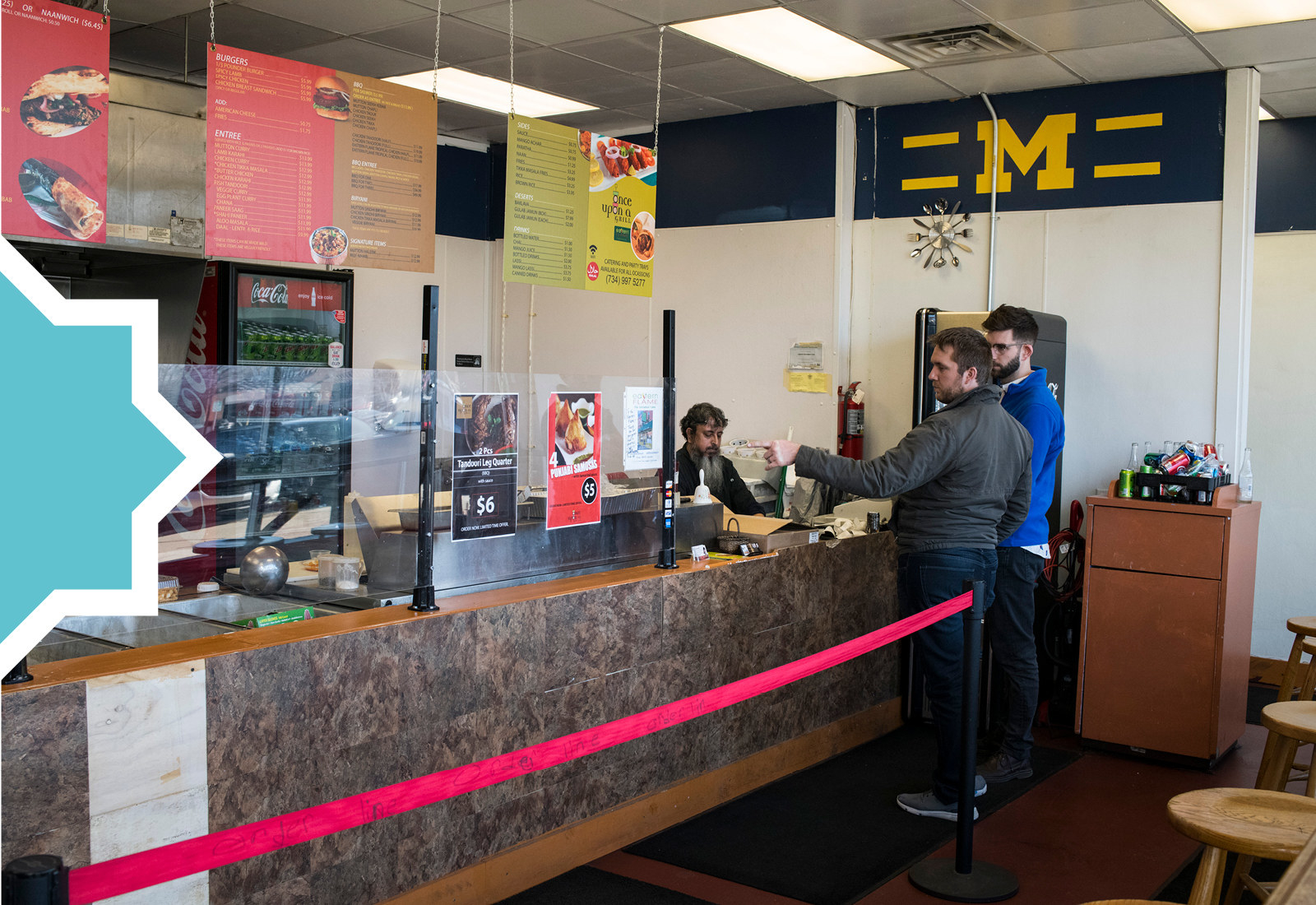 At first, I considered that my decadelong obsession with American dhabas was a search for the "authentic" Pakistani food I ate at home, but the truth is, I know I'll never again taste the piquant, rich, and aromatic Panipati food my late mother cooked, not even in the kitchen of her younger sister, who prefers a more masala-packed punch. And indeed, their food was not their ancestors' either. Both of them learned after moving to the U.S., phoning home for recipes, experimenting with Jaffrey's more Delhi-inflected recipes (shoutouts to the queen) and adapting it all to local ingredients and convenience. It is no surprise that the food at these American dhabas reflects the personal stories of each chef and owner. Chef Fati summed it up — "immigrant culture is such that, you come from one place and move to another, and you adapt living in a new place. I think your cuisine has to be able to be flexible too, because at the end of the day, there's certain things that are available to you that aren't available in Pakistan. … It's exciting and interesting to see."
I'm obsessed with these places because the food is delicious, but also because of the confidence with which the owners run their business. It's easy when you're a person of color or immigrant to simplify yourself when asked about your background. Sure, I can say I'm Indian or Middle Eastern or whichever simplification of my personal history if I want to hide. And it's the same with Indian restaurants, many of which are run by Bangladeshis or Pakistanis or Nepalis, yet still label themselves Indian. Places like Eastern Flame feel like a metaphor for how I want to live my life — deep in my particularities and eccentricities, mostly uncaring to how the white gaze perceives me.
The fundamental mistake in talking about most immigrant food is the suggestion that there exists a "pure" or "authentic" version of any dish, some pastoral and Platonic ideal of chicken tikka or sundubu-jjigae. Food in diaspora will not exactly replicate home or culture, no matter how much yearning is poured into it. The real stuff is whatever story or history you bring to the table with your hands, with your techniques, with what you choose to share, serve, and pass on to friends, family, and customers. Pakistani food is marked by the particularity of the chef and the family, and while the mainstream may not have an appetite for it yet, I do. ●