I'm Ahmed Ali Akbar, host of BuzzFeed podcast See Something Say Something, where we drink chai, tell stories, and talk about being Muslim in America.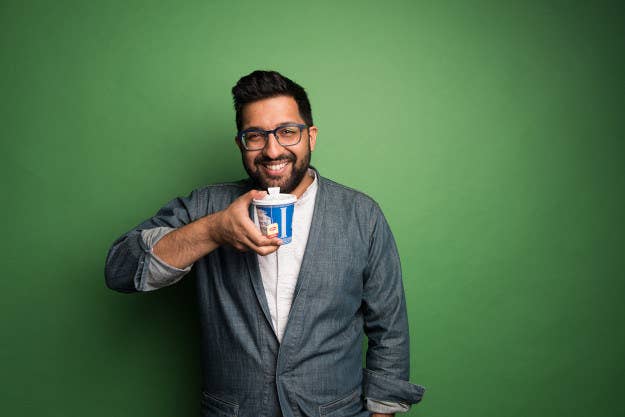 We often serve chai to our guests, and I have high standards, so I asked members of the BuzzFeed Community for their perfect chai recipe, which we plan to serve to guests on Season 2 of the show.
I chose four recipes to test with the help of some producers and guests from the show.
I'm not much of a chef, but I do make a pretty solid basic cup. We gathered our ingredients and got to making our four drinks.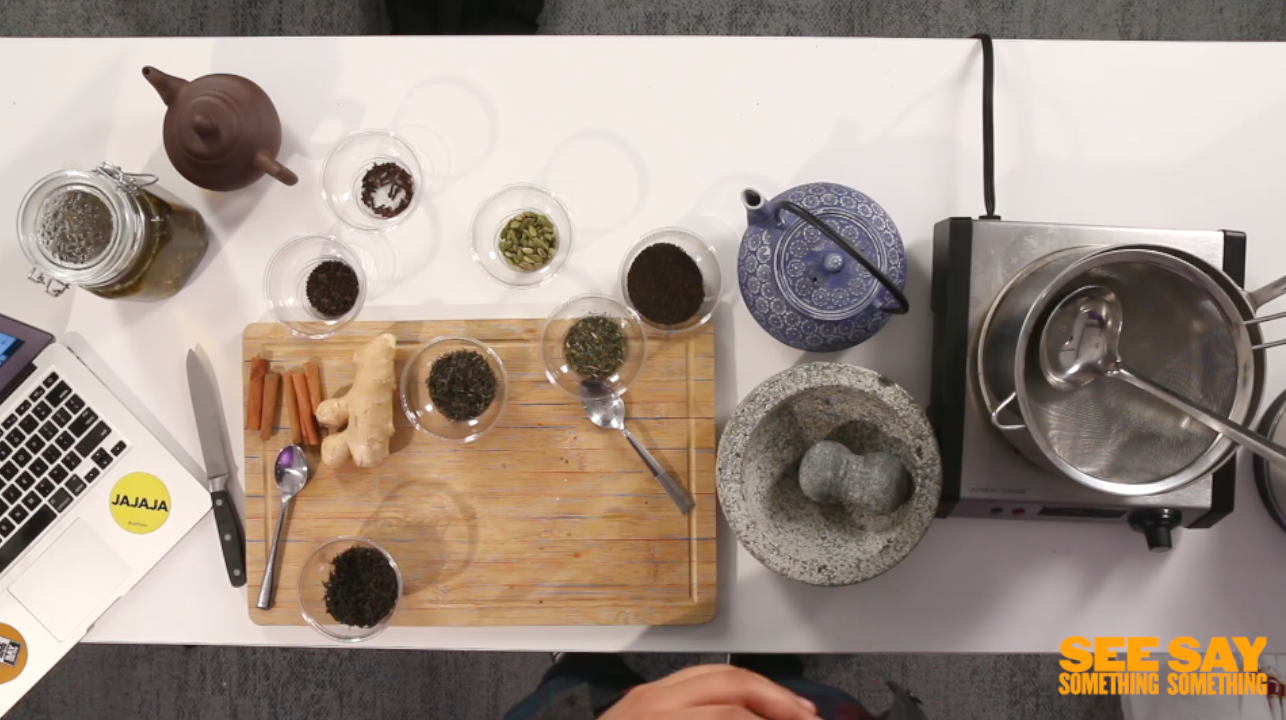 1.
Iced Green Tea with Mint
Bim did not like it very much.
Iced green tea with mint recipe:
"One thing that can be good is making the mint tea in a mason jar, pouring the hot water over and quickly stoppering the jar, leaving the tea to steep until cold, refrigerating it, mixing with cold water and pouring it over ice. The cold accentuates the taste of the mint, the jar keeps the volatile mint oils from escaping, and the added water means that the water in the tea is not as flat.
"Naturally, one brews the tea at double strength, if one intends to dilute it later."
The most important thing to note is that this smells fuckin' amazing.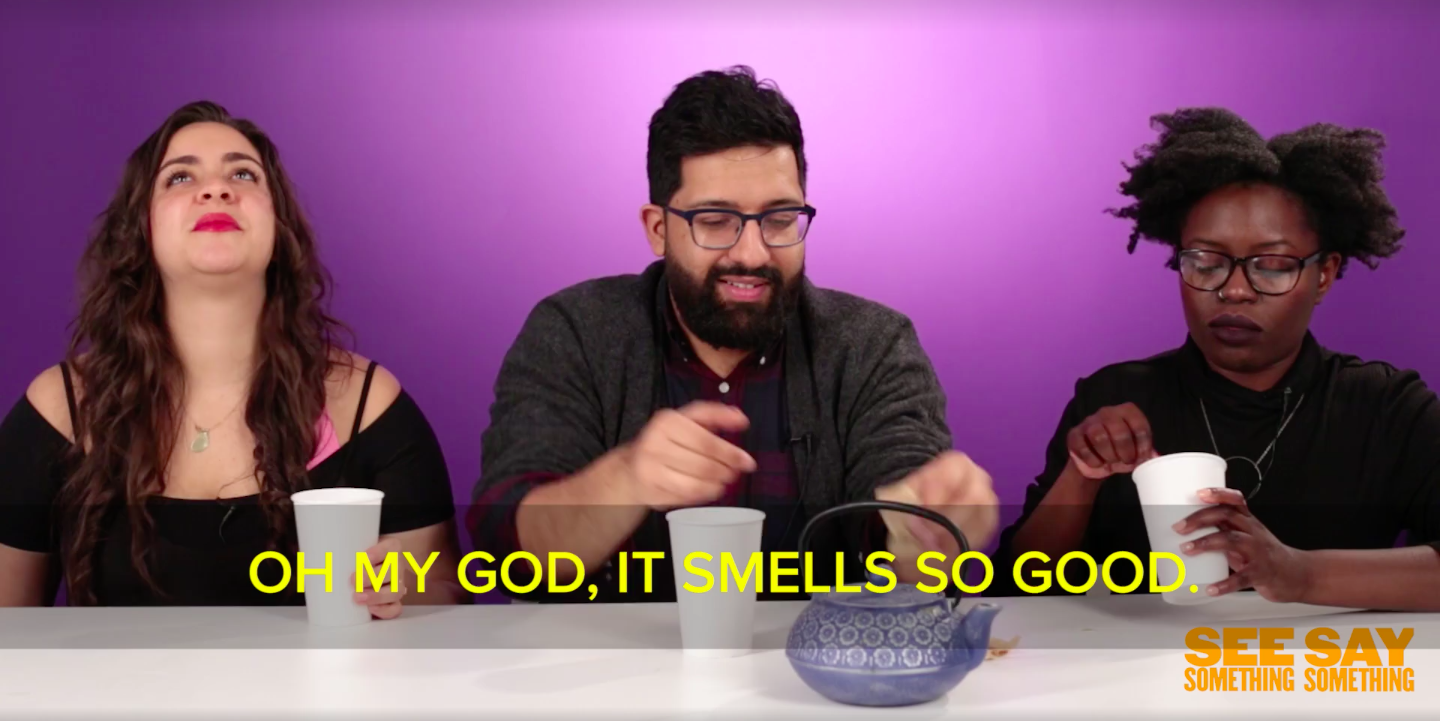 Masala chai recipe, made doodh-patti style recipe:
Roughly bash up 4 cardamom pods, 1 stick of cinnamon, 3-4 black peppercorns in a mortar and pestle.
Boil half a measure of water with about a 1 inch piece of ginger grated into it .
Once the water's come up to a boil, add one measure of milk, along with the crushed spices and boil to infuse.
Add two tea spoons of loose leaf black tea (Assam/ Darjeeling works best) and boil for about 4 minutes till you get a nice rich chai colour.
Optional: add 2 strands of Kashmiri saffron for some ~luxe~ flavour and aroma
3.
Masala Chai in a Pressure Cooker
Bim really liked this one, but everyone else found it just a bit too intense.
InstantPot masala chai recipe:
I pressure-cook cardamom, ginger, and cinnamon (and sometimes black pepper and cloves) in the InstantPot for 15 minutes. Once the pressure is released, I steep loose tea in it (preferably assam) for 5 minutes, then strain all the leaves and add a bit of sugar. I make a big batch and keep it in the fridge, then reheat with a splash of milk on cold snowy days.
I like the cardamom/ginger flavor really strong, and just steeping them in boiling water does not cut it, hence this kitchen gadget nerdiness. The end product lives somewhere between real chai and Teavana® Oprah Chai Real Tea Latte, but I am as white as white can be, so I love it just the same.
—Eileen Webb (via email and Twitter)
4.
Ahmed's recipe— Earl Grey with Cardamom
Earl Grey with Cardamom recipe:
For each mug of tea you want, steep approximately one heaping teaspoon of Earl Grey and one cardamom pod. For a pot of four, you'd want four-five teaspoons and four-five cardamom pods. After about five minutes, strain the tea and drink with milk and sugar.
The InstantPot could be the future of tea making, but only Bim chose it as her favorite. Everyone else chose mine!
The winner is.... my own recipe! Honestly, I'd just like to thank my parents for making this all possible.
If you want to hang out more with Bim, Tabir, and Ahmed, subscribe to the See Something Say Something podcast by following the instructions below.
1. If you're on a mobile device, click this link in your native podcasting app.
2. Or, search for "See Something Say Something" in your podcast app of choice, like Overcast, Pocket Casts, Stitcher, Acast, Apple's built-in Podcast app, and more.
3. Be sure to subscribe, so you never miss a new episode!
If you like the show, please rate and review it on iTunes. Questions? Comments? Email saysomething@buzzfeed.com.