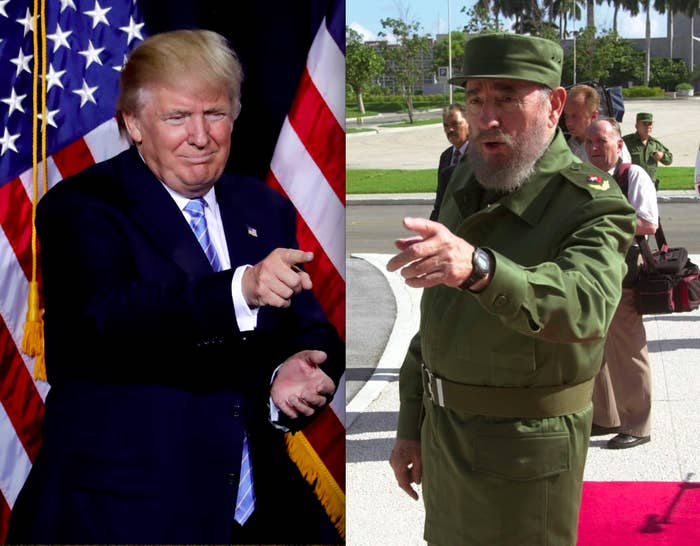 Four years before Donald Trump roiled the presidential race by announcing that Mexico was sending criminals and rapists — their worst — to the U.S., he appeared to suggest Fidel Castro had hatched a similar gambit.

Speaking on Laura Ingraham's radio show in 2011, Trump took a rhetorical tact that will be familiar to anyone paying even a passing interest to the 2016 presidential election.
"You either have borders or you don't have borders. Now, that doesn't mean you can't make it possible for somebody that's really good to become a citizen. But I think part of the problem that this country has is we're taking in people that are, in some cases, good, and in some cases, are not good and in some cases are criminals," Trump said.
"I remember, years ago, where Castro was sending his worst over to this country. He was sending criminals over to this country, and we've had that with other countries where they use us as a dumping ground," he continued. "And frankly, the fact that we allow that to happen is what's really hurting this country very badly."
Liberal media watchdog Media Matters provided the audio from their archives, after a request by BuzzFeed News.
While Trump does not mention Fidel Castro's full name, he made similar comments about Cubans on conservative radio last summer, just weeks after his initial remarks about Mexicans during his June announcement.
"And they're sending — if you remember, years ago, when Castro opened up his jails, his prisons, and he sent them all over to the United States because let the United States have them," Trump said. "And you know, these were the many hardcore criminals that he sent over."
Trump was speaking about the Mariel boatlift in 1980, when more than125,000 Cubans came to the U.S. because of the island's floundering economy. Castro did send prisoners and mentally ill people to the U.S. mixed in with other refugees.
In a statement, Trump campaign senior advisor and Hispanic outreach director, AJ Delgado, said his remarks in 2011 were absolutely correct and only underscore his "keen awareness" of historical facts.
"The 1980 Mariel boatlift out of Cuba certainly did contain thousands of criminals, including violent criminals, the Castro regime having taken it as an opportunity to empty many of its prisons and send those individuals to the U.S," she said, stressing that the matter is not in dispute.
"Worth noting, this 2011 audio also proves Mr. Trump's years-long consistency: even five years ago, he was advocating for the same sound immigration policies he advocates today — one that places Americans' safety and security first," she added.
Trump's relationship with Cuban-American voters is somewhat unusual for a Republican nominee. For years, support for the embargo on Cuba has been a major Republican plank; a recent Newsweek report also alleged that Trump violated the Cuban embargo when he disguised payments from his companies in Cuba in an attempt to make money on the island.

The Republican nominee changed his opinion on immigration multiple times in the past few years, including during the campaign. But he has also struck a nativist and restrictionist tone on the dangers and nefarious intentions of foreigners coming to the country for years. Though Barack Obama's two campaigns showed the traditionally Republican voting bloc beginning to fray somewhat, that's put more pressure on those voters, particularly younger ones.
"We know how Donald Trump feels about the Hispanic community, and this is just more of the same," said Joe Garcia, a Cuban-American Democrat running for congress in Florida where Trump has become a flashpoint in his race against Rep. Carlos Curbelo, who has also denounced Trump. "Whether he makes hateful statements today or five years ago, Trump's sentiments toward minority groups have been very clear."

Ana Navarro, a CNN commentator and Republican strategist who has staunchly opposed Trump, noted that being a "marielito" was somewhat taboo for a while, "but it's important not to forget all the good people who came. Many have gone on to make great contributions to the U.S."
Jose Parra, a Democratic strategist from Florida who served as a senior adviser to Sen. Harry Reid, argued the comments leave no doubt that Trump doesn't just have it out for Mexicans.
"Now we know that when he says Mexicans, he means all Hispanics," Parra said. "He was talking about Cubans in this case... the issue is Hispanics not Mexicans. It's immigrants period."
Nathaniel Meyersohn contributed reporting.