Xavier Becerra And Luis Gutierrez On Deportations And The Search For The Next DREAMers
Both leaders believe deportations are breaking up families, that a review will bear fruit, and that the House GOP needs to vote. But they continue to call for the use of prosecutorial discretion by the administration.
After a recent Friday meeting with President Obama on efforts to slow or suspend deportations, activists leaving the White House could agree on one thing: The president had been furious.
"He was pretty angry for Obama — he doesn't show it, but you could feel it," one activist said.
The president, activists said, was frustrated by the attacks on his deportation record. In recent months, the issue has swept to the front of the immigration policy debate, first among activists, then bubbling over onto Capitol Hill.
Two weeks ago, under pressure from activists, the Congressional Hispanic Caucus was ready to vote on a resolution that threatened to expose a rift within the Democratic Party on deportations for the world to see.
Then the White House intervened. A calm and measured Obama also met with lawmakers from the Congressional Hispanic Caucus last week, seeking to make an emotional connection on the contentious issue. The president subsequently announced an administration review of deportation policy to be led by Department of Homeland Security Secretary Jeh Johnson.
"The president was pretty emphatic; he said, 'You can tell folks publicly that I said I recognize we should not be in the business of separating families, no one agrees with that,'" Rep. Xavier Becerra (D-Calif.) told BuzzFeed.
The House Democratic Caucus chairman described the legal constraints on the administration — if House Republicans won't agree to allow votes on the deportation issue.
"What he's trying to do is work within the confines of the law and make enforcement actions work," Becerra said of the president. "He pointed out — and it's hard to deny — that if Congress provides through law and budget the authority to do something, the president can't say I'm not going to do it."
But what the DHS review will entail, and what the next steps on the deportation issue are remain questions.
"The outcome I'm looking for is humanizing," said Rep. Luis Gutierrez (D-Ill.), who also attended the White House meeting. "A more human, tender, much more humane process of deportations, while still understanding that regardless of what we accomplish, it won't be over until one man, Mr. Boehner, gives us a vote."
This week, the Congressional Hispanic Caucus and DHS Secretary Jeh Johnson will meet about the forthcoming deportation review. Activists, impatient, want the review to proceed immediately, rather than lingering for months.
Becerra and Gutierrez hesitated to lay down a timeframe that would be unacceptable but did say it is important to them that the process not be drawn out.
"We're going to have a deep discussion with Secretary Johnson on how their executive discretion can be used to enforce the law," Becerra said.
Both lawmakers were quick to note that the Congressional Hispanic Caucus advocated for deferred action for DREAMers long before the policy gained widespread attention.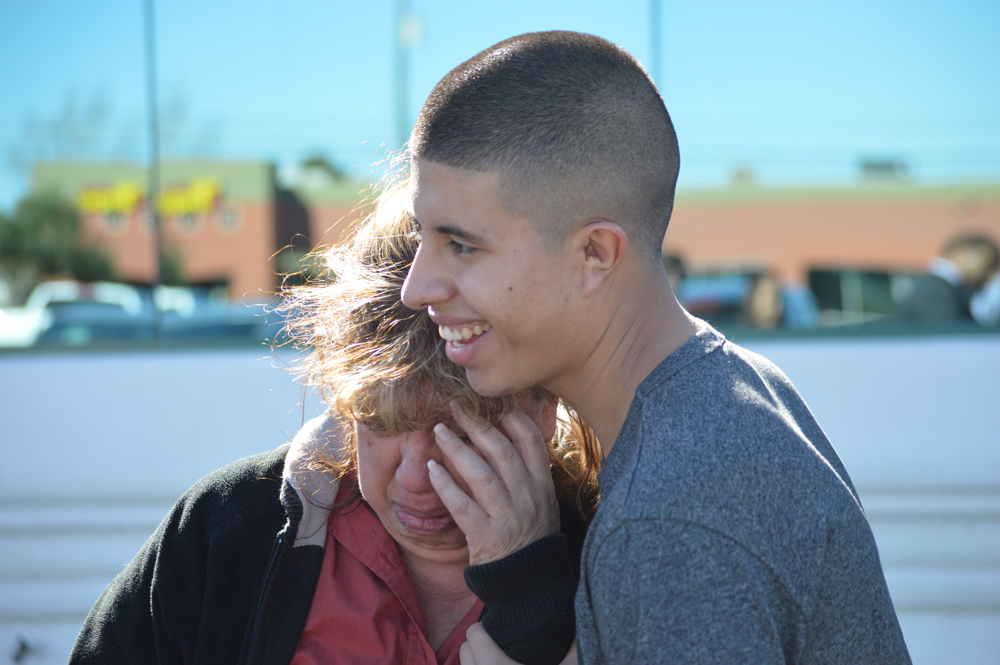 En route to the airport, Gutierrez told BuzzFeed he was running on only two and a half hours of sleep and hoped he wouldn't say anything crazy. Beloved by many immigration advocates, Gutierrez also knows his penchant to shoot from the hip is what garners him supporters and angers colleagues on both sides of the aisle.
Gutierrez has begun putting together a new strategy: defining the next group of undocumented immigrants that would be politically acceptable for executive action, in the same way DREAMers were when Obama announced deferred action in 2012.
The new push includes the parents of U.S. citizens and families with an undocumented immigrant who is also a member of the U.S. military.
The tabled draft of the CHC resolution stated that "an estimated 200,000 deportees in a two-year period were reported to be the parents of U.S. citizens, most of whom were born and raised in the United States" and that "there are more than 5,000 children in the U.S. child welfare system because a parent has been detained or deported, and a majority of those children are U.S. citizens."
Gutierrez related the story of Bryan Rivera, a 20-year-old Nevadan who was out of options for his mother when he went to an immigration meeting last week in North Las Vegas. His mother, Rivera said, was beaten by her ex-husband — even while she was pregnant. When she asked for child support payments, her ex-husband called immigration authorities, Rivera said.
"He was this young kid, he was 20 years old and he told us that the father beat the shit out of his mother," Gutierrez said, adding that because she was beaten while pregnant, her son was born prematurely and deaf in one ear. "The guy was going to use Homeland Security as a tool; we have to fix the system so that guys that beat women can't use it as a weapon."
Thelma Martinez Soto was released the next afternoon after Gutierrez and Nevada Congressman Steven Horsford appealed to U.S. Immigration and Customs Enforcement (ICE).
Rivera told the Las Vegas Review Journal he was worried about whether he would have to quit school at Le Cordon Bleu College of Culinary Arts in Las Vegas if his mother had been deported — but he argues his situation isn't isolated. "I'm speaking on behalf of hundreds of thousands of children and families who are being separated from one another," Rivera said.
Although Becerra, more measured in his language than Gutierrez, emphasized the congressional and legal component, he also argued for the expanded use of prosecutorial discretion.
"There are two levels, one is making sure we're enforcing the laws so no one can claim with any credibility that the president is not fulfilling his executive obligations, he can't turn off the spigot when it comes to enforcement or tell authorities to stand down," Becerra said, adding that the focus should be on criminals like drug traffickers.
Becerra said immigration authorities shouldn't, for instance, be placed at grocery stores or schools, giving the example of a mother picking up her children at school.
But Becerra, considered an ally of the administration, argues executive action is not enough.
"Even though this president has the authority to move aggressively on deportations we're never going to get there through deportations only," he said. Legislative action is needed, Becerra believes.
"At any moment what we need is to have a vote in the House. What we've seen from the 50-plus votes to repeal or dismantle the Affordable Care Act is a bill can be on the floor and we can do it that day," Becerra said. "The Republican leadership hasn't wanted to."