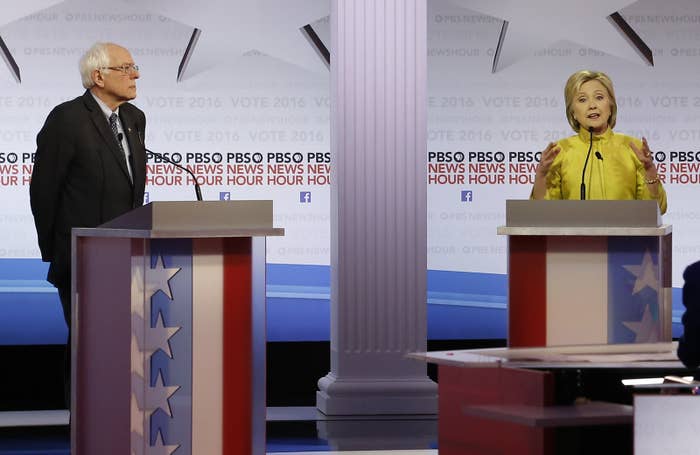 LAS VEGAS — In a testy back and forth at the Democratic debate Thursday night, Hillary Clinton and Bernie Sanders for the first time dove deep into the contentious issue of immigration, just nine days out from the Nevada caucus, where it is a major economic and personal issue.
With each hoping to stand tallest as a champion on immigration, Sanders and Clinton zeroed in on each other's records on the issue Thursday. On the debate stage and in comments by campaign surrogates, each sought to cast the other as someone who has spoken or acted against the best interest of immigrants.
Because the issue has not come up at length in their previous debates, Clinton and Sanders have often found that they don't have much to disagree on — they both often state their support for broad immigration legislation with a path to citizenship, they both want to protect undocumented youth brought to the country as children, and they both say they will go beyond Obama's 2014 executive actions on immigration, currently held up in court.
In a debate where Clinton again continually expressed her support for President Obama, both candidates reiterated one of their rare breaks with him, saying they are opposed to the administration's ramped-up deportation raids since January.
But Clinton took the first shot at Sanders' immigration record when she said she supported Sen. Ted Kennedy's comprehensive legislation in 2007, which Sanders voted against, and said she would expend tremendous energy to get the long-sought law passed.
"Hopefully after the 2016 election, some of the Republicans will come to their senses and realize we are not going to deport 11 or 12 million people in this country," Clinton said, referring to calls by Republican frontrunner Donald Trump. "And they will work with me to get comprehensive immigration reform."

Before Sanders even responded to Clinton on his 2007 vote, he brought up one part of Clinton's record that has haunted her on the left. Sanders referred to the surge of unaccompanied minors from Central America in the summer of 2014, when Clinton said the children should be given as much love as possible, but most should ultimately be sent back.
"I think when we saw children coming from these horrendous, horrendously violent areas of Honduras and neighboring countries, people who are fleeing drug violence and cartel violence, I thought it was a good idea to allow those children to stay in this country," Sanders said. "That was not, as I understand it, the secretary's position."

Sanders, as he has before, said he voted against the bill because of its guest worker provisions. The Southern Poverty Law Center called its guest worker provisions akin to "slavery," and that both the AFL-CIO labor union and Latino organization LULAC were against it, he said.
Clinton invoked Kennedy to make the case that it was a progressive piece of legislation Sanders should have supported.
"I think Ted Kennedy had a very clear idea about what needed to be done," she said. "And I was proud to stand with him and support it."

The issue of the thousands of children who came to the country was a thornier one for Clinton. She again said the children deserved due process.
"But we also had to send a message to families and communities in Central America not to send their children on this dangerous journey in the hands of smugglers," she said.

Sanders questioned the wisdom of trying to send a message in such a dire situation.
"These are children who are leaving countries and neighborhoods where their lives are at stake," he said. "That was the fact. I don't think we use them to send a message."

The high-stakes battle to embrace not just stances friendly to undocumented immigrants but to also be seen as trustworthy on the issue didn't just take place on the debate stage Thursday, but also broke out into the open between surrogates and staff of both campaigns.

The day began with Sanders releasing a letter, along with a surrogate for his campaign — progressive Rep. Raul Grijalva — admonishing the Obama administration for its Priority Enforcement Program (PEP).
PEP, a much-less talked about change in Obama's most recent executive orders on immigration, replaced the controversial Secure Communities program, which allowed local law enforcement to hold people with immigration detainers until immigration officials showed up to take them away.
"There is little evidence that ICE is following the directives and priorities laid out in your memoranda, or that there is any oversight or accountability within the agency to follow the policies you established," Sanders and Grijalva wrote, criticizing the new program PEP.
in an interview with BuzzFeed News, Clinton surrogate and longtime immigration advocate Rep. Luis Gutierrez ripped into Sanders record, saying that just standing with Grijalva or strong immigration activists he hired does not paper over his immigration record.
"I understand Raul Grijalva wants his candidate to win and will do anything he can to rehabilitate Sanders sad record on immigrants," Gutierrez said, like Clinton, also pointing to Sanders 2007 vote.
But Gutierrez went further, accusing Sanders of politically expedient election year votes before heading to the Senate in 2006, when Sanders voted for border security bills, along with Republicans in the House.
Gutierrez said that at the time NCLR and ACLU were strongly against those votes.
"He wanted to get elected, and now wants to rehabilitlate, but I will always stand with the progressive caucus and NCLR, as Grijalva did, and stand with the ACLU," Gutierrez said.

Sanders' Latino outreach director Arturo Carmona dismissed Gutierrez's comments as "kicking and screaming" and said Sanders campaign wants to have a discussion of the issues and whose plan best gives dignity to immigrants in the country.
"It's unfortunate to see this from someone I respect in Luis Gutierrez," he said.

On a day when civil rights icon Rep. John Lewis questioned Sanders commitment to the civil rights movement, it became clear that Clinton supporters are done with ceding ground to him as the ultimate progressive, especially on issues related to minorities, who will play pivotal roles in the next states on the nominating calendar, Nevada and South Carolina.
Carmona said the Clinton campaign took shots at their letter today because they can't have a debate on who is strongest on immigration, and while he said the discussion shouldn't be about petty insults, he called Clinton's plan "shameful."
While Sanders has the strongest plan to protect workers and immigrants, Carmona argued, Clinton has "wobbled" on the deportation of unaccompanied minors and driver's licenses for undocumented immigrants.

But Gutierrez noted that it was Sanders who infamously went on Lou Dobbs show in 2007 to rail against the effect immigrants have on American workers, driving "wages down lower than they are right now."
Of Carmona and well-known activists like Erika Andiola who joined Sanders campaign, Gutierrez said they, like Grijalva, have been in the trenches, but Sanders has traditionally been absent — until now as a presidential candidate.
"In the end, wonderful people work on Sanders campaign," he said. "DREAMers and others that have great records of tenacity and commitment to Latinos, but you can't take your commitment and record and give it to your candidate."