With 2016 Looming, Obama Campaign Veterans Launch Diversity Hiring Effort
"This is about winning elections," Democratic donor and Inclusv co-founder Steve Phillips told BuzzFeed News.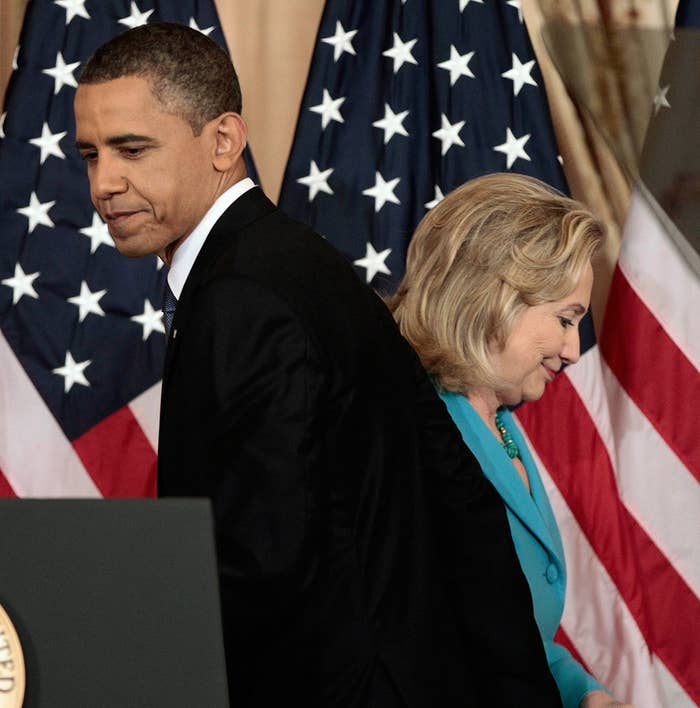 A group of Obama campaign veterans who believe the Democratic Party must urgently diversify its hiring will launch a new operation to connect minorities with campaigns looking to hire them.
"I'm genuinely concerned progressives are going to lose elections if we don't increase our cultural competence in campaigns," said Inclusv co-founder Steve Phillips, a major Democratic donor. "That's what happened in 2010 and 2014, those campaigns were unable to inspire turnout of voters of color."
In many ways, Inclusv just formalizes the work the co-founders have been doing behind the scenes for years. The group includes Alida Garcia, who served as the national Latino vote deputy director for Obama in 2012; Quentin James, who is the black Americans director for Ready for Hillary; and Greg Cendana, who is the executive director of the Asian Pacific America Labor Alliance.
Phillips, who recently slammed Senate Minority Leader Harry Reid for endorsing a white candidate in the Maryland Senate race, which could feature high-profile black candidates, led an effort after Obama won in 2008 to fuel diversity in the administration. His Talent Bank initiative focused on minorities — including gays, those with disabilities, and women — received 5,000 résumés and led to 100 hires.
Garcia said Inclusv will serve a similar purpose for staff, consultants, and vendors of color, and will use the 2016 election as a pipeline and training ground for diverse candidates.
"There has been a lot of dialogue in D.C. around diverse contracting, which is a big gap that needs to be fixed," she said. "One part of how you fix it from the bottom up is by identifying young leaders now and getting them into these campaigns. They are the future press secretaries, pollsters, and campaign managers who will better understand and work with the communities they seek to engage."
Diversity hiring — particularly when it comes to outside vendors — remains a problem and a point of frustration for Democrats. A report last year found that only 1.7% of the $500 million the DNC spent on consultants were minority-owned firms, or run by a minority principal.
The Inclusv website will allow job seekers to upload their résumés and fill out a survey to further explain their campaign experience and interests.
Phillips sees a real urgency for Democrats, who he says have an electorate that's 45% people of color, but are lagging when it comes to campaign operative leadership. "It's extraordinary, alarming, and dangerous," he said.
Inclusv features an advisory board of Democratic women and people of color who are invested in minority hiring, like Angela Rye, former executive director of the Congressional Black Caucus; Greg Jackson, former national field director for the Democratic Congressional Campaign Committee (DCCC); and Gabriela Domenzain, who led Obama's 2012 Hispanic media efforts.
James acknowledged that for all of the record voter turnout for Obama in the past two presidential elections by black voters, not having Obama on the ballot presents something of a challenge for Democrats at all levels.
"The question becomes, 'How do you engage those demographics with the recognition that these are no longer fringe voting blocs?'" he said. "They helped control an election for the Democrats. "So Inclusv says let's keep our ear to the ground in a very traditional way by listening and engaging people of color early, and making sure they have equitable and prominent roles within Democratic campaigns this cycle."
James added black women were a key demographic in driving Obama to victory in 2012; Inclusv believes, for instance, campaigns should understand the impact black women can have on any election. "Any campaign that wants to increase voter turnout, then you may want to have black women in your camp."
One advisory board member, Lucy Flores, who ran for lieutenant governor in 2014 in Nevada, said this focus is crucially important for campaigns, even ones that feature a minority candidate at the helm.
"Even in my own campaign that was high-profile and well-funded, I had issues with trying to find culturally competent staff and consultants," Flores told BuzzFeed News.
She said she had to advocate to bring on a Latino media consultant and had to explain basics — you can't just translate a press release, for instance — which is why she brought on Domenzain. For Flores, this focus on diverse coalitions for Democrats is not just about Hispanics, either. She noted that the Filipino community in Las Vegas is the fastest growing group, outpacing Latinos.
That momentum is why Cendana said their inclusion is indispensable to Democrats in the next election. "Candidates and campaigns have a real opportunity to tap into that political power," he said.
Cendana said he sees Inclusv as a way to move minorities beyond outreach roles and into the upper echelons of campaigning — roles like campaign manager, and directors in field, communications, and finance.
"The best way to engage voters that like us is to have people like us who understand our issues on the ground working in our communities," he said. "We're the best messengers to get people engaged and voting."
"One thing we no longer want to hear we don't have anyone qualified who is a person of color. We know that talent exists."
So far, Hillary Clinton, the presumptive favorite for the Democratic nomination, has given early signals for more diverse hires within her political structure. Former congressional candidate Amanda Renteria will likely be her national political director in an eventual campaign, for instance. Dennis Cheng is expected to be Clinton's finance director, and Marlon Marshall, who is a longtime associate of the expected campaign manager, has also been doing work for Clinton.
Still, Phillips said that if Democrats face tickets featuring Jeb Bush or Marco Rubio in 2016, who he said are more moderate on immigration than many Republicans, and also multilingual and multicultural, it will be a big problem for them if there isn't "extraordinary cultural competence on the Democratic side."
"These campaigns need expertise on how you communicate and inspire these communities and that translates into having actual lived experience in these communities," he said.