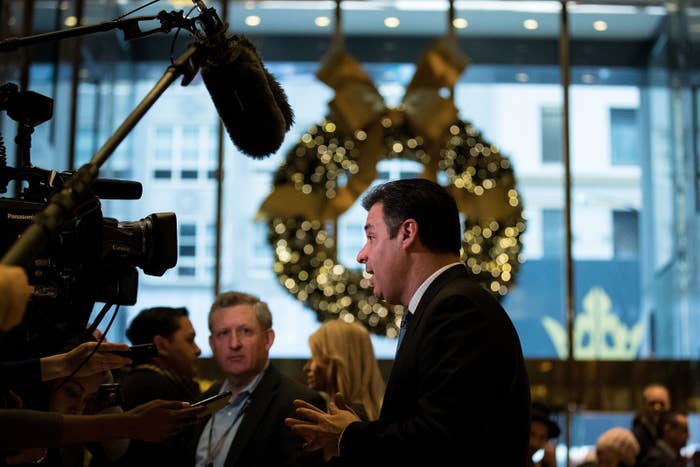 WASHINGTON — As Donald Trump continues to rollout his cabinet picks, Latino Republicans are confronting an increasingly likely scenario: for the first time since Ronald Reagan's first term, there's a high potential there won't be a high-ranking Hispanic cabinet member.
That reality became more likely after Trump chose Montana Rep. Ryan Zinke, as his interior secretary — a position that Idaho Rep. Raul Labrador was reportedly under consideration for. Labrador had been in Trump Tower on Monday to discuss the job.
"I think he very much is looking for qualified candidates and very much believes a diverse cabinet is an important part of what he's trying to do," said Trump confidant Newt Gingrich in an interview with BuzzFeed News, pointing to the appointments of Elaine Chao as transportation secretary, South Carolina Gov. Nikki Haley of South to be U.N. Ambassador, and Ben Carson to lead the housing department.

There are two camps among Latino Republicans, who as a group largely opposed Trump's candidacy during the election. While many have since warmed to him, they have watched with interest as Trump has filled position after position with no Hispanics as of yet.

Some speak frankly and say that naming one cabinet member isn't much of a priority for them, as much as it is Trump name the best person for the job and hire Latinos in other roles throughout the administration. Others say diversity of experience and background is important in the new cabinet.
"At least four Hispanics have been interviewed for this top tier line of appointments," said Jose Fuentes, a member of Trump's Hispanic advisory council, who spent time doing outreach with the Puerto Rican community with Trump and Labrador in Orlando a week before the election. He said the candidates include Labrador but declined to name the others and did not know if they are still in consideration. "Our impression is that [Trump] is not picking people based on race. He's picking people based on qualifications who can do the job. It's been very clear, even if you had differences with him in the beginning, he's going to seriously consider you."

A Hispanic Republican who was critical of Trump during the campaign disputed that rosy characterization, telling BuzzFeed News that their vetting for an administration role is being held up because of their past comments about Trump.
"This administration needs to get on it," the source said of appointing a Hispanic to the cabinet. "There is already concern rippling from Latinos saying, 'What the hell? Step it up.'"
Obama's cabinet currently has four Hispanics, including housing secretary Julian Castro and labor secretary Tom Perez.
While Trump's nominees as of December 15 are mostly white men, Gingrich called the diversity of his cabinet an "active concern" for Trump and said Hispanics will see "substantial representation below the cabinet level."
Even among those Republicans who strongly opposed Trump, there is a recognition that there won't be a groundswell of energy towards getting a Latino nominated to the cabinet. Alfonso Aguilar, a Hispanic conservative leader who gave and then withdrew his support, said it is not a priority. The shift now, he said, will be away from identity politics and towards treating Hispanics like any other voter, prioritizing the economy, jobs and terrorism.
"I think the election of Trump is the end of identity politics," Aguilar said. "I think it shows that we are a very diverse community, we are not monolithic."
While Trump did better than expected with Hispanics according to exit polls, there is no question that he could stand to mend some fences with Latinos. Former cabinet secretary Louis Caldera argued in a recent Dallas Morning News op-ed that cabinet appointments are one way to signal those efforts.
There are also signs that getting Hispanics into the administration won't always be easy for Trump who angered many, including Republicans, with his blustery campaign rhetoric and hardline policy pronouncements. Javier Palomarez, president of the U.S. Hispanic Chamber of Commerce said that there have been opportunities for Hispanics to join Trump's coming administration that have not worked out, including a candidate who, according Palomarez, would have reported directly to Trump and declined the offer.
Even Republicans who largely support moving away from identity politics and laud Trump for signs that his administration will be run like a business, note that in corporate America they understand that diversity is important to growing the bottom line.
And Daniel Garza, executive director of the Koch-brother backed LIBRE Initiative argued that Republicans have a deeper bench of talented Hispanics officials than Democrats and should flex that in Trump's administration.
"Latinos on the right offer Donald Trump a bigger pool to pull from," he said, citing Nevada Governor Brian Sandoval and New Mexico Governor Susana Martinez along with Labrador.
Hispanic Republicans also argue that there is a political component as well for Trump, who they say must make efforts to unite what TIME Magazine called the "divided states of America" on the cover of their issue naming Trump the person of the year, as he said he would in his election night victory speech.
"The message was 'we're ready to govern' — well to govern you need consensus and to build coalitions," said California GOP strategist Luis Alvarado. "If he's going to govern as he campaigned, then I don't see the need to build coalitions with any minority groups."
But for now, Hispanic Republicans rooting for a cabinet member to represent their community, will have to hope the process ends differently than Reagan's did when he was elected and Latino leaders expressed concern. In January of 1981 Reagan officials assured that Hispanics would be represented in other parts of the administration. But it would be "91 months" into his presidency as Reagan put it in a Los Angeles Times report at the end of his second term, that he would nominate the first Hispanic cabinet secretary ever, Lauro Fred Cavazos to lead the education department.

Though Reagan foreshadowed current Republicans by saying he was merely picking "the best-fitted man" for the position, it sure looked like he was appealing to Hispanics, too.
"Let me assure you, mi casa es su casa," Reagan told Cavazos at the end of his announcement.