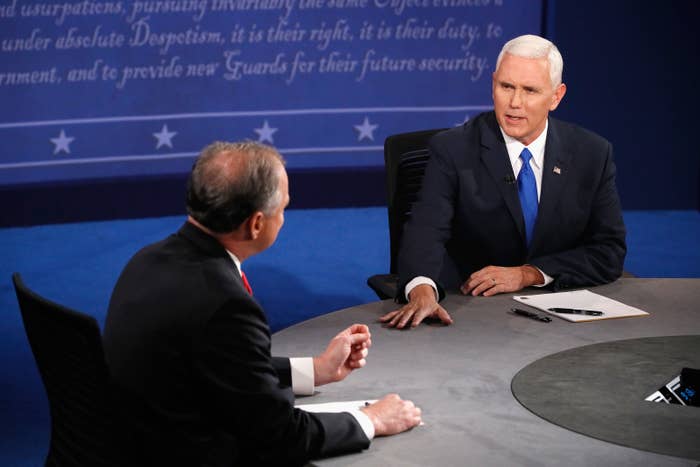 It's impossible to predict what debate moment will catch fire on social media and in news coverage afterwards.

After the first debate, everyone was talking about Donald Trump's past shaming of Alicia Machado, a 1990s Miss Universe, who seemed crafted for maximum political impact. Trump's years-old attack on her would be sure to capture the attention of women, Latinos and immigrants. Then Trump inexplicably talked about her for nearly a week afterward.
Hillary Clinton's campaign did everything they could to engineer that moment, with its Latino team elevating her story to the debate preparation team, sure that Machado becoming a citizen and voting against Trump would resonate with a wide swath of the electorate.
Toward the end of Tuesday's vice presidential debate, after a long exchange on immigration, Tim Kaine kept prodding Mike Pence to defend Trump's most corrosive statements. He again brought up the charge that Mexico was sending "criminals and rapists" and Pence was over it. "Senator, you whipped out that Mexican thing again."
The moment came and went quickly, but blossomed on social media, where Latinos responded by highlighting the sacrifices their families have made in the country, leading both #ThatMexicanThing and #ThatMexicanThingAgain to trend on Twitter.
As Clinton staffers watched the debate, it wasn't immediately apparent to some who are white that Pence's slip would resonate, said one Latino staffer, who added that the Hispanics who are part of the campaign flagged it and amplified the moment to their colleagues in Brooklyn.
"The contrast on immigration was so big that for him to dismiss [the Mexicans comment] we realized this was a big deal," a campaign source said.
"The anti-Latino DNA is strong with these two and it comes out intentionally and unintentionally," a separate campaign source said of Trump and Pence.
The Clinton digital operation sprang into action and the campaign says it will continue to use these moments to mobilize voters through events, videos and SMS text messages as it did with Machado last week.
Democrats pounced almost immediately to try to ensure that "that Mexican thing" followed the Machado thing as a major post-debate storyline. The DNC released a statement afterwards calling the comment "offensive" and organized a call with Congressional Hispanic Caucus members on Wednesday.
"I can assure [Trump and Pence] that the Latino community is not forgetting that 'Mexican thing' because for Latinos in the United States, this election cycle is an important one," Congressional Hispanic Caucus chair Linda Sanchez said on the call. "They've been paying close attention to this race, and they've been listening to what is being said about them."
Rep. Ruben Gallego, who attended the debate added, "I don't know if anybody else caught this, there was an audible gasp from the crowd when Pence said 'that Mexican thing.'"
It's no surprise that Democrats would seek to fan the flames on a moment in an otherwise sleepy debate watched by only 35 million people — 50 million less than watched Clinton and Trump faceoff.
But the attention from young people and Hispanics on social media is a good sign for a campaign that need them when it comes to young Latinos.
Lalo Alcaraz, a well-regarded Los Angeles cartoonist who worked on FOX's Bordertown, said the election has him "angry and exhausted," but he didn't expect Mexicans to come up.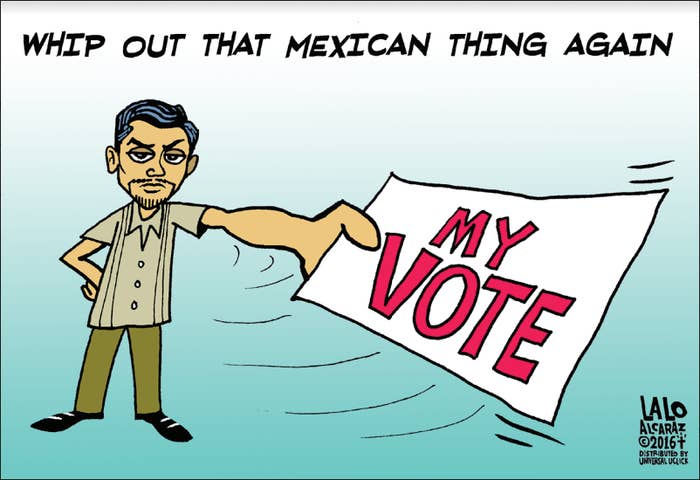 "It was a peek into their crappy campaign that they just can't get it together," he said. "Every time Trump opens his mouth there's not a problem that he can't blame on brown people, it's just a reflex with him. "
Alcaraz said his cartoon — where the "Mexican thing" is a man holding out his vote — was an effort to be positive and motivational during an election that has exhausted Latinos and he joked that he was "going high when they go low," alluding to Michelle Obama's line.
The problem for Trump and Pence is that they can scarcely afford to see the Obama coalition of minority voters come back together and moments like this have the potential to get young people paying attention during the final weeks.
Those who watch news on Univision and Telemundo have been fed a steady stream of anti-Trump coverage, which continued after the vice presidential debate said Ken Oliver-Mendez, executive director of MRC Latino, a conservative watchdog of Spanish-language news.
In the 24 hours since the debate, he said both main news anchors, Jorge Ramos and Jose Diaz-Balart opened their newscasts first with the hurricane bearing down on Florida — and then with negative characterizations of Pence's "Mexican things" comment. Ramos, he said, was worse because he was equating the phrase to Pence referring to Mexicans as a thing.
This coverage follows a week of Spanish-language news of Trump battling Machado, Oliver-Mendez said.
"Since day one, from June 2015, this has been the constant go-to characterization and Jorge Ramos repeats it over and over and over," Oliver-Mendez said of the "criminals and rapists" remark. "He more than anyone, and it's the standard line — going back to the original sin."
But while the comments may seem old to some, they struck a chord with many Latinos precisely because they echoed the pain and disrespect of the original remark, which they are turning into a Latino vote rallying cry.
Astrid Silva, a well-known DREAMer activist in Nevada who endorsed Clinton said for "me 'that Mexican thing' is going to be my friends and family who are American citizens and who I'm going to make sure go out and vote for Hillary Clinton and Tim Kaine."