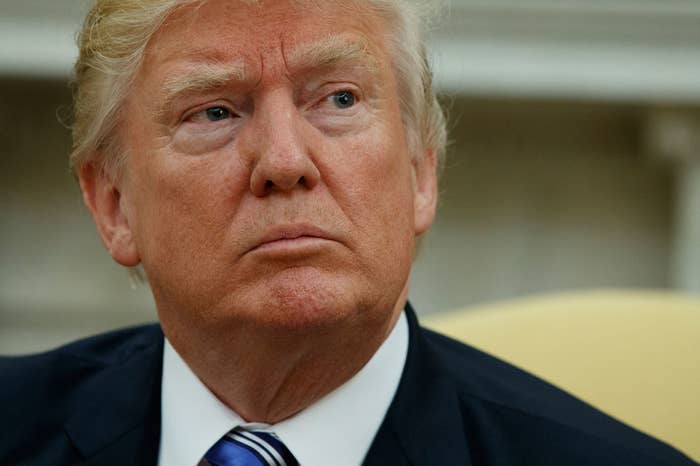 Hours after a heinous attack in London, where a man drove a van into a group of worshippers after they left a mosque on Sunday, the White House had still not commented on the terror attack, despite requests.
During an off-camera briefing on Monday afternoon, press secretary Sean Spicer said the president was aware of the attack, that his national security team was continuing to track it, and that "thoughts and prayers go out to our British allies."
But this is not the first time the administration has been slow to respond to an attack involving hate against Muslims or victims believed to be Middle Eastern.
On January 30, the day after a Sunday evening attack on a Quebec City mosque that killed six people, Spicer said the administration condemned "this attack in the strongest possible terms," calling it a "vicious attack," and informing Americans that the president offered his "condolences as well as his thoughts and prayers to the victims and their families, all Canadians." While the attack was strongly condemned, the administration also sought to tie it to Trump's stalled travel ban, with Spicer calling it a terrible reminder of why the president seeks to be "proactive rather than reactive" on national security.
The administration was criticized because Trump himself did not speak publicly about the attack.
At the time, the administration had just released a list of terrorist attacks it said the media had not paid enough attention to. On CNN, Jake Tapper asked the president's counselor, Kellyanne Conway, why Trump had not spoken publicly or tweeted about the attack in Quebec City, where "a white right-wing terrorist opened fire on a mosque, a mosque filled with innocent men, women, and children."
"President Trump has not said or tweeted one public word about this," Tapper continued. "You want to talk about ignoring terrorism? Why hasn't the president offered his sympathy to our neighbors in the north?"
Conway told Tapper that Trump was sympathetic to any loss of life, calling it "completely senseless."
"But the fact is that he — I will ask him, he doesn't tweet about everything," Conway said.
Just weeks later in Kansas, a man in a bar was heard yelling "get out of my country" before shooting two men that he thought were Iranian, killing one of them. The men were from India.
"To right now intimate what the motives are, it's too early to jump to a conclusion," Spicer said, two days later. "We've seen that too often in the past in Florida and other places where people jump to a conclusion."

Spicer was quick, however, to denounce any connection between the attack and Trump's rhetoric on immigrants. "To suggest that there's any correlation I think is a bit absurd. So I'm not going to go any further than that," he said.

But the following week, after criticism from former State Department officials and others, the administration did call the attack "an act of racially motivated hatred."
"We may be a nation divided on policies, we are a country that stands united in condemning hate and evil in all of its very ugly forms," Trump said in his address to Congress that came a week after the Kansas attack, and amid a spate of anti-Semitic attacks.
On Friday, May 26, a white man screamed anti-Muslim insults at two women — one of whom was wearing a hijab — on a Portland commuter train, before stabbing three men who tried to stop him, killing two of them. Police said they were focused on the "extremist ideology" of the man, who had a history of making similar remarks.
That weekend, news anchor Dan Rather posted a message to Facebook that went viral telling Trump, "I wish we would hear you say these names, or even just tweet them."
But it wasn't until Monday morning that the attack was condemned through Trump's official POTUS Twitter account, and not through the personal account he often tweets from himself.
"The violent attacks in Portland on Friday are unacceptable. The victims were standing up to hate and intolerance. Our prayers are w/ them," the account tweeted.
While care and restraint are often advocated in situations of this type, the high-profile instances stand in contrast to others when the president has been quick to label things "terror" — even when authorities have not yet deemed them to be so.
In February, when a machete-wielding man shouting "Allahu akbar" attacked a group of soldiers in front of the Louvre Museum in Paris before being shot by police, Trump tweeted that, "A new radical Islamic terrorist has just attacked in Louvre Museum in Paris. Tourists were locked down."
"France on edge again. GET SMART U.S," he followed up.

In June, the president — who often rails against "fake news" — called violence in the Philippines a "terrorist attack," only for the country's officials to respond minutes later that it was a robbery.
"But is really pretty sad what is going on throughout the world with terror," Trump continued. "Our thoughts and our prayers are with all of those affected."
Just two days later, a headline in the UK's Independent blared: "London Bridge terror attack: Donald Trump tweets unconfirmed reports about London attack before using it to promote his travel ban."
Trump retweeted an unconfirmed Drudge Report tweet during the storm of breaking news, which NBC News felt compelled to tell its audience it would not retweet because the president was sharing unconfirmed information. Within the hour, Trump again returned to the topic of his travel ban, a directive which remains stalled due to legal challenges.
"We need to be smart, vigilant and tough. We need the courts to give us back our rights," he tweeted. "We need the Travel Ban as an extra level of safety!"
But as of Monday evening, the president still had not commented himself on the attack near the London mosque. And the appearance that politics — or something worse — is at play has only intensified since February, when CNN's Tapper pressed Conway, saying that the list of "undercovered" terrorist attacks only included those perpetrated by Muslim terrorists.
"And I guess the question is are these victims any less dead than the ones killed by Islamic radical terrorists?" Tapper asked.
Conway quickly pivoted to the travel ban.