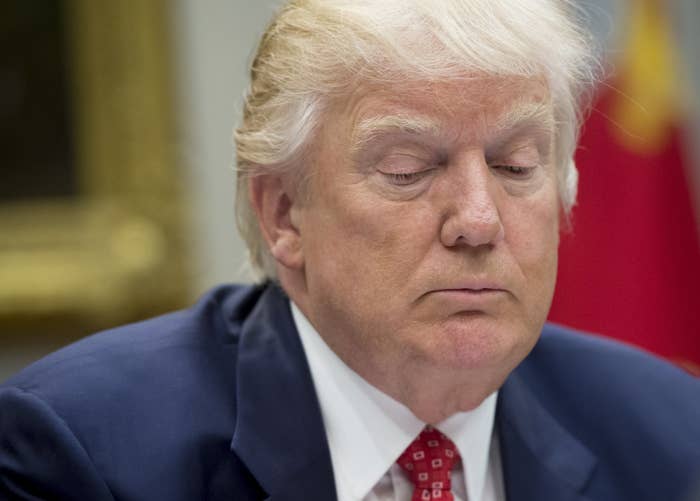 WASHINGTON — The threat came with his typical bluster: President Donald Trump, setting his sights on California, said he would look at defunding the state because of "ridiculous" efforts by the Democratic-controlled state legislature to become a sanctuary state.
Defunding the state and any cities that defy him by refusing to cooperate with immigration enforcement agents would be a "weapon" in his arsenal, Trump told Bill O'Reilly earlier this month.
But while the administration included language in its January executive order on interior enforcement to withhold federal grants from sanctuary cities, the issue was curiously absent from key memos released by Department of Homeland Security (DHS) Secretary John Kelly this week giving guidance on how those on the ground should actually implement the administration's executive orders on immigration.
Asked directly about sanctuary cities at Thursday's press briefing and the administration's reaction to Connecticut Governor Dan Malloy instructing state law enforcement to ignore the ramped up federal immigration laws, press secretary Sean Spicer said Americans don't want their tax dollars spent on sanctuary cities.
"The president has been very clear on this, that If you are a sanctuary city declared or undeclared, if you are providing benefits or services we are going to do everything we can to respect taxpayers and ensure that your states follow the law," Spicer said, without specifically mentioning previous threats to defund those cities.
The Trump administration referred requests for comment on the status of efforts to defund sanctuary cities to DHS, with a spokesman telling BuzzFeed News the agency is "working to implement the president's executive order and when we have more information on specific issues we will release it."
But a source with knowledge of the lead up to the release of Kelly's DHS memos said sanctuary cities weren't included in the memos because the agency is still working on a legal definition of what a sanctuary city is. The issue is complicated because some cities partly comply with federal authorities — they might honor detainers for immigrants, for example, but might not comply with other aspects of the law. DHS, the source said, understands that once it creates a metric by which to define sanctuary cities, an avalanche of lawsuits from cities will rush their way.
Activists and liberal legal experts say there's no update on defunding sanctuary cities because Trump himself can't do it. Congressional appropriations controls the federal funding that go to, for instance, police departments, and while Trump might be able to use federal funding to incentivize the end to sanctuary (or, in other words, effectively penalize them), that again would require a concerted congressional effort.
"They're in a particular bind because the stick he appears to be waving deals with defunding police and sheriffs," said Chris Newman, legal director for the National Day Labor Organizing Network (NDLON). "On a certain level his position doesn't make sense. 'Either police do more work for me or I will cut funding from police.' For him to make good on his promise would involve him defunding police and sheriffs. I assume that would be a bad look."

Trump, in fact, did not mention defunding sanctuary cities in a speech to the Joint Winter Meeting of the Major Cities Chiefs Association and the Major County Sheriffs' Association two weeks ago.
"Arguably they're on their strongest legal footing going after some of the law enforcement grant programs that they politically and publicly would be loathe to touch," said Tom Jawetz, former chief counsel on the immigration subcommittee of the House Judiciary Committee and current vice president of immigration policy at the Center for American Progress. "That's the rock and a hard place that they find themselves in."
A landmark case that would be at the center of these legal proceedings is the 2012 Supreme Court decision on the Affordable Care Act, where Chief Justice John Roberts was critical of the Obama administration for putting a "gun to the head" of states by threatening to cut Medicaid funding if they refused to expand Medicaid to low-income adults.
Roberts wrote that when "such conditions take the form of threats to terminate other significant independent grants, the conditions are properly viewed as a means of pressuring the states to accept policy changes."
Perhaps smarting from the legal fallout of the travel ban from seven Muslim-majority countries, which is currently being rewritten, the administration is said to be wary of getting bogged down in a litany of lawsuits on sanctuary cities, a source close to the administration said.
"What they tell me is that instead of worrying about local cooperation — if they ramp up enforcement, ramp up ICE agents — they can overwhelm the wishes of local politicians," the source said, adding that the message from the administration is, "Forget cooperation, we're going to get big and bad enough to do what we want."
Administration efforts to get big and bad on immigration have already led to ramped up immigration enforcement, rewriting of guidelines over who is a criminal and a priority for removal from the country, and deportations that would not have occurred during Obama's presidency.
Leon Fresco, former deputy assistant attorney general for the Civil Division of the Department of Justice under Obama and a lead of author of the 2013 Gang of Eight bill where he served as Sen. Chuck Schumer's right hand man on immigration, said Trump can make progress on defunding cities if he can remain uncharacteristically measured in his approach.
"I think there will be some effort to defund some cities and its success depends on how narrow the administration is in targeting specific grants and how bold cities are in being antagonistic to all federal immigration enforcement," he said, pointing to specific grants like the Community Oriented Policing Services (COPS) grant and the State Criminal Alien Assistance Program (SCAAP). But again, it is unclear that Trump would really aim to defund law enforcement efforts.
A former senior Obama administration official said Trump has invoked defunding sanctuary cities "without knowing what the hell he's talking about" and that those grants work according to formulas passed by Congress, with DOJ funds going to law enforcement to pay for things like additional officers and body armor, for example.
Trump can not "just flip a switch and defund a formula grant that Congress has passed a formula for," the former official said, and said the administration may be finding out that this idea is harder than they thought. "It's true that they will get sued and that funding is in the hands of Congress, not in the hands of the executive branch."
But activists and legal experts fear that the administration may go after some sanctuary cities even if they have doubts they will win, seeing litigation as a way to force local jurisdictions to spend money on the fight and get dragged into a public relations battle where they're accused of being lawless, which may in turn scare off smaller cities.
Plus, they say, high-profile battles with cities like New York City, Chicago, and Los Angeles aren't exactly a bad thing for the brash Trump administration, which has basically written off major cities anyway.
"Oh god, that's an easy one, absolutely," said Jeffrey Lord, a former Reagan official and commentator who stumps for Trump on CNN.
He excitedly speculated on the optics of "fill-in-the-blank" big city mayor who wants to "violate federal law" and give "sanctuary to the murderers" of American citizens.
"It's a slow-motion pitch, politically speaking, right over home plate," he said.