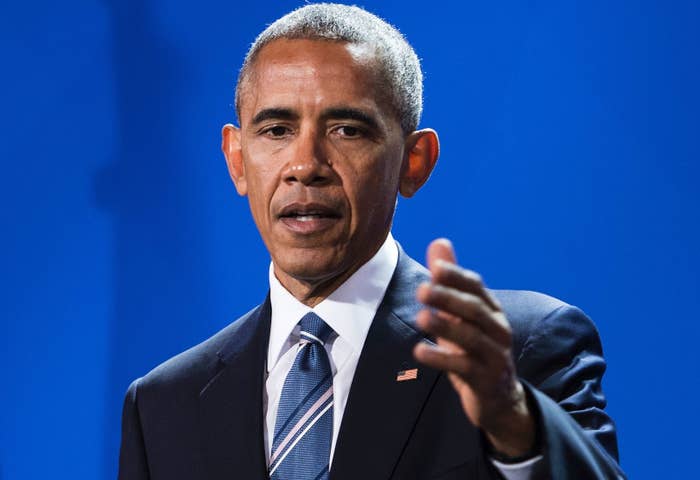 White House officials moved Thursday afternoon to stop the nascent effort by Democrats and immigration activists asking President Obama to pardon so-called DREAMers, releasing a statement to BuzzFeed News that the president does not have the power to do so.
"The president takes the executive clemency power seriously. As a general matter, we do not comment on the likelihood of whether a specific pardon may be granted, should one be requested," a White House official said. "We note that the clemency power could not give legal status to any undocumented individual. As we have repeatedly said for years, only Congress can create legal status for undocumented individuals."
The statement came in response to a letter sent to Obama by Rep. Luis Gutierrez, Rep. Lucille Roybal-Allard and Rep. Zoe Lofgren — and a subsequent press conference Thursday afternoon — in which the House members argued that Obama can grant a pardon for both prior and future immigration violations.
"There is a long line of cases that indicate that the pardon power of the executive is not reviewable by the other two branches of government so we urge the president to provide security to these young people," Lofgren said during the press conference.
Gutierrez said Democrats are calling on Obama to give some kind of further deportation protection while he is still in office for DREAMers who came forward, went through background checks, and registered with the government in order to be eligible to receive work authorization and driver's licenses.
David Leopold, an immigration lawyer that has worked with activists, said that the administration officials are right that the pardon powers of the executive branch cannot confer legal status to an undocumented immigrant. He cautioned the administration against dismissing these efforts out of hand, though.
"I think at a minimum the pardon power can be used effectively legally to put DACA recipients or DREAMers on a path to regularize their status if they had another method to do it," Leopold said, noting that the administration could pardon specific immigration violations like the three- and10-year bars an undocumented immigrant may face if they leave the country seeking to regularize their status before returning.

"DREAMers who have been vetted by the government shouldn't be burdened by Donald Trump's rhetoric and the harshness of our immigration laws coming into play," Leopold said.
The long-shot gambit by Democrats comes as desperate activists are digging in and assessing their options with the impending presidency of Donald Trump. One strategy the advocates have undertaken is pressure against the current administration to do what it can to protect undocumented immigrants.
But activists that have been in contact with the White House say that while the current administration is sympathetic to the urgency of their concerns, administration officials worry that anything the administration does will basically be a blinking-red invitation for Trump to undo it in his first days in office.
Still, as allies of undocumented immigrants scramble to identify strategies to protect Obama's 2012 executive action, pressure against the president appears likely to only intensify.
Recalling a 2012 Spanish-language ad during Obama's reelection bid, Gutierrez said the president stated that he passed DACA because he saw in DREAMers the same values that he and Michelle Obama inculcated in his two daughters.
"He made it personal, he said they were like his children," Gutierrez said. "So we ask the president, 'What would you do to protect your children?' They are our children."