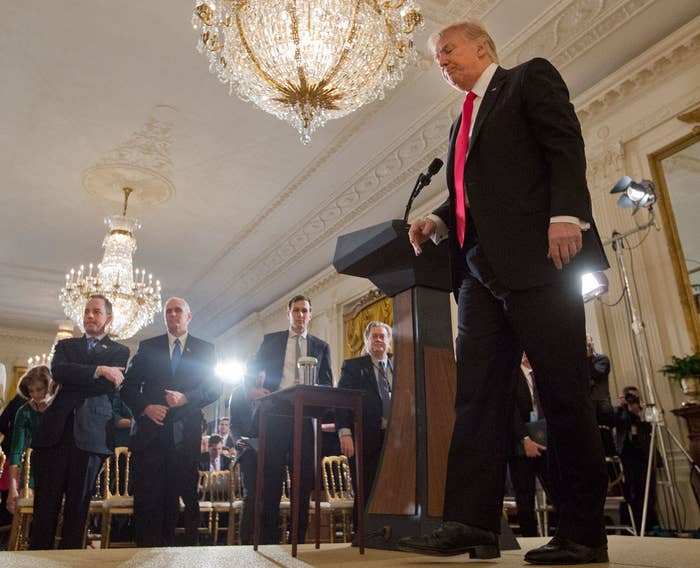 WASHINGTON — The Trump administration Friday pushed back hard against a CNN report that White House chief of staff Reince Priebus asked FBI officials to speak to reporters on background to knock down stories that said the agency was investigating communications between Trump's team and Russian officials.
Trump officials are incensed because they say they only made the request after the FBI said the stories were wrong at a 7:30 am meeting on February 15 on an unrelated intelligence issue. According to pool reports, senior administration officials went on background with reporters on Friday morning to detail the interactions between Priebus and the FBI. Priebus had recently said that reporters should stop using unnamed officials as sources in stories.
"I want you to know story in NYT is bullshit," Trump officials recall FBI assistant director Andrew McCabe saying, according to the pool report.

According to the White House, Priebus then asked "What can we do about this?" with McCabe demurring and saying he would get back to Priebus.
Priebus was concerned that he was "getting crushed" on the story, a senior administration official said, and later on McCabe informed him that the FBI can't take a stand on the story.
"We'd love to help but we can't get into the position of making statements on every story," McCabe said, according to the senior administration official.
That's when Priebus asked McCabe if he could attribute a dismissal of the story to "senior intelligence officials," which McCabe said was fine.
FBI Director James Comey subsequently called Priebus with the same message — that the story was "BS" but that the FBI couldn't release a statement, the administration said.
Press secretary Sean Spicer laced into CNN and the media for the story.
"What you guys have done is indefensible and inaccurate," he said, heatedly, pointing to a television news report on at the time that again stated the White House asked the FBI to deflate the Russia story.
Spicer argued that it was a natural human reaction for Priebus to ask the FBI what can be done when agency officials say the story is bullshit. If Priebus had just walked away, 'how insane would that be?' Spicer said.
"What sane person would not want to set the record straight?' Spicer offered.
According to the CNN report, "the direct communications between the White House and the FBI were unusual because of decade-old restrictions on such contacts. Such a request from the White House is a violation of procedures that limit communications with the FBI on pending investigations."

Though the administration sought to again blame the media Friday, it is unclear if the initial story on contacts between the Trump campaign and Russian officials will go away.
In a briefing with reporters, a senior administration official was asked whether there was an investigation going on of any sort regarding the Trump campaign and Russia.
The official said their impression was "No," but they couldn't say for sure.