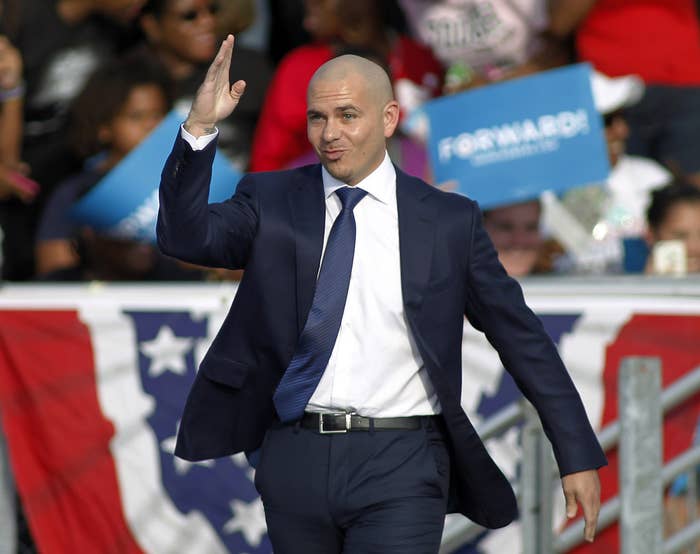 The enduring hunt for Republican celebrities has its newest viable target: Pitbull.
Latino Republicans in Florida have made overtures to the Cuban-American star to join the party himself and support its candidates.
The Miami rapper, whose real name is Armando Pérez, served as a surrogate for President Obama in 2012, introducing the president in Florida at a campaign stop. But Republicans say it would make sense for Pitbull to make the switch.
"I saw Armando at a party in Miami the other night and immediately started selling him on Jeb," said Ana Navarro, a longtime Republican strategist. "It'd be professional negligence not to. Armando is Mr. 305 and well, that's Jeb's area code, too."
In fact, prominent Florida Republicans Gov. Rick Scott and Miami Mayor Tomás Regalado recently showered Pitbull with gifts and praise, giving him the key to the city and declaring his birthday, Jan. 15, "Pitbull Day." Scott also bestowed the title of Ambassador of the Arts on him.
At the event, Pitbull announced the expansion of his Sports Leadership and Management (SLAM) charter school.
Anitere Flores, a Cuban-America Florida state senator recently featured as a rising star in the Republican Party, gave an honorary degree to Pitbull last summer from Doral College, where she serves as president. She said the Republican Party is where he belongs.
"Who wouldn't want Pitbull?" she said. "He can't just get us votes in the 305, he can get us votes worldwide."
Everybody just loves Pitbull.
"¡Dale! The Republican Party's doors are always open," said Ali Pardo, a Cuban-American RNC spokesperson from Miami.
But please do not think this is just about securing the support of a famous person: Republicans point to his entrepreneurial sense (high-profile partnerships and stakes with brands like Voli Vodka and Miami Subs) and commitment to education (those charter schools!) as the basis for his GOP future.
"Pitbull is well-liked, hugely respected. I see him as policy-oriented. He's an entrepreneur who cares enormously about education and is an active advocate of school choice," Navarro said. "He frequently shows up in schools and gives students motivational and aspirational speeches. I don't see him as a partisan but as a guy who is grateful for the opportunities this country has given him, and as someone who wants to give back every way he can."
Democrats reached by BuzzFeed News scoffed at the idea that the "Give Me Everything" singer would support Republicans — and likewise showered praise on him.
"I think the Florida Democratic Party and Democratic Party nationwide, we're the big tent party, we're the worldwide party," said Max Steele of the Florida Democrats. "The RNC is welcome to put all their eggs in a celebrity-recruitment basket, we wish them luck. But the Democratic message on everything from comprehensive immigration reform to expanding Medicaid, those issues resonate across the board more than a single celebrity endorsement."
"Pitbull, a Latino icon, siding with anti-immigrants? Sorry, I simply can't picture that with a Kodak," said a Democratic congressional aide for a Latino member.
Gabriela Domenzain, an Obama campaign veteran, dinged Republicans, saying Latino outreach is crucial but a losing battle for them.
"The best position that any Latino voter can be in is one in which the Democratic and Republican Party are actually vying for their vote," she said. "It's important for them to try to convince Latino voters, Pitbull or anybody else, that the Republican Party is where they want to be."
Navarro said that if Pitbull wants to participate in Republican politics, he'd be welcomed with open arms. But knowing him, she sees him more as someone moved by certain issues rather than party loyalty.
"I get the sense he cares deeply about advancing causes more than one party or another. He has true cross-over appeal. He not only appeals to Spanish and English speakers but also to members of different parties," she said.
When asked for comment by BuzzFeed News, Pitbull showed that he's not about the simple binaries of red or blue in American politics.
"I'm not here to be part of any political party," Pitbull said in a statement. "I'm here to bring political parties to my party because they can't, they won't they never will, stop the Pitbull party, Dale!"