Unpersuaded By White House, Hispanic Caucus Set To Demand Obama Act On Immigration After Election
BuzzFeed News has learned the Congressional Hispanic Caucus is working to iron out language Tuesday that would demand Obama move sooner on deportations than the White House has said it is willing to do.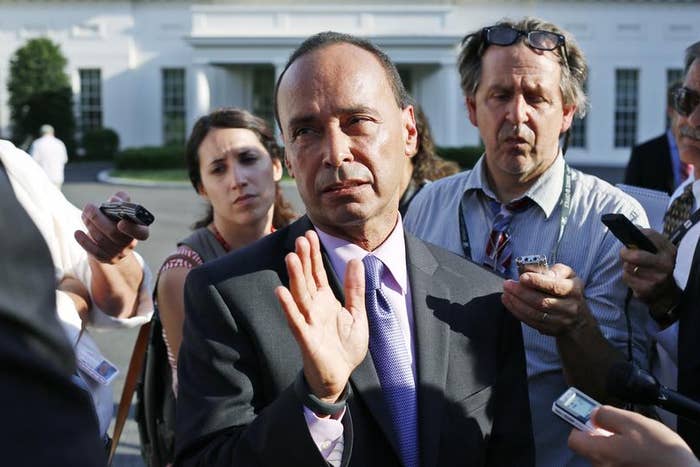 Latino lawmakers are drafting a resolution that would demand President Obama take executive action on immigration immediately after the election, according to three sources close to the Congressional Hispanic Caucus (CHC) and a source who had the draft characterized to them.
A meeting with White House chief of staff Denis McDonough did nothing to persuade the angry Democrats who are working on a resolution that would demand executive action immediately following the election, instead of the administration's preferred timeline of before the end of the year.
The CHC is having a task force meeting Tuesday to finalize some of the details and would meet Thursday.
The draft resolution that was shown to a small group of people would lay out the reasons why the CHC believes Obama must act to slow deportations, though there is some disagreement over whether they should mention the sensitive subject of Obama's record number of deportations, something that would clearly anger the White House, which has been blasted on all sides from activists and Republicans over immigration.
Two sources close to the CHC sought to minimize the disagreement.
One said it is only an issue for a small number of members, because most think the deportation and family separation numbers speak for themselves and are not secrets. Another said there is no real "feud" over language, noting that the caucus has many members and it is going through drafts and revisions and will be released later this week.
For its part, the CHC is hoping to express that it understands the frustration of its constituents and to show unity and disappointment over Obama's decision to delay expected administrative actions after the November midterm elections. The resolution would show their resolve to have the president act quickly and substantially right after Election Day.
While the resolution could still see changes because not all CHC members have seen the language, it is being characterized as strong in substance unlike a previously scrapped March resolution that would have made demands on Obama's deportation policy.
The timing would come during Hispanic Heritage Month, which activists are trying to use to galvanize support after Obama's delay, including a voter registration effort ahead of the midterms led by a broad coalition of Latino organizations.
Kate Nocera contributed reporting.