Univision Poll On "Persuadable" Hispanic Voters Draws Eyerolls From Democrats And Republicans
A Univision poll showed 55% of Hispanics as persuadable voters, an idea based on partisanship levels that isn't new. But the poll's spin left members of both parties calling it a vehicle primarily to bring in ad dollars.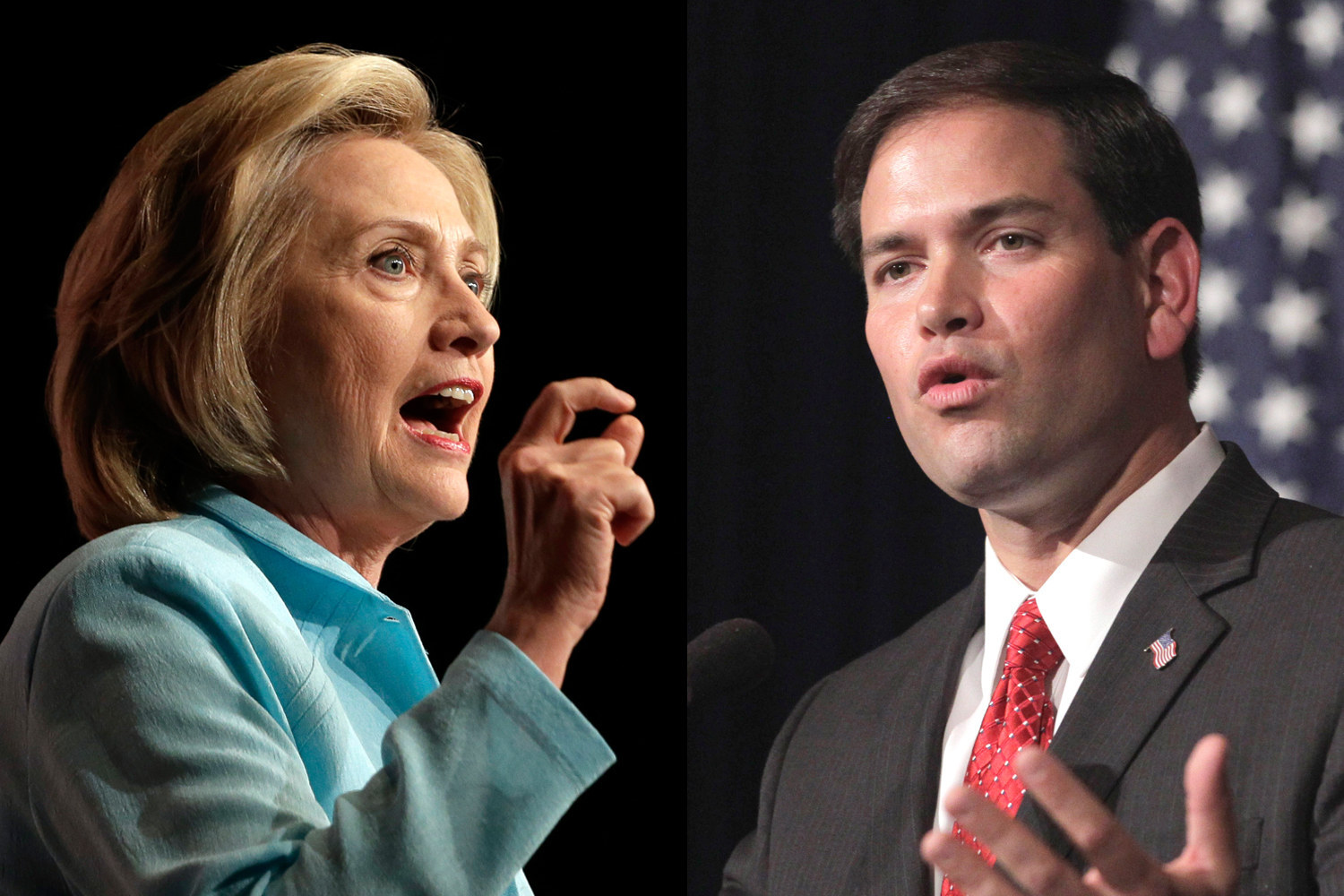 Univision, the Spanish-language giant, proclaimed on Wednesday that the Latino vote is up for grabs in big bold letters.
"Directly contradicting the common assumption that Hispanics always vote Democrat, the study found that 55% of Hispanic registered voters age 25-54 are persuadable and in fact, frequently cross party lines," read a Univision release for a new poll released by the network with bipartisan polling firms.
The idea that Latino voters are not strong partisans, and are more likely to cross party lines, is not new. Groups like Pew Hispanic and Latino Decisions have released past data supporting that point.
But this new Univision poll drew scrutiny — from both parties. It was just a few months ago that Univision's news division released data that put Hillary Clinton far ahead with Latinos against Republicans. This new poll, both Democrats and Republicans told BuzzFeed News, looks a lot more like spin by Univision to secure ad revenue.
"It sounds like they concocted a poll to appeal to Republicans: 'Spend your ad dollars here, Latinos are up for grabs,'" said Frank Sharry, a veteran immigration advocate and head of America's Voice, adding that Univision released a similar poll towards the end of 2011 ahead of the 2012 race. "They could make that case without concocting a poll because there is enough evidence already out there."

Republicans, who asked not to be named to avoid drawing the ire of the powerful Spanish-language network, said Univision has released polls like this in previous cycles, with the same goal in mind.
"Absolutely, they're shopping for dollars," said one Republican consultant who has worked with Univision in the past.
But that doesn't mean the data is wrong, the Republican said.
"The Latino vote will always be up for grabs but at a cost, at an investment," the source said.
A former Republican official who has worked with the network said Univision is trying to make the point that "they have unique reach and that to connect with their audience you're going to have to spend resources to advertise," but that the poll is still rooted in truth.
"I do think Hispanics are persuadable but even if Marco Rubio ran tomorrow and showed up on every television show, and in ads in Spanish, he's still not going to win 80% of the vote," the source said. "If he gets 45% it would be amazing."

Ultimately polls like this are good for Republicans, the former official said, reminding GOP operatives "that Hispanics are not a lost cause" which in turn is "better for the Hispanic community, when they're not taken for granted."
The December Univision survey found that of persuadable voters ages 25 to 54 — which the survey defines as all voters except for those who identify as strongly in favor of either party — 61% of those who lean Republican had voted for a Democrat, and 41% of those who identify as a Democrat had voted for a Republican.

Mark Hugo Lopez of Pew Hispanic said he has found that Latinos are more likely to cross party lines than whites or blacks, but that the majority do not do so. He noted that there is a "social desirability" to telling pollsters you are willing to consider both parties.
Mixed into the data of the deck prepared by Univision and reviewed by BuzzFeed News is the fact that Latinos who lean Democrat outnumber those who lean Republican 62% to 19%. The figure is similar to the data released by Univision News in July when pollsters found Clinton leading Jeb Bush among Latinos 64% to 27%.
The party identification figure led one Democratic official who has worked with Univision in the past and asked not to be named to be speak frankly to call the poll "a blatant attempt by a Spanish-language network to fool Democrats into booking TV time beginning tomorrow."
Chiqui Cartagena, Univision's senior vice president of its political and advocacy group, disputed that characterization. She said the July Univision News poll, like all polls, "captured a moment in time."
"The point of this poll was to understand the persuadability of Latinos and that they cross party lines," Cartagena said.

The survey employed a bipartisan team of pollsters: Bob Moore of Moore Information, who is working for Jeb Bush; and David Binder of David Binder Research, who is working for Hillary Clinton. Moore said based on what they found in the data, "I would say that yes, the Hispanic vote is up for grabs."
"From a Republican standpoint I would tell my colleagues, 'Don't rule out Hispanics,'" he said. "To Dems I would say, 'Hey guys, there's no guarantee you're going to get all the Hispanic support.'"
So what shapes the decisions of Latino voters, according to Univision's new poll? The poll found candidate debates, candidate interviews, and local news coverage do. And where do they get their information? From television news and ads, the survey said.
A slide headlined "For Hispanics, TV ads still matter," found that 1 in 2 Latino persuadable voters prefer to get political information from television ads.
"The advertising part was pleasantly surprising," Univision's Cartagena said.
"Latinos are not being actively courted by either party to their own peril," she continued. "Candidates who want to win the Latino vote should message to them as much and as often as possible."