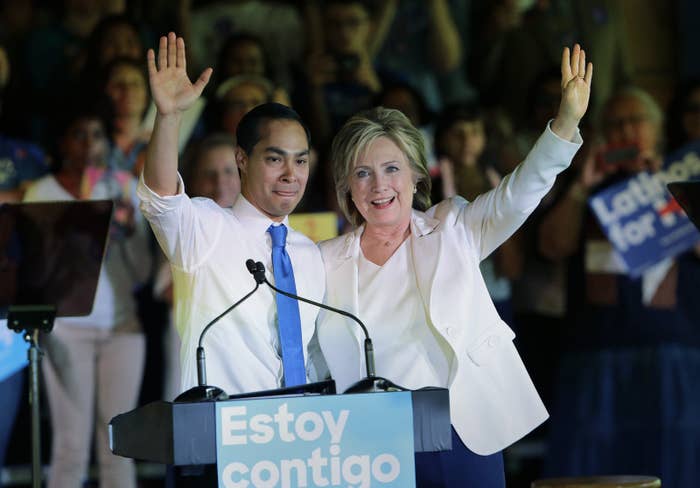 The fallout continued Wednesday after an attack by liberal groups on Julian Castro's progressive bonafides and qualifications to be vice president.
Earlier this week, progressive groups criticized Castro for a federal mortgage policy. Since then, BuzzFeed News has learned the criticism led one prominent Latino to resign from the board of a progressive group involved, and that the leading national coalition of Hispanic groups plans to kick out member organization Presente, for their part in ripping Castro.
Joe Velasquez, a former deputy political director in the Clinton administration, submitted his resignation letter from the board of American Family Voices (AFV), which was part of the coalition of groups that hit Castro for a HUD policy the groups argue is too friendly to financial institutions looking to buy distressed homes heading toward foreclosure.
Calling it "untenable" to continue serving on the board he was on for eight years, Velasquez denounced the attacks on Castro, called on America Family Voices to apologize, and argued that ties between Presente and the Sanders campaign fuel the belief that the criticism was part of a "political hatchet job."
The Sanders campaign on Tuesday denied having any part in the effort to discredit Castro.
The resignation came after Velasquez privately lobbied AFV founder Mike Lux to retract the comment and apologize in an email, obtained by BuzzFeed News.
"I apologize, I should have talked to you about it first. But it wasn't discriminatory and I was following the lead of Grijalva and Presente and Color of Change," Lux wrote. "I just think he has been wrong on the way he has handled distressed housing, has gone with Wall St. way too much on it."
With Grijalva and those groups leading the charge on the mortgage issue, Lux ultimately didn't think it was wrong to raise these issues. "It was wrong, however, not to talk it over with you first, and I am very sorry about that," Lux concluded.
"That's what I think is the worst part of this," Velasquez said. "Every white guy thinks it's OK to jump in because a Hispanic organization is involved."

Two sources said the National Hispanic Leadership Agenda (NHLA), a coalition of 40 Latino groups, plans to kick out Presente for the attacks on Castro. The argument for doing so is that one of NHLA's stated purposes is to promote federal Hispanic appointments and the group is seen as subverting that agenda.

The decision comes after NHLA fielded complaints from outside progressives as well as Latinos on the boards of groups inside the coalition.
"This isn't the first time they've played rough in the sandbox," said Brent Wilkes, League of United Latin American Citizens (LULAC) executive director. He noted that Presente has attacked Cecilia Muñoz, National Council of La Raza, and his group. "If you're a Latino organization, you should go after hatemongers and anti-immigrant groups, not fellow Latino advocates."

Matt Nelson of Presente said Hispanics lost two-thirds of their wealth during the housing crisis and are still trying to recover from the devastation it wrought. "The political landscape won't accept progressivism in name only," Nelson said, referring to the climate that has buoyed Sanders insurgent candidacy. "In the instance of HUD, Mr. Castro has the power to improve the policy."
In the fierce pushback against Presente by established Latino groups, Nelson saw echoes of the criticism they received when they were one of the first to call President Obama the "deporter-in-chief."
"The usual political response is not to attack President Obama because he's progressive or a Democrat or Julian Castro because he's a Democrat or has done good things, but I don't think that's what Americans want," Nelson said, noting that 45 members of Congress signed on to Grijalva's letter to Castro.

Nelson disputed comments made by LULAC's Wilkes that Presente only has one employee (Nelson said the number is fewer than 10). He chose not to address that Presente is funded and its board controlled by Citizens Engagement Lab.
"The pushback on it has been that it's a Latino organization front group for a non-Latino organization going after Secretary Castro," Wilkes said.

NHLA declined to comment on its internal deliberations but said that it has always been supportive of Castro, releasing a statement in favor of his nomination to Obama's cabinet in May 2014 and recently sitting down with him after he accepted an invitation to discuss Latino issues on Feb. 26.
While Presente argued the issues it takes up are "inspired by our membership who tell us everyday what they are facing," Velasquez called the criticism a "smokescreen for fucking with Castro."
"They're attacking one of our guys for stupid reasons and using poor people as a cover to do it," he said.

Marty Chavez, the former mayor of Albuquerque, New Mexico, and a board member of the Mexican American Legal Defense And Education Fund (MALDEF), which is part of NHLA, had his message for liberals.
"It's not progressive to tear down Latino leaders," he said.

Joe Velasquez resignation letter from American Family Voices board:
Board, American Family Voices:

I regretfully tender my resignation from the Board of American Family Voices.

It's untenable for me to serve on the Board of AFV after the organization contributed to the ad hominem attacks on a fellow Latino to disqualify him for consideration for Hillary Clinton's VP; on the odd basis he's not progressive enough. Julian Castro was born a progressive and he knows social injustice first hand. He has stronger progressive credentials than most of the signatories to the attack letter. But that aside, he's one of the leading Latino leaders in the country. An attack on him is an attack on the Latino community.

Make no mistake; this is not a debate on the merits of the HUD regulation intended to protect poor homeowners. This is about the tactic these groups are using to further their own political agenda. Some observers believe this a blatant political hatchet job perpetrated by the Sanders campaign. The fact a top political aide to Senator Sanders was the former head of Presente, the sole Latino organization in the cabal, fuels that thinking. And it's unfortunate Presente is active in this caper. They give the white people license to attack a progressive Latino.

It would be appropriate for the Board to make a public apology to the Secretary.

Respectfully.

Joe Velasquez
CORRECTION
Joe Velasquez resigned from the board of American Family Voices. An earlier version of this story misspelled his name.