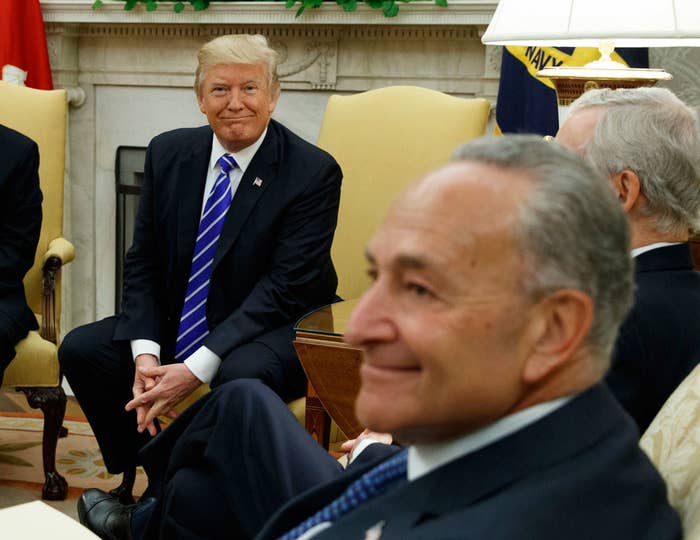 President Trump is apparently dealing with Democrats again. A week after siding with House Minority Leader Nancy Pelosi and Senate Minority Leader Chuck Schumer on a three-part budget, debt ceiling, and disaster relief deal, the Democratic leaders announced an agreement on protections for young, undocumented immigrants.
The White House cast some immediate skepticism on the agreement's details, but its contours fit one of the more surprising turns of Trump's first months in office: he's suddenly looking to be bipartisan.
Trump's foray into working with Democrats — especially after his effort to pass health care legislation involved no meaningful Democratic involvement and ultimately flamed out — has led to speculation that the president is shedding the Republican Party.
That's not what's happening. But in Congress, where what ultimately matters is the end result, members of both parties believe Trump may keep trying to work with Democrats to finally get a legislative win — and that's leading to bipartisan unease.
Sam Nunberg, a former Trump adviser who still speaks with White House officials, said Trump's deals with Democrats are only going to lead to "a bunch of crap that betrays the people that elected him."
"The president sooner or later is going to have to realize that Pelosi and Schumer will only work with him on one action item — impeaching his ass. When he starts to realize that, then maybe he'll get smart on these deals," Nunberg said.
Democratic leaders are least acting like they've got a winning hand. After the House voted on last week's stunning deal, Pelosi walked toward a group of huddled Hispanic lawmakers with a grin and a message.
"They lost 90 votes on this," the House Democratic leader said of the 316-90 vote, which had full Democratic support, according to someone who witnessed the exchange. "That gives us a lot of leverage on the DREAM Act, debt ceiling, and [funding the government]."
"They can't hold 90 people on hurricane aid," she added, underlining the point.
But even though Democrats may sound celebratory, they join every other party in the ongoing political drama in having reasons to feel trapped by bipartisan talks.
Some rank-and-file Democrats don't see Trump's "Chuck and Nancy" love-fest as a good thing.
"As a Democrat, we are watching our own leadership on what they are willing to negotiate away," one House Democrat told BuzzFeed News. "We have confidence in them, but the Democratic caucus is not a rubber stamp for anyone. We all represent our own districts and constituents."
Members of the Congressional Hispanic Caucus Hispanic were even frustrated after Pelosi announced an agreement on the Deferred Action for Childhood Arrivals program Wednesday night, because Pelosi just on Tuesday agreed not to deal with the president without conferring with the caucus first.
"It's going to depend what the tradeoff looks like what kind of border security they're talking about," one member of Hispanic caucus said.
The White House, meanwhile, is frustrated that the administration has not been able to get enough done, one White House official said. Republican leaders have "backed Trump into a corner" with failed legislative attempts, the official said, almost forcing him to turn to Democrats.
And congressional Republicans are worried they can't do much to stop the latest Trump trend. "Among Capitol Hill GOP leaders, there's concern that among Republican voters Trump is more popular than McConnell and Ryan," said GOP strategist Matt Mackowiak of his conversations on the hill. "Their ability to buck him is limited."
Trump's openness to negotiating with Democratic leaders is new for the president. Trump seems to be recognizing that he is running out of time to pass meaningful legislation during his first year in office, and may be more open than Republicans would like to just passing anything that would play well on TV.
"Trump is unpredictable, he seems to value wins more than he values conservative policy victories," Mackowiak said. "Winning for the sake of winning is the priority, and for a lot of people on Capitol Hill, they're there to solve problems and advance conservatism."

Steve Cortes, a Fox News contributor who speaks to administration officials and served as a surrogate during the campaign, said Trump is being "pragmatic." That, though, doesn't mean he's abandoning the philosophical underpinnings of the movement that brought him to the White House, Cortes said. But he also finds himself in this position, Cortes added, because "Republicans leaders have shown themselves to be ineffective at best and incompetent at worst."
Still, he says some Trump officials are OK with trading funding for the long-promised border wall along the southern border with protections for DREAMers, something Cortes personally thinks would not be nearly enough.
That concern, that Trump may give up too much in negotiations with Democrats, was bolstered earlier Wednesday, even before Democratic leaders announced a DACA agreement.
Texas Democrat Rep. Henry Cuellar told reporters after Democrats met with the president Wednesday that Trump told House members funding for the border wall, a major priority for his base, doesn't need to be tied to legislation to protect young undocumented immigrants who had been protected by DACA.
"He said that at the meeting, and he said not on DACA, we'll put that somewhere else, on another bill," Cuellar said of the talks with the president.
Trump's not "backing away" from his promise to build a wall across the southern border, Cuellar said, but said the president felt comfortable with the idea of separating the wall from a fix for DACA.
Cuellar also seemed to suggest that Trump would be willing to move towards Democratic priorities on tax reform. Cuellar said Trump told Democrats the tax plan his administration will soon lay out will not specifically benefit the wealthy, "and then he looks up, because I was watching everything he's saying, he looks up, he says, 'maybe they'll pay a little bit more, but for sure they're going to stay the same.'"
Members of both parties are skeptical about how far this cooperation will go, and they believe bipartisan work will be quickly tested once high-pressure deals, like one over DACA, go beyond hand-shakes and get presented to lawmakers.
"We won't have a 'Come to Jesus' meeting until a deal comes to the table," the House Democrat cautiously eyeing negotiations said, adding that among the conversations that still need to happen are whether Democratic leadership is willing to walk away from a bad deal.
In early conversations, Democratic lawmakers say they do not believe there would be enough votes for a major downpayment for hundreds of miles of wall tied to a DACA fix — nor do they believe Republicans would be particularly happy with that deal either.
And even Trump is acknowledging to House Democrats that this may come to nothing.
"There is a new strategy coming from the White House. I think they're gonna give this a try," Cuellar told reporters after Wednesday's meeting. "Because he did say, it was interesting, he did say, 'Hey, you know, imagine if we do something? They're not going to expect this from us.' Kinda like, and he said, 'They're certainly not gonna expect this from me, you know, doing bipartisan work.' So he said, 'we're gonna give it a shot, if it doesn't, we're going to go back to the way it was.'"
"If he wants to cut some all Democrat victory, I don't know whether it will get through the House," Mackowiak said. "The problem with the Harvey, debt ceiling deal is Democrats believe they won, Republicans think they lost, and Trump thinks he won. On DACA, tax reform, trade, or infrastructure, the opposition will be more fierce and ideological."

Republicans who want to give Trump the benefit of the doubt believe he may have thought the country needed a bipartisan victory, or that he wanted to clear the decks to go all in on tax reform. But there's concern that working with Democratic leaders was a way for Trump to overtly stick it to McConnell and Ryan.
Cortes said Republicans are just going to have to accept the way Trump does things.
"Far too many hill Republicans are still caught in a 2015 mentality and have not woken up to the electoral earthquake that was 2016," he said.

But Nunberg cautioned that Trump needs to recognize who is on his side, quickly, pointing to the looming Russia investigation led by special counsel Robert Mueller.
"The Democrats are not his friends," Nunberg said. "They're Mueller's best friends."
Additional reporting contributed by Kate Nocera.