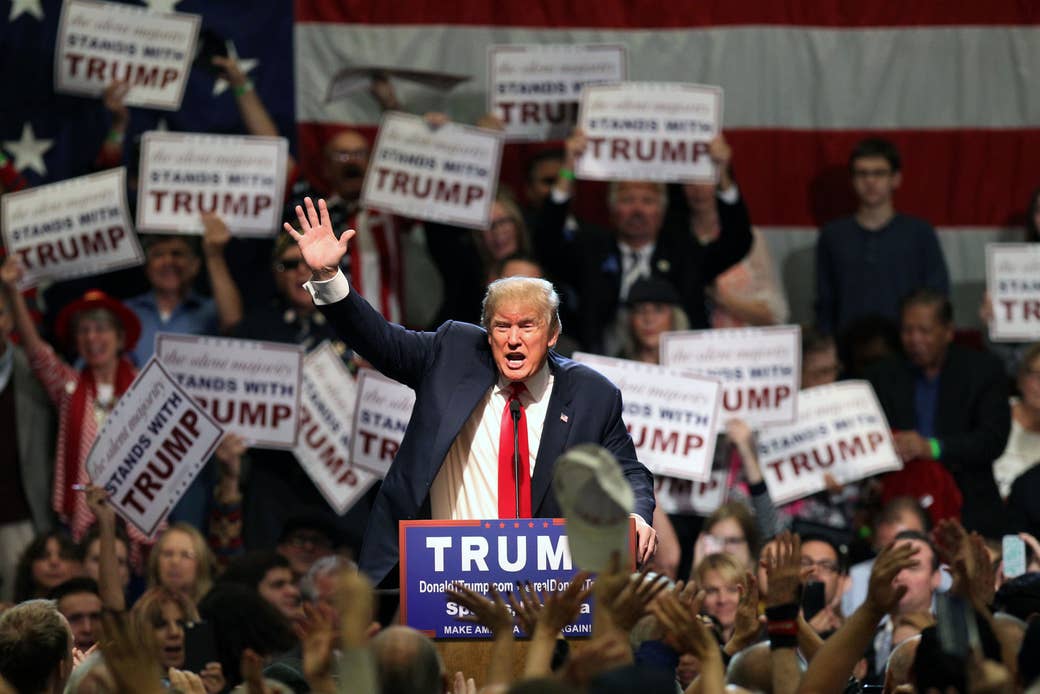 LAS VEGAS — Near the Las Vegas strip, five women who share a number of qualities sat down for an interview.
The women are all Latina. They're foreign-born. They're members of the 53,000-strong Culinary Workers Union Local 226. They work as housekeepers (four of them at Donald Trump's Las Vegas hotel).
And they're all in the process of becoming naturalized U.S. citizens.
These women are just five of what labor and immigration activists say are a few of the thousands of Latinos they hope to help naturalize, in pivotal swing states like Nevada, Florida, and Colorado. The reason, they say? Trump made them do it.
"I have realized people have erroneous thoughts about all Latinos, they want to pigeonhole us into things we aren't like rapists and drug dealers," said Maria Mendoza, one of the five women, in Spanish. Mendoza was referring to Trump's now infamous announcement speech, in which he said Mexico was sending rapists and criminals across the border.
She's lived in the United States for 18 years, and worked at Trump's hotel for five; one woman in the group has lived here for more than 35 years. Mendoza said her decision to become a citizen originated from the current political landscape. "They don't realize we come to this country for a dream, and as Latinos, we want to reach that dream," she said.
If Trump has tapped into disaffected voters this year with his immigration rhetoric, there is also an unintended consequence — a mix of naturalization efforts, voter registration efforts, and ultimately efforts to mobilize voters off Trump's rhetoric.
In the last 14 years, the local Culinary Union's umbrella union, Unite Here, has helped push for 15,000 naturalizations. This year, Unite Here wants to help 2,500 people naturalize by June 1, so they can become U.S. citizens before the election — in addition to registering 10,000 new voters.
The list goes on: The Colorado Immigrant Rights Coalition (CIRC) wants to help naturalize 1,500 people, along with five to seven partner organizations. SEIU Florida has helped almost 1,000 people already through citizenship workshops the union does in churches, where people are more trusting of immigration-related services. The Florida Immigrant Coalition — which works with SEIU, AFL-CIO, and other groups — hopes to add 1,500 to that number along with its partners.
And then there's Mi Familia Vota, an advocacy group with a long history of voter registration and naturalization efforts, aiming to help 300 people begin the months-long naturalization process at their first event of the year. Along with partner organizations, the group will help launch the effort in Las Vegas two days before the Republican primaries begin. The nationwide effort led by iAmerica, labor groups like SEIU, and Mi Familia Vota will include events in Colorado, Florida, Texas, and California.
"We've seen more people this year that want to become citizens and specifically because they want to vote against Trump," said Mi Familia Vota executive director Ben Monterroso.
There is a tremendous universe of potential citizens and voters out there. Between 2012 and 2016, the 1.2 million Latinos who had become naturalized citizens were the second-largest driver for the growth in the Latino vote, according to a Pew Research study from last week. And, citing Department of Homeland Security data from 2012, one national organization sees a total universe of 40,000 legal permanent residents eligible to vote in Nevada; 40,000 in Colorado; 80,000 in Arizona; and a whopping 369,000 in Florida.
The White House, which has pushed U.S. Citizenship and Immigration Services (USCIS) to make the naturalization process easier will on Thursday announce a series of regional convenings beginning in Los Angeles and featuring L.A. mayor Eric Garcetti and USCIS director Leon Rodriguez.

How high the ultimate number of newly naturalized citizens will go is unclear, but there is a precedent for immigration rhetoric driving large numbers of people to naturalize — and likely affecting decisions at the ballot box in a presidential year.
In 1994, former California Gov. Pete Wilson, his restrictionist immigration policies, and his controversial ads about illegal immigration became a high-profile campaign issue in a state home to millions of Hispanic voters.
During his re-election campaign, Wilson championed a ballot measure called Prop 187, which denied undocumented immigrants and their children access to public education and health care. The proposition passed (it was later found unconstitutional by a federal district court), but California's Latino voter registration went up 50%.
Two years later, then Vice President Al Gore led a nationwide naturalization effort. At the conclusion of the 1996 campaign, the Hispanic share of the electorate had more than doubled — and delivered huge support to the Democratic nominee, Bill Clinton. Gore's CitizenshipUSA initiative led to the naturalization of more than 1 million people, and Latinos went from 10% to 16% of Texas voters, and from 5% to 12% of Florida voters. Bob Dole, Bill Clinton's opponent, received an anemic 6% of the Hispanic vote in California.
Trump has vowed to deport all 11 million undocumented immigrants, including young people brought to the country as children. His campaign has emphasized endorsements like Joe Arpaio on Tuesday, and aired ads in the style of Wilson — one shows immigrants perched atop the border and video of them scurrying towards a border (later revealed to be the Moroccan border).
Antonio Gonzalez has led influential policy and Latino vote organizations the William C. Velazquez Institute and the Southwest Voter Registration Education Project since the 1980s. He wrote an analysis of the effect of anti-immigrant politicians on the Latino vote in November — spanning Pete Wilson to Arizona Sheriff Joe Arpaio — to understand what Trump's effect could be.
Wilson has the honor of producing midterm elections that looked like presidential elections in terms of Latino turnout, "the only two in California state history in which the percent share of Latino votes cast matched the percent share of Latino registered voters," he wrote.
During the rise of Arpaio, Arizona Latino registered voters grew 135% and Hispanic voting increased 162.6%.
"In both cases there is a measurable, substantial increase in Latino voter registration and voting when there is a clear villain perceived as anti-Latino," Gonzalez told BuzzFeed News.
"We have a new boogeyman," said 20-year Nevada veteran Democratic strategist Andres Ramirez, referring to Trump. "We've had boogeymen in past years but now we have one at unprecedented levels."
Even conservative groups are aware of the opportunity presented. Daniel Garza, executive director of conservative Latino group the LIBRE Initiative, said his own parents became U.S. citizens after Prop 187, at a time when they felt anti-immigrant sentiment was sweeping the country. His organization has done citizenship events at churches and with local organizations in Miami, Orlando, and Arizona with plans to ramp up efforts in the coming months.
While labor groups have become interested in naturalization in the last four years, the work and manpower that goes into them is substantial. At the Vegas offices of Mi Familia Vota in mid-January, ahead of their event to help 300 people become citizens, the group gathered around a table for one of those interminable 90-minute conference calls that many companies are familiar with, to learn about the capabilities of Citizenship Works, an app that cuts down the time it takes to fill out an N-400 form.
Fees, language barriers, and misinformation can be significant obstacles to naturalization. The fee for the citizenship process is $680 — and $595 if the person is 75 and older — which is often prohibitive for poor immigrants. In Colorado, organizations like CIRC are partnering with community credit unions for 0% "American Dream" loans to help them.
Some, like Mi Familia Vota, tell immigrants they may qualify for waivers, or they can use a credit card or take out loans at low interest rates. They stress that renewing a green card costs $485 every 10 years, but for $200 more, they can become a citizen with a one-time payment.
Nicole Melaku, at CIRC, who ran the national Cities for Citizenship program last year, said that due to misinformation, immigrants sometimes mistakenly think they might be renouncing their Mexican citizenship, for example, if they become an American citizen. (The Mexican consulate has recently begun new efforts to let people know dual citizenship is a possibility.)
The rhetoric coming from Trump and others in the Republican field has also led new citizens to enlist in helping others naturalize. Beatriz Garcia-Waddell, of Alamosa, Colorado, became a citizen in December. She had worked with the San Luis Valley Immigrant Legal Resource Center, and has since joined the board of the organization. Calling them some of the "hardest working patriots in this country," she said she hopes to vote and fight for aspiring citizens.
In Florida, where operatives often repeat that there are more legal permanent residents eligible to vote than undocumented immigrants (Pew told BuzzFeed News there are a bit more undocumented), activists see a major opportunity.
The AFL-CIO and Florida Immigrant Coalition (FLIC) partnered with Miami-Dade County for the Cities for Citizenship program. Maria Rodriguez, executive director of the FLIC, said all the work is tied together.
"We work to get the undocumented documented, and the documented to become citizens, the citizens to become voters and the voters to run for office," she said. "It enriches our democracy."
She said her group has worked with Catholic and evangelical churches — both Latino and Haitian — on naturalization work. Trump, she said, has agitated people both in fear and anger. She sees the "Trump effect" in anti-immigrant bills in the Tallahassee state house.
"There's a sense of defending our community, people are coming to the defense of our community through becoming a citizen and voting," she said.
The efforts also have a broad, event-like approach. In March, at Marlins Stadium, the group and the Catholic Church plan a mega clinic with a goal of helping 1,200 people become citizens. (The event is similar to one held in June 2013 at the height of the debate over the Gang of 8 immigration bill.) A thousand people willing to stand in a long line in the middle of the summer in Miami for six hours showed the potency of a pitched immigration debate in spurring people to become citizens, organizers believed.
Because of the election, Democratic campaigns are more than ready to take advantage of any extra energy Trump is creating among Hispanic voters.
In a Vegas office known as the 'Latino office,' Emilia Pablo, the Nevada communications director for Sen. Bernie Sanders campaign said canvassers are always ready if Hispanics in the state say they want to vote but are unable to, with information and forms. She said the campaign hears about Trump's rhetoric most on college campuses. "They hear Sanders has come out strong against his rhetoric, that Trump wants to divide us with anti-Muslim and anti-Latino rhetoric, but Sanders wants to unite us," she said.
Hillary Clinton's Nevada state director Emmy Ruiz and organizing director Jorge Neri, said the campaign also helps legal permanent residents and they see a more motivated base on the ground because of Trump and Republican rhetoric "not on the side of Latinos."
"Folks realize what's at stake," Neri said, pointing to families with mixed immigration statuses. "One of their siblings has [Obama's deferred action], that's going to expire if we don't elect someone who is going to win and going to protect it."
The strength of the Latino vote has often been tied to immigration. It was in 2006 (and again in 2008) that activists chanted, "Hoy marchamos, mañana votamos." Or "today we march, tomorrow we vote." And the same Pew report from last week that detailed the growth of young voters among Latinos and naturalized citizens, noted that Hispanics turn out to vote at a much lower rate than other demographic groups; that young people vote less than older people; and that not many states outside of Colorado, Nevada and Florida both have large Hispanic electorates and are battleground states.
But to activists in those states, the ceaseless drip of demography ensures they will matter in 2016 and beyond.
The Culinary Union's political director, Yvanna Cancela, noted that because naturalization takes months and different factors can lead to delays, some of the people may not become citizens in time to vote in 2016, but they will be able to vote in 2018 and 2020.
"That wave is like throwing a pebble in a lake, at first it's a couple of ripples, but eventually it becomes more," she said. "This election is a catalyst not just for naturalization, but also for the power of the immigrant vote."
The union members who work at Trump's hotel have been galvanized to show just that.
"Donald Trump has said he's going to take out millions of immigrants," said Carla Menjivar, a 16-year U.S. resident. "I have come to fight for the American dream for my children and will become a citizen to show my vote matters."
"I am not a second-class citizen," said Mendoza, her fellow union members nodding in agreement. "I have the rights like anyone else of becoming a citizen — my voice and my vote will count."